The savory, peppery filling in these Jamaican Meat Pies is perfect with the spicy yellow crust. Adding spices to the pastry takes these meat pies up a notch... or two!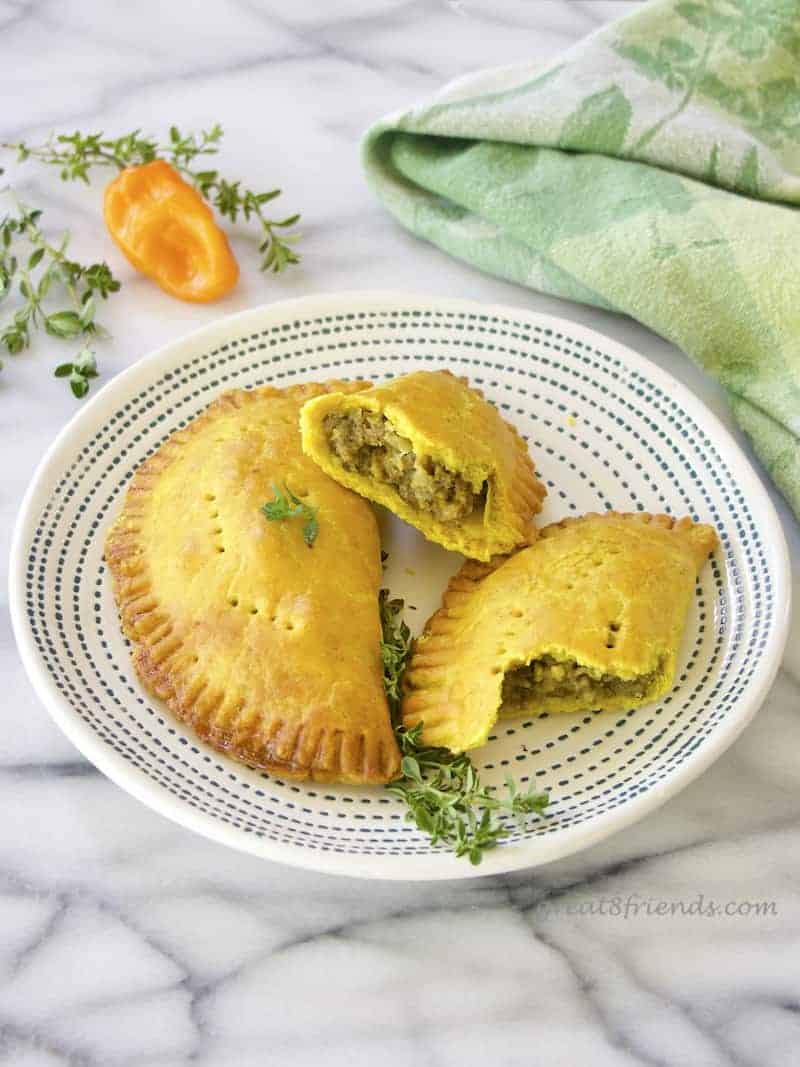 What is the first thing you think of when you see the title of this post? When Debbie gave me this dish to make for her Jamaican Gr8 Dinner my first thought was, "Mmmmm, yummy, spicy meat wrapped up in a flaky pastry." This is one of my favorite appetizers or main courses.
Well, I had never had Jamaican Meat Pies, but I have had Empanadas, Pasties, Pierogi, Calzones, and Pork Dumplings. It seems that every culture has their version of a meat pie. And in the South, they have the Natchitoches Meat Pies.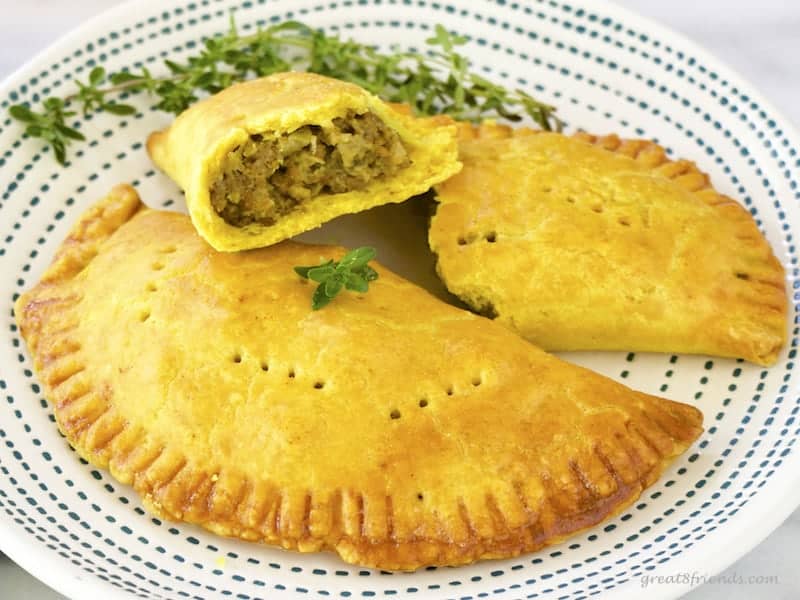 Jamaican meat pies differ from other meat pies because of the Scotch Bonnet Peppers typically used in Caribbean cuisine. If you have trouble finding Scotch Bonnet Peppers, a good substitute is Habanero Chiles. Habaneros are a little less fruity than Scotch Bonnet peppers, but they are similar in heat on the Scoville Scale.
The delicious difference with Jamaican Meat Pies is that there is spice added to the pastry, not just the meat! Adding turmeric and curry powder to the dough creates a lovely color and is a tasty alternative to a regular crust.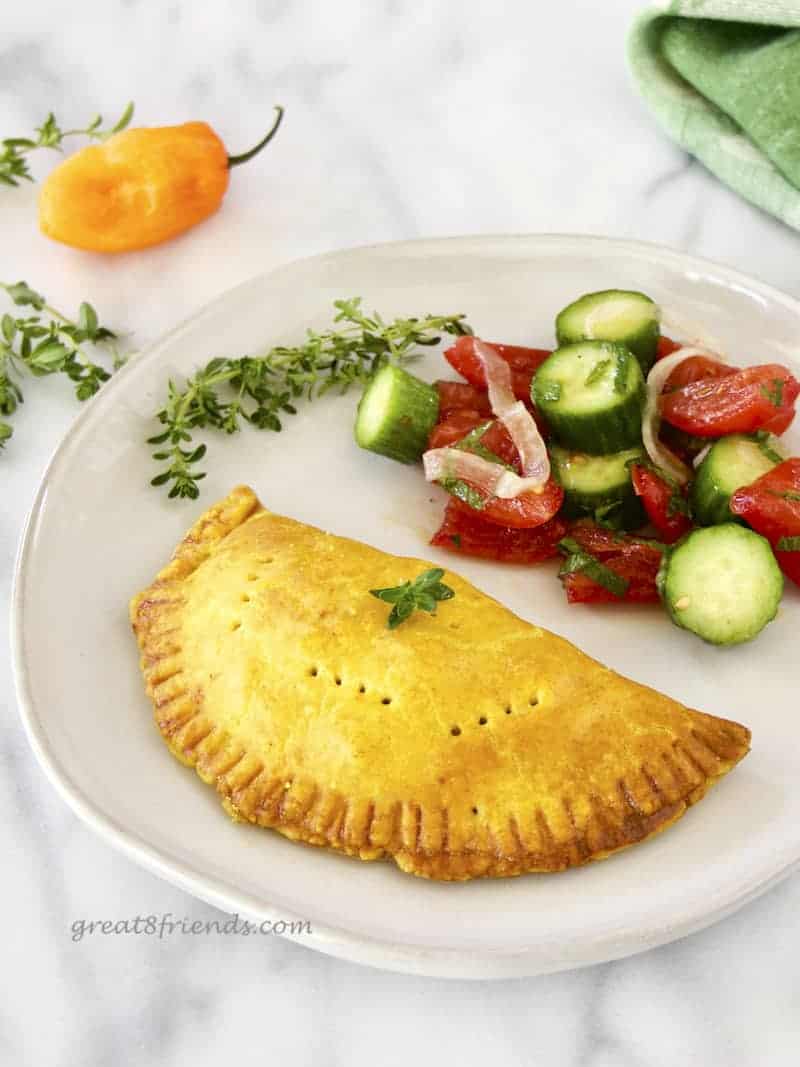 These are so easy to make, please don't let the length of the recipe discourage you. Most of it is from the process for assembling the pies. Hoping you try them and please let us know what you think in the comments!
This post contains affiliate links which means Great Eight Friends may earn a small commission if you click on the link. There is no additional cost to you. As an Amazon Associate we earn from qualifying purchases.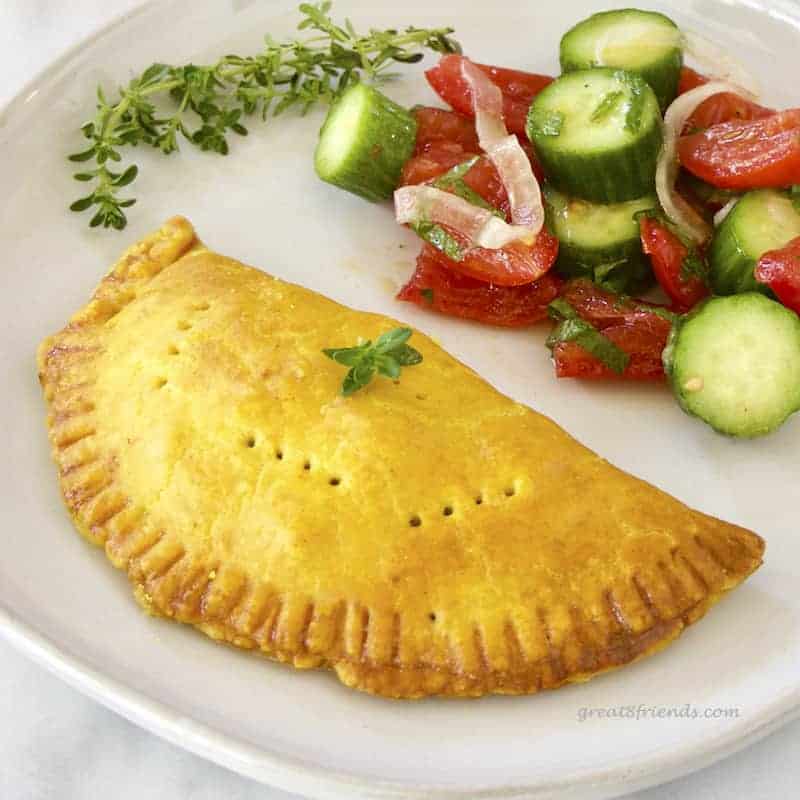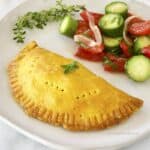 Print Recipe
Pin Recipe
Save this Recipe
Saved!
Please leave a rating!
Jammin' Jamaican Meat Pies
The spice added to the crust brings these meat pies to the next level of yumminess!
Ingredients
Meat Pie Filling
1

Tablespoon

extra virgin olive oil

1 ½

cups

diced yellow onion

,

small dice

1

pound

ground beef

,

85% lean

4

scallions

,

white and light green parts minced

1

Scotch Bonnet pepper or habanero

,

minced

2

cloves

garlic

,

minced

2

teaspoons

chopped fresh thyme leaves

,

or ¾ teaspoon dried thyme leaves

2

teaspoons

curry powder

1

teaspoon

salt

1

teaspoon

freshly ground black pepper

½

cup

breadcrumbs

1

cup

water
Pastry
1

pound

flour

,

about 4 cups

2

teaspoons

curry powder

1

teaspoon

turmeric

1

teaspoon

salt

½

cup

cold butter

½

cup

shortening

8

Tablespoons

ice cold water

,

as needed

1

egg

,

for brushing on top of the meat pies
Instructions
Cooking the Meat Filling
Heat the oil in a large skillet over medium high heat. I like to use a non-stick skillet.

Add the diced onion and cook until slightly translucent, about 3 minutes.

Then add the ground beef, scallions, pepper and garlic. Break up the ground beef as much as possible with a wooden spoon and cook until the meat is browned and cooked through. (You don't want any big chunks of meat.)


Add the thyme, curry powder, salt and pepper. Stir to incorporate. Smell the goodness!

Sprinkle the breadcrumbs over the mixture and pour in the water. Stir to fully incorporate.

Turn the heat down and simmer, uncovered, until the meat mixture has a thick but moist consistency, 5 to 10 minutes. You don't want it too dry, but if it's too liquid-y, it will drip out of the pastry. Use your judgment. If it's too dry, add more water. If it's too wet, let it simmer for a little longer, or add some more breadcrumbs.

Remove from heat and let cool while you make the pastry.
Making the Pastry
In the bowl of your food processor put the flour, curry powder, turmeric, and salt. Pulse until all the dry ingredients are well combined.

Add the butter and shortening and pulse until the whole mixture is crumbly.

Add 4 Tablespoons of the water and pulse until the dough starts to come together. If necessary, continue adding water 1 Tablespoon at a time until the dough just forms a ball.

Remove from food processor onto a lightly floured surface. I cut the dough in half and work with one half at a time. Wrap the 2nd half in plastic and place in the refrigerator until ready to use.
Assembling and Baking the Meat Pies
Line 2 baking sheets with parchment paper or spray well with olive oil.

Beat the egg in a small bowl and beat in 1 Tablespoon of water. This is to assemble the pies. Set aside.

Divide the dough in half and put one half into the fridge, covered, while you work with the first half.

Divide the first half of the dough into 6 equal pieces. Roll each piece into a ball.

When you have 6 balls, sprinkle some flour on your work surface and flatten each ball into a circle ⅛" thick, with your rolling pin. (Should be about a 6" circle.) Make all six dough circles. While working, cover with plastic wrap to keep from drying out.

Put about 4 Tablespoons of the meat mixture onto one-half of the circle, brush the edges with the egg mixture, then fold the dough in half and use a fork to seal the edges. (You can also crimp the edges, if that's your thing.)

Place the pie onto the prepared baking sheet and assemble the other pies. When finished, cover the baking sheet with plastic wrap and set aside while you prepare the remaining 6 pies with the 2nd half of the dough.

When all the pies are on the baking sheets, brush the tops with the egg wash then pierce a couple of times with a fork or sharp knife to create vents for the air. If you like, place a small thyme leaf on each pie and seal it with egg wash for garnish.

Bake for 25 to 35 minutes until crispy and golden brown.

These can be enjoyed hot or at room temperature.
Notes
Gr8 Pepper Tip:
For a hotter, spicier meat, leave the seeds in the pepper, for milder, remove the seeds. Be careful, these peppers are hot!
Gr8 Do Ahead Tips:
The dough and meat mixture can be made the day before. Seal tightly, in separate containers, and refrigerate.
Pies can be assembled up to 6 hours ahead of cooking. Place on baking sheet, cover with plastic wrap and refrigerate. When ready, remove from fridge while the oven is preheating. (This is to take some of the chill off before baking.) Brush with the egg wash, then pierce the top and bake.
When I took these to Debbie and Phil's Gr8 Dinner, I baked them first then laid them carefully in a 9"x13" Pyrex® dish, separated with parchment paper. Then I put the dish into a Pyrex® Portables® carrier with the heated insert. They stayed nice and hot for serving as an appetizer an hour later!
The fully cooked pies can be frozen for later. Just make sure they are cooled, lay on a cookie sheet and freeze for about two hours. Then package them in a freezer safe bag or wrap them tightly in foil.

Thaw in the refrigerator, then reheat in a 325°F oven for 20 minutes or until heated through.
Another Gr8 Assembly Method:
If you want triangles instead of half circles: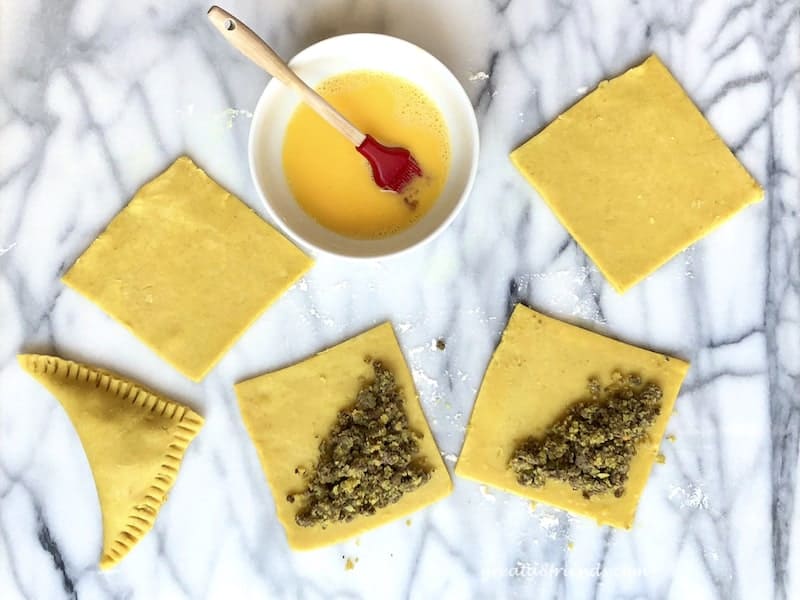 Roll half the dough into approximately a 9" x 14" rectangle, about ⅛" thick; using a light sprinkling of flour as needed to keep the dough from sticking.
Cut the dough into 6 fairly equal pieces. (Cut in half the long way and in thirds across.)
Put a Tablespoon or two of the meat mixture onto one half of the first square (diagonally). 
Brush the edges of the square with the egg wash and fold over diagonally to create a triangle. Seal the edges with a fork.
Continue with Step 7 above.