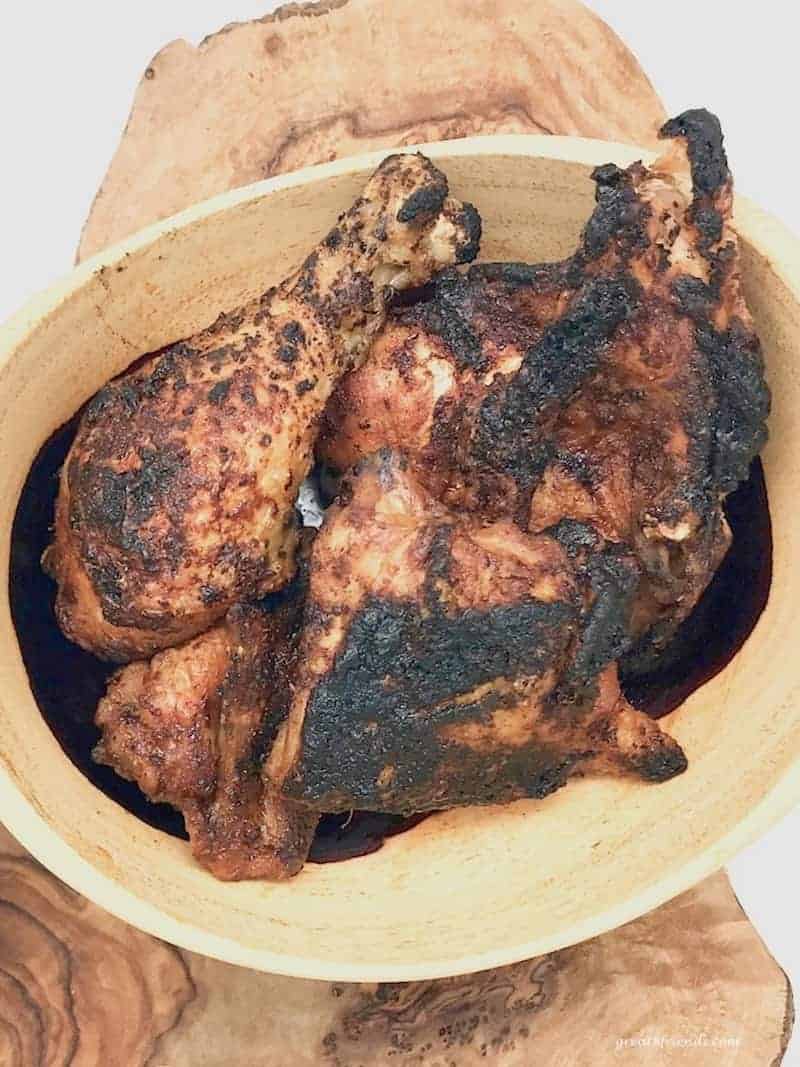 During my travels as a young girl to Ocho Rios, Jamaica, my parents loved experiencing everything and everyplace where the locals hung out. One spot we always made sure we stopped by, and sometimes twice per visit, was the Jerk Center. They had the absolute best Jamaican Jerk Chicken.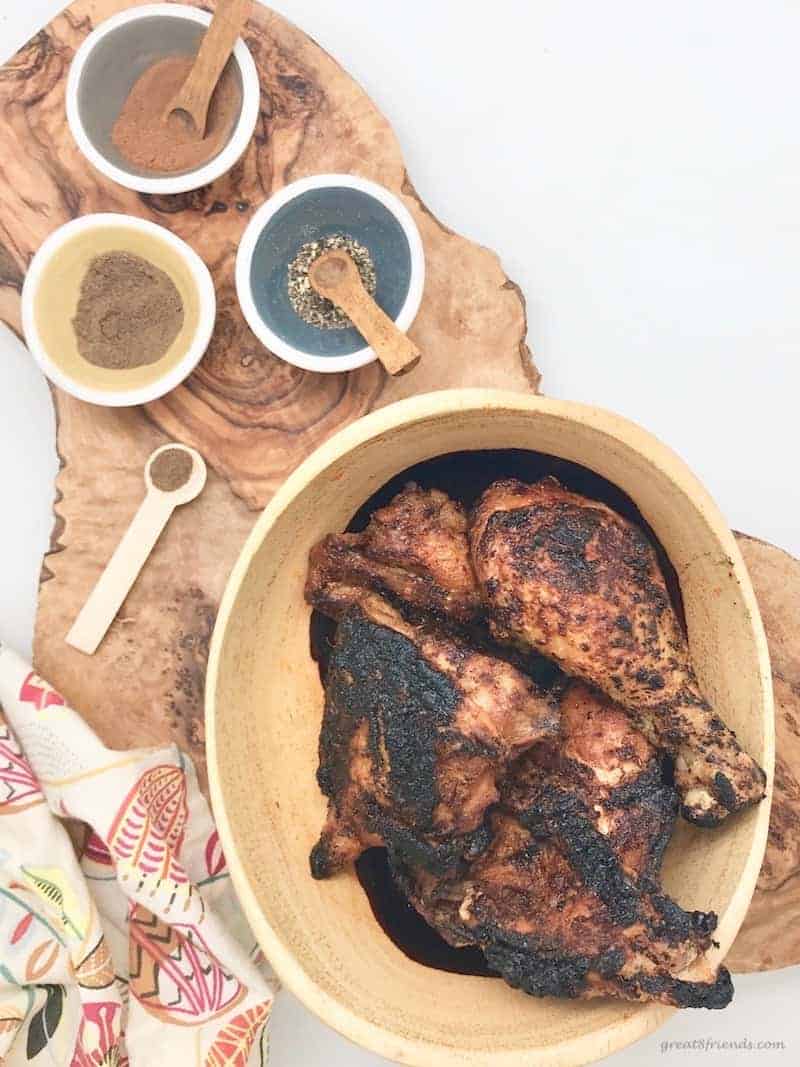 You can smell the spices as you approach the "restaurant." Back then the "restaurant" was just a tin "roof" above the smoking meat. The turn off the road was into a dirt lot…I wonder if it had an actual street name or address! I don't even remember if there was signage! Not your typical brick and mortar!
It was word of mouth and those mouths were watering and burning with the delicious spices! The tables outside were placed under whatever shade you could find in that island heat! All these years later, it's got a patio type structure...safe from the rains...which didn't stop us in the past!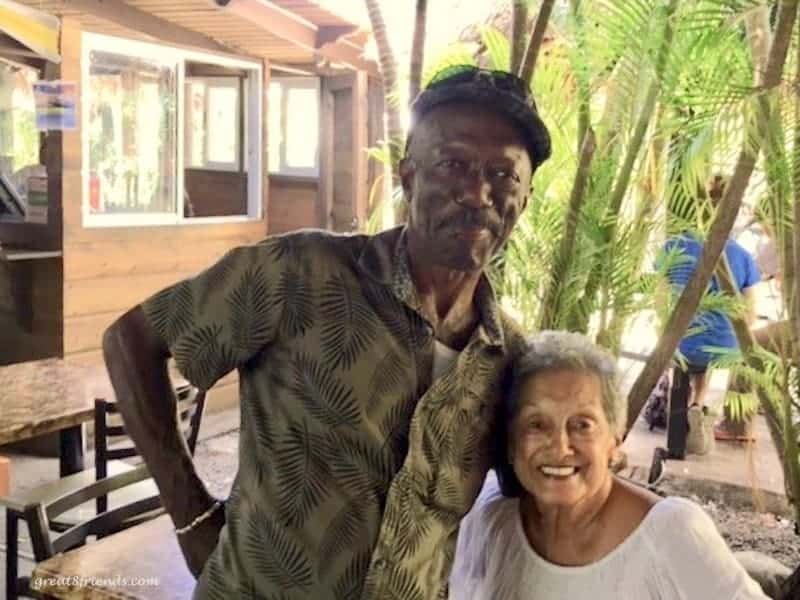 Although my dad is gone, my sweet mom still travels there about 4 times a year. Visiting all of their friends and making sure she stops by all the spots she did with my dad and all of us.
They love when they hear she's coming to town and are always so happy to see her. She insists on a picture and they happily oblige! Here she is with the owner of the Jerk Center. He loves reminiscing with her about his stories with my Dad.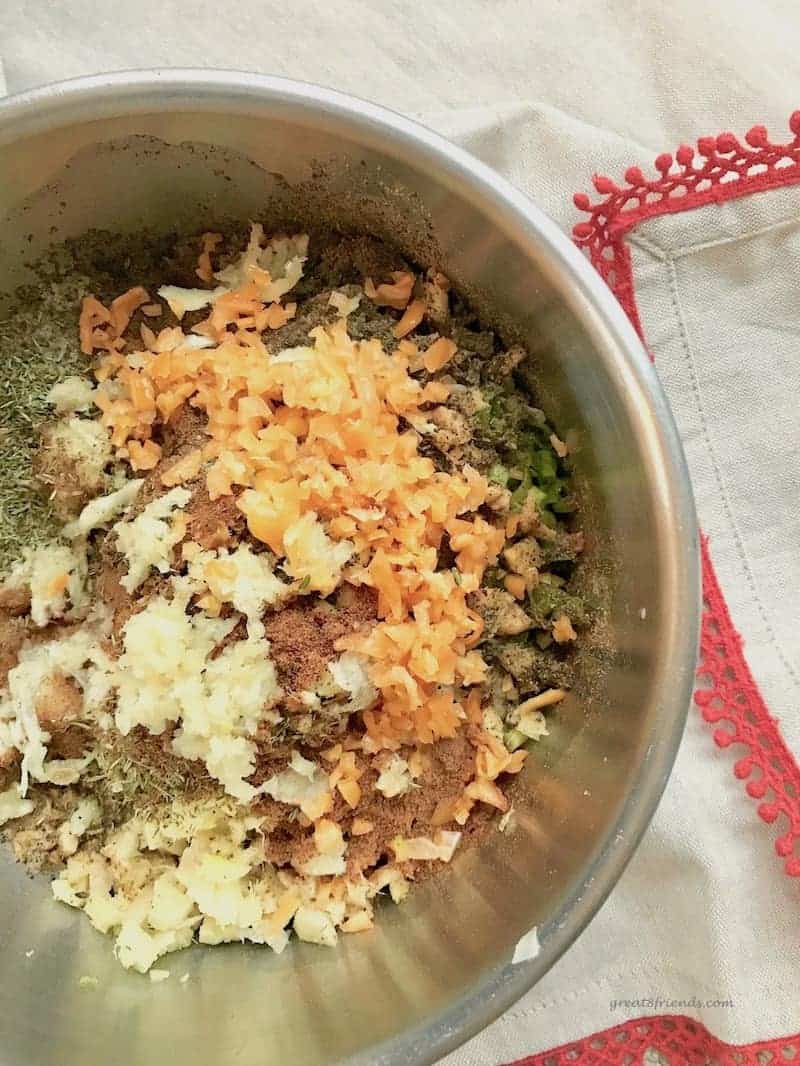 You know how when you taste or smell something and your mind and heart wanders back to the past? The aromas of the Jerk Chicken spices capture the flavors of that beautiful island, bringing back wonderful memories. It took center stage at Phil and my Celebrating the Flavors and Fun of Jamaica theme dinner. It was hit to all 8 palettes!
Be careful of the scotch bonnet (or habanero) peppers…the color is so beautiful, but the heat will sure get ya! And if you find the heat is unbearable whip up a pot of Island Coconut Rice. It'll calm your tastebuds quicker than you think!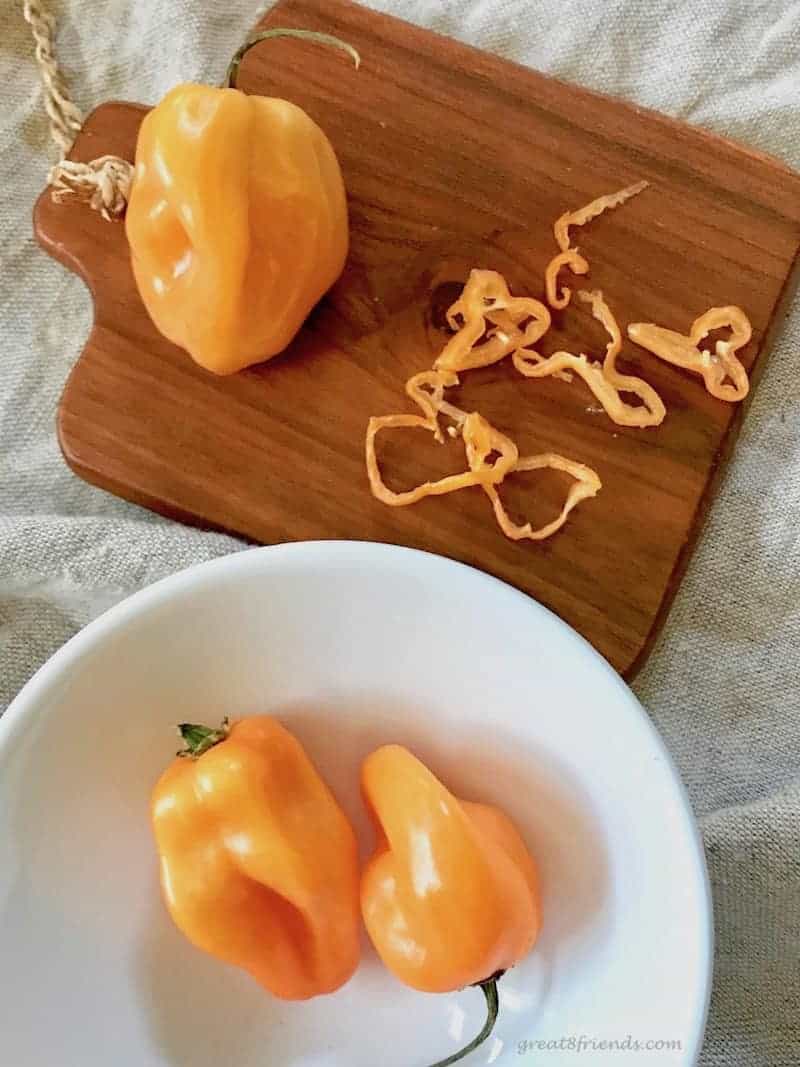 The first bite and it's like I'm right back there...crashing waves in the background and Reggae music in the distance!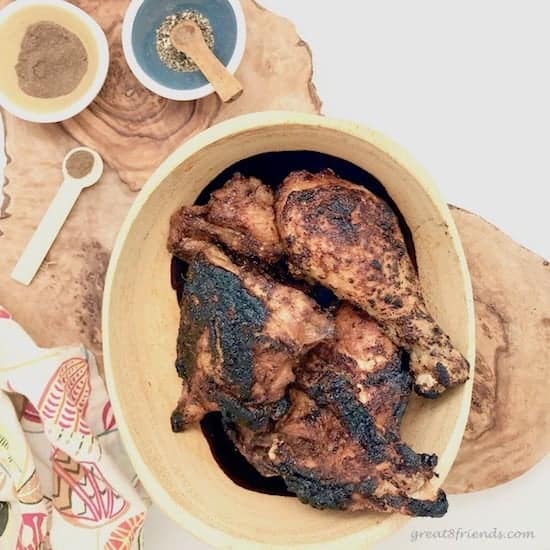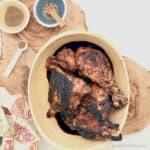 Print Recipe
Pin Recipe
Save this Recipe
Saved!
Please leave a rating!
Jamaican Jerk Chicken
The mouth watering classic Jamaican dish, Jerk Chicken is filled with all the spices authentic to the island. Grab a Red Stripe Beer and play some Bob Marley...you're in for a tasty tropical treat!
Ingredients
⅓

cup

freshly ground pepper

¼

cup

kosher salt

¼

cup plus 1 teaspoon

cinnamon

¼

cup plus 1 teaspoon

nutmeg

¼

cup plus ½ teaspoon

ground cloves

1

Tablespoon

dried thyme leaves

¾

cup

granulated sugar

⅓

cup

vegetable oil

¼

cup

fresh squeezed lime juice

2

Tablespoons

soy sauce

1 ¾

Tablespoons

molasses

¾

cup

spring onions

,

minced, also known as Mexican onions

9

large

garlic cloves

,

minced

4

Tablespoons

finely chopped fresh ginger

4

medium

Scotch bonnets or habanero chiles (depending on your heat tolerance)

,

stemmed and minced

4

pounds

chicken pieces
Instructions
In a medium bowl combine all ingredients except the chicken. Mix together well.

Add the chicken to the marinade and toss with a rubber spatula to coat the chicken completely.

Tightly cover the bowl with plastic wrap and place in refrigerator. If time permits, it's set to chill overnight. If not, chill for at least 6 hours.

Heat grill to medium or a cast iron skillet on medium-high.

Remove chicken from marinade. Place chicken on grates, skin side down.

Cook uncovered, turning once, until the jerk marinade forms a nice crust on the skin, about 8 minutes.

Cover the grill (or cast iron). Continue cooking until cooked through, about 40 minutes on grill. Time may vary if cooking in skillet.

Bake until fully cooked through.
Notes
Gr8 Tip:
This recipe can also be prepared in the oven.
Preheat oven to 350°F.
Line a cookie sheet or metal rimmed baking pan with foil.
Transfer marinated chicken to the prepared pan.
Cook until the internal temperature of the chicken is 165℉.