Enjoy this delicious and Tasty Tomato Onion Tart as an appetizer or side dish. The addition of fresh tomatoes and herbs makes this a flavorful tasty recipe.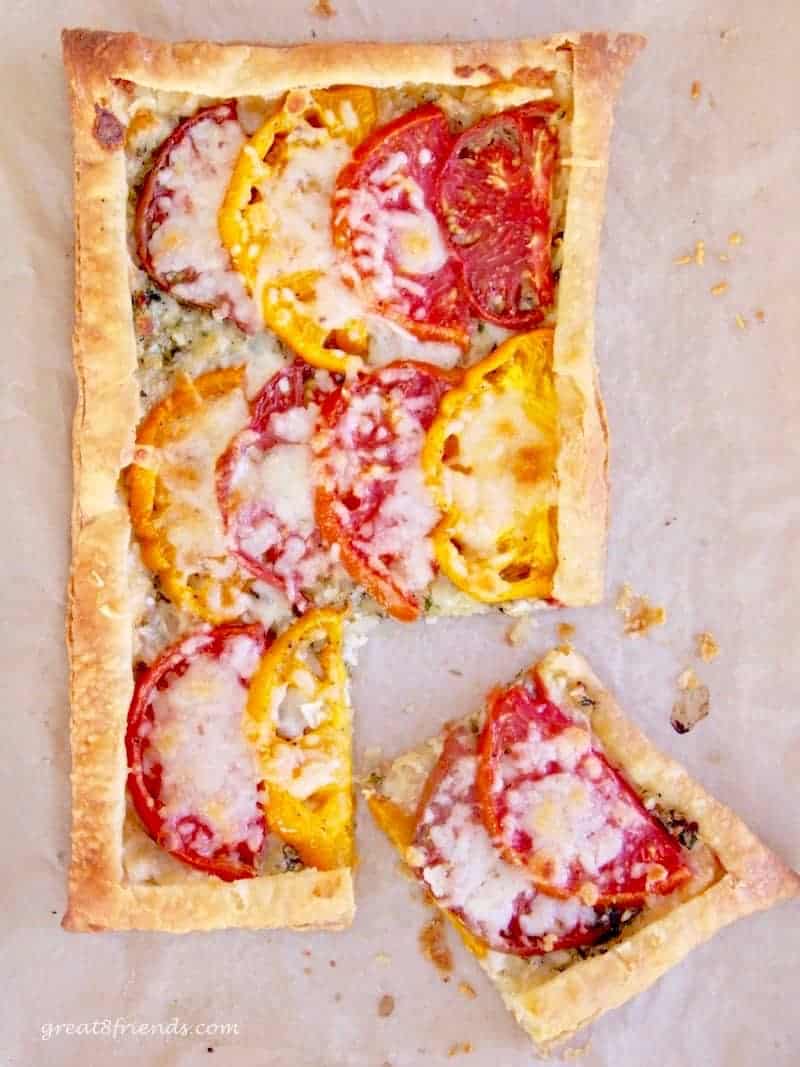 Here I am at my happy place, Manassero Farms, to buy my dad and me some of the last strawberries of the season.
Like going into your favorite store, you go in with your list and come out with, well, a few more things 🙂 Once again I spotted my favorite, heirloom tomatoes. They were way too pretty to walk away from.
Having no idea what I was going to do with them, I filled my basket anyway. My first thought was to make a Tasty Tomato Onion Tart.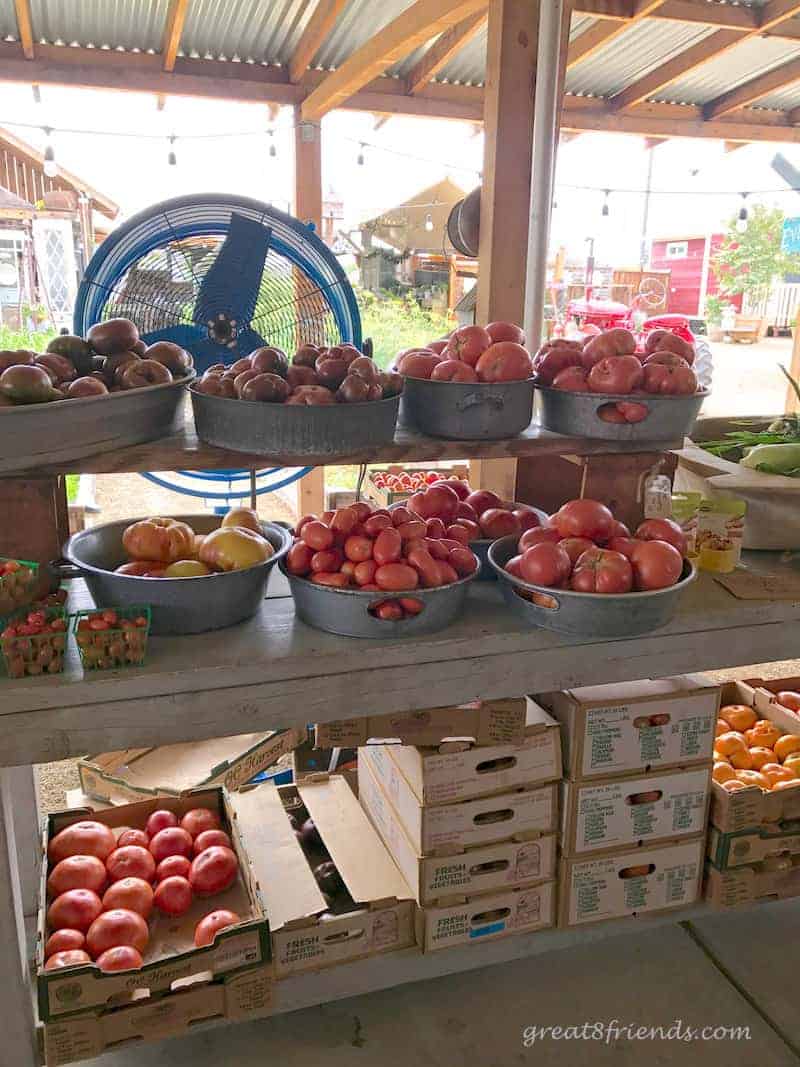 Once home they added so much color to my kitchen that I considered just using them as a centerpiece and staring at their beauty.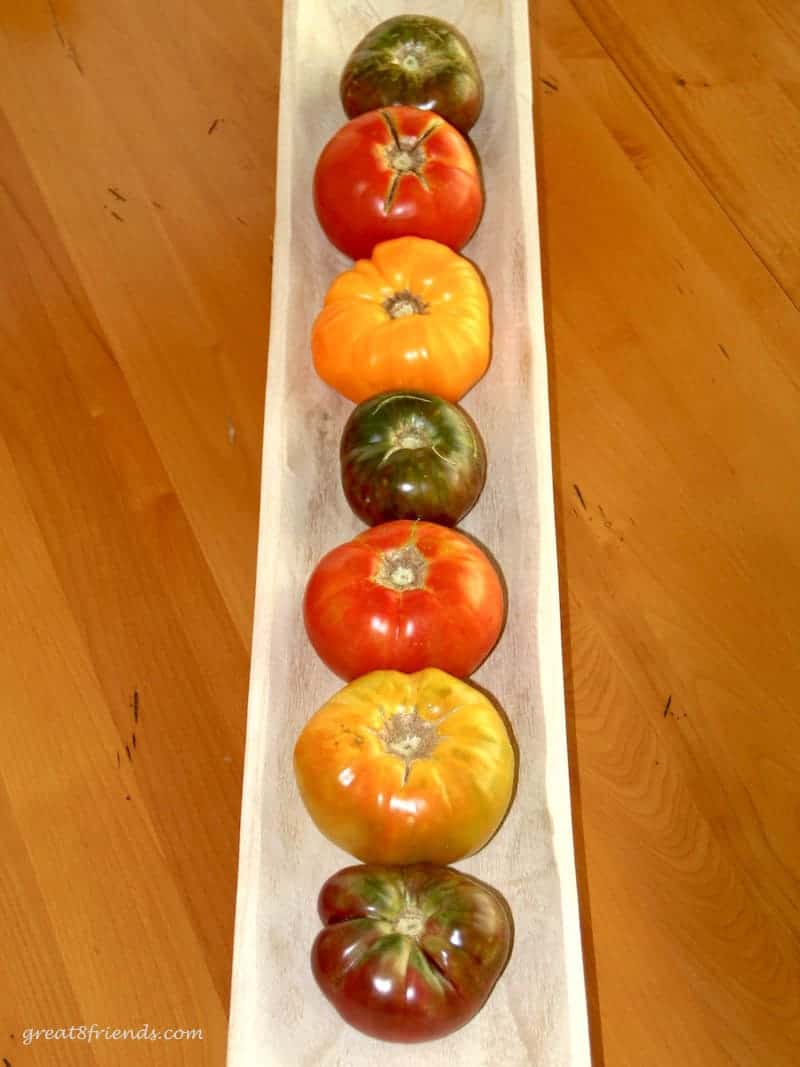 Well, that would be a sin to use them as decor and not to enjoy devouring them. I decided, although it would be my first time, to make a tomato tart. How hard could it be?
I found out, not hard at all! Knowing I had a sheet of puff pastry in the freezer and some cheese in the refrigerator, combined with a few fresh herbs and these wonderfully flavorful tomatoes, a tomato tart was in the works!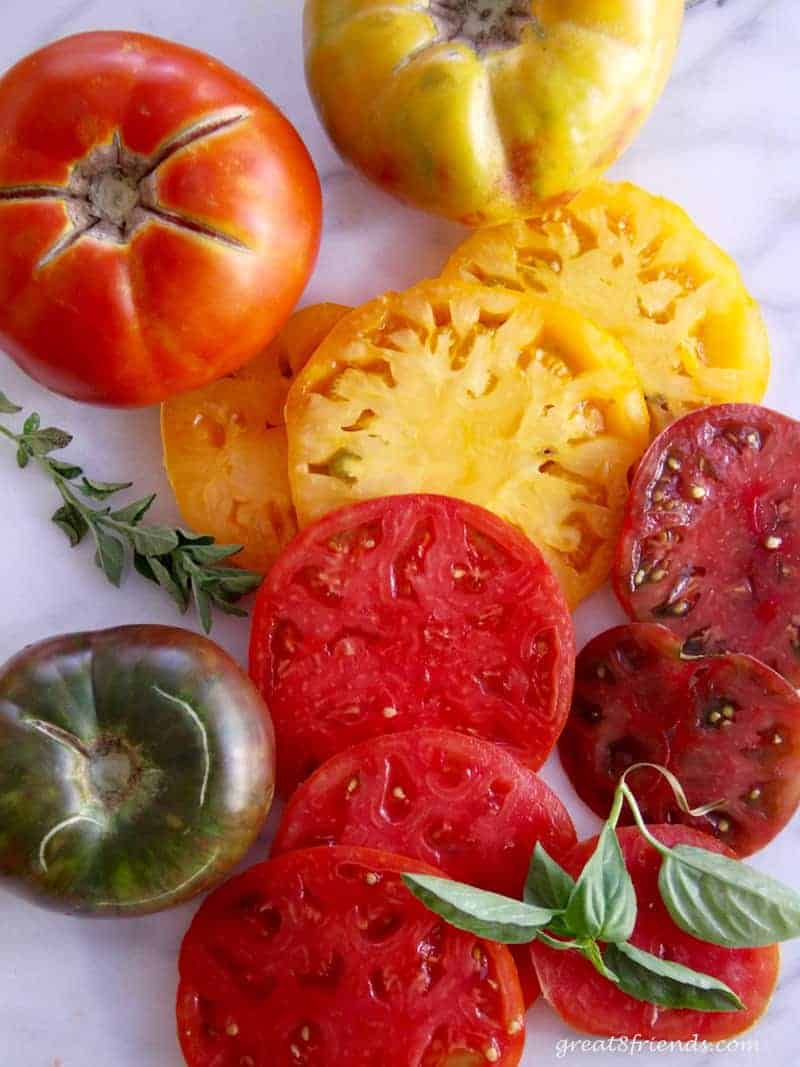 Although you can make your own puff pastry (and I will definitely try some day), it is so much easier to buy it from the freezer section of a market.
Trust me, it is easy to work with and your family and guests will be, oh, so impressed! The buttery flakiness is the perfect crust for just about any ingredient you want to add. This tart started with some grated cheese, onion, garlic, fresh thyme and parsley.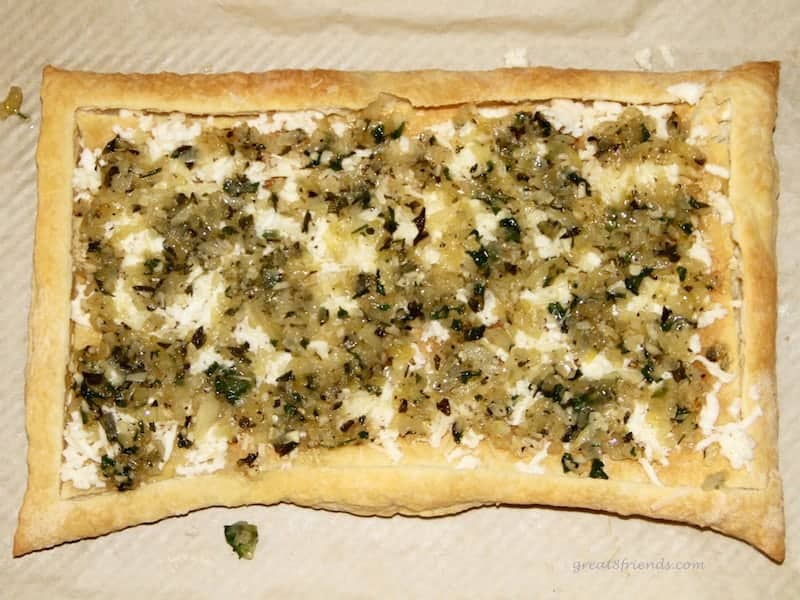 I could have stopped and eaten it just this way but the addition of these sliced tomatoes made it so much more delicious!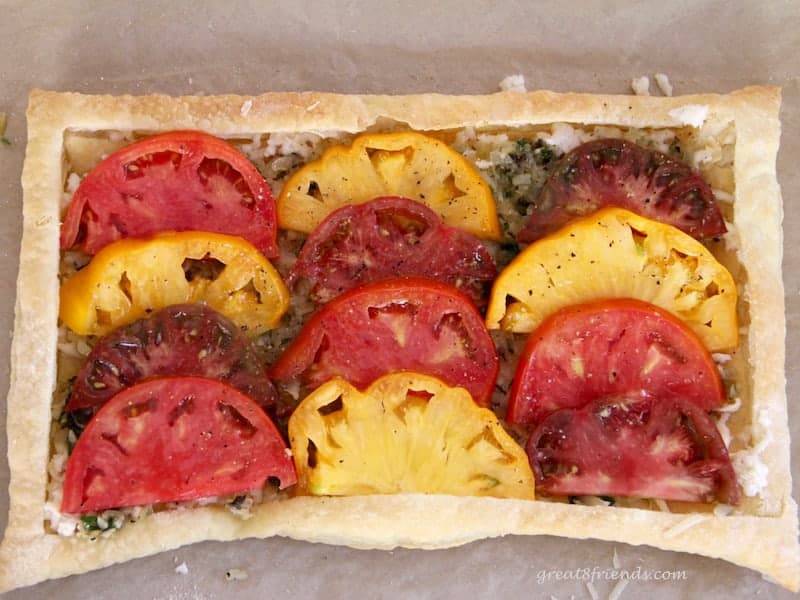 Give it a try! It is so easy to prepare and makes the most delicious appetizer or side dish.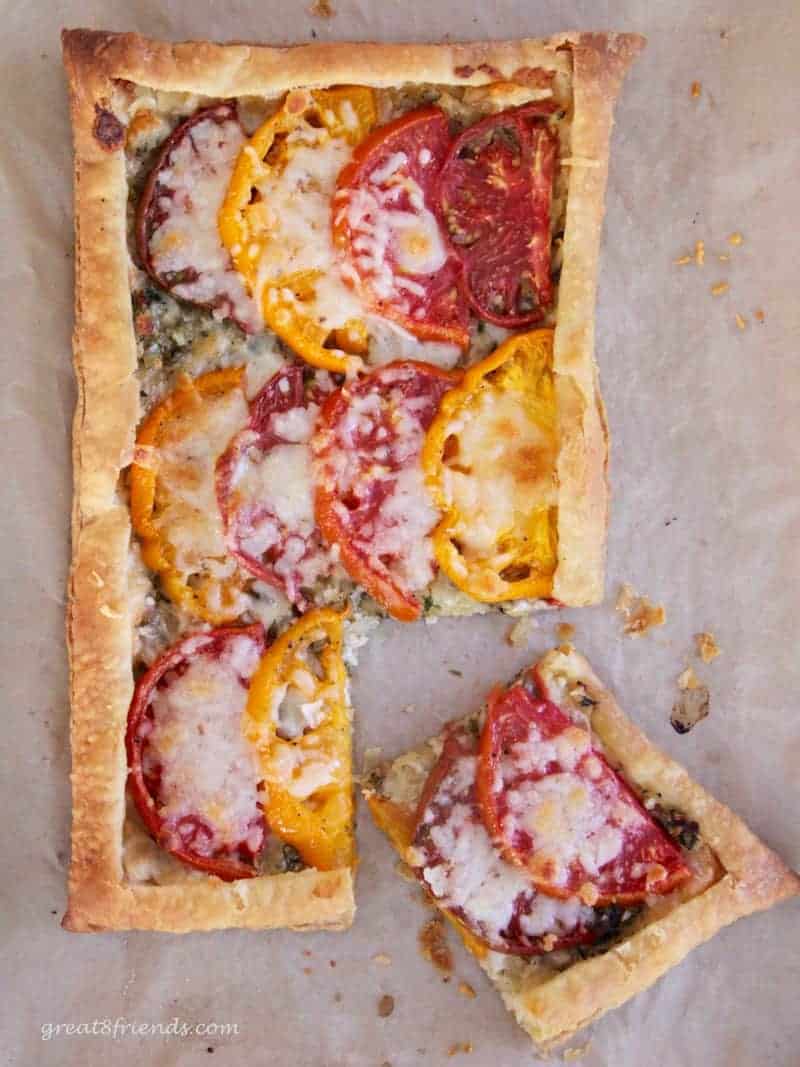 And by the way, if you have leftover tomatoes, you will love Tomato Burrata Salad or Tomato Crostini with Whipped Feta!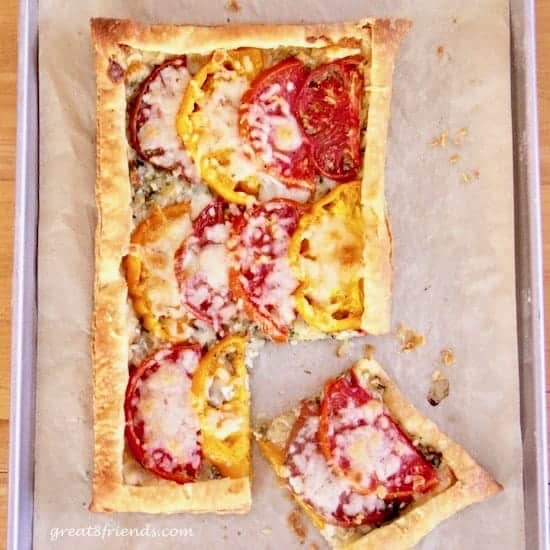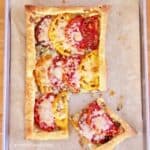 Print Recipe
Pin Recipe
Save this Recipe
Saved!
Please leave a rating!
Tasty Tomato Onion Tart
Enjoy this delicious and Tasty Tomato Onion Tart as an appetizer or side dish. The addition of fresh tomatoes and herbs makes this a flavorful tasty recipe.

Ingredients
1

sheet

frozen puff pastry

flour

,

for work surface

¼

cup

extra virgin olive oil

1

small

sweet onion

,

diced, about 1 cup

2

Tablespoons

chopped fresh thyme

2

Tablespoons

chopped fresh flat-leaf parsley

3

cloves

garlic

,

chopped finely

1 ½

cups

shredded mozzarella cheese

,

divided, low-moisture cheese will melt easier

¼ cup + 2

Tablespoons

shredded parmesan cheese

,

divided

6

slices

large tomatoes

,

each sliced ¼" thick, about 2 large tomatoes, cut in half or use smaller tomatoes and keep the slices whole

salt and pepper

several

basil leaves

,

sliced for garnish
Instructions
Thaw the puff pastry sheet for about 30 minutes.

Preheat the oven to 400℉.

Flour the counter or wood cutting board and a rolling pin so that the pastry does not stick.

Roll out the pastry to a 16-by-10 inch rectangle.

With a sharp knife, lightly score the pastry dough 1 inch in from the edges creating a border. Do not cut all the way through the dough.

With a fork, pierce the dough at about ½ inch intervals on the inside of the scored line.

Bake until light golden brown, about 10 minutes.

Remove the pastry shell. If it is puffed up in the middle, gently push it down.

Turn oven temperature down to 375℉.

While the puff pastry is baking, sauté the onions in the olive oil over medium heat for about 5 minutes.

Add the thyme, parsley and garlic to the onions and sauté for another 5 minutes. Add salt and pepper to taste.

Sprinkle 1 cup of the mozzarella cheese on the warm puff pastry within the border.

On top of the mozzarella cheese sprinkle ¼ cup of the parmesan cheese.

Sprinkle the onion mixture on top of the cheeses. Use a spatula to get all the spice and olive oil from the pan onto the tart.

Top with the sliced tomatoes, overlapping so they cover the top of the tart.

Sprinkle lightly with salt and pepper.

Sprinkle the top of the tomatoes with the remaining mozzarella and parmesan cheeses.

Bake the tart for 25-30 minutes. Sprinkle with basil and serve warm or at room temperature and ENJOY!
Notes
Be Cre-8-ive! 
Try gruyere or goat cheese.
Serve balsamic glaze on the side or drizzle it on the tart before serving. 
Use any kind of tomatoes that look tasty to you. Cherry tomatoes cut or uncut would be Gr8!