This Mai Tai recipe will have you feeling like you're in Hawaii or the Caribbean! It is the perfect balance of sweetness and alcohol. The fruit juices and rums are great counterpoints to each other to make you feel as though you're on vacation.
How often do you order a Mai Tai? A few months ago, I was sitting in our favorite local restaurant on a cold and rainy night and the bartender was whipping up two drinks that I didn't recognize. Come to find out they were Mai Tais!
It seemed incongruous that someone would be ordering a tropical rum cocktail in the midst of a rainstorm. But as I started to research the Mai Tai for this new recipe, I realized that it's a much more nuanced and layered drink than just some fruit juice with rum thrown in.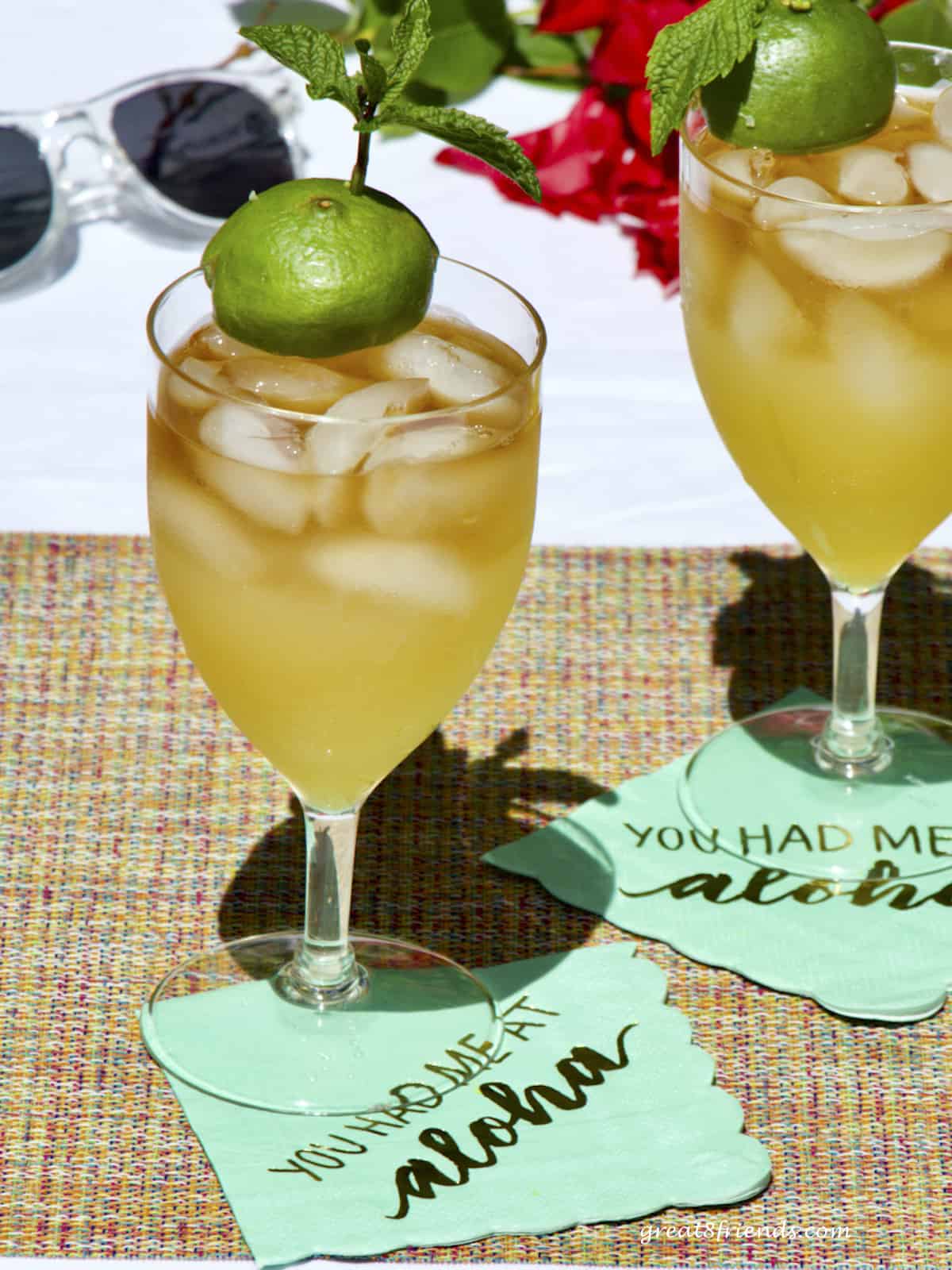 History of the Mai Tai
The original Mai Tai, was created in the early '40s by Vic Bergeron, of Trader Vic's in Oakland, California. He wanted to create a new cocktail for some friends from Tahiti. He started with a Jamaican golden colored rum and added a few simple ingredients.
When one of the friends took her first sip she said, "Mai Tai-Roa-Aé," which means "excellent" or "out of this world" in Tahitian. And thus the Mai Tai was named!
This first Mai Tai didn't contain any fruit juice other than some fresh squeezed lime juice. It's an easy recipe consisting of two types of rum, simple syrup, lime juice, orange curaçao and something called orgeat (or·zha).
In the mid-1950s, Bergeron was hired to create cocktail menus for the Royal Hawaiian and Moana Surfrider hotels in Hawaii. At that time he added juices to his recipe to make the drink more tourist friendly. His recipe is sometimes called a Hawaiian Mai Tai or Royal Hawaiian Mai Tai.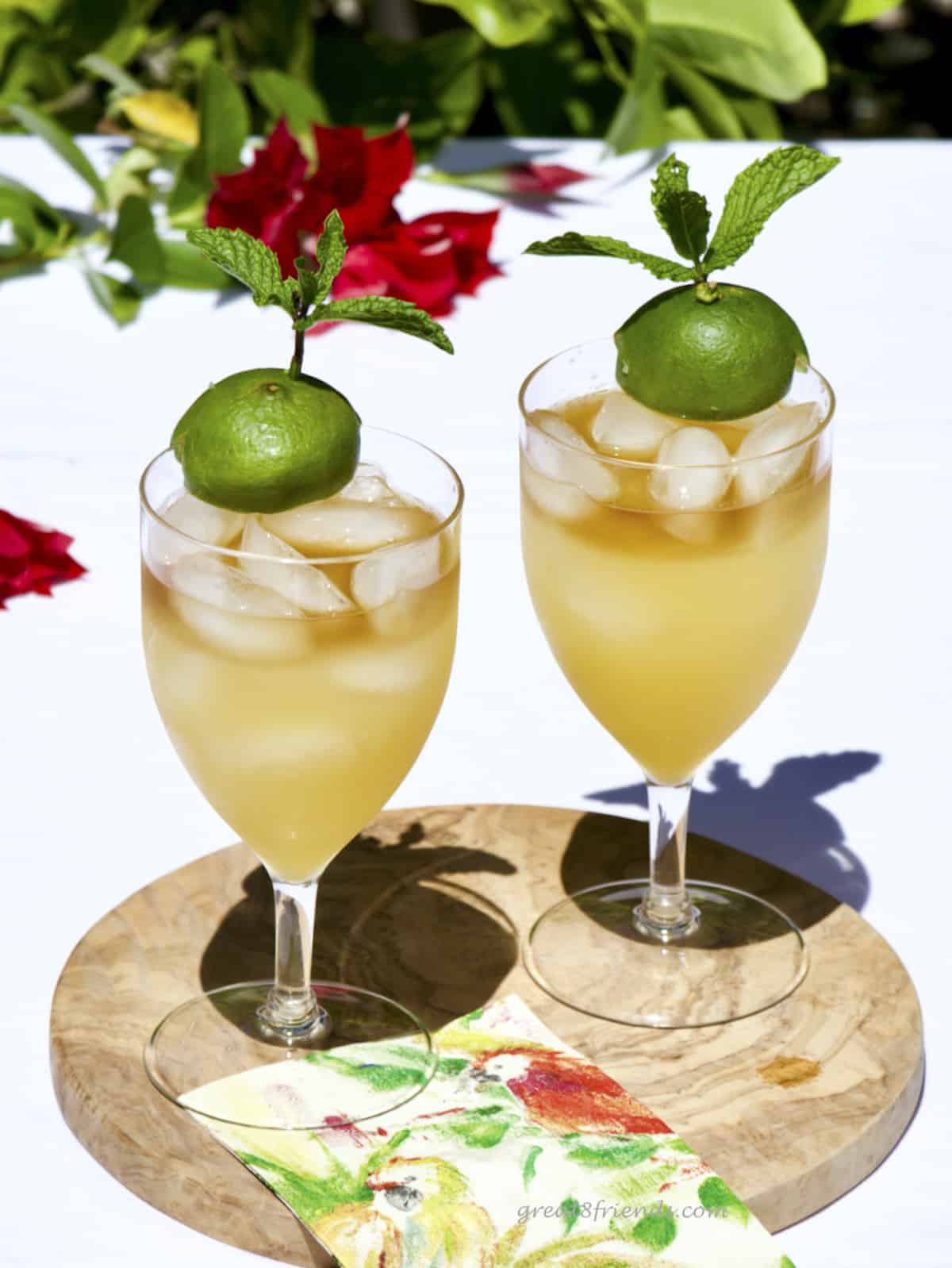 Our Recipe
For our recipe, we decided to make the fruitier version that you might get if you order a Mai Tai in Hawaii, rather than the original version. Which, btw, it also very delicious!
I mixed and tested and mixed and tested and discovered a few things. (hic!)
The Mai Tai is a delicate balance between the fruit juices and the rums. There is a perfect mix (which I think I've achieved!), BUT, if you like it fruitier or more rum-my, feel free to amp up the juices or the rums to your liking.
Read below the recipe for answers to frequently asked questions.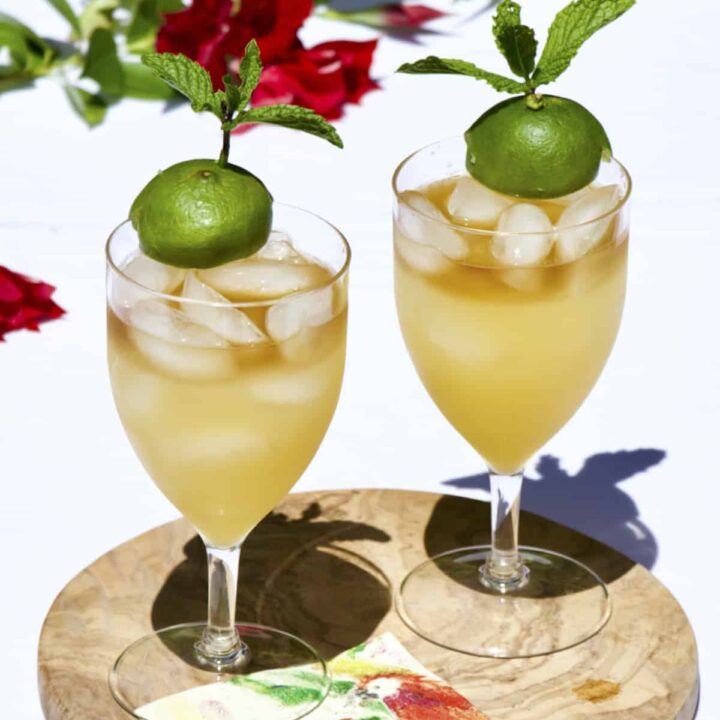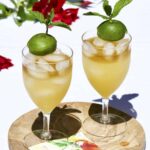 Print Recipe
Pin Recipe
Save this Recipe
Saved!
Please leave a rating!
Island Mai Tai Cocktail
There are a LOT of recipes for Mai Tais, this one is a Gr8 balance of fruity and rum-my. If you like it more rum forward, pump up the amount of rum float. If you like it more fruity, tone down the amount of rum. You're in charge!
Special Equipment
Cocktail Shaker

2 Double Old-Fashioned Glasses or Large Cocktail Glasses
Ingredients
1 ¼

ounces

white rum

,

also called silver rum or light rum

¾

ounce

cointreau

½

ounce

orgeat syrup

,

in a pinch an almond syrup, like Monin, can be substituted, but it won't be quite the same.

¾

ounce

fresh lime juice

1 ½

ounces

pineapple juice

1 ½

ounces

orange juice

¾

ounce

dark rum

,

also called black rum

½

lime shell

,

from squeezing, for garnish

1

sprigs fresh mint

,

for garnish
Instructions
Prepare the Glass
Cut 2 slits into the edge of a lime shell across from each other, then poke a hole into the dome of the shell. Stick a sprig of mint into the hole then set the lime shell on the edge of the glass using the two slits to secure it.

Fill the glass full with ice cubes, set aside.

Fill the cocktail shaker with ice and add the first 6 ingredients, white rum, cointreau, orgeat, lime juice, pineapple juice, and orange juice.

Shake vigorously to blend well, then pour over ice in prepared glass.

Float the black rum on the top of the drink by pouring over the back of spoon onto the drink.
What is Orgeat Syrup?
At the beginning of this recipe testing, I had never heard of Orgeat, it's basically a non-alcoholic syrup made mainly of almonds. So I thought that a simple substitute, which most people have in their home bars, could be Amaretto.
How wrong was I! Orgeat is a silky, creamy mixture with a depth of subtle sweet almond flavor. In a pinch, I suppose you could substitute Amaretto, but it will be a harsher more alcohol-y drink.
Some sites recommend subbing one of the sweetened almond syrups used mainly in coffee drinks. Disclaimer: I have not tried this, so I can't speak to how it works in the cocktail.
To get the best, most authentic flavored Mai Tai, I recommend you invest in a small bottle of Orgeat, you can also use it in coffee drinks! My favorite bartender recommends the brand Liquid Alchemist. Or, if you're feeling ambitious, make your own!
When I finally started using the Orgeat, my recipe began tasting like a real Mai Tai.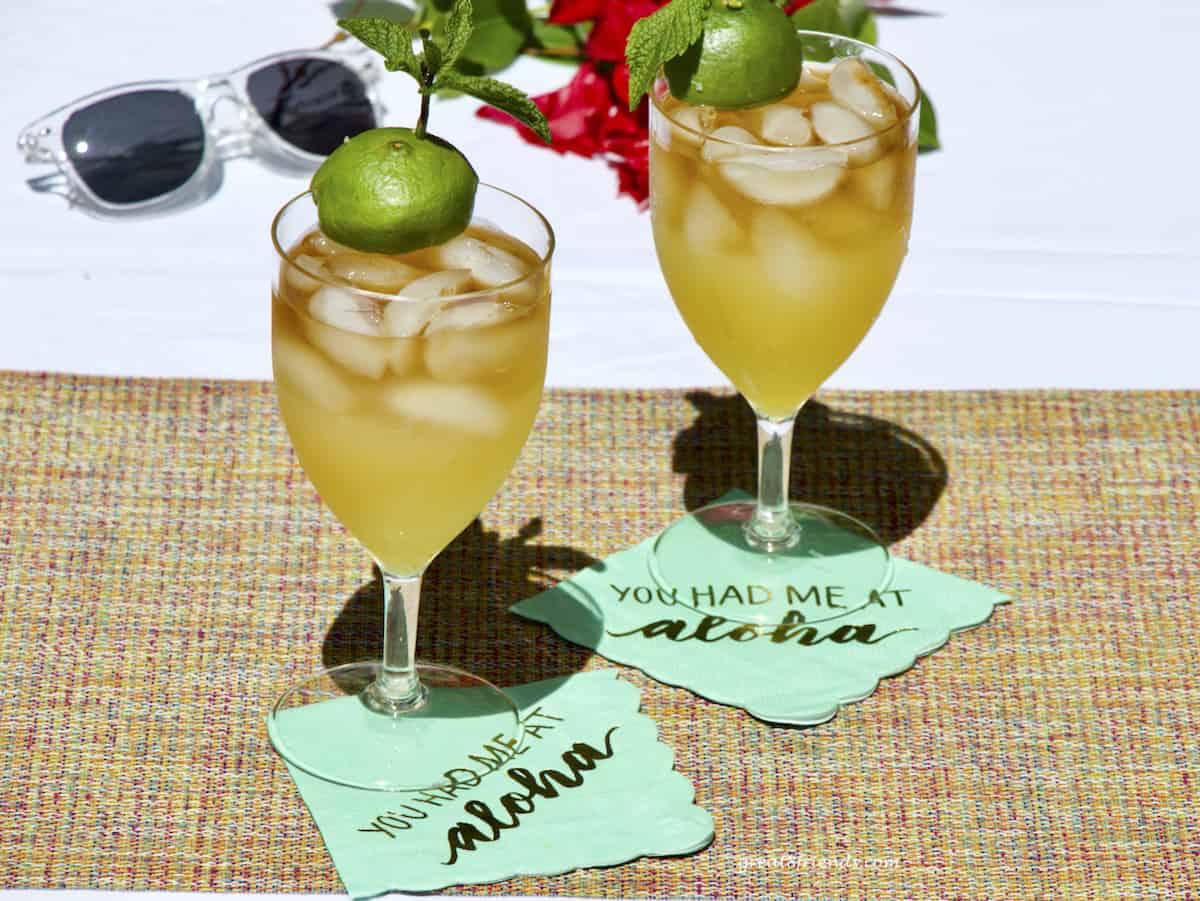 Is there a substitute for the Cointreau?
YES! If you don't have Cointreau in your bar, you may use Grand Marnier or Triple Sec or, what the original Mai Tai uses, Orange Curaçao.
HOWEVER, if you use Grand Marnier, start with less, then taste. Grand Marnier is great as a stand alone orange flavored liqueur, but may be too alcohol forward, so less may be more, in this case.
If you choose to substitute Triple Sec, you will also need to taste, bc it is not as smooth a spirit as Cointreau. If you find the drink is still a bit harsh with the Triple Sec, add a bit more orange juice.
The Orange Curaçao will probably give you a similar flavor profile as the Cointreau, especially if it's a good curaçao. It's still a good idea to have a sip to see if the flavors are balanced.
What's the difference between amber rum and dark rum?
Did you know that there are MANY different kinds of rum with just as many flavor profiles? I used to say I didn't care for rum, but that's like saying, I don't like white wine.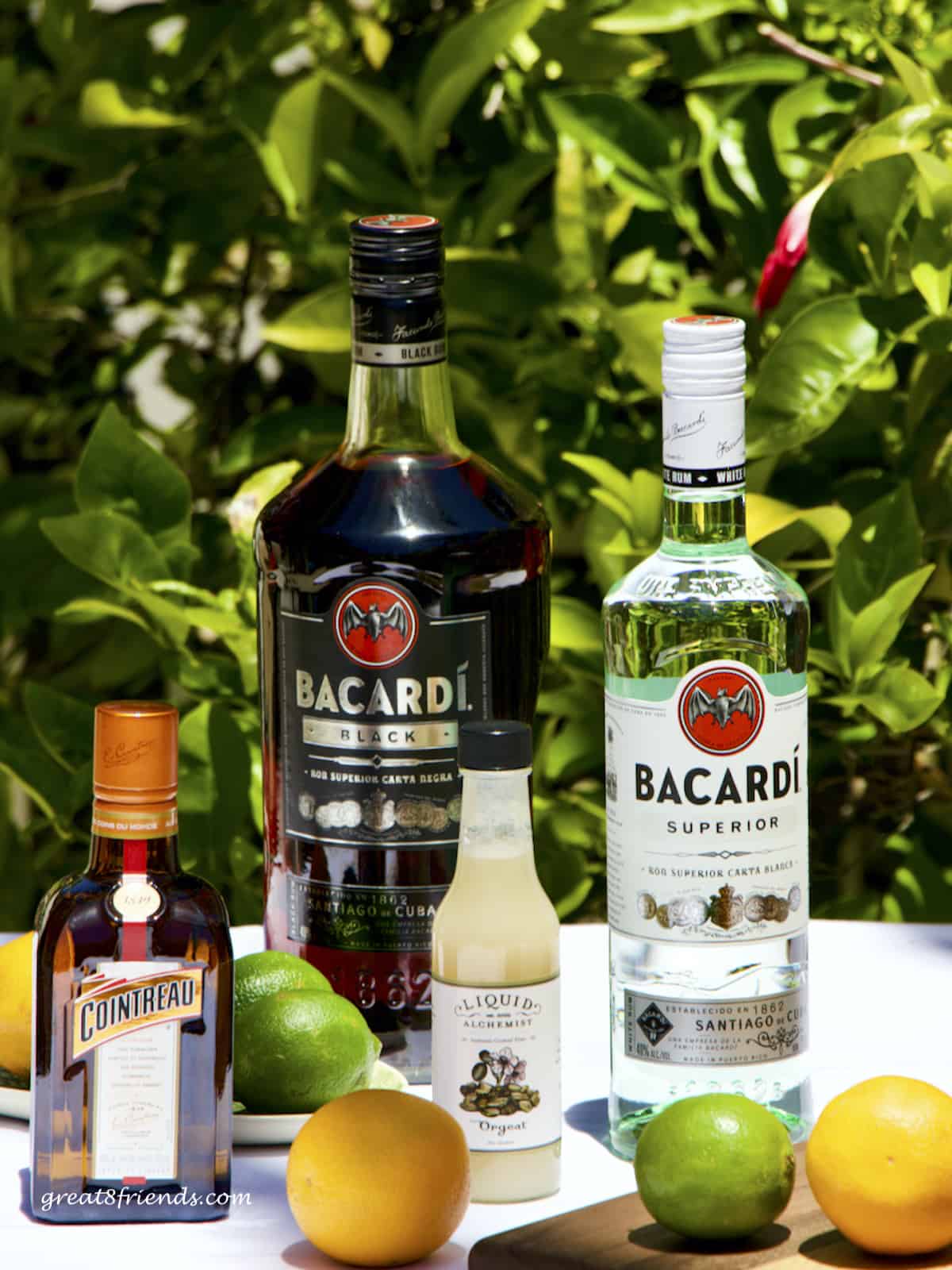 When I first started experimenting with this recipe we didn't have any dark rum in the house. In my naivete, amber rum was what I thought would be the closest. I made several attempts with the lighter rum, but the drink never tasted quite right.
The 4 Types of Rum
There are 4 kinds of rum: light rum, also called white or silver. It is used in mojitos and daiquiris, has a very light flavor and no color. Amber or gold rum has been aged in wooden casks and is a beautiful color with bit richer flavor than light rum.
Dark rum and spiced rum are the last two types. Captain Morgan's is the most common spiced rum, which is just as it sounds, a dark rum to which spices have been added.
Dark rum or black rum is aged for longer than most other rums in charred oak casks. This gives dark rums a deeper, more whiskey type of flavor, still with a bit of sweetness.
Ever since Vince and I visited the Bacardi plant in Puerto Rico some years ago I tend to favor that brand. (We don't get paid for this endorsement, I'm just telling you what I like.) Bacardi makes a Black Rum that is delicious and rich and the perfect float, in color and flavor!
You probably could substitute an amber rum for the dark rum float, but you won't get the pretty color, nor will you get the same sweet/smoky flavor at the beginning of your sip.
"I thought Mai Tais had Grenadine."
You could certainly add a splash of Grenadine to the top of the float after the drink is made. I found that this added a flavor that I didn't care for, so I left it off. But the drink is yours, so by all means, add it if you like it!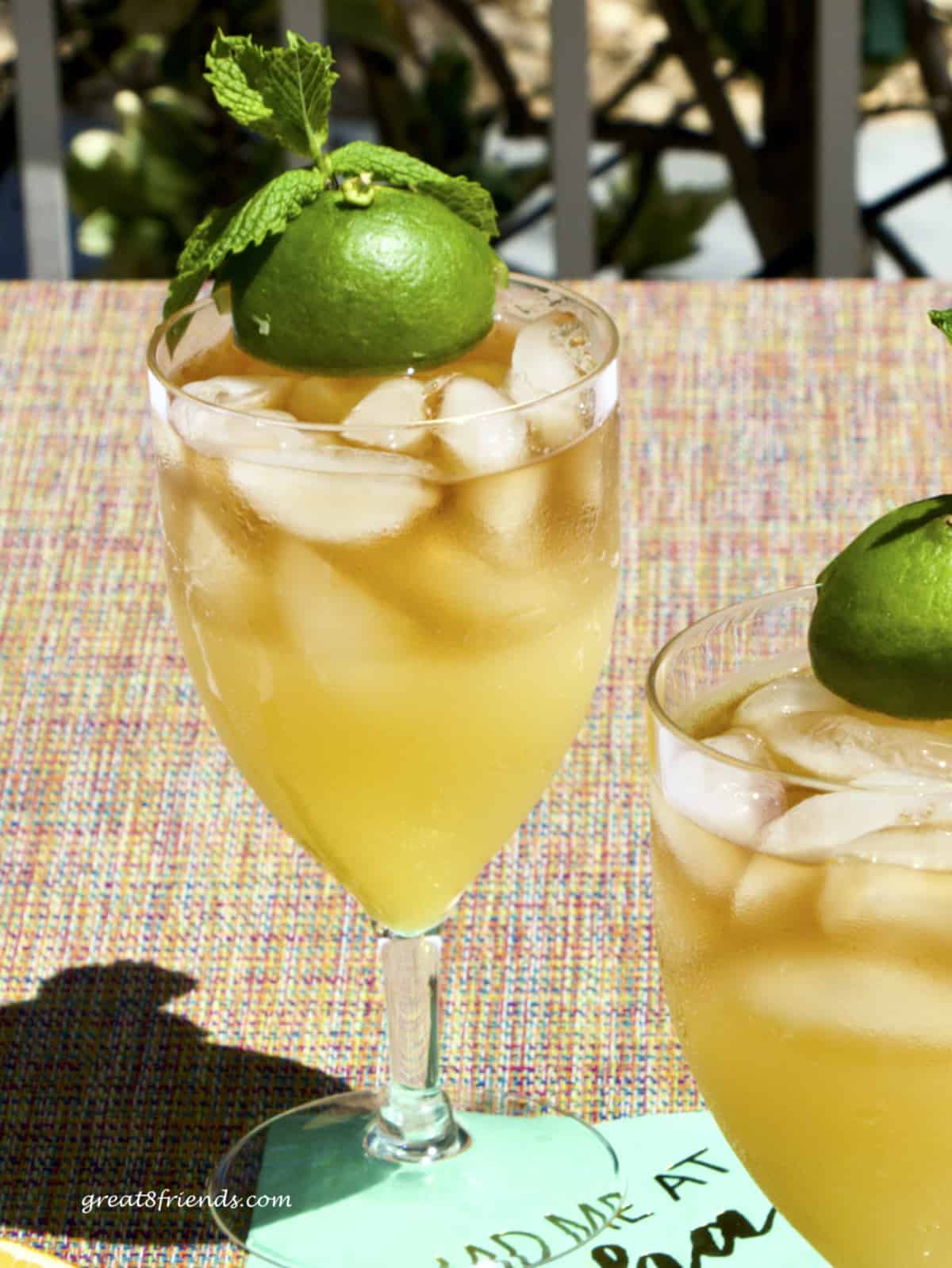 How to Garnish a Mai Tai
Get creative with your garnish, spear an orange slice and a pineapple wedge, or use a cute, colorful umbrella, or do both!
I chose to use the garnish from Trader Vic's original cocktail. He used the half lime shell that had been squeezed and a mint sprig.
When you sip this tropical cocktail you should feel as though you're on a deserted island sitting under a swaying palm tree. Vic's half lime shell is supposed to be the island with the mint sprig symbolizing the palm tree.
Garnishing is art, get cre-8-ive!
Let's Have a Party!
Kyle and Joel served Mai Tais at their very fun Hawaiian Luau Gr8 Dinner. Check it out, we were so young!!