This Grilled Pizza will make you feel like you're at a pizzeria in Italia! No need for a pizza oven, your own grill will work. Set up a buffet of the toppings and let everyone create their custom pizza. Gr8 Food and Gr8 Fun!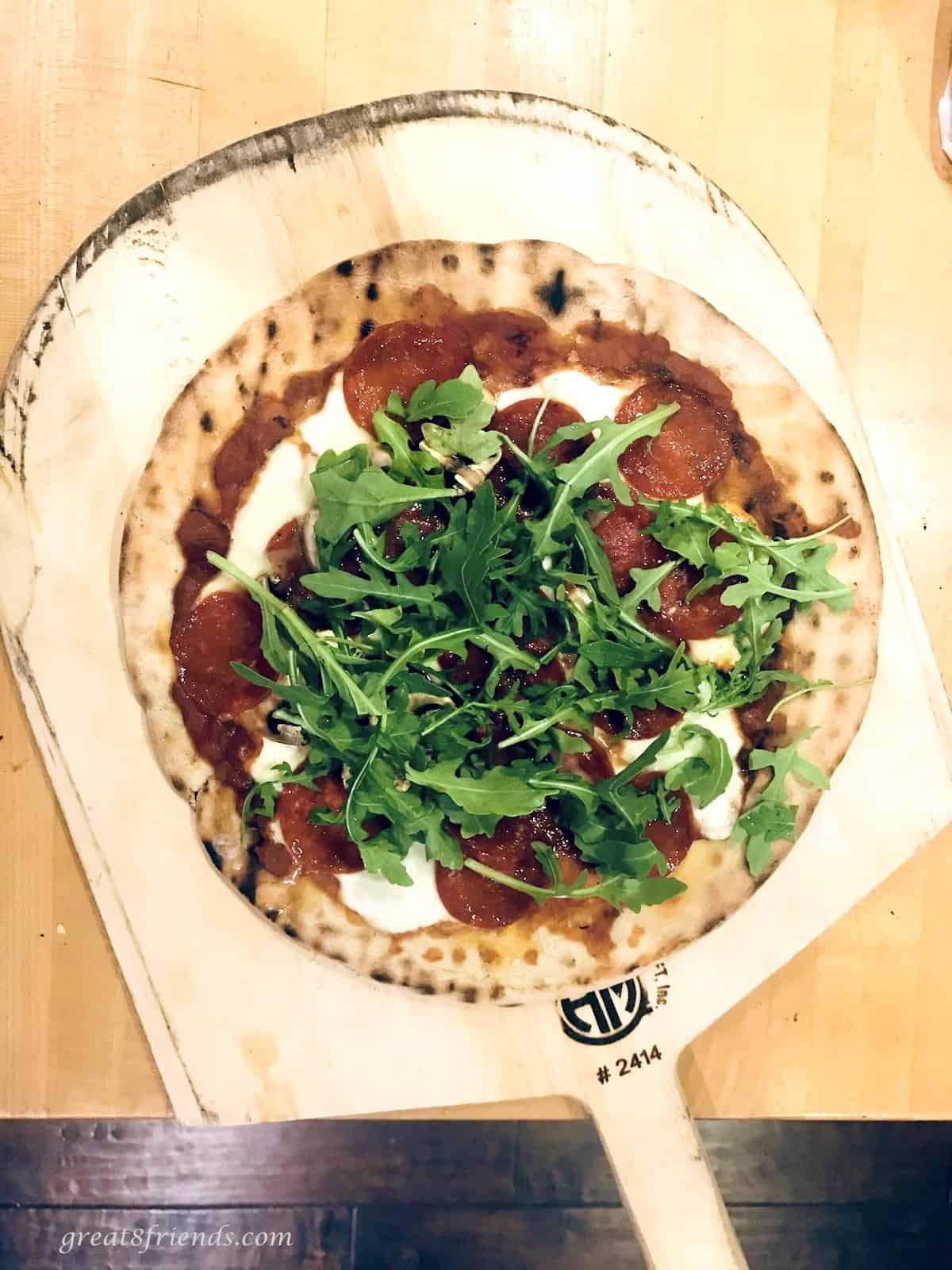 Put away those pizza delivery menus! You'd be surprised at how easy it is to make your own personalized pizza...and on the grill to boot! Grilled Pizza!
No cardboard pizza boxes here, my friends! A simple homemade crust, your favorite toppings, a preheated grill and you are set to go! Mama (insert your last name here) is in the kitchen!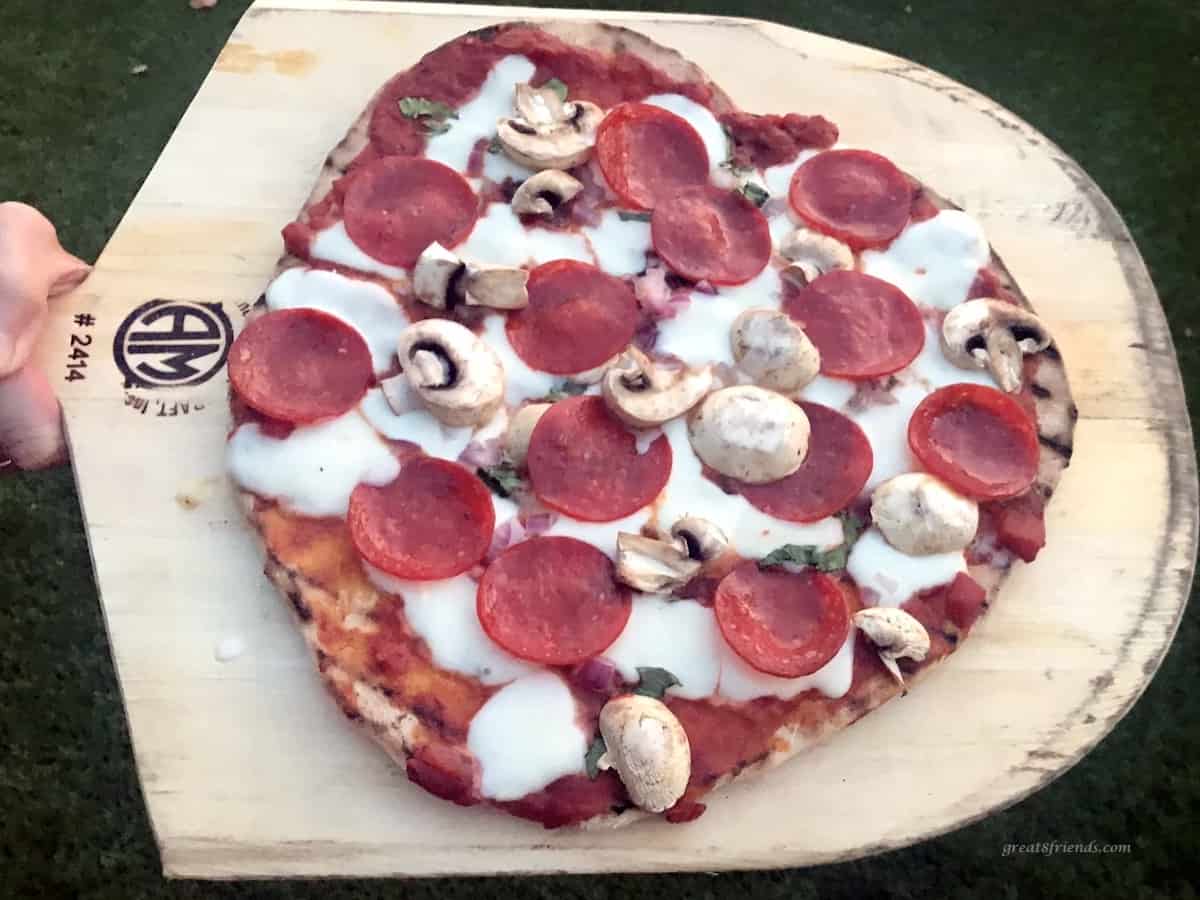 When our girls brought friends home from college, they all knew that for one of the days during their stay, Phil and I would make our "signature" Grilled Pizza...the ones that our girls had been talking about all semester long!
Before they'd head out for their California tourist-ey outings, and knowing I'd need to run to the market, we'd "take their orders."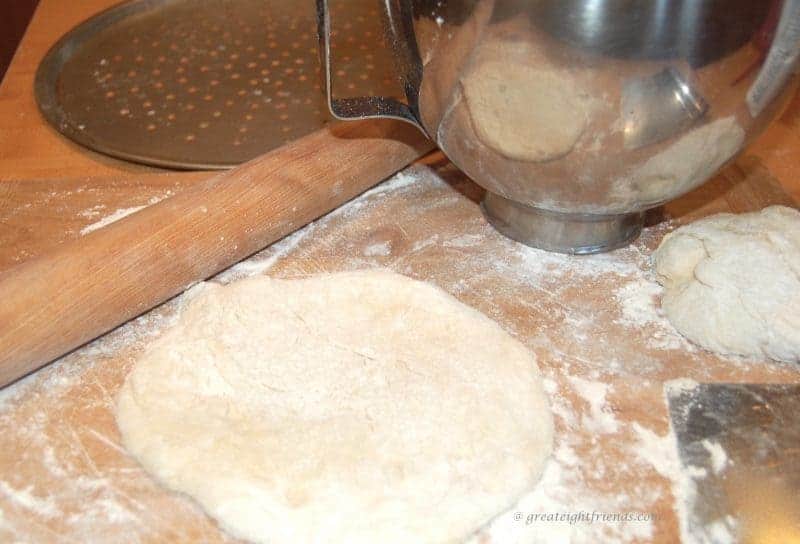 While the pizza dough's rising and Phil is heating up the grill, I pull some leftover Roasted Garlic from the refrigerator and start getting the toppings ready!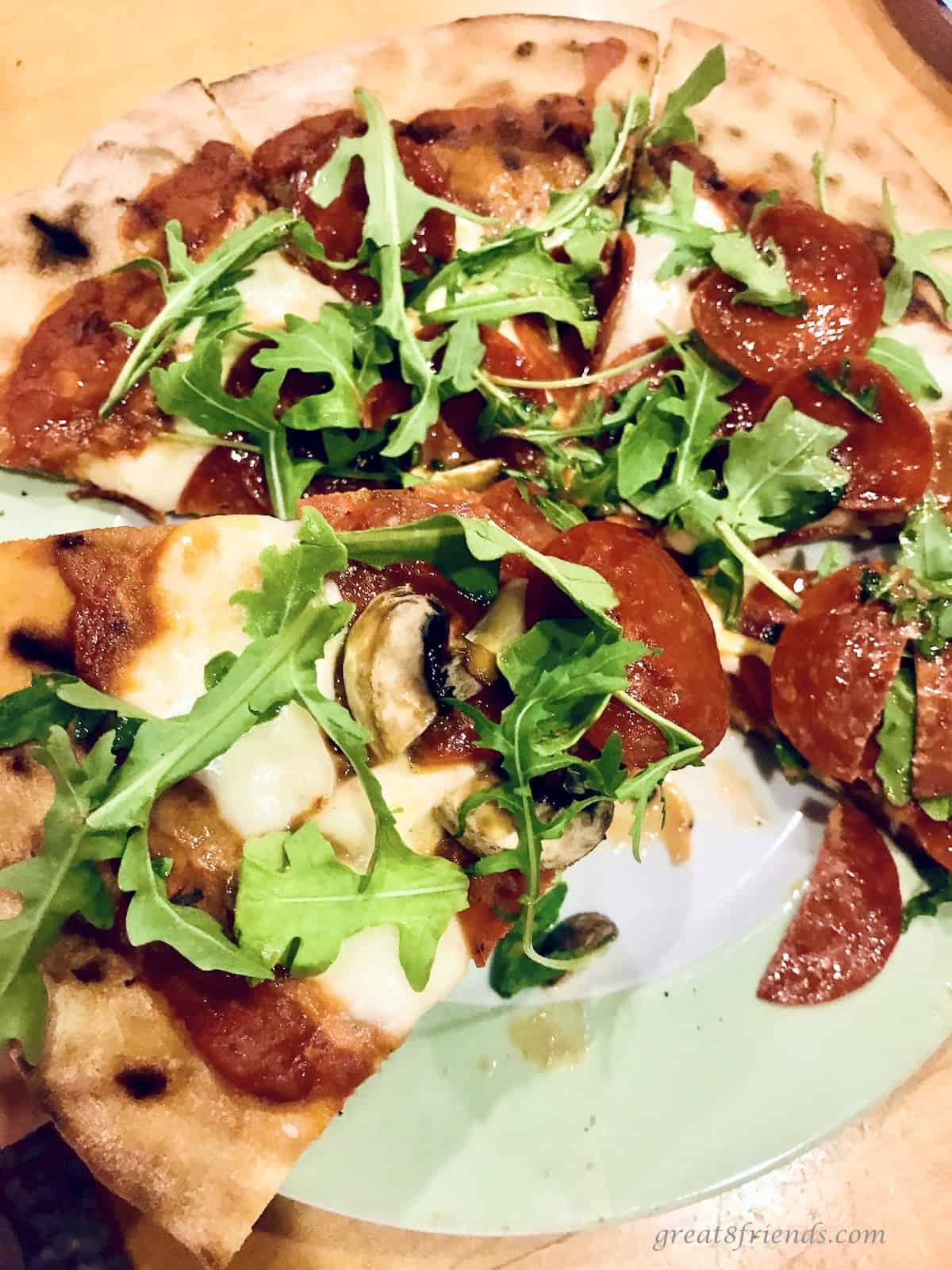 Since most of the visiting college friends were from New York and New Jersey, we had to make sure we were spot on with the toppings!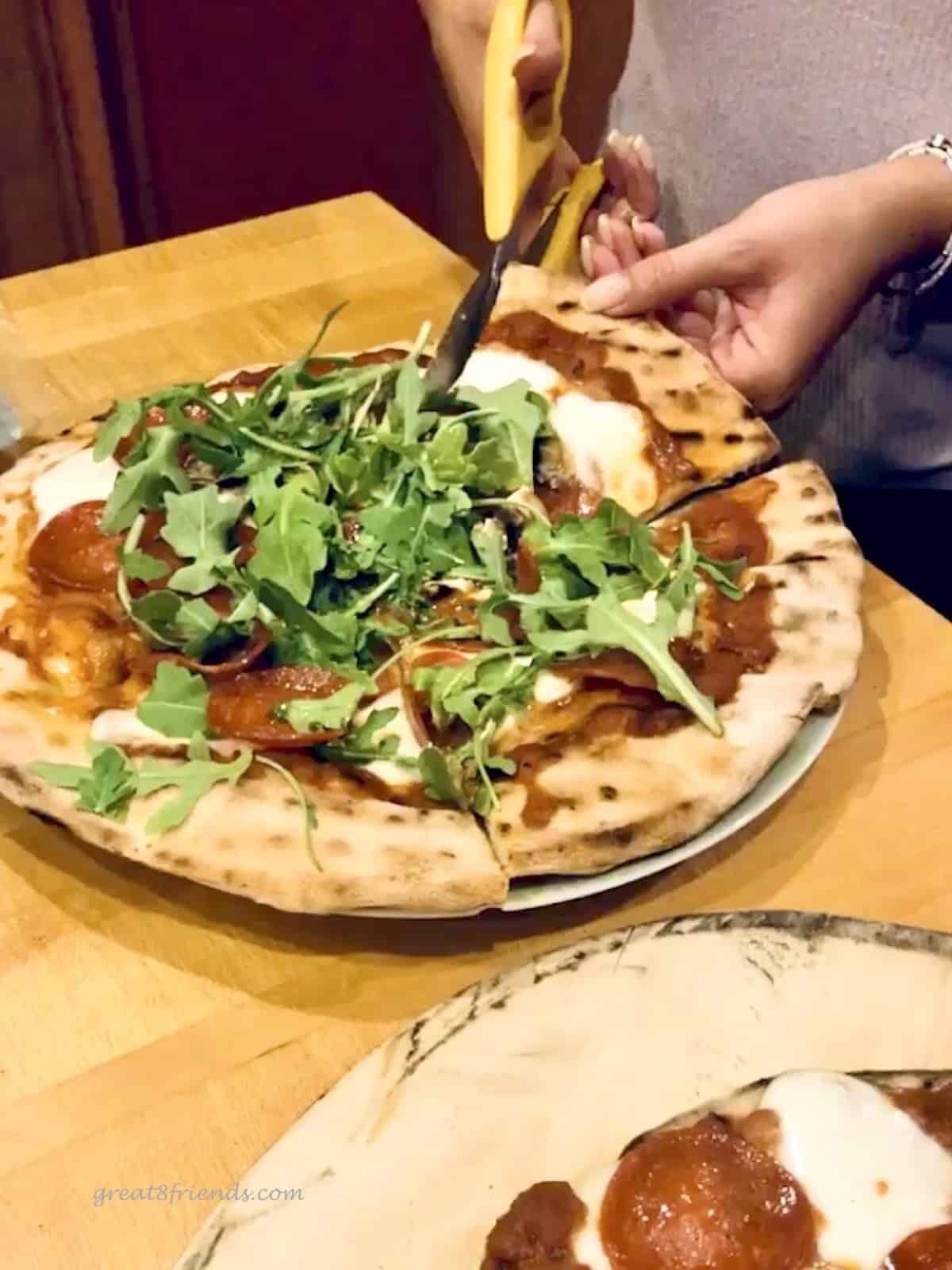 Elle, Gina, Katie and Rachel...are our favorite east coast girls...they know (and love!) their food!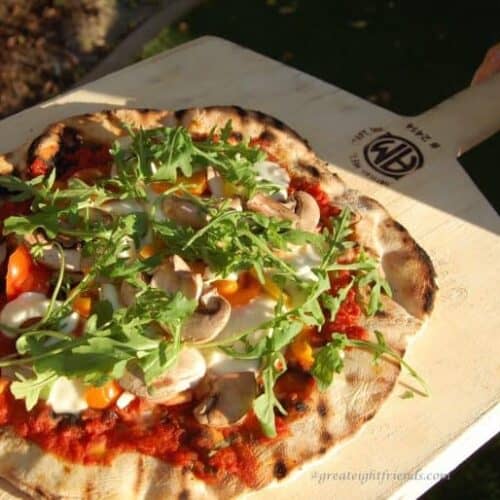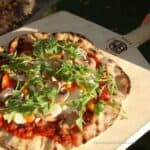 Print Recipe
Pin Recipe
Save this Recipe
Saved!
Please leave a rating!
Grilled Pizza
Whether the sun is out or the clouds are hovering, this is a Gr8 recipe to make with all hands on deck! No need for one of those fancy outdoor wood fire ovens. Your everyday grill makes you feel like you're countries away at an Italian Pizzeria! Let everyone choose, chop and prep their own toppings! It makes for a fun pizza night!
Special Equipment
Pizza pan (with holes is best) or a pizza stone. Cookie sheet is okay, too.
Ingredients
Basic Pizza Dough
1

package

active dry yeast

2

cups

warm water

,

no warmer than 115 degrees.

1

Tablespoon

salt

¼

cup

Extra virgin olive oil

4-¼

cup

all-purpose flour
Instructions
Place yeast and warm water in the bowl of a stand mixer; add salt and olive oil. Stir to combine. Allow to sit for 5 minutes. Bubbling and foaming lets you know that the yeast is active and working.

Using paddle attachment, mix the contents on low (set at 2 on a KitchenAid mixer)

Add flour slowly, ¼ cup at a time.

Increase speed to medium-high (set at 6 on KitchenAid mixer). Mix until dough comes together in a ball.

Mix 2 more minutes until dough is soft and pliable.

Turn dough onto a lightly floured work area. Lightly oil same bowl and set aside.

Knead dough gently for 5 minutes. Place in oiled bowl and cover with a clean dish towel. Allow to rise in a warm, draft-free area for 30-40 minutes. Gr8 time to clean up and prepare toppings. **See Gr8 Do-Ahead.

Toppings
Favorite red sauce,

Extra Virgin Olive Oil, any or all of your

favorites.
This is what we LOVE to use:
Fresh mozzarella, pepperoni, arugula*, onions, artichokes (frozen or marinated and drained), mushrooms, sausage, garlic, bell peppers.

Anything else that makes you happy! Crushed red pepper flakes make me VERY happy!
Directions
Preheat gas grill to 500 degrees. If your grill has 2 or 3 burners, leave 1 of them off for Step 4.

Turn the dough onto a floured work area and cut into 3's (or stretch into 12" x 6" if using cookie sheet.

Place stretched shaped dough onto pizza pan (or cookie sheet) and place pan directly onto grill. Cook for 2-3 minutes.

Slide pizza dough directly onto grill over indirect heat.

Cook for 2 minutes more. Cook/grill time may vary depending on thickness of dough. Keep an eye on it.

Now the fun begins! With the cooked side up, place pizza back onto pan.

Add chosen toppings. Start with sauce. No sauce? Add a slug of olive oil. Follow with cheese and other chosen toppings.

When toppings are added and the "chefs" are happy, carefully slide the pizza off pan and directly onto grill, again over the indirect heat. Grill until underside is crispy, cheese has melted and all of your toppings are cooked to perfection!

To serve, drizzle with more extra virgin olive oil. Cut with kitchen shears, pizza cutter or sharp knife, pour a nice glass of Chianti and turn on some Andrea Bocelli. Now, sit back and let your mind take you to that beautiful country on the Mediterranean coastline.
Notes
Gr8 Tips:
* If adding arugula, add it AFTER the pizza and toppings are off of the grill and the pizza is done.
I like to use a rolling pin to "stretch" out my dough, but be careful not to stretch it too thin! You don't want those toppings to fall through!
Gr8 Notes:
This recipe makes 3, 12" pizzas, but the serving size can vary depending on the size of the dough piece you start with.
Gr8 Do-Ahead Tip:
** The risen dough can be wrapped in plastic wrap and refrigerated for up to 2 days, or frozen for no more than 2 weeks. If frozen, defrost overnight in the refrigerator. If refrigerated, no need to bring to room temperature.