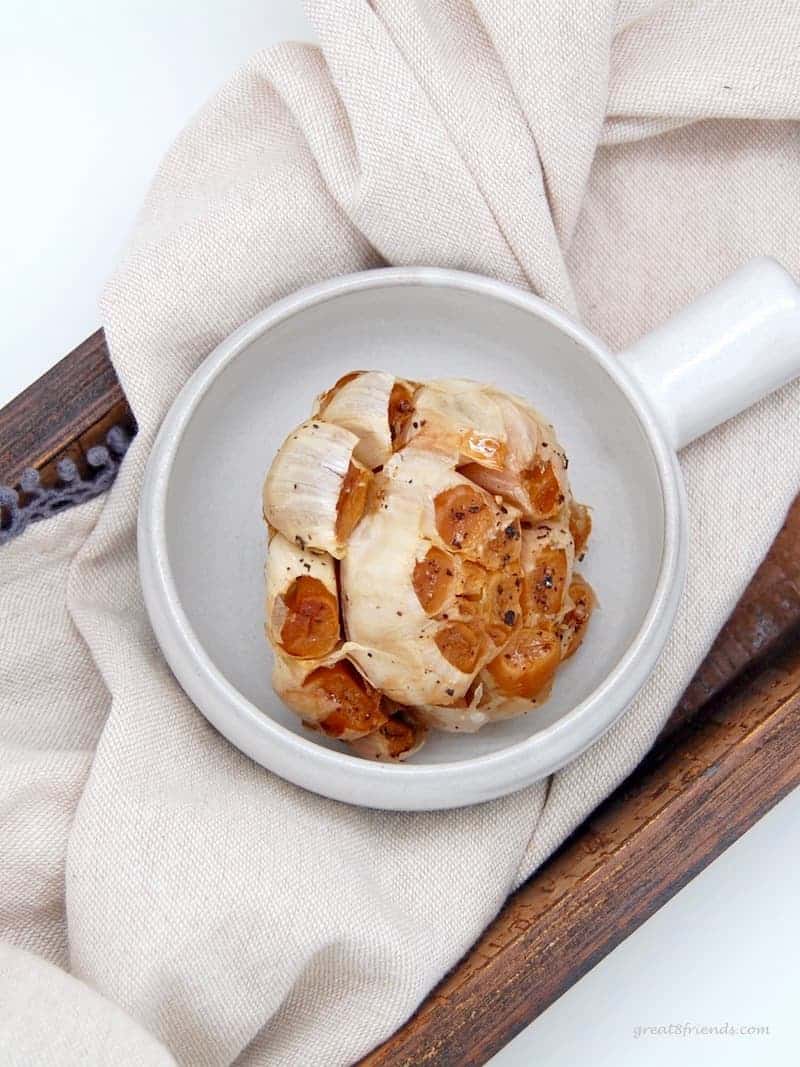 True story…
One evening, long ago (about 20+ years) Phil and I went out to dinner at an old favorite restaurant in Costa Mesa (no longer in business). We ordered our own side dish of roasted garlic. Not just a few cloves. A WHOLE roasted garlic. Each! It was heaven! Soft, caramelized…and so delicious! The golden jewels squeezed out of their "sleeves," spread on a piece of warm crusty bread and Oh My goodness! Ate the whole thing!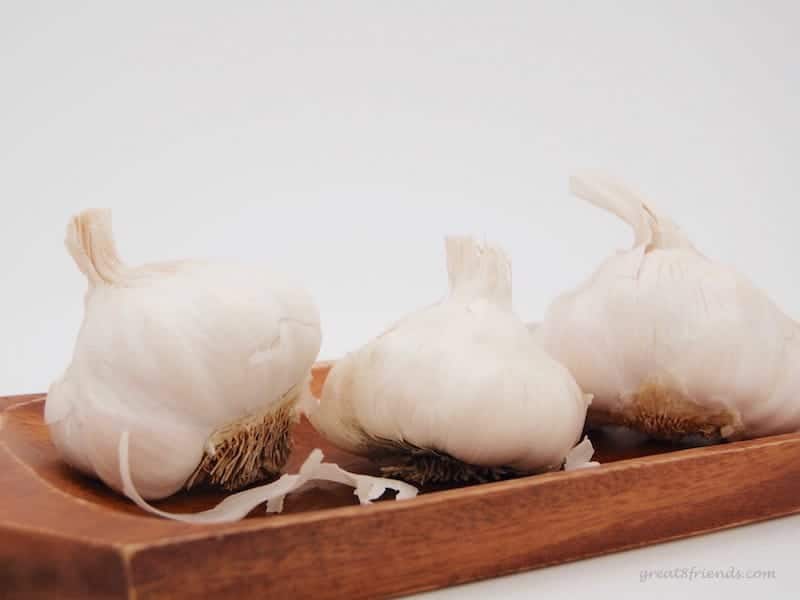 Well...the next day was the start of a big craft and gift trade show and I needed to be in the showroom by 9:00 am. At the time I was working for Mrs. Grossman's Paper Company…which I LOVED! Later that morning my friend said to me, "Debbie, what did you have for lunch?" "Lunch?" I asked. "I haven't had lunch, it's only 10:00"! To which she replied, "Oh, right…hmmmm…I thought I smelled garlic!" At that point I thought to myself, "OMG the garlic I ate last night is still in my system and is coming out of my pores!" GREAT!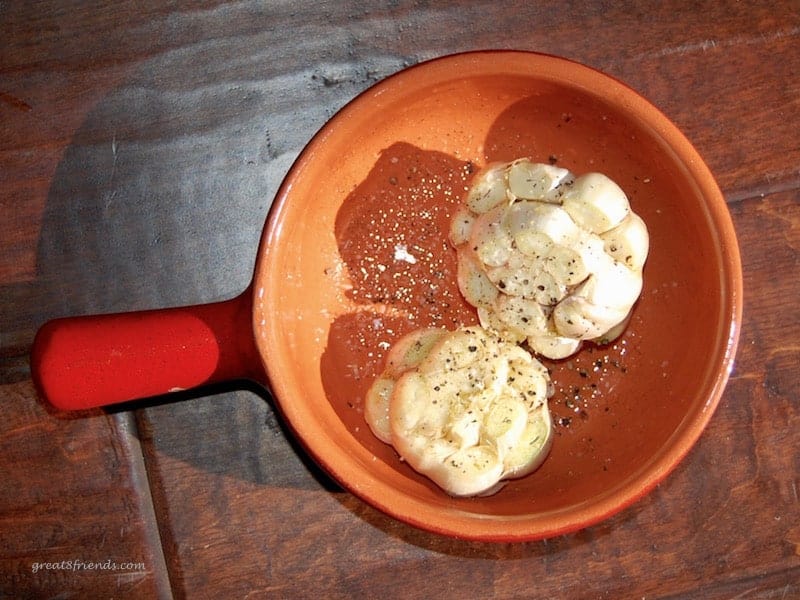 But boy was it worth it! Too bad it wasn't Halloween! The vampires would stay clear! Needless to say, I grabbed quite a few mints and never did that again…well, I've ordered or made roasted garlic, but only when I'm planning on staying in the comfort of my own home for a few days!
It is the simplest recipe with just 4 ingredients! If you love garlic, you will enjoy the deliciousness of roasted garlic! Whether you spread a clove (or 2!) on some crusty French bread or add a few in the Creamy Roasted Garlic Dressing below, it adds the perfect flavor. While the garlic is roasting, your house will be free of vampires…what's wrong with them? How can they not like garlic?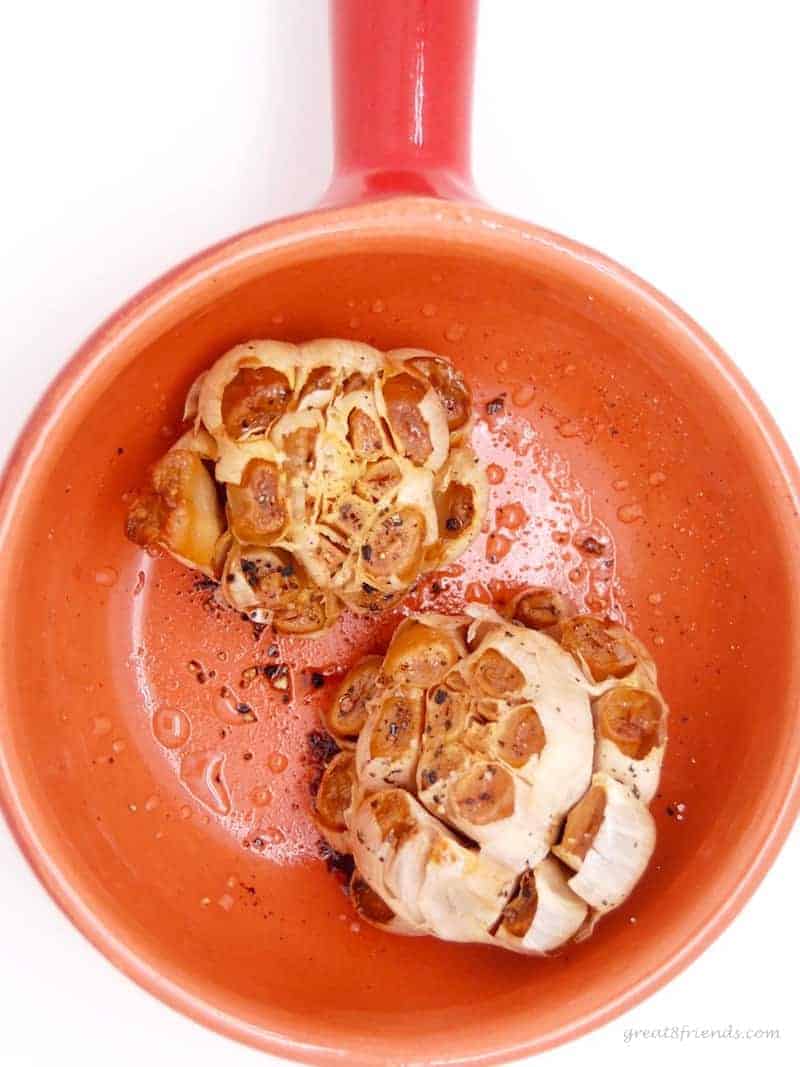 Just to let you know, some of the links on this page may be affiliate links, which means that Great Eight Friends will earn a small commission from purchases made through these links (this does not change your cost). These earnings help to support the cost of running this website. Thank you so much for being a Gr8 Friend!
Roasted Garlic and Creamy Roasted Garlic Dressing
Whether you choose to spread it on a hot baguette, add it to your favorite dish, or in the dressing below...this roasted garlic will make your house smell heavenly!
Ingredients
Creamy Roasted Garlic Dressing
2

whole roasted

heads of garlic

,

see recipe below

1

cup

Sir Kensington's Classic Mayonnaise

,

or your favorite mayonnaise

1/2

cup

buttermilk

,

(see Gr8 Tip below)

2 1/2

Tablespoons

minced fresh chives

1

Tablespoon

fresh lemon juice

1 1/4

teaspoons

celery salt

1/4

teaspoon

freshly ground black pepper
Instructions
Roasted Garlic
Preheat oven to 350ºF.

Carefully cut 1/4″ off the top of the garlic heads. Keeping husks on and garlic cloves intact.

Place garlic in a small oven proof dish and drizzle with the extra virgin olive oil.

Roll heads around to coat evenly.

Sprinkle with salt and pepper.

Cover dish tightly with foil.

Bake for 55 minutes to an hour, or until cloves are soft when squeezed.
Creamy Roasted Garlic Dressing
Squeeze garlic out of the husk and into a bowl.

Add remaining ingredients and whisk to combine.

Cover and chill.

Add to your favorite salad.
Notes
Gr8 Do Ahead Tip:
If choosing to make ahead, roast garlic as directed above. When completely cool, place in a covered plastic container until ready use.
Gr8 Tip:
If you love buttermilk as much as we do, but don't love that much of it goes to waste when buying it for a specific recipe, try powdered buttermilk. It's a Gr8 solution! And, once the can is opened it can stay in your refrigerator for at least a year! Here is an article the New York Times did on powdered buttermilk.
sm 3/18/19
SaveSave
SaveSave
SaveSave
SaveSave
SaveSave
SaveSave
SaveSave
SaveSave
SaveSave