Grilled Chicken with Board Dressing is a flavor bomb of herbs and spices that takes grilled chicken to the next level.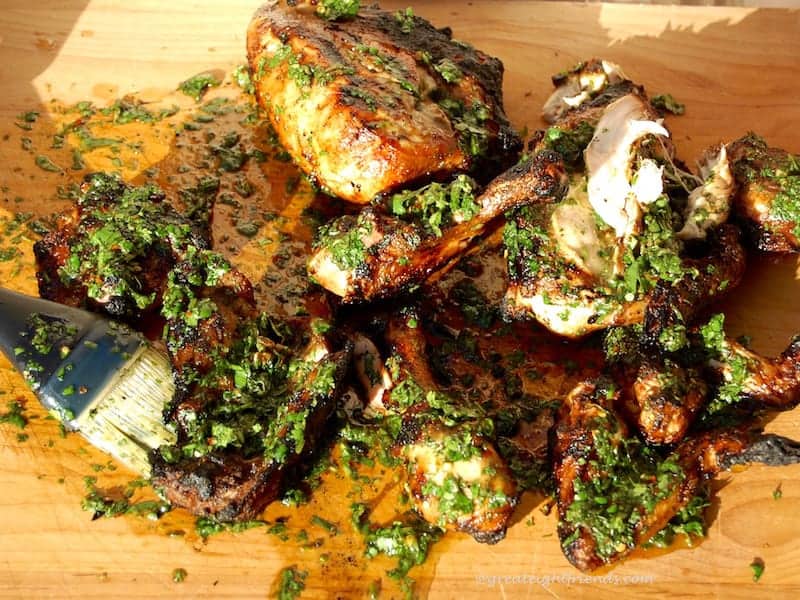 Grilled chicken of any kind has always been a favorite of our 3 girls…especially when they were little! During their younger days, everything was "chicken." "More chicken, please," when it was really fish. "This chicken is so good, Mom," actually they were pork chops! But they didn't need to know any of that…yet! Whatever worked for them to clean their plates!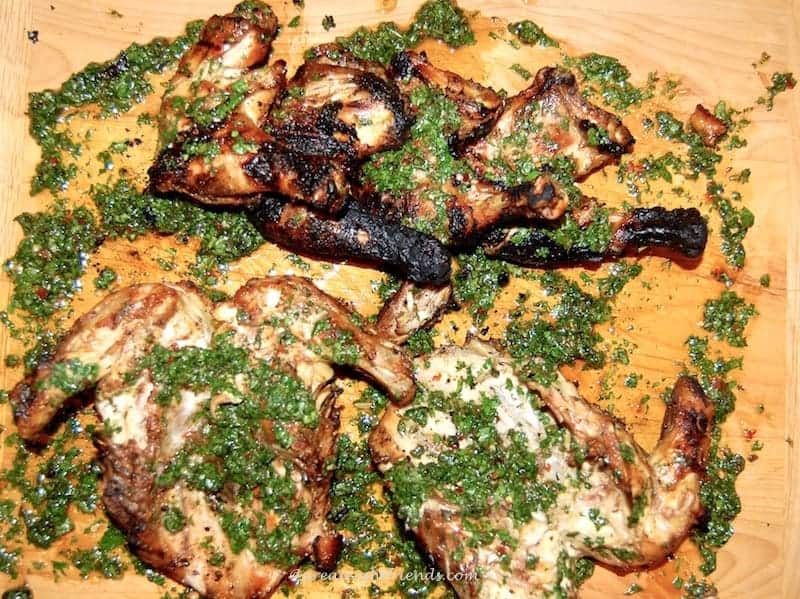 For the Grilled Chicken with Board Dressing recipe there would be no fibbing necessary! It needs no explanation, it's amazing on it's own. With 2 of our 3 girls out of state, we make it whenever they are home, especially during the summer days when the grill is fired up daily! Not a fan of chicken? This "dressing" on fish is "Far out", too!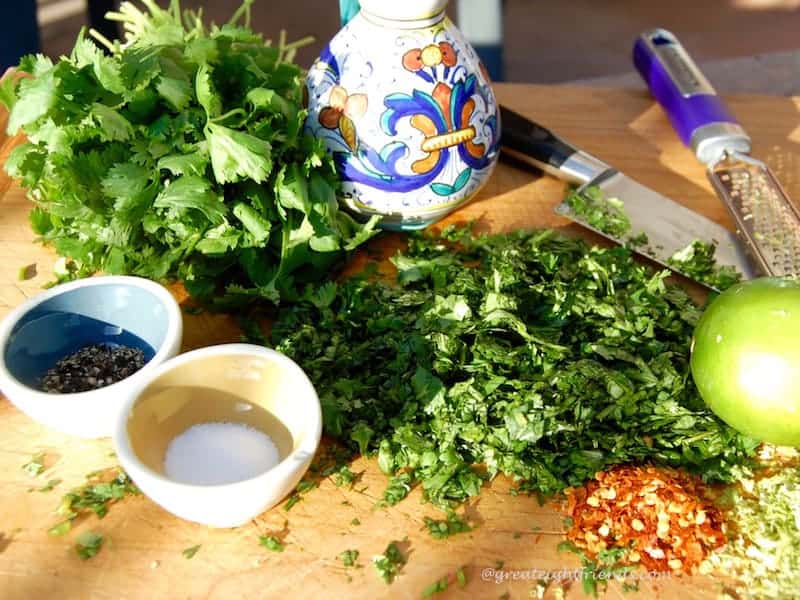 When Phil and I chose "The 60s" Hippie theme for our recent Great Eight Dinner, we knew right away that this would be one of the main courses. With the Board Dressing being mostly cilantro and fresh oregano, all green and herby… of course we HAD to call it "Mary Jane" sauce on the menu!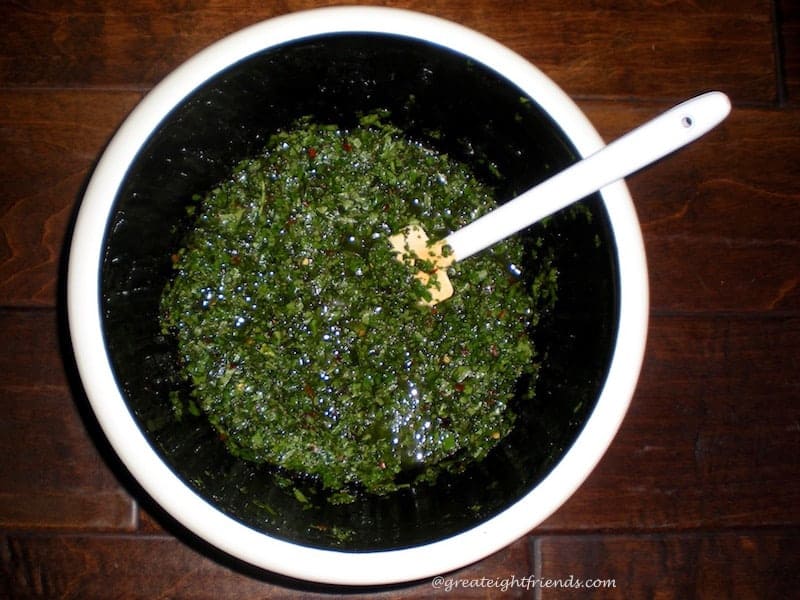 The chicken doesn't soak or marinate in this bright green sauce as you would think. It is basted towards the end of the grilling and then poured on top of a carving board where the chicken is later placed, resting on top to soak up all of it's flavorful goodness.
And boy is it good! There is never enough! Pass an extra bowl of the "dressing;" it's perfect for dipping into with crusty french bread. With a little kick of red pepper flakes in the sauce, you are sure to be feeling groovy!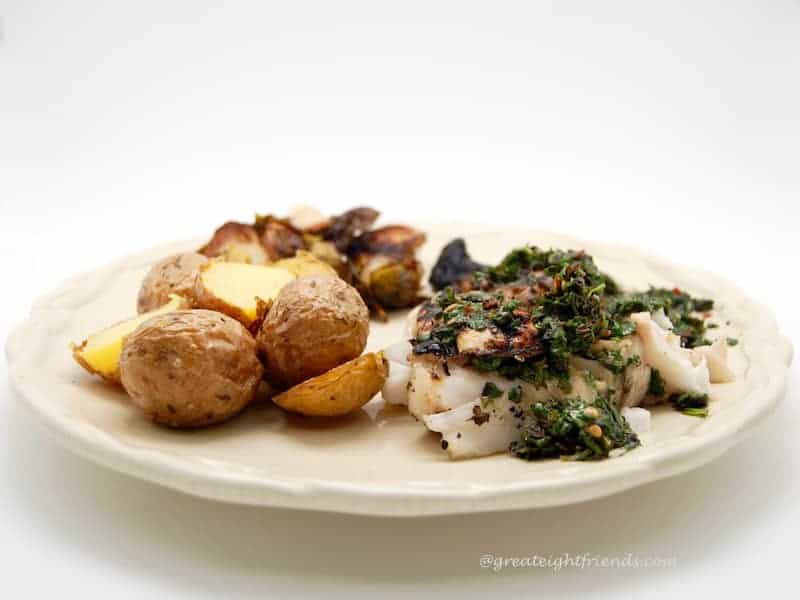 Another delicious tip: try it on grilled fish! Any "steak" type fish: swordfish, tuna or mahi mahi...delicious!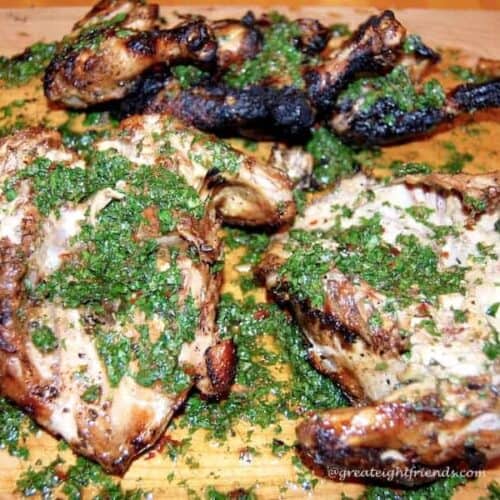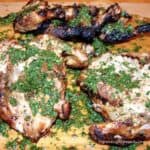 Print Recipe
Pin Recipe
Save this Recipe
Saved!
Please leave a rating!
Grilled Chicken with Board Dressing
Ingredients
½

teaspoon

crushed red pepper flakes

¾

cup

chopped fresh cilantro

¼

cup

chopped fresh oregano

1

teaspoon

finely grated lime zest

¼

cup

olive oil,,

plus more for grill

Kosher salt

Freshly ground pepper

1

4-pound

chicken,

,

halved, backbone removed, or chicken pieces of the same weight

Lime wedges,

,

for serving
Instructions
Combine red pepper flakes, cilantro, oregano, lime zest, and ¼ cup oil; season dressing with salt and pepper.

For the remainder of the recipe,

click here

. You'll love it, too!
Notes
Gr8 Do Ahead Tip:
Dressing can be made 2 days ahead. Cover and chill.
Gr8 Tips:
The dressing is so delicious that I double the ingredients every time. Any left? Save it for the next day and spread on some bread with a little bit of extra leftover chicken...if you've got any!
Another delicious tip: try it on grilled fish! Any "steak" type fish: swordfish, tuna or mahi mahi...delicious!