Psychedelic Salad with Citrus Vinaigrette served in a jar is perfect for any occasion from a picnic to a dinner party. The light vinaigrette allows all the other fresh flavors to shine.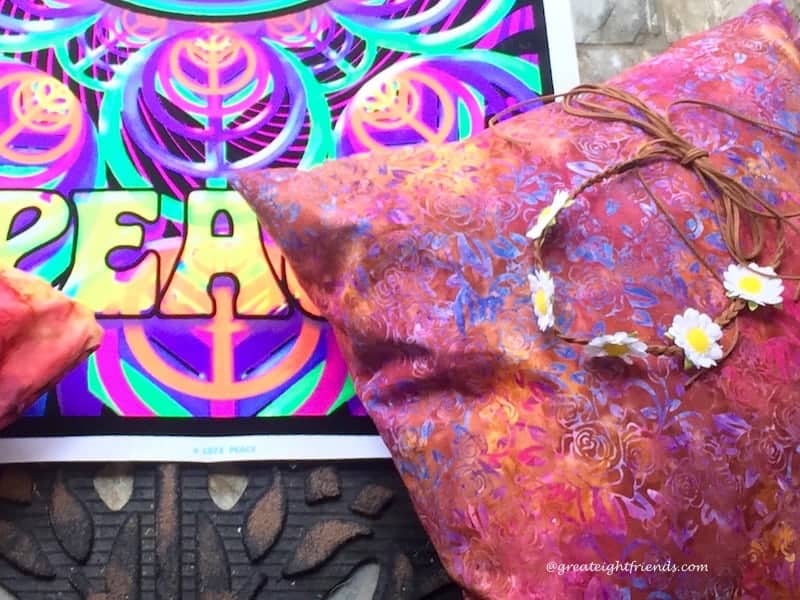 Another knock at the door, another Gr8 invitation is here. "Come on, Vince! We need to answer the door together! I can't wait to see what the theme is!"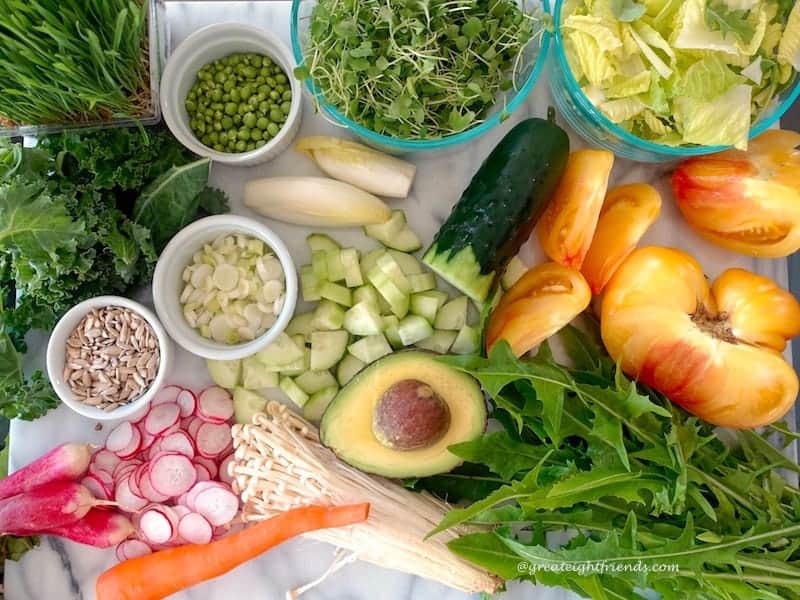 Oooooh! "The Far Out Farinella's Pad"...how fun! We are going back to the 60s and I get to bring a "Grass" Salad with Light Vinaigrette. I love doing salads because there can be a lot of creativity. My next thought was, "How can this salad be different?"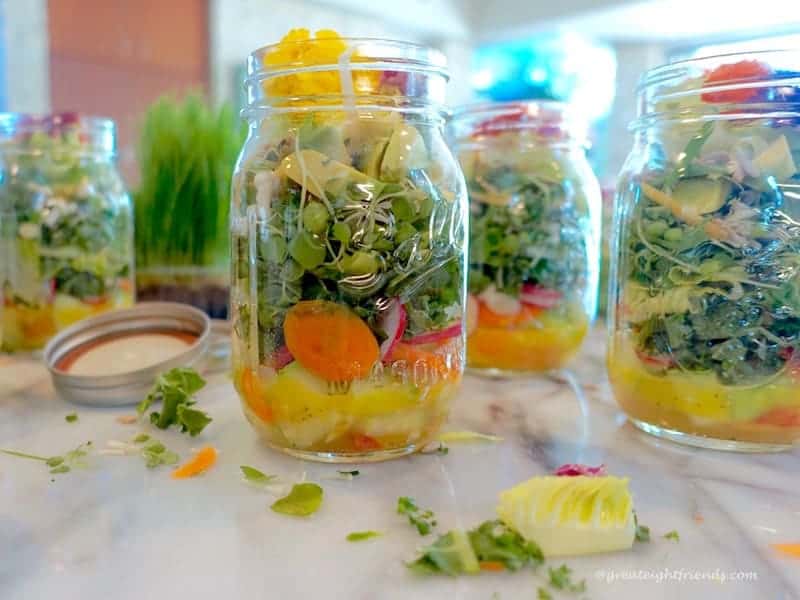 In order to create something unique I went to my favorite gourmet grocery store (Bristol Farms) and two different farmer's markets: my local, Saturday market and The Original Manassero Farms.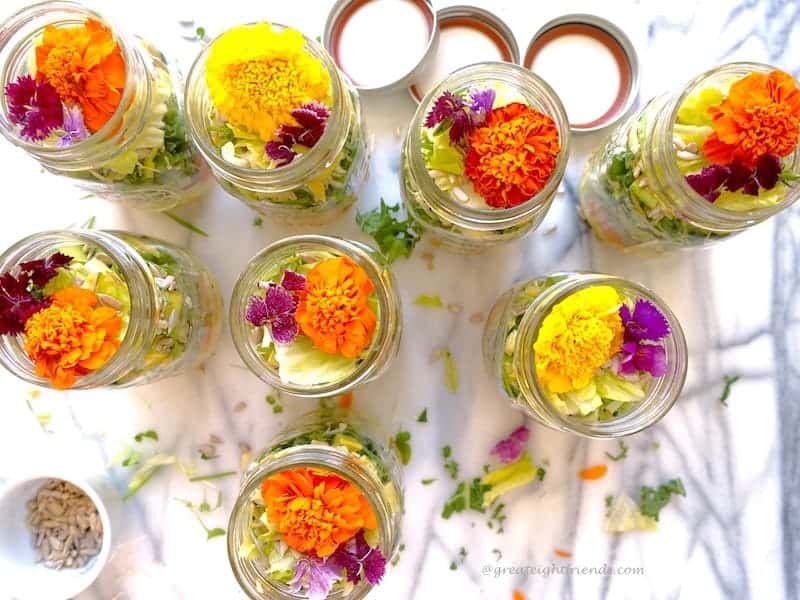 Here was my thought process while browsing the produce aisles: Grass Salad ⇒ wheat grass? ⇒ 60s ⇒ natural foods ⇒ flower children ⇒ flowers ⇒ edible flowers! ⇒ sunflowers ⇒ sunflower seeds! ⇒ greens ⇒ unique greens ⇒ dandelion greens? ⇒ mushrooms (of course!) ⇒⇒⇒ etc.....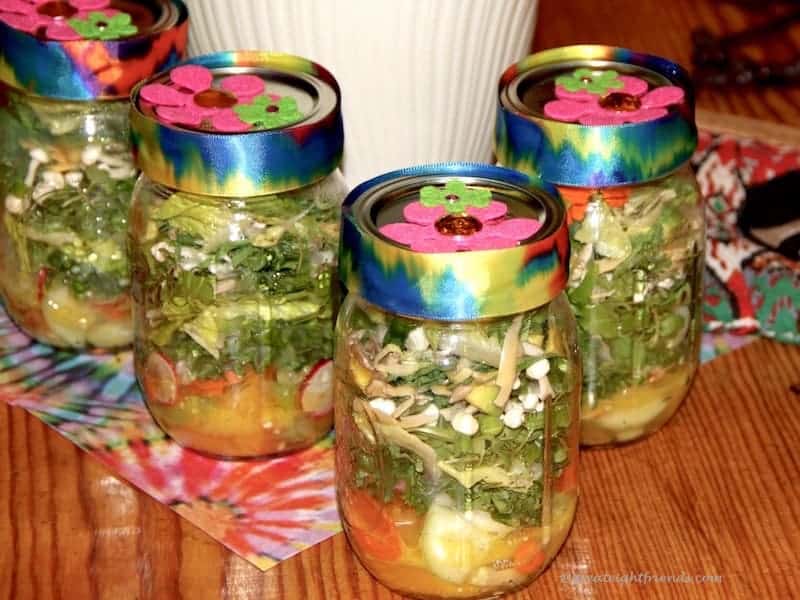 The next item to address was how to serve this. Just on a plate? Hey! We're hippies here! Let's serve the salads in individual Mason jars. Mason jars are not expensive and they actually make it quite simple to transport the salad. Plus EVERYTHING is then done ahead of time! At the last minute I realized the jars should have a bit of decoration. A quick trip to my local Michael's store fixed that!
(This can also just be tossed and served in bowls.)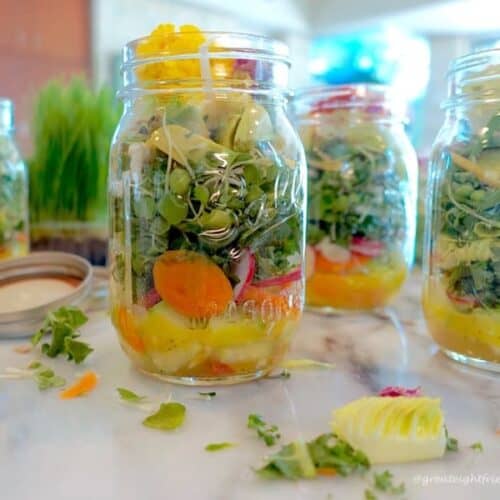 Print Recipe
Pin Recipe
Save this Recipe
Saved!
Please leave a rating!
Psychedelic Salad with Citrus Vinaigrette
Use your cre-8-ivity with the greens and flowers. And feel free to simply toss this in large bowl. Or layer it in a straight sided glass bowl then toss at the table.
Ingredients
Citrus vinaigrette
2

Tablespoons

Champagne vinegar

6

Tablespoons

extra virgin olive oil

¼

cup

fresh squeezed orange juice

1

Tablespoon

honey

2

garlic cloves,

,

minced

½

teaspoon

sea salt

½

teaspoon

freshly ground black pepper
Salad
1

recipe

Citrus vinaigrette

8

Mason jars

1

large

heirloom tomato

1

cucumber,

,

cut in half lengthwise, then in half lengthwise again, then sliced in ½" chunks

1

bunch

green onions,

,

sliced

1

carrot,

,

sliced thinly

1

bunch

radishes,

,

sliced thinly

½

bunch

Tuscan kale,

,

chopped

4

leaves

romaine lettuce,

,

cut or torn in small pieces

½

bunch

dandelion greens,

,

cut in small pieces

Wheat grass

1

package

Micro arugula

Spring peas

Enoki mushrooms

1

large avocado,

,

diced

½

cup

Sunflower seeds

16

Edible flowers,

,

more if desired

Add and subtract from this ingredient list as you like. and use quantities that you prefer.
Instructions
Psychedelic Citrus Vinaigrette
Put all ingredients into a small jar and seal the lid.

Shake vigorously until oil is emulsified. Or, vigorously whisk ingredients in a small bowl until emulsified.

Taste and adjust seasonings.

Let sit while cleaning the greens.
Psychedelic Salad
Start with the dressing in the bottom of the jar. Shake it vigorously to remix and divide it evenly between each of the 8 jars.

Here's how I like to layer the jars:

Tomatoes, cucumbers and green onions in the bottom so they marinate in the dressing

Carrots and radishes

Then the greens: kale, romaine, dandelion greens

Wheat grass, micro arugula, spring peas

Enoki mushrooms (if using larger mushrooms, you may want to put them lower in the layers)

Avocado

Sunflower seeds

Then top with edible flowers so they are a surprise when your guests open the jars!

Serve the jar on a plate and instruct the diners to shake vigorously so the dressing is incorporated, then dump onto the plate.
Notes
Gr8 Do-Ahead Tip:
Dressing can be made up to 2 days ahead of time. Refrigerate. Remove from the refrigerator and let it come to room temperature before using it in the salad.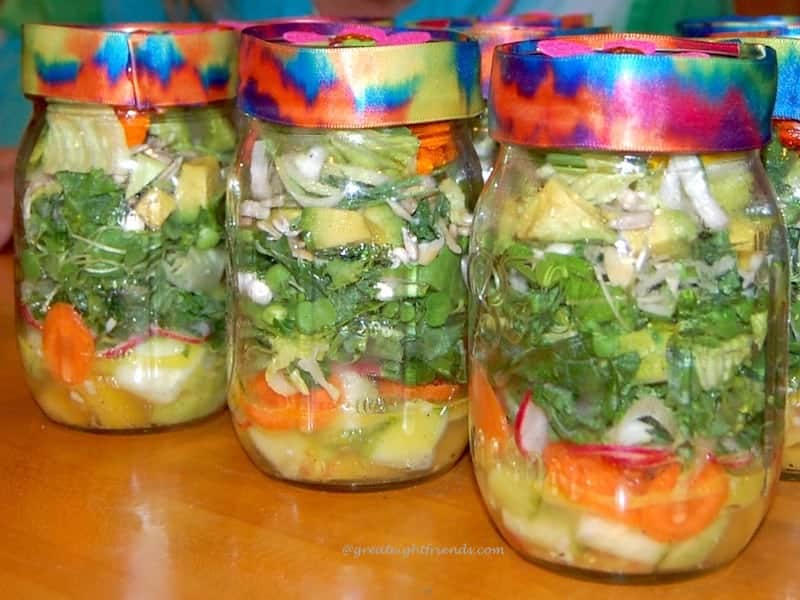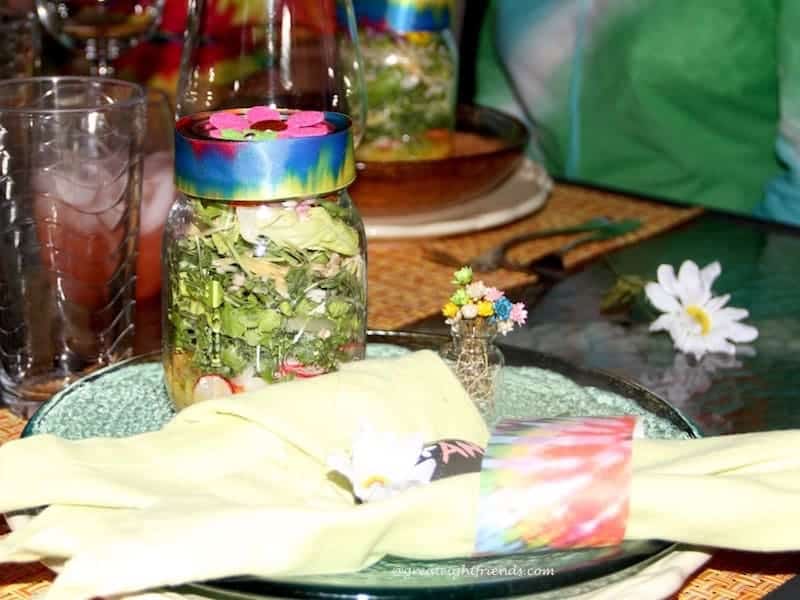 This salad service is Gr8 Fun...and that is what we are all about here at Great Eight Friends!
sm 7/21/18