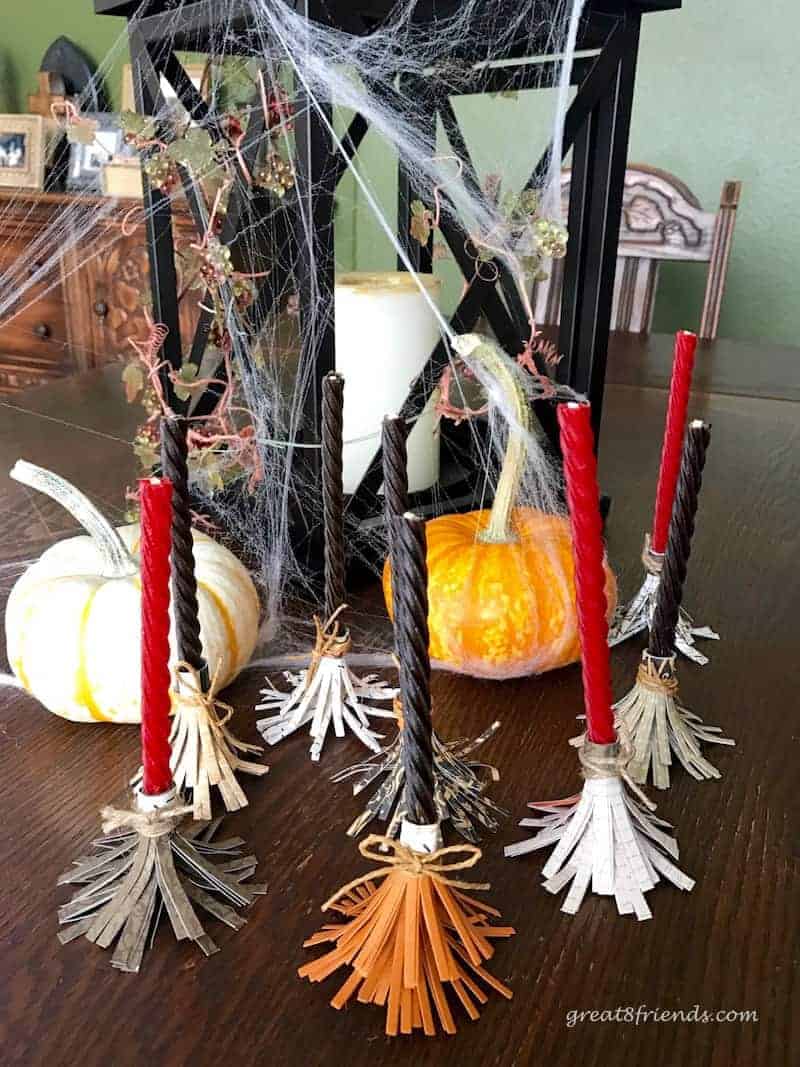 A Witch's Sweet Broom
I love celebrating anything, so of course I'm already counting down to the next big holiday! Halloween!
But I didn't have to tell you that; the stores have had Fall products on their shelves since July 4th! I've got the perfect treat for you! Grab that pointy black hat! It's time to hop on a make some Sweet Witch's Brooms!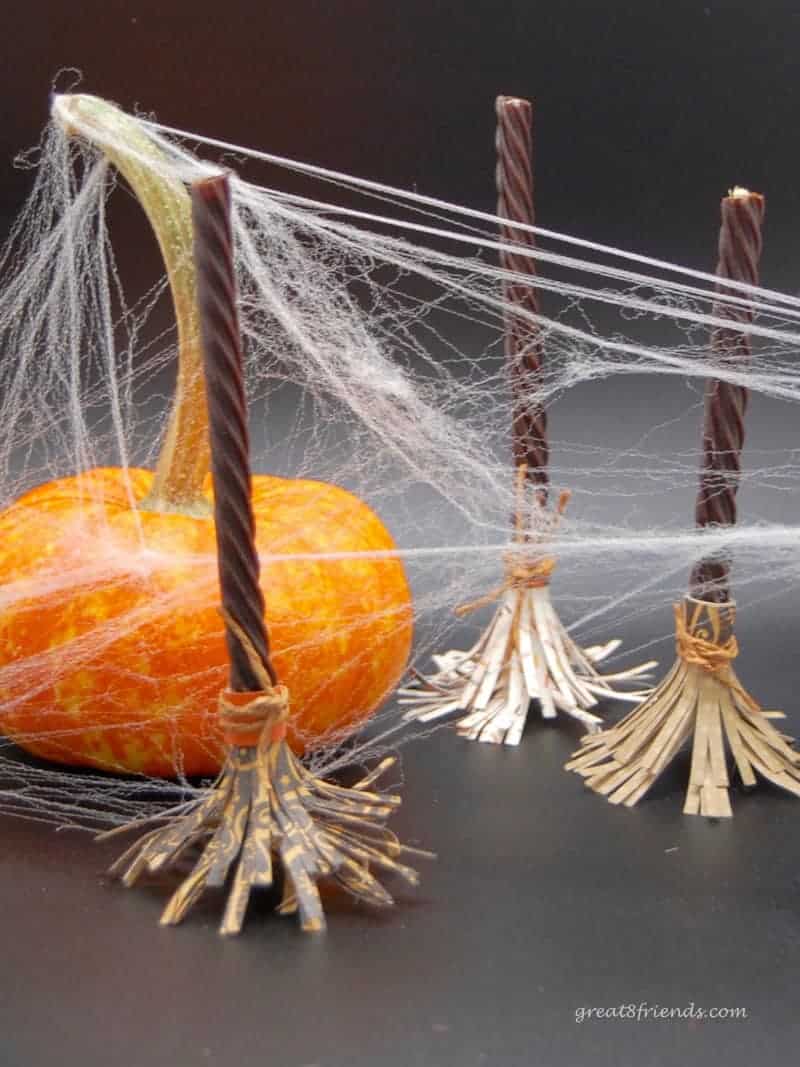 Loving the seasons and the holidays that come with them, the craft industry is the perfect fit for me!
At Sizzix we start creating projects for the Fall around Springtime…and I LOVE Fall and all things that come with it (even with the 90+ degrees here in California right now!).
I love Fall's crisp air, the colors orange and brown, food in the oven and soups on the stove! So I am so ready to get going on my Sweet Witch's Brooms!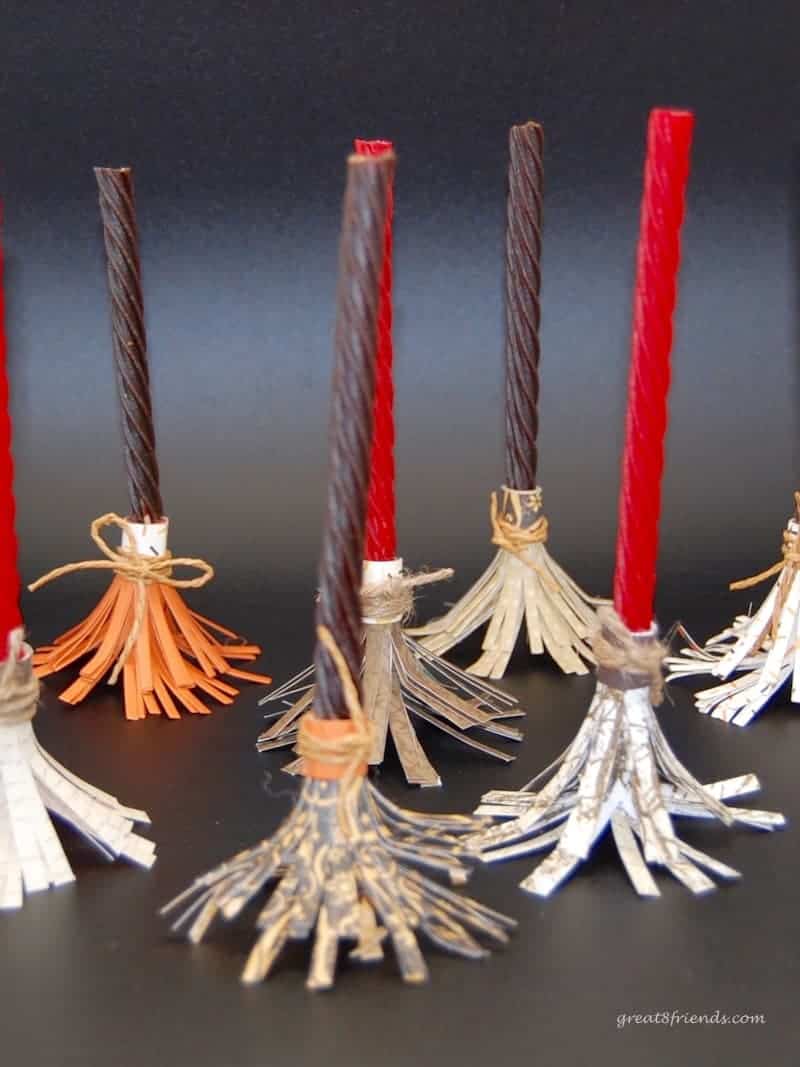 Since our 3 daughters are in their 20s, there are no more costume ideas to come up with and no sneaking candy from their stash!
What I do get to do, is create fun little treats with sweets for my co-workers at Sizzix! The Creative Design Team sure has a great time in the Art Room…we're one big happy family, being crafty and sharing treats every chance we get! How fun is that!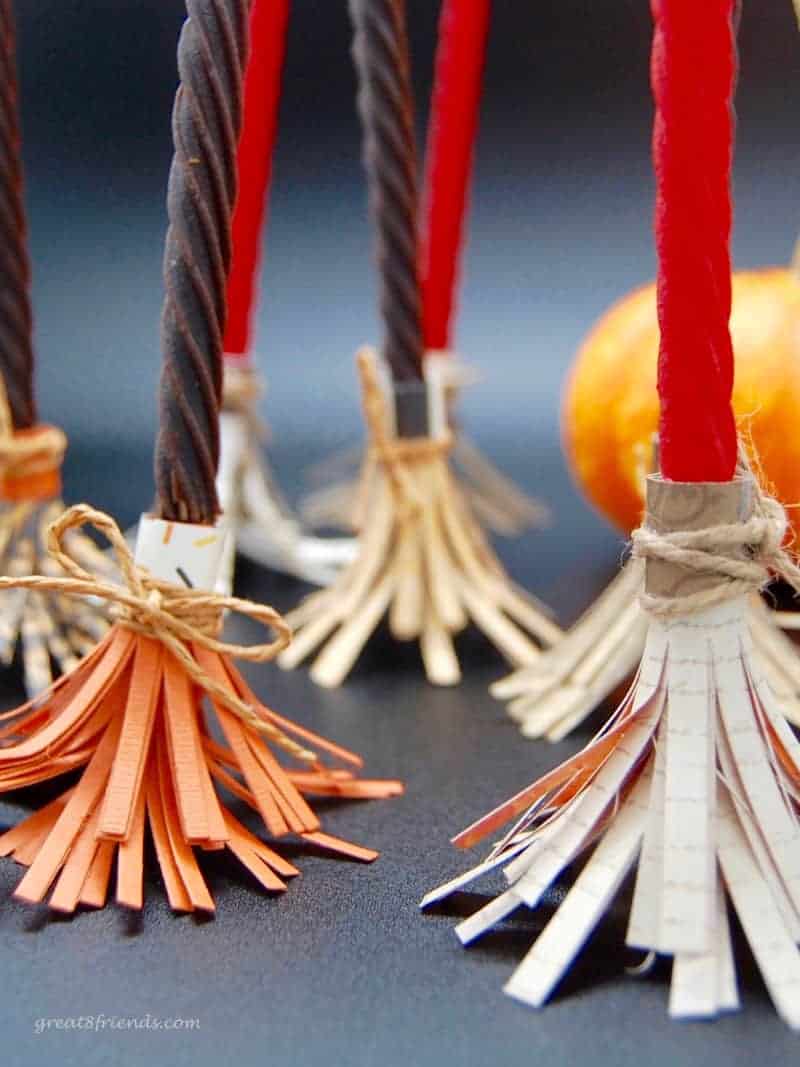 Being surrounded by so many crafty people, I'm always trying to come up with something clever for the holidays. Whether it's something fun and "healthy" like Anna's Halloween Candy Covered Fruit Treats or these Sweet Witch's Brooms, being creative is therapeutic!
Always busy creating the kits for Sizzix workshops, when I get a chance I love coming up with something different for my own fun! Using one of our tassel dies, was the most recent... boy is it ever fun to think of the possibilities! (Side note: a die is a shaped blade that cuts any material, from thin paper to thick leather) Who'd have thought that a tassel would create a Gr8 broom "duster"?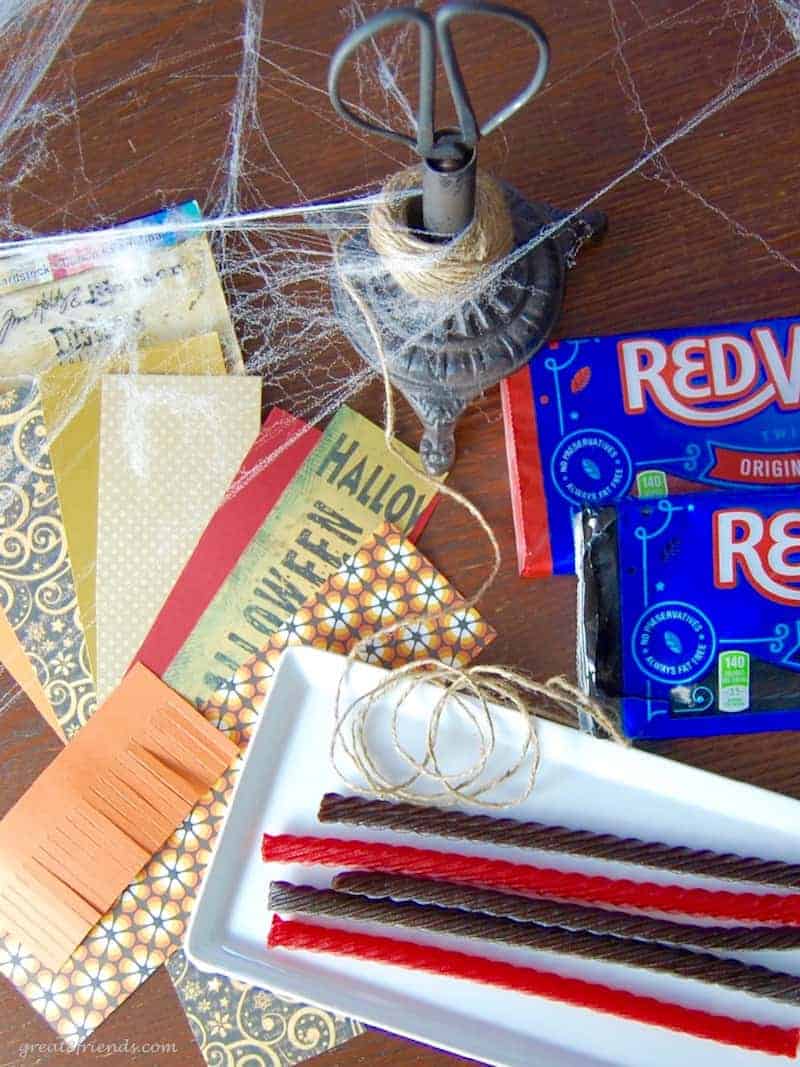 Nyah Ahh Ahh! (that's supposed to be the sound a witch makes!) How about A witch's broom!
Instead of a tassel, I'll make a witch's broom for all of my friends…not life size of course!
Licorice as the broomstick and the broom's bristles will be the tassel! I love spending my day surrounded by crafty people!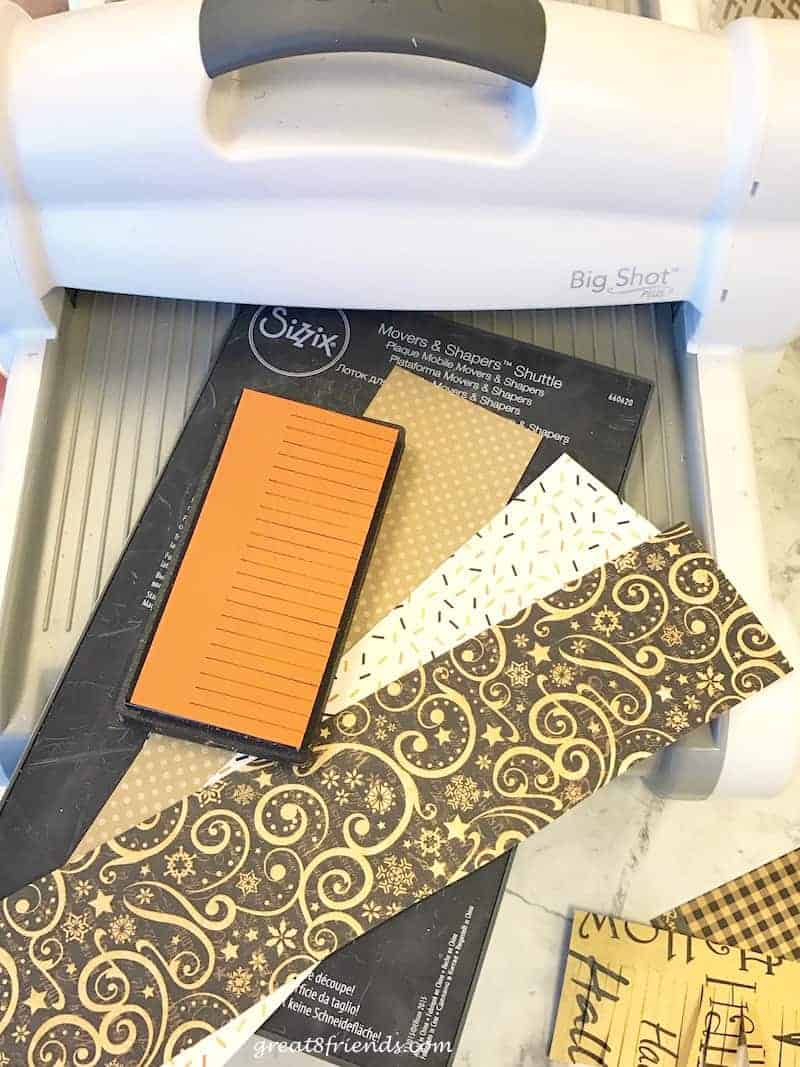 With the Sizzix Big Shot machine, Fall colored papers the tassel die and Movers and Shapers Shuttle, you will love the cuteness of these Sweet Witch's Brooms!
With some Red Vine Licorice (black or red) and some fun twine... check you out! Look what you did! How cute is that!
Feeling crafty? Make a few for your family, friends, grand kids, neighbors, co-workers, roommates, etc.
Feeling extra crafty? Hand them out to the little goblins ringing the doorbell at the end of October! Grab your broom...it's time to fly! Trick or Treat!
Edited from the last publication on October 14, 2016.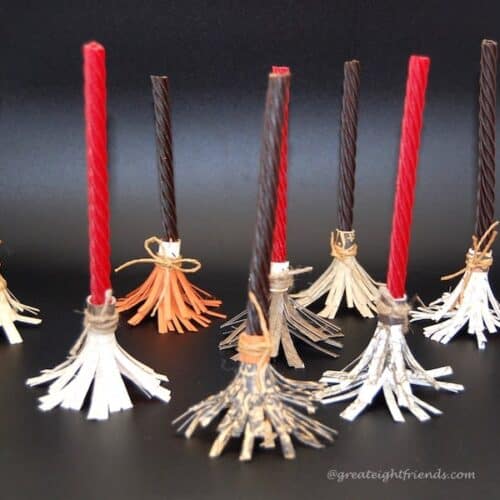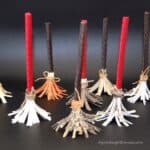 Print Recipe
Pin Recipe
Save this Recipe
Saved!
Please leave a rating!
Sweet Witch's Brooms
A creative idea to get your little Goblins even more excited for a night of spooky fun! Get your craft on with these Sweet Witch's Brooms and add a little creepiness to that eerie night in October!
Ingredients
6

pieces

Fall color papers

,

preferably cardstock cut to 3" x 7"

6

pieces

of the same papers cut to ½" x 2"

Tape or tape runner

Twine

,

embroidery floss, or yarn

Red Vine Twists

,

Original Red or Black Licorice

Sizzix Movers & Shapers Magnetic Die ~ Tassel*

,

*See Gr8 Notes below.

Sizzix Big Shot Machine
Instructions
Cut the "broom bristles" first by running the larger pieces of paper through the Big Shot machine using the tassel die.

Lay the flat "tassle" on a workplace.

Roll each "tassle" around the end of 1 licorice piece and adhere with tape.

Fluff up the "bristles" with your fingers.

Taking the smaller piece of paper, wrap it around the top of the "bristles." Adhere with tape.

Tie piece of twine around the "band" into a knot or bow.

Wrap brooms individually in cello or lay flat on a platter.
Notes
*To use the Movers and Shapers dies, you need to use the Movers and Shapers Shuttle or Movers and Shapers base Tray.
Gr8 Tip:
Alternatively if you don't have the Big Shot die cutting machine, with scissors, you can manually cut "fringe" from the 3" x 7" papers.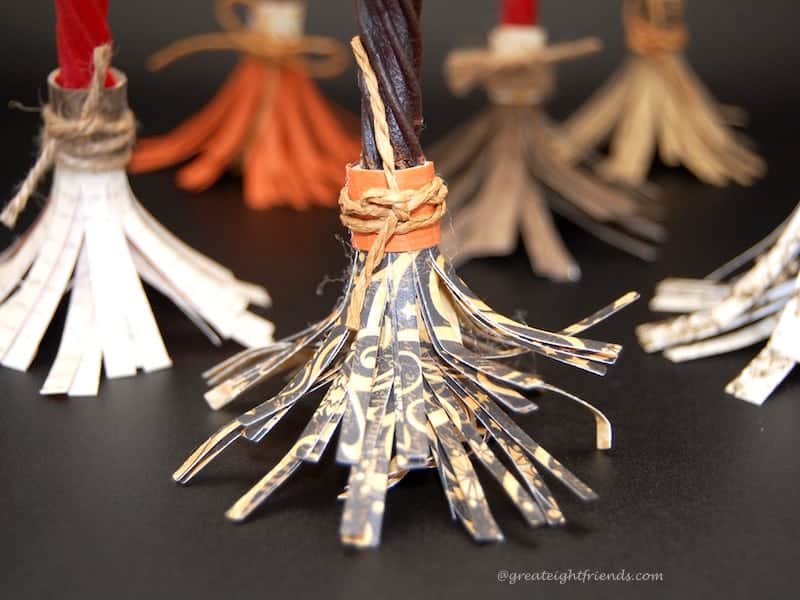 SaveSave