This Potato Basil Purée recipe takes plain mashed potatoes to another level. These are creamy, decadent, delicious, and they'll dress up any meal!
This Potato Basil Purée recipe first made it's way into my kitchen when it was assigned to me for Kyle and Joel's Gr8 Goes Green dinner.
Even though it's an Ina Garten recipe, it is not surprising that I hadn't tried it... As you know, I am fairly lazy and I LOVE plain old mashed potatoes. This recipe, however, takes plain old mashed potatoes and makes them sinfully creamy and decadent!
I suppose you could even call this a pesto potato purée (do you like that alliteration?). If you have a garden full of basil, this is the recipe for you.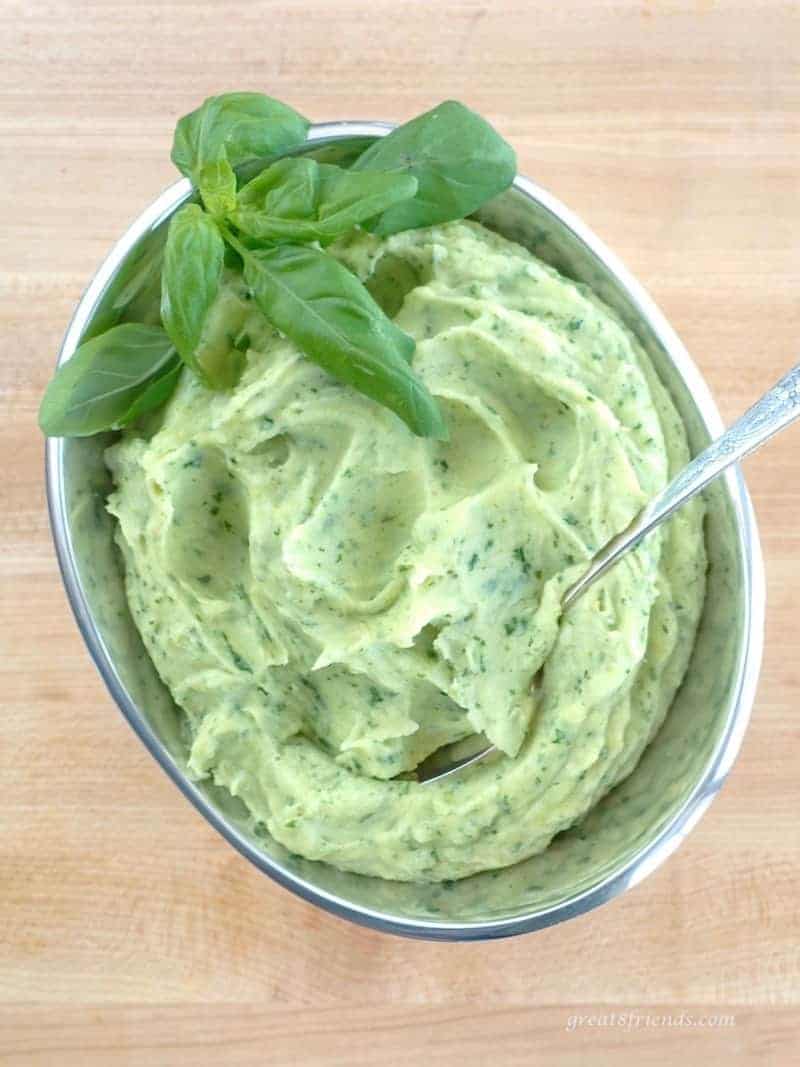 How to Make Potato Basil Purée
First you blanch the basil leaves, then chop them in a food processor. The potatoes are boiled and the cream and cheese are simmered together. The cream mixture then gets added to the chopped basil as processed.
Once the potatoes are cooked, you mash them a bit, then add the cream/basil mixture. You end up with a lovely, tasty mashed potato.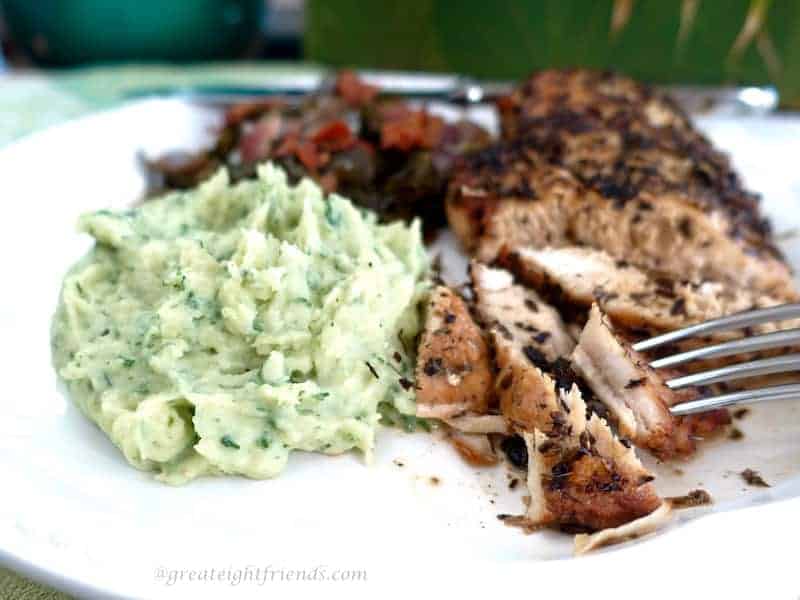 Other Delicious Potato Recipes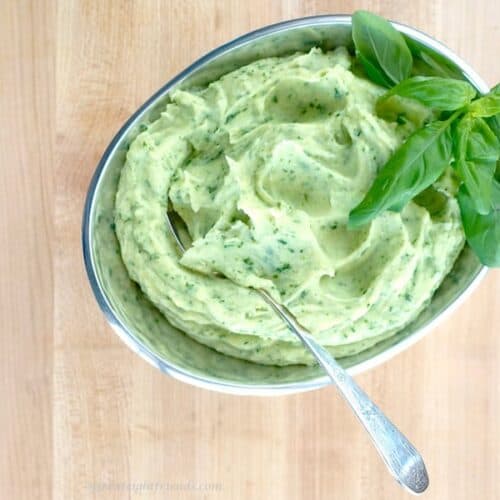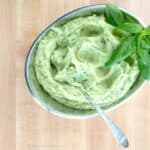 Print Recipe
Pin Recipe
Save this Recipe
Saved!
Please leave a rating!
Ina's Potato Basil Purée
Ingredients
2

cups

fresh basil leaves

,

lightly packed

2

pounds

white boiling potatoes

,

peeled and quartered

1

cup

whipping cream

¾

cup

freshly grated Parmesan cheese

2

teaspoons

sea salt

1

teaspoon

freshly ground black pepper
Instructions
Fill a large pot with water and add about a couple teaspoons of salt. Bring this to a boil over high heat.

Fill a large bowl with water and ice.

Lower the basil leaves into the boiling water for 15 seconds.

With a slotted spoon remove the leaves and put them immediately into the ice water to stop the cooking and to set the beautiful green color.

Remove the leaves from the ice water and lay on paper towels to drain. Set aside.

Bring the water back to a boil and add the potatoes.

Boil gently for 18 to 25 minutes until the potatoes are fork tender.

Drain the water off the potatoes, return to the burner and turn it down to low. Cover and let the potatoes steam for a moment to dry them a bit.


Put the cream and the Parmesan cheese together in a small saucepan. Heat over medium heat until the cream is simmering.

In a food processor with the steel blade, chop the basil leaves.

Pour the hot cream mixture through the feed tube and process until smooth.

Beat the hot potatoes with a handheld mixer or potato masher until they lightly mashed.

Then slowly add the hot cream mixture and the salt and the pepper.

Continue beating until the potatoes are smooth and creamy.

Take a taste of this glorious concoction and add salt and pepper to your taste.

Serve hot with a sprig of fresh basil for garnish.