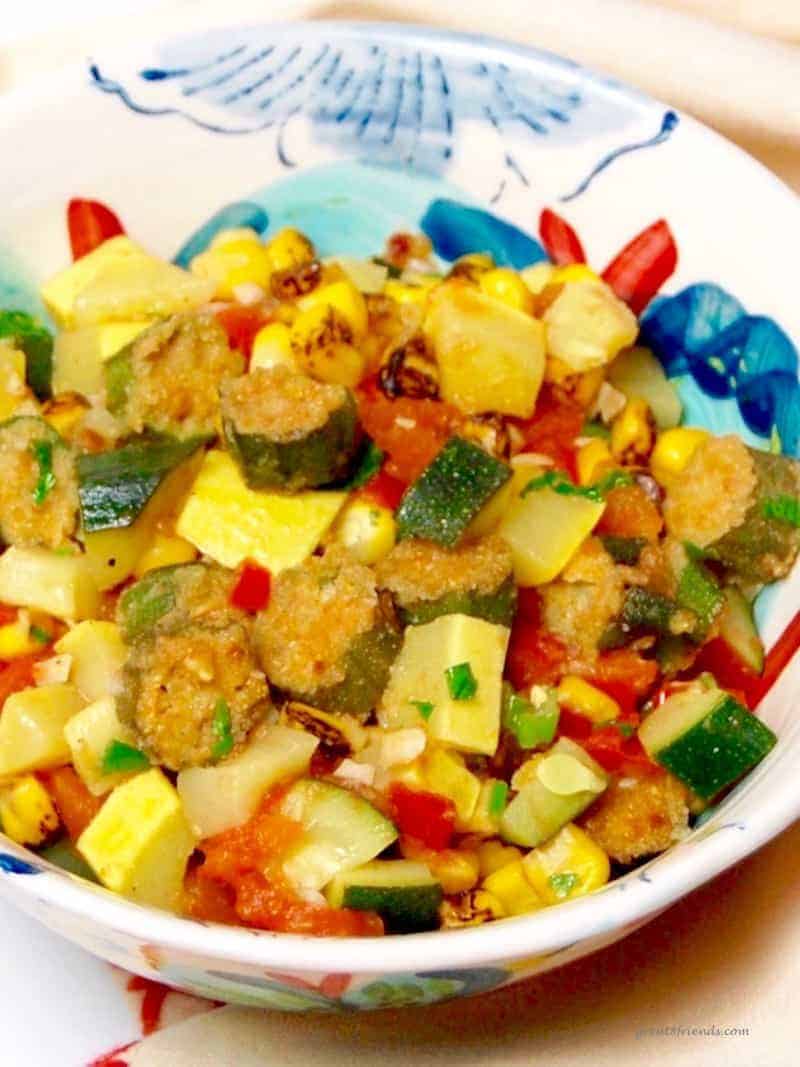 The aromas take me back!
Growing up, my mom would make the best fried okra, mostly on Sundays. The crispiness of the cornmeal gave the freshly cut okra pods the perfect crunch..and who doesn't love a crunchy bite?!
Frying with the cornmeal gets rid of the little bit of slime that comes from these tasty okra pods! Some people don't mind the slime from fresh okra (I'm one of those!). If you'd rather eliminate it, I've got a little tip in Gr8 Tips below at the end of the post.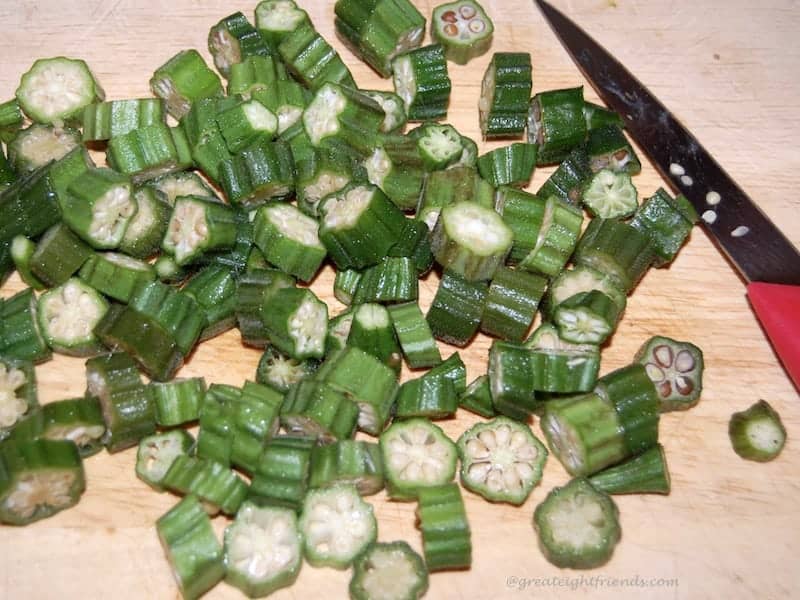 One night at the dinner table when I was little, I actually asked my mom if she stuffed each little piece individually!
You can imagine the look she gave me! Family of 6? Stuff each ½" piece of okra individually? Ya, right! She still laughs when I remind her of that silly question!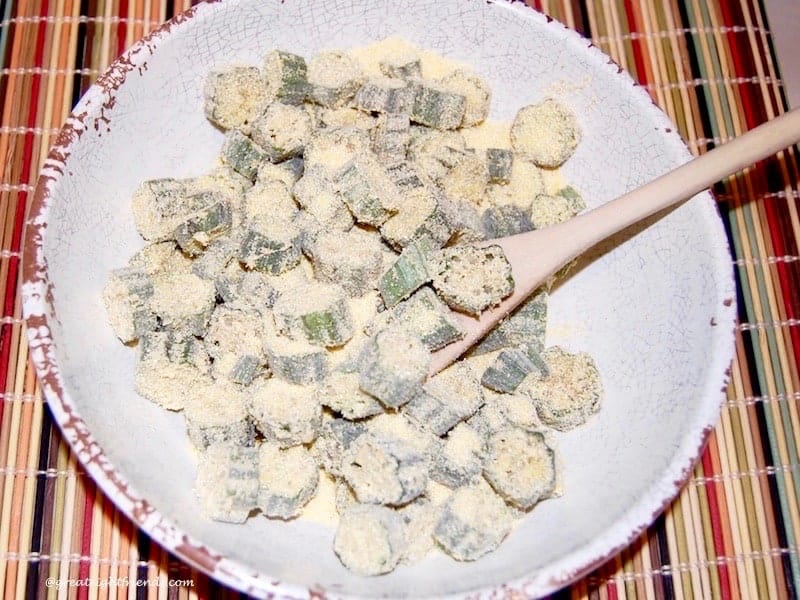 I don't know about you, but I like to have a little fresh with my fried, and this recipe does just that! Fresh is always best, right?
If you live near a farm stand like we do, Manassero Farms, pay them a visit and grab a bunch. Call first, though. They don't always have them.
One place that carries them regularly are Middle Eastern or Asian markets (Ranch 99). The corn, squash and tomatoes bring the perfect balance when mixed with the fried okra.
This is a great dish during those height-of-the-summer cookouts! Serve it as a meat free main course or as a satisfying side dish, either way, it's packed with flavor!
Making a heartier meal during the summertime? Served with Jurga's Barbecue Ribs, you'll be set! It would be a Gr8 contribution to a family barbecue or potluck.
When your summer days are spent outdoors, this one keeps well if made ahead. The okra won't be as crunchy, but the flavors are just as delicious.
It may be a new favorite to those around the table. We'd love to hear when you make it. Take a few photos and tag us. Having our Great 8 Friends enjoying our favorites, is what makes you our favorites!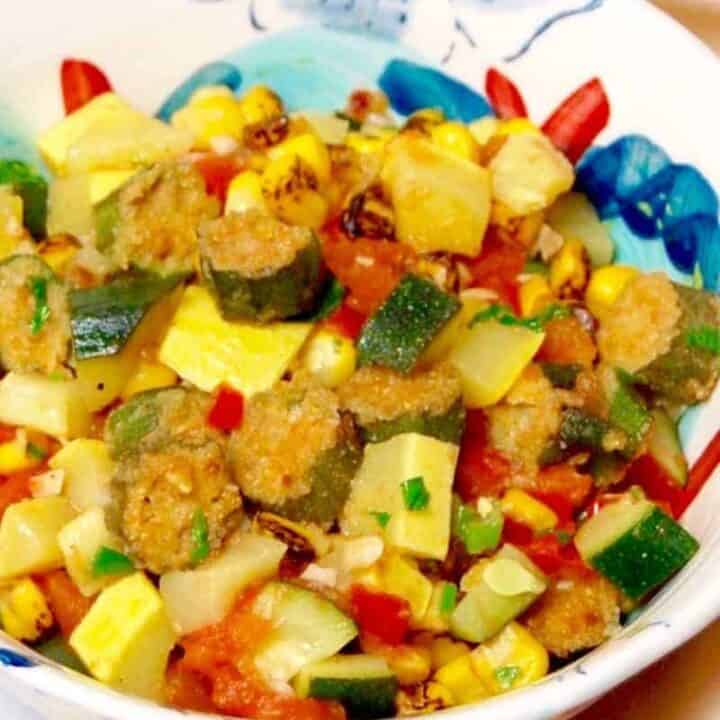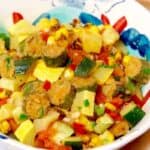 Print Recipe
Pin Recipe
Save this Recipe
Saved!
Please leave a rating!
Fried Okra with Corn, Tomato and Squash Sauté
When the aromas of a recipe take you back in time and makes you smile, you know it's a winner. Fried Okra has that cornmeal crunch with the freshness of the vegetables that will make it a meatless meal on it's own.
Ingredients
½

cup

yellow cornmeal

¼

teaspoon (or more)

cayenne pepper

12

okra pods,

,

cut crosswise into ½-inch pieces (see Gr8 tips below)

6

Tablespoons

olive oil,,

divided

2

cups

fresh corn kernels,

,

(cut from about 3 ears of corn)

6

baby green Pattypan squash,

,

each cut into 6 pieces (if unavailable, you may use 1 zucchini or 1 yellow crookneck squash, or a combination of the two)

2

cloves

garlic,

,

chopped

12

ounces

cherry tomatoes,

,

halved (2 cups)

2

Tablespoons

chopped fresh cilantro

2

green onions,

,

chopped
Instructions
In a small bowl, mix the cornmeal with ¼ teaspoon cayenne.

Add the okra and gently toss to coat.

Shake off the excess cornmeal.

In a heavy large skillet over medium heat, heat 4 Tablespoons of oil.

Add the okra and sauté until coating is an even golden brown, stirring occasionally, about 6 minutes.

Place a few paper towel layers on a plate and using slotted spoon, transfer the okra to drain.

Sprinkle with salt and pepper.

Wipe out skillet. In the same skillet over medium heat, heat the remaining 2 Tablespoons of oil.

When the oil is warmed through, add the corn, squash, and garlic; sauté 2 minutes.

Add tomatoes. Cover and cook until squash is crisp-tender, but not mushy. About 5 minutes.

Mix in the "waiting" okra, the cilantro and green onions. Remove the skillet from the heat.

Season to taste with salt, pepper, and more cayenne…some like it hot!
Notes
Gr8 Tips:
If you'd like to remove the slime that comes from the cut okra, soak the cut pieces in vinegar for ½ hour. Rinse thoroughly and pat dry before continuing.
SaveSave
SaveSave