Fried Green Tomatoes... some yummy southern cooking! Here is the recipe with just the right amount of crunch to make those tomatoes delicious!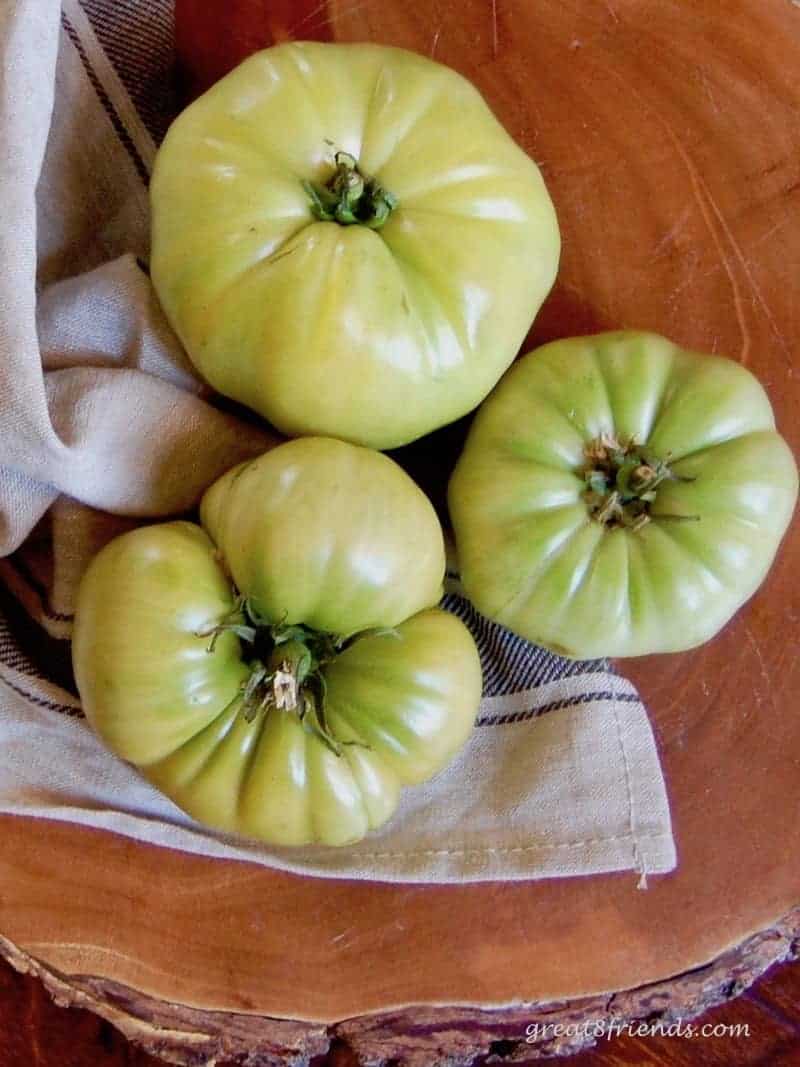 Sundays at my grandparents' house was always a full Southern Sunday Supper! Chicken, collard greens, fried green tomatoes, black eyed peas and corn bread... Oh and peach cobbler!
All homemade and Granny was in the kitchen all day getting ready for us 4 "monsters" to arrive...4 girls! Monsters? Never!
Climbing the walnut tree in the back yard or picking radishes from the garden we could smell the goodness coming out the windows by the clothesline. We couldn't wait for dinner!
African American cuisine made by grandparents from the deep south, I can't imagine my tummy being filled with anything else!
The stories they'd share of back in the day "making do" with whatever scraps they had in the kitchen. "Times were hard"...nothing fancy, with most vegetables picked from their own gardens.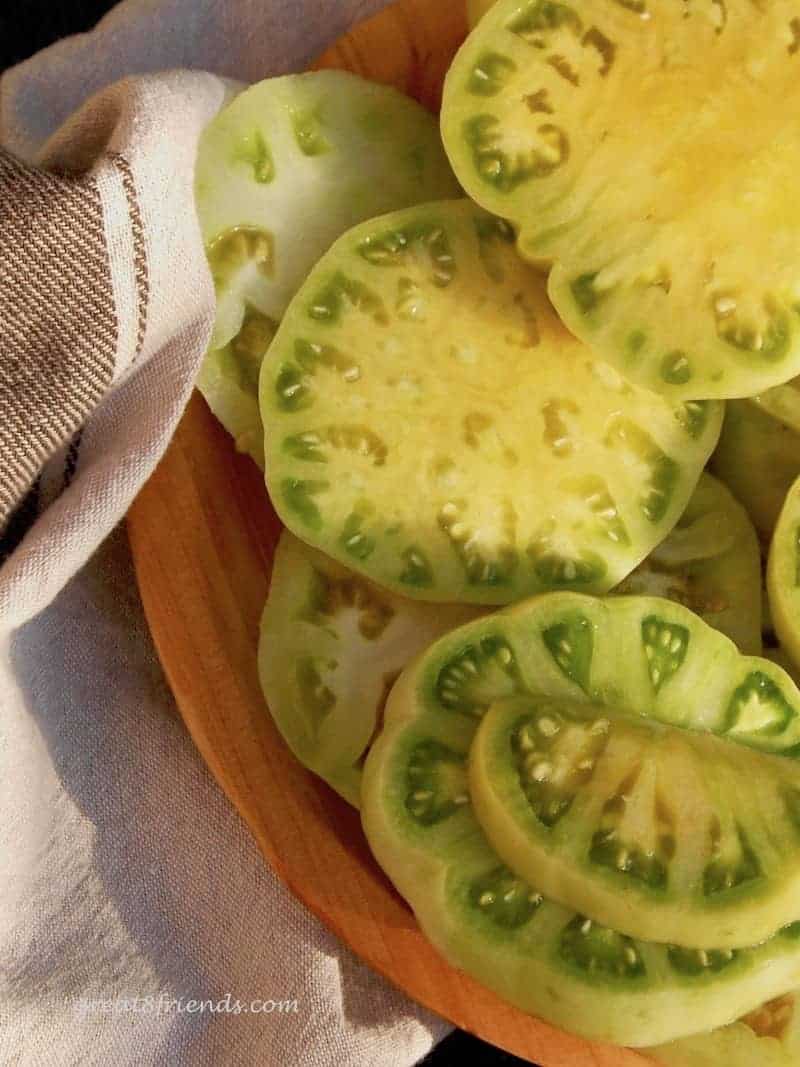 One dish that didn't take me long to get used to was Granny's fried green tomatoes.
Ever had a green tomato? They're often seen nowadays in an heirloom salad. It's firmer and more tart than your average ripened red tomato. It has almost a subtle citrus flavor, but when cooked correctly and seasoned just right...oh my Gosh! You'll be hooked!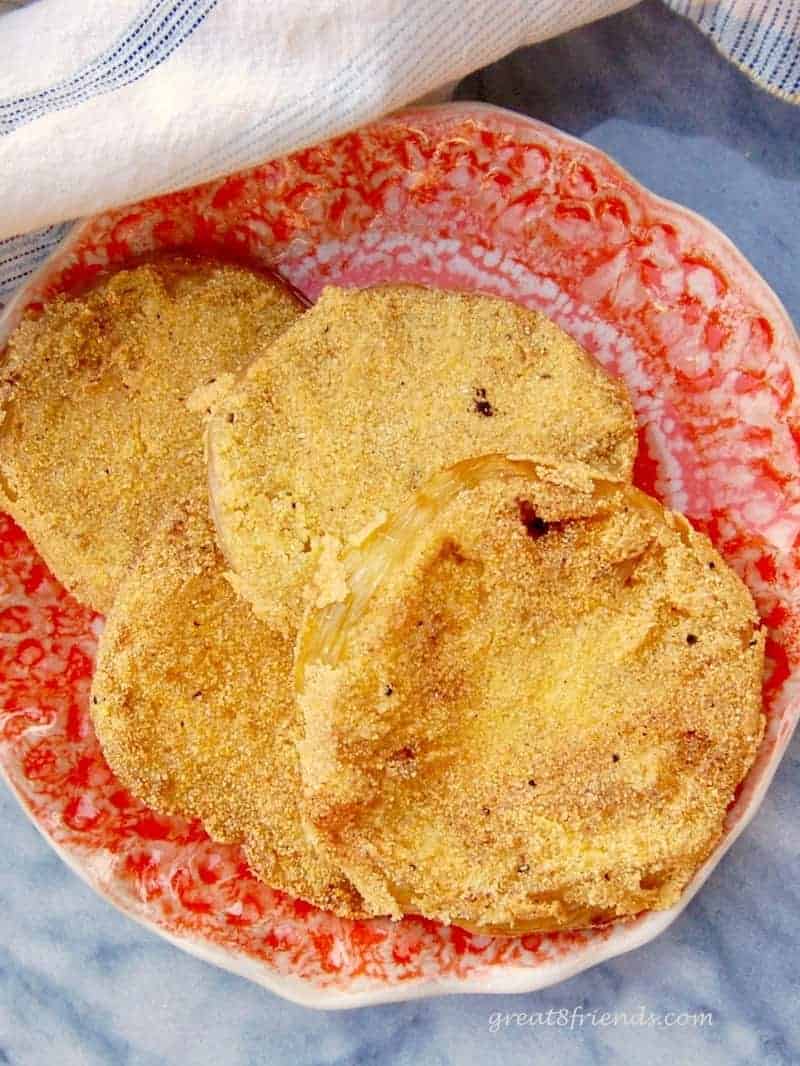 Fried Green Tomatoes - I'm guessing you know I'm not talking about the movie! Imagine biting into something with a thin, warm, crispy and perfectly salted coating, and inside is a fresh, tart, not too thin slice of goodness!
The cornmeal gives it that amazing crunch and gives the tomato a type of "barrier" so that, when fried, the green tomato won't become mush and won't ooze out at first bite!
The thickness of the tomato slices is key, and that "key" opens the door to some southern goodness!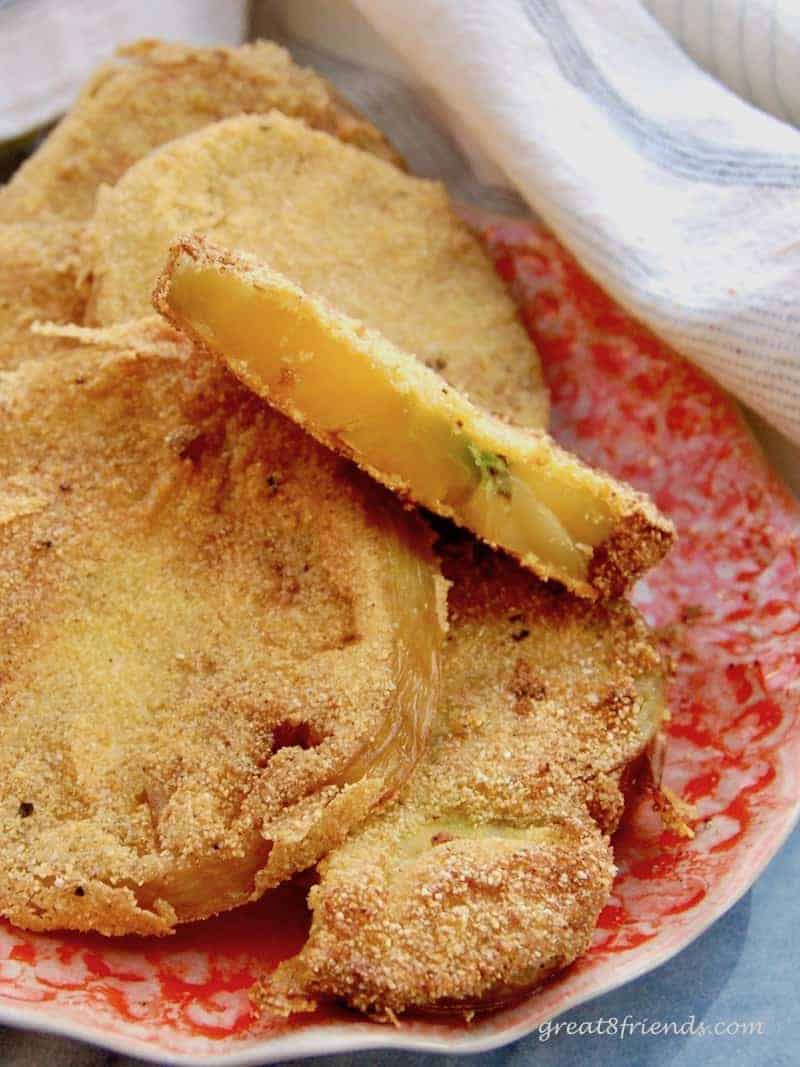 Whether Granny got her recipes while enjoying iced tea on the front porch with a neighbor or chatting over the back fence, she filled this little "Monster" with a happy belly and my heart with wonderful memories...every...single...Sunday.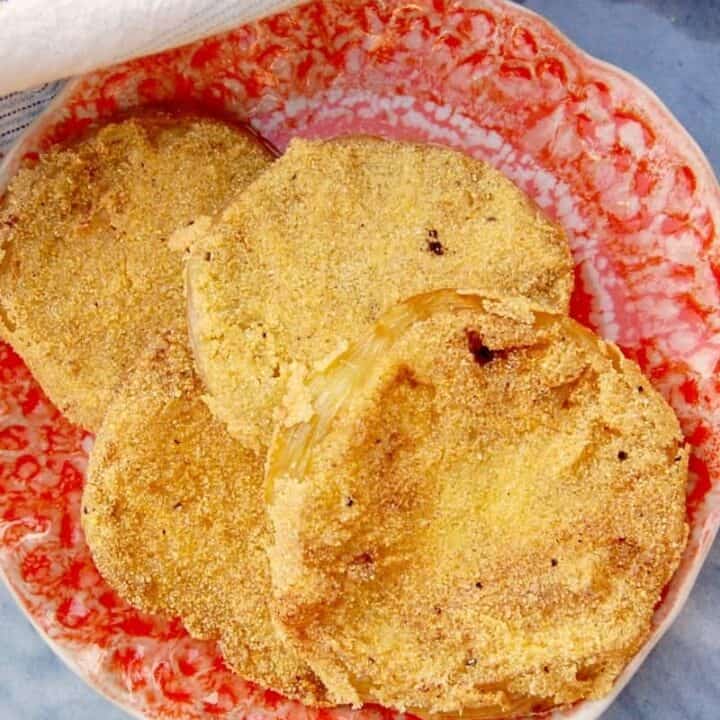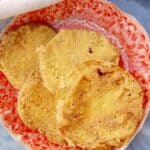 Print Recipe
Pin Recipe
Save this Recipe
Saved!
Please leave a rating!
Fried Green Tomatoes
Fried Green Tomatoes... some yummy southern cooking! Here is the recipe with just the right amount of crunch to make those tomatoes delicious!
Ingredients
Vegetable oil

3

green tomatoes

,

medium firmness

2

cups

finely ground yellow cornmeal

1

teaspoon

salt

¼

teaspoon

cayenne pepper

,

(less or more, depending on your heat tolerance!)

½

teaspoon

freshly ground black pepper

½

teaspoon

paprika

1

Tablespoon

all-purpose flour

1

egg

,

beaten with 1 Tablespoon water
Instructions
In a large cast iron skillet (or heavy bottom skillet) place enough vegetable oil to cover bottom of pan by ½".

Slice tomatoes into even ½" slices.

Heat skillet over medium-high heat.

Prepare the coating ingredients. Combine all dry ingredients in a plastic bag. Then combine the egg and water in a separate small bowl.

Use tongs to dip the tomatoes slices, one at a time, into the egg mixture, letting excess drip back in bowl.

Dip tomatoes into the dry mixture coating both sides.

When the oil is evenly heated and shimmering, add the coated tomato slices, enough to fit in one layer, and giving you enough "turning space"! (Oil should "sizzle" as soon as you put the tomatoes in. If it doesn't sizzle, give it more time to heat up.)

Fry for 2-3 minutes, or until golden. Turn and fry for 2 minutes on 2nd side.

Transfer to a paper towel lined plate to drain.

Continue to fry remaining slices.

Season to taste with salt and pepper, if necessary.

Serve hot.
Notes
Gr8 Do Ahead Tip:
You can combine the dry mixture several hours ahead of time. My grandmother always used the plastic bag idea for her dry ingredients in this recipe, but a shallow bowl or large plate instead works fine too...I'm guessing she figured less dishes, easier cleanup!
SaveSave