Black-Eyed Peas…slowly simmering on the stove. With the addition of a ham hock this makes a Gr8 healthy and hearty meal.
I grew up on soul food. I can close my eyes and the aromas take me back instantly!
Every Sunday at home or at my grandparents', black-eyed peas would be slowly simmering on the stove. I'm sure my grandparents, both from the south, purchased them wherever the price was best back then.
I find the best variety from Rancho Gordo. They're an online website specializing in heirloom dried beans and peas.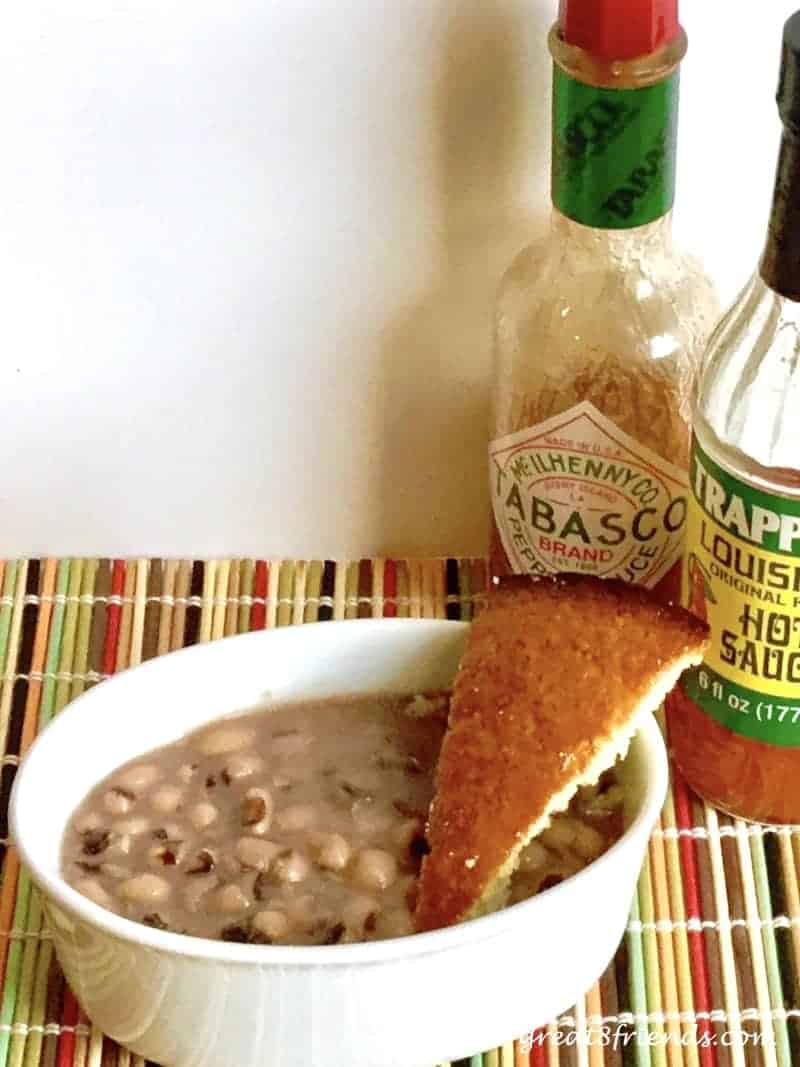 Anyway...back to my story! In the south, eating black-eyed peas on New Year's Day is said to bring good luck.
Ring in the New Year with Good Luck
Being African American, this side dish was a staple, at Sunday supper especially. With the slow cooking on the stove, starting with dried peas, they got an early morning start!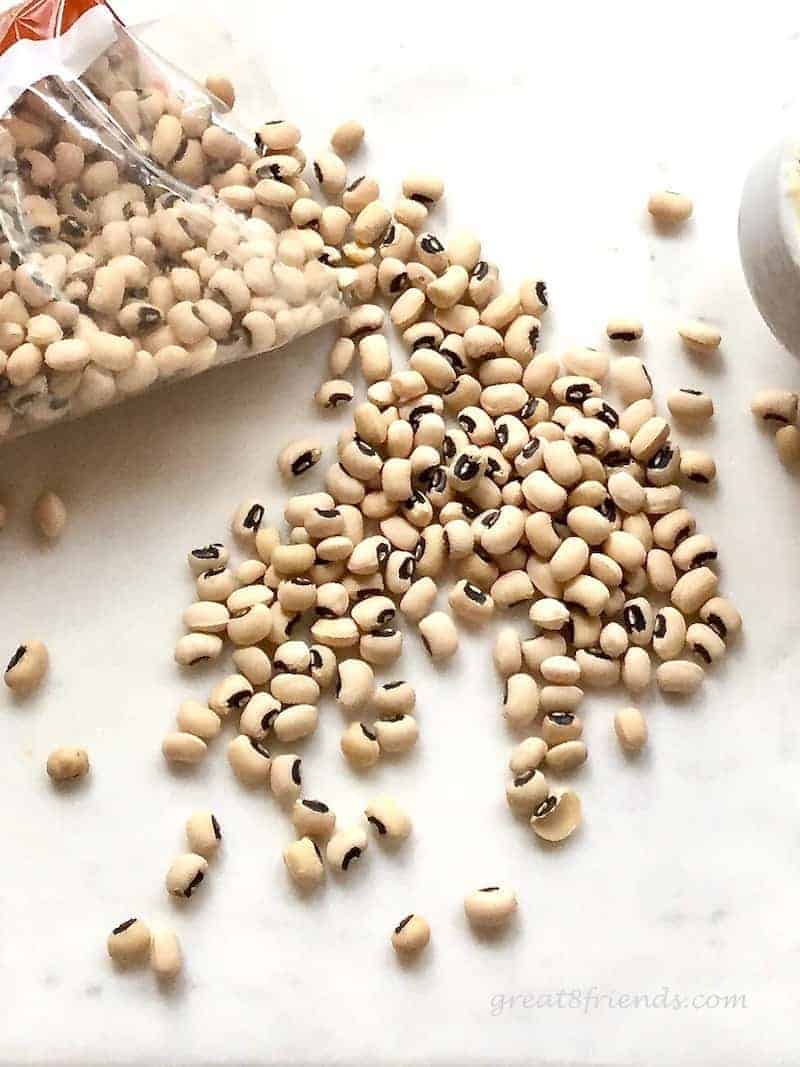 For example, the morning of December 31st, my mom was making sure everything was ready to go. A couple of smokey ham hocks were added to the pot for flavor. There was always cornbread, hot from the oven, ready for us to soak up all the goodness.
A Meal in Itself
Pieces of the tender ham hock meat falling off the bone, give this dish a heartiness that makes it a meal in itself. Don't forget the dash of hot sauce!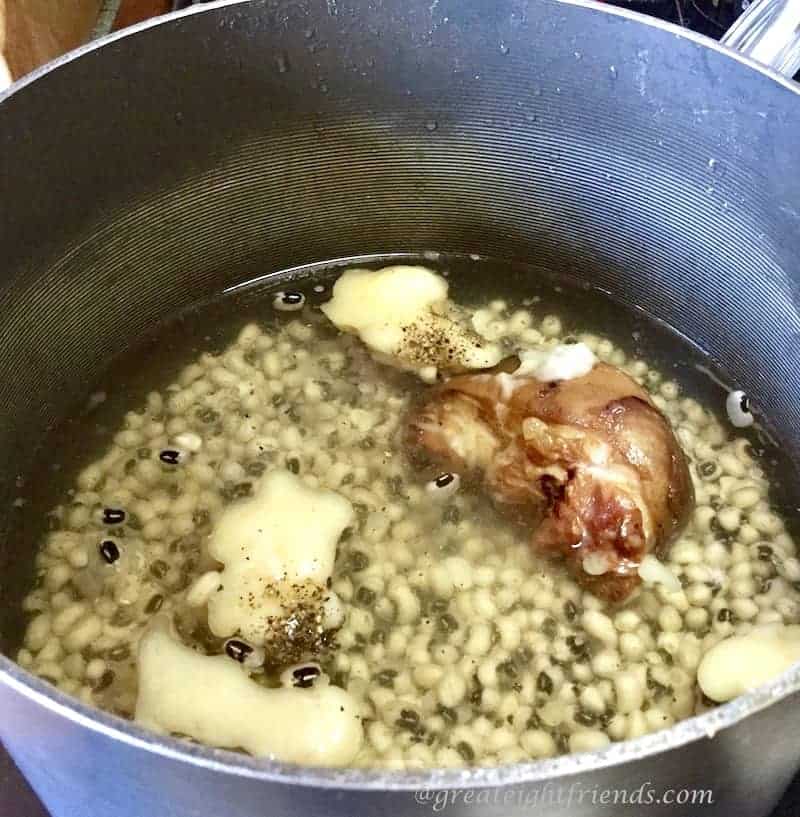 Although the tradition says to eat 365 black eyed peas for good luck, it's way too good...who's going to count?
This post contains affiliate links which means Great Eight Friends may earn a small commission if you click on the link. There is no additional cost to you. As an Amazon Associate we earn from qualifying purchases.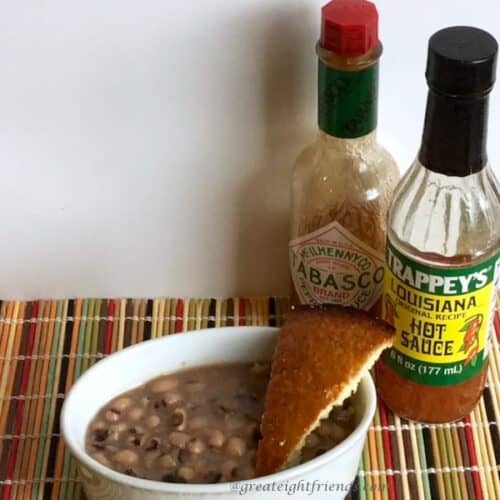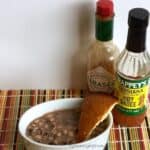 Print Recipe
Pin Recipe
Save this Recipe
Saved!
Please leave a rating!
Black-Eyed Peas
Ingredients
1

pound

dried black-eyed peas

1

ham hock

,

(or 2 ounces of diced bacon, uncooked)

¼

cup

bacon drippings

¾

teaspoon

salt

¼

teaspoon

freshly ground black pepper

½

teaspoon

sugar
Instructions
Place the dried peas in a shallow plate or bowl. Pick over them to remove the stones and dirt.

Rinse well and soak in cold water for 20 minutes. Drain completely.

In a large stock or soup pot, combine the remaining ingredients with the already soaked peas.

Cover peas with about an inch of cold water.

Heat to a simmer. Cook covered, until the peas are tender but not mushy, about 1-½ hours.

Keep a watchful eye on the peas while they cook. Add more water to keep them covered if necessary.
Recipe adapted from Sylvia's Soul Food Cookbook by Sylvia Wood and Christopher Styler.
SaveSave