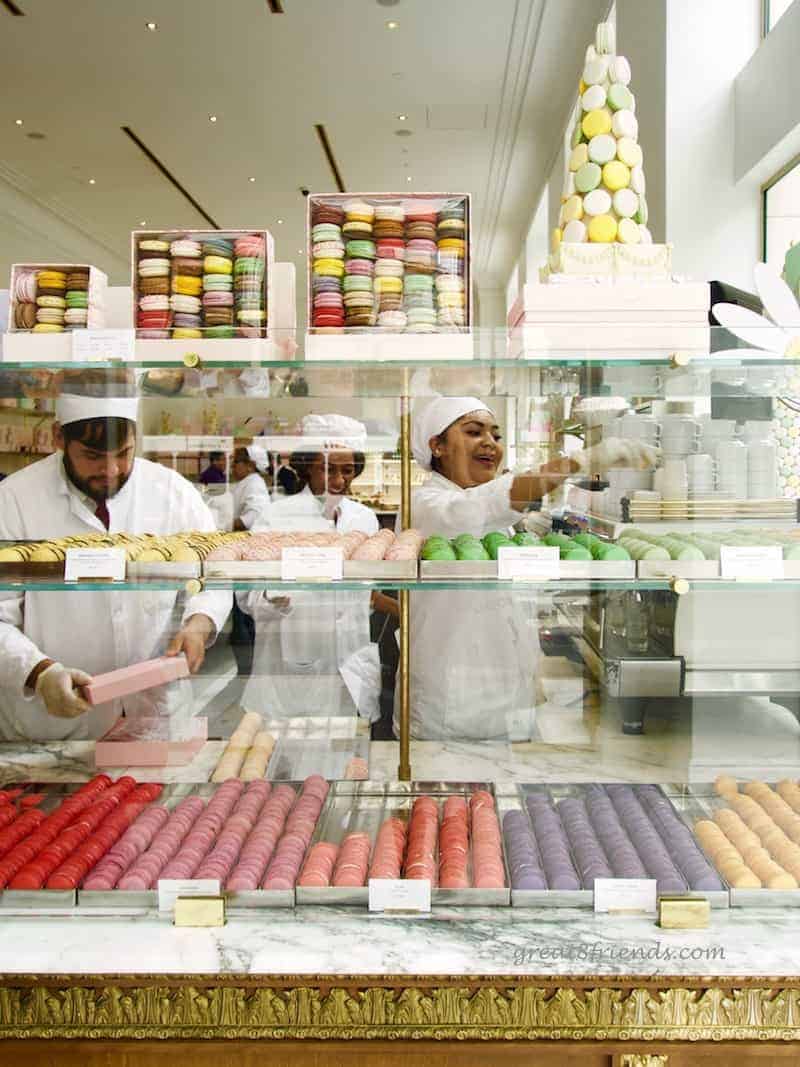 There are few restaurants that I want to return to time and again mostly because I love trying new things. The ones that I insist on revisiting generally have more than just Gr8 Food. Bottega Louie is one of those restaurants.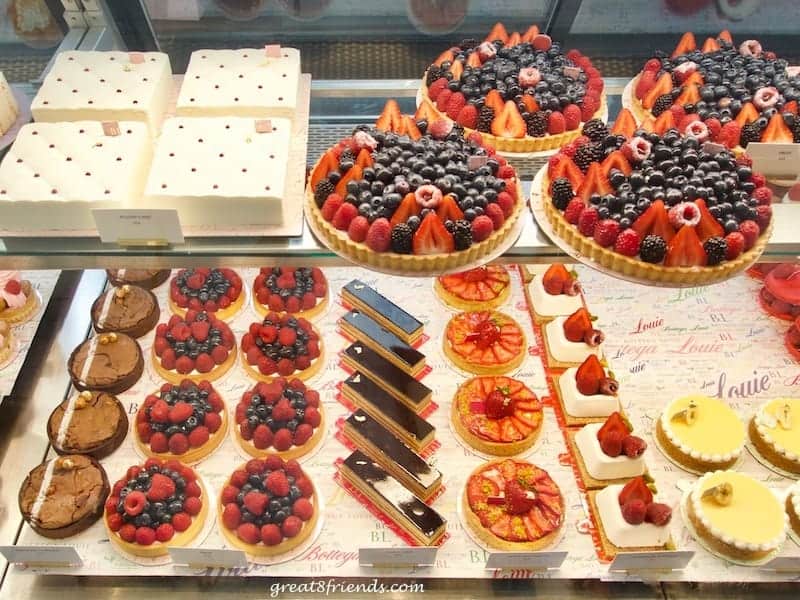 Whenever the Gr8 gals venture to Los Angeles, Bottega Louie is bound to be on the itinerary. It is a large, open space which includes the restaurant, a bar area and the bakery/take-out counter. One of the reasons we love to eat here is because the food is sublime. The second reason we love to visit is because of the beautiful, colorful, and delicious bakery.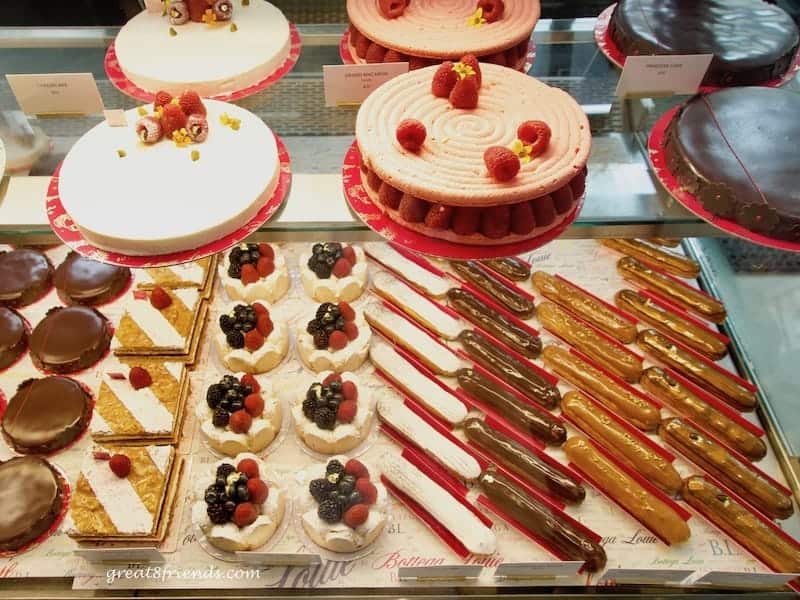 Not only is the bakery a feast for the eyes, the pastries, cookies, cakes and macarons are some of the best you will taste. It truly is a treat to visit Bottega Louie and indulge.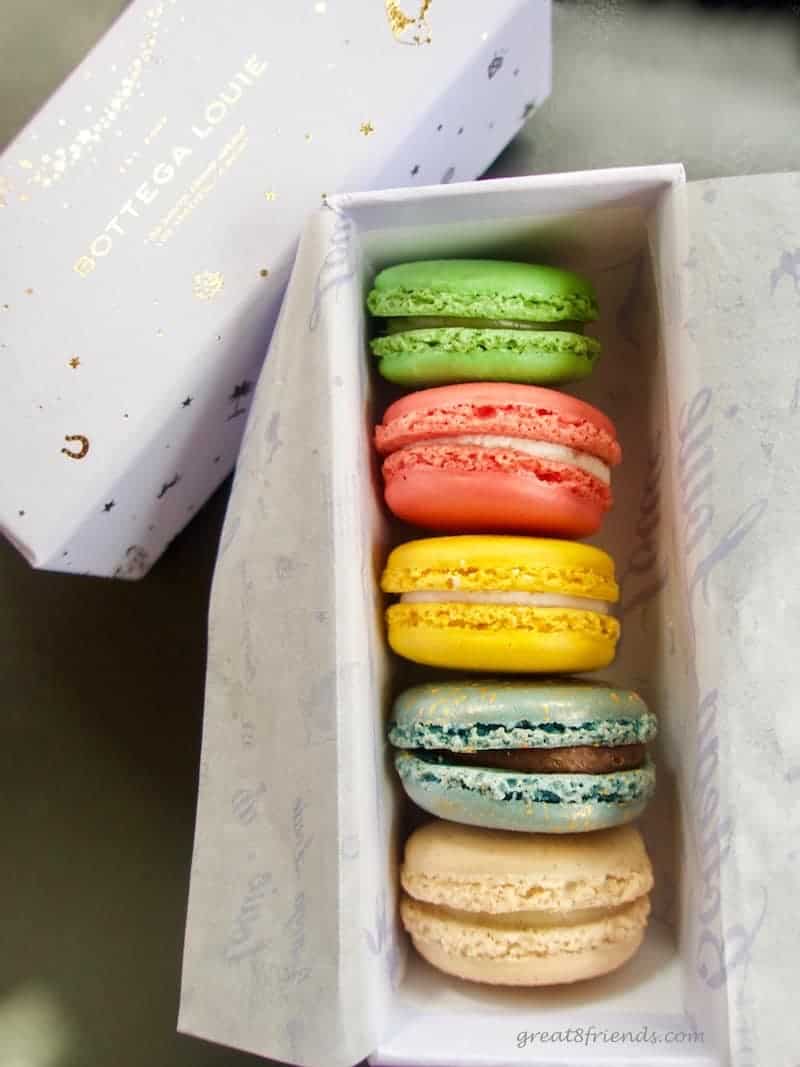 On a recent visit for a late lunch we started with the Portobello Fries and the Avocado and Chorizo Toast. The Portobello Fries are large slices of the fungi dipped in batter, deep fried and served with a garlic dipping sauce.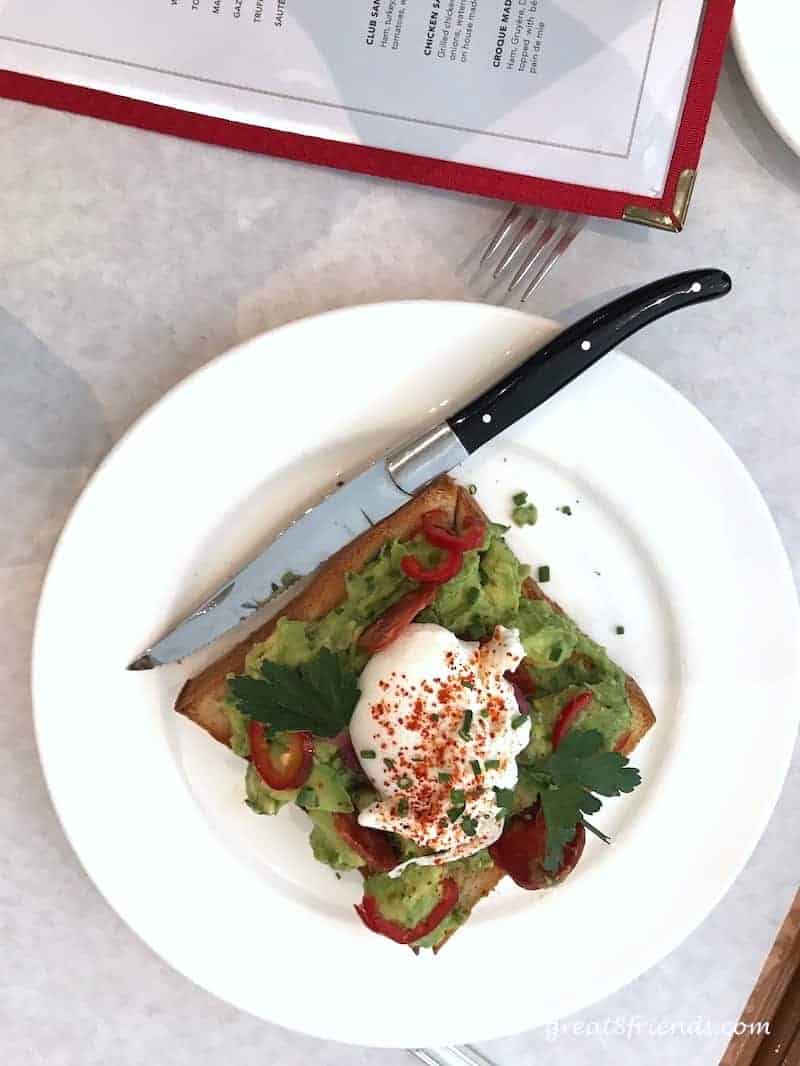 The Avocado and Chorizo Toast is a thick slice of brioche, toasted and liberally covered with avocado, topped with sweet peppers, sliced chorizo, and a poached egg. This is a meal in itself!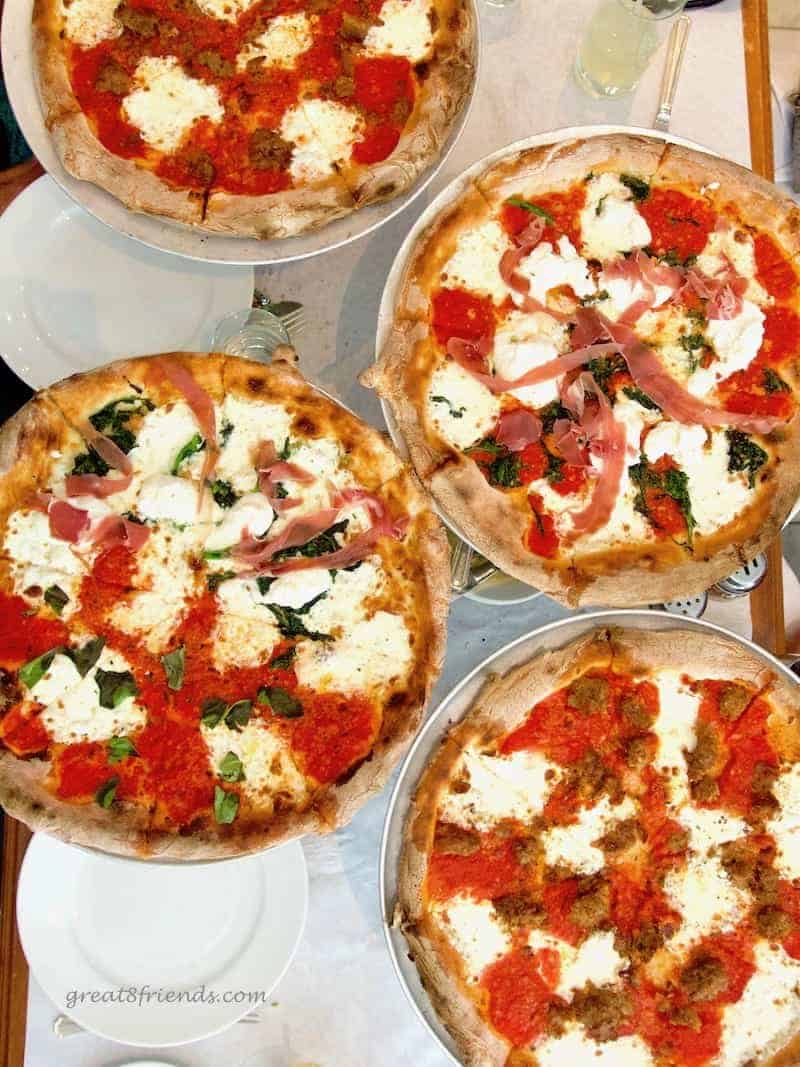 There were 4 of us and you would think after already eating some fairly filling food we would be willing to share some entrées, but no! The food is so delicious that we all wanted to take some home. So we each ordered our own pizza. And these aren't personal sized pizzas; I didn't measure, but each pie is definitely larger than 16"! The sausage pizza is a traditional pizza with red sauce and cheese, and the sausage is a fennel sausage that is succulent and savory and just a hint sweet, too! Jurga was excited to dig in!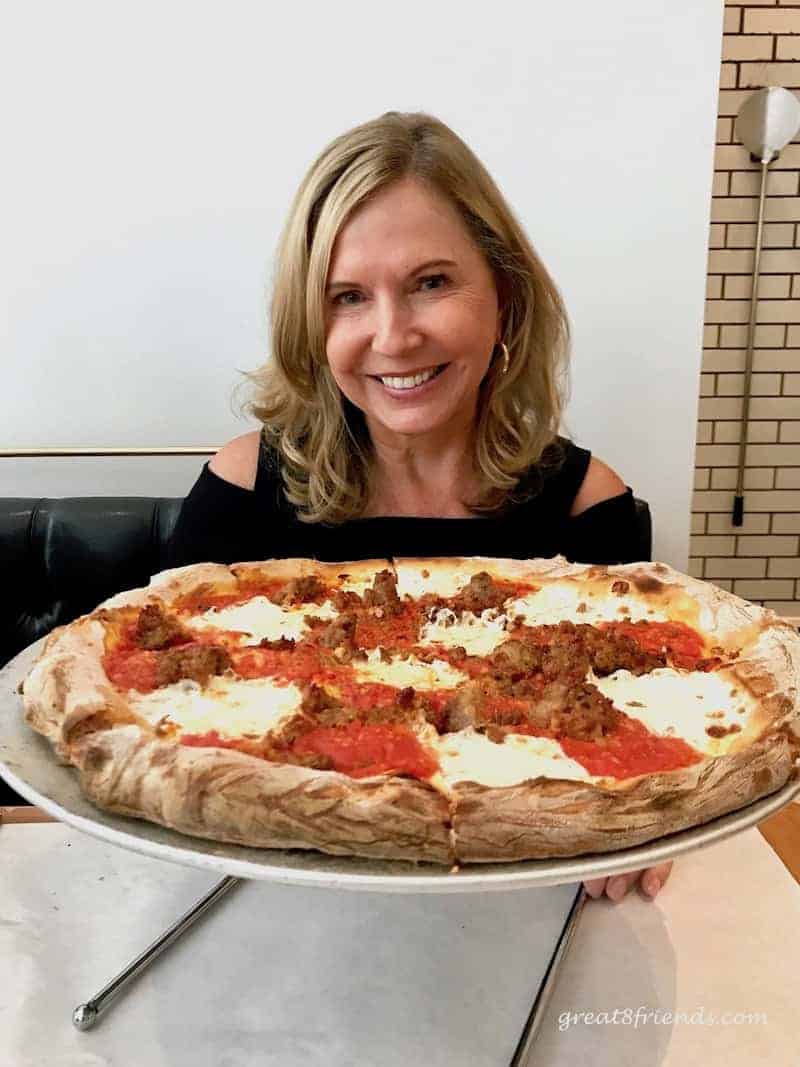 Debbie ordered the Burrata pizza, which is served as a white pizza. But the restaurant happily added red sauce to hers for a more traditional taste. (Don't you just love when restaurants easily accommodate you?)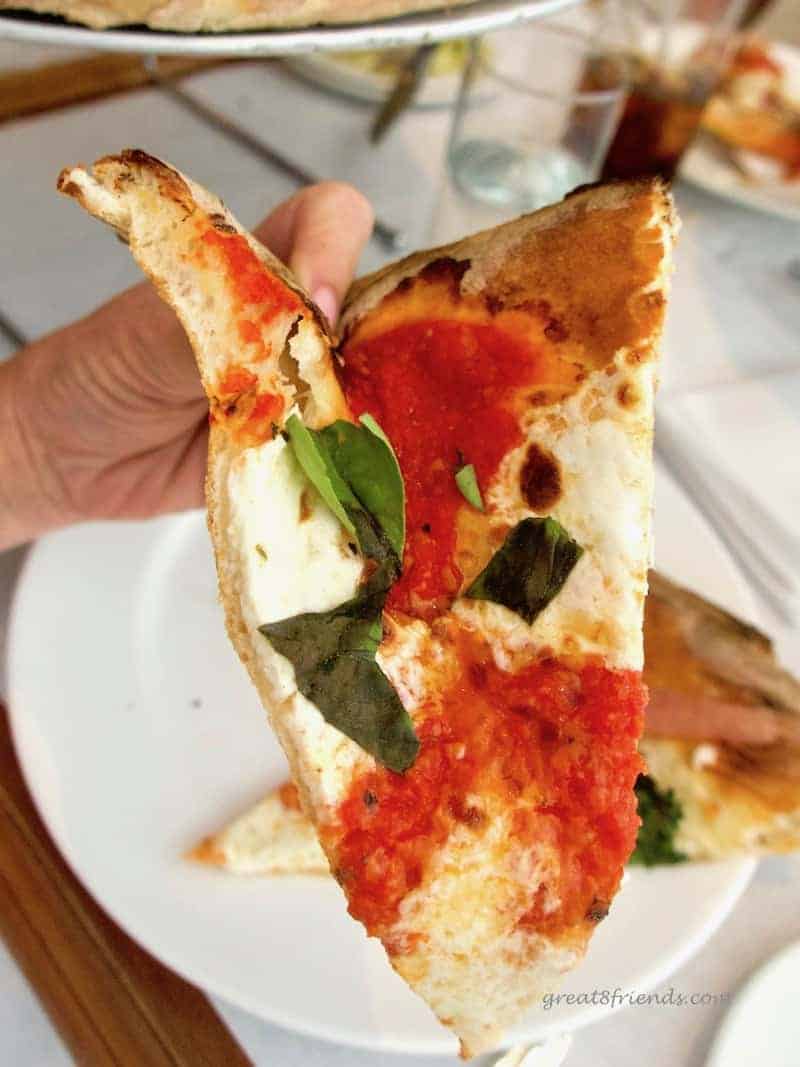 When I told our server, Mark, that I couldn't decide between the Margherita pizza and the Burrata pie, he suggested half and half...brilliant! And oh so delicious. The very traditional flavors of the Neapolitan creation of simple red sauce with oregano, cheese, and basil on the Margherita was just what was needed to sate my soul. And the more unique flavor combo of garlic with extra-virgin olive oil, topped with sweet burrata, salty prosciutto, and tangy rapini excited my taste buds and made me a happy camper!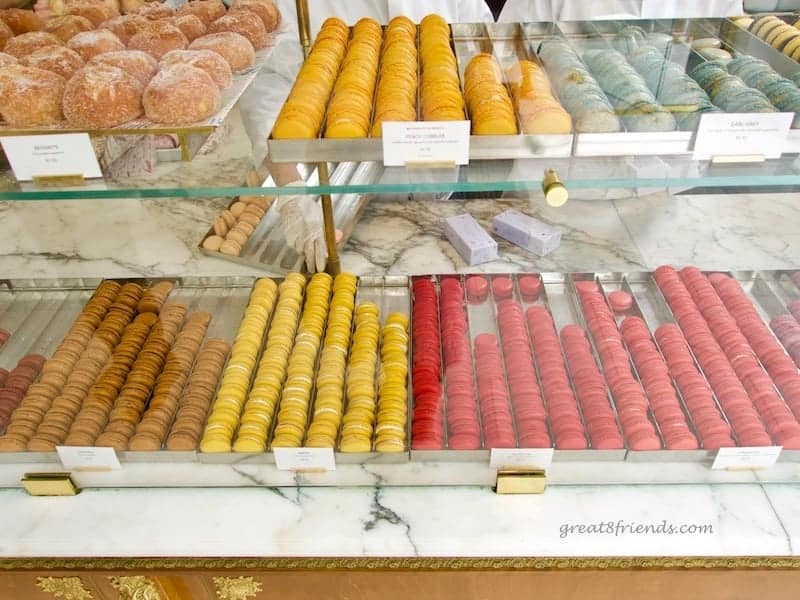 After lunch we passed on dessert, paid the check and headed straight for the bakery. We loaded up on macarons, pastries and beignets to share with our families. And boy were they happy!
If you are planning a trip to DTLA, (that's local speak for Downtown Los Angeles) be sure to plan a meal at Bottega Louie. They don't take reservations, but we had a late lunch, at around 2 p.m., and were seated immediately.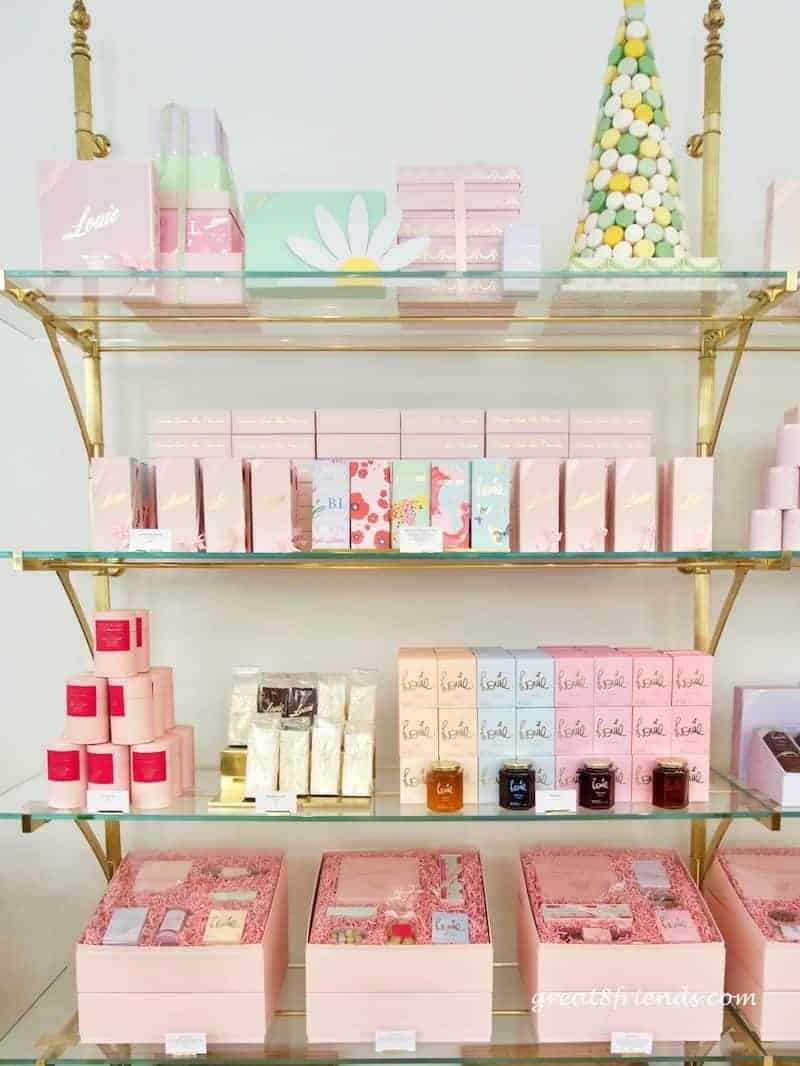 Our Gr8 Week!
Ice Cream, Vegetables, and Scotch! Not a very balanced diet, but those were on the menu this past week here at Great 8 Friends! Jurga's Easy Vanilla Ice Cream is the perfect crowd pleaser for hot summer days. Kyle then shared some good info about the season's vegetables. It's always best to cook with what is fresh and in season! Then Phil shared a post about Scotch. The guys got together and tasted some whisky and we have all the notes for you!
Be a Gr8 Friend!