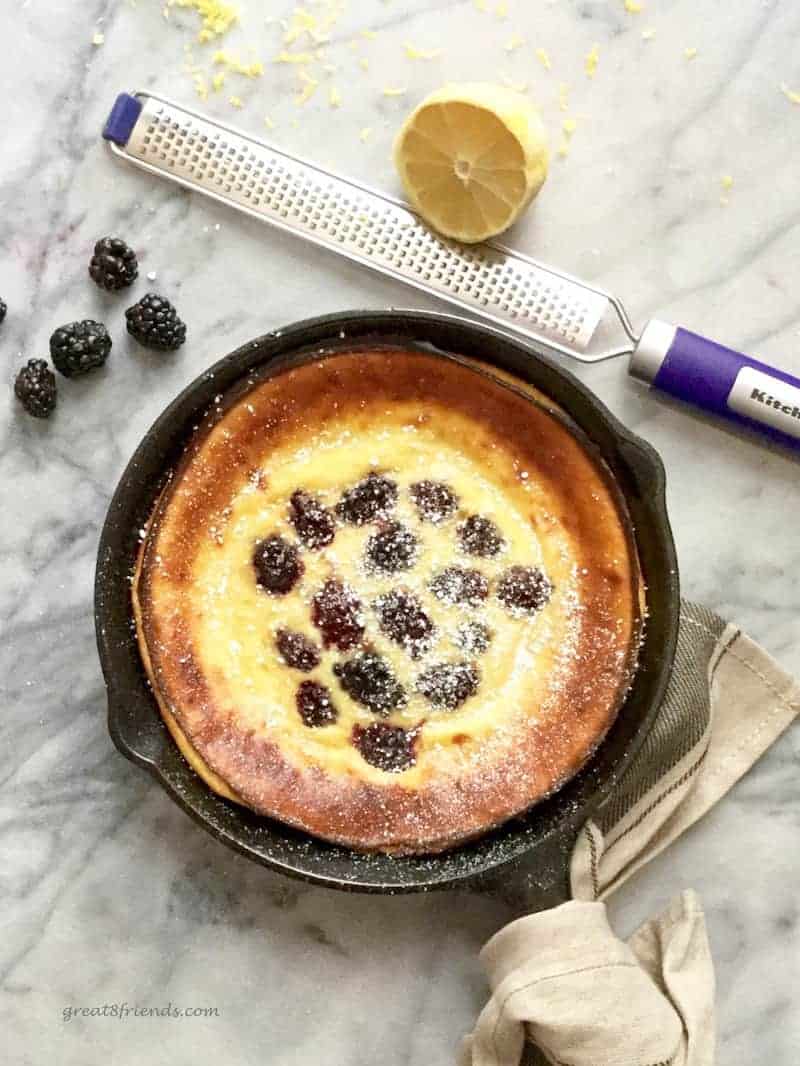 Ooh Baby! I get to make a Dutch Baby for the dessert at Kyle and Joel's Great 8 dinner! Can you guess the theme?  Everything Kyle and Joel served was perfectly named or re-named to fit the theme. Every little itty bitty teeny tiny dish was perfect! You guessed it! It was a Baby Shower and I get to make a Dutch Baby! How cute is that!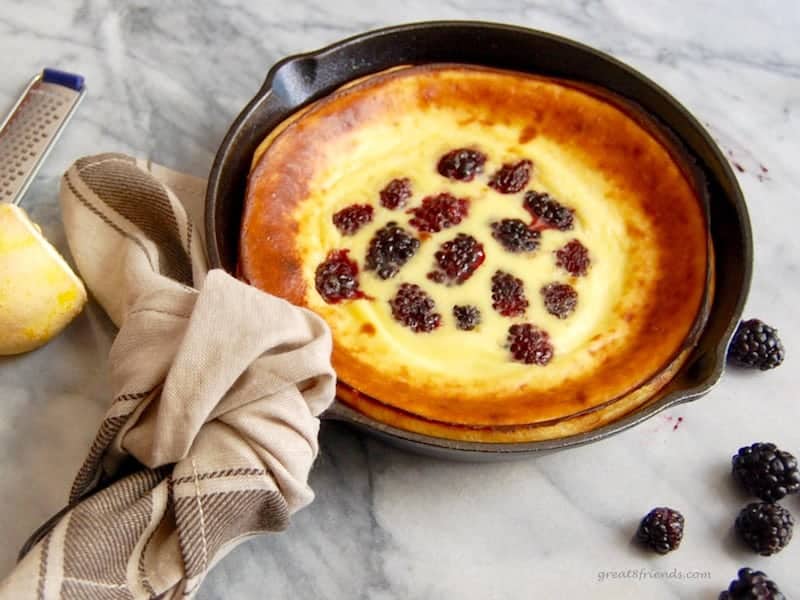 But "Wait", I thought! "A Dutch Baby for dessert?? Yay!" But you're probably thinking, since it has to be served immediately, how can I do it? Well friends, no problem! You know why? Because the batter has to be refrigerated overnight! Perfect, right? Giving Phil a heads up before we go, lets him know he'll be assisting me in the kitchen before the end of dinner...don't be acting surprised Mister!
If you remember for a few other posts when I've been on dessert duty, I kind of like all things mini and individual! So...I thought how fun would it be to find individual cast iron skillets to bake and serve the Dutch Babies in! The sizes I found were either too big or too small. So I compromised and got a variety! Can never have too many of those cute skillets!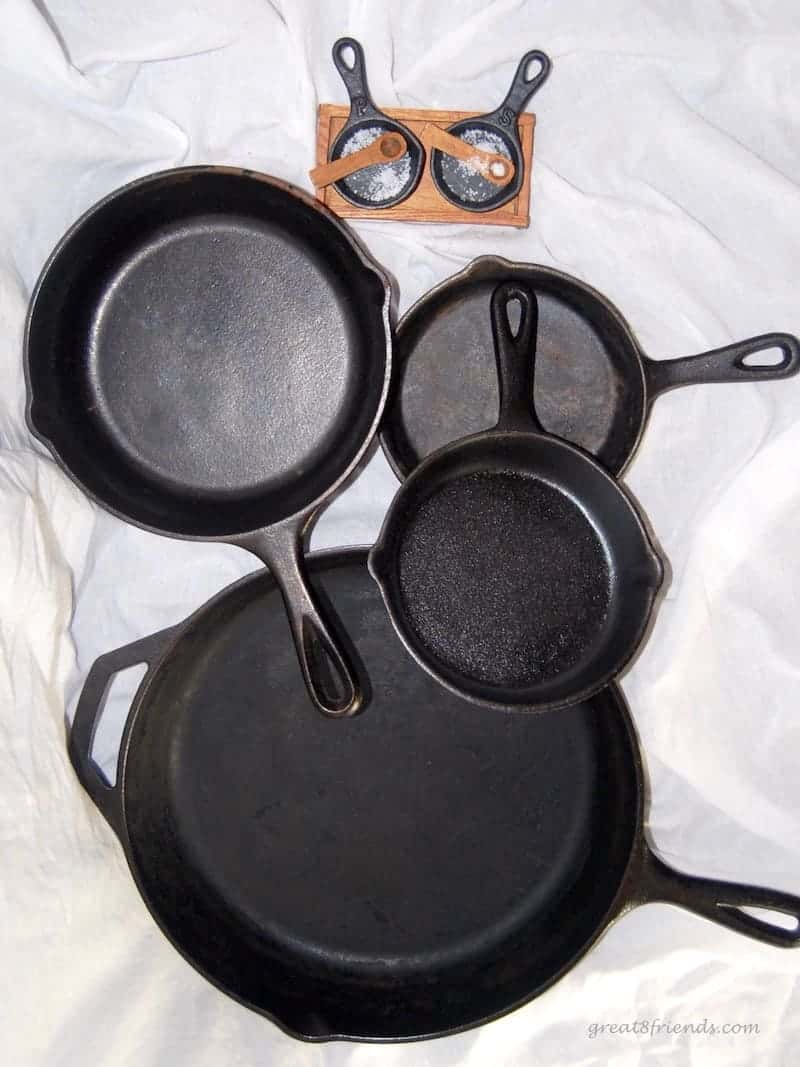 Since this recipe has to be refrigerated overnight, be sure to give yourself that additional time. Ooh Baby...with the Cottage Cheese and lemon, trust me! It's worth it!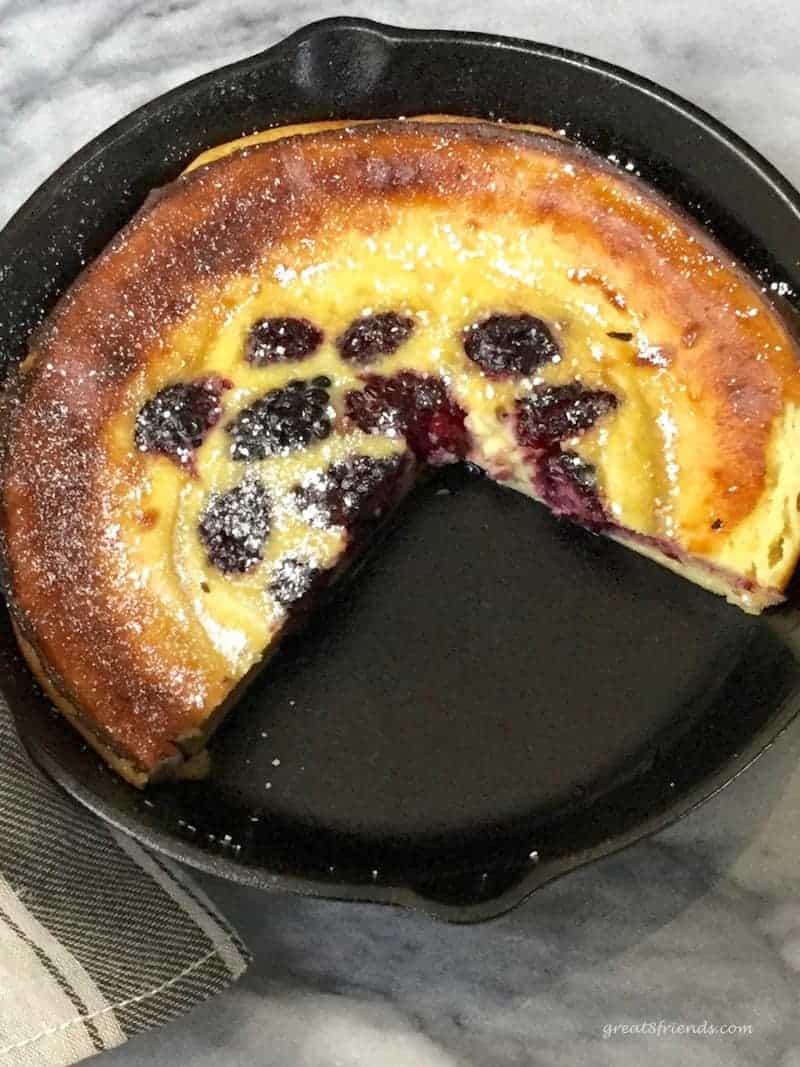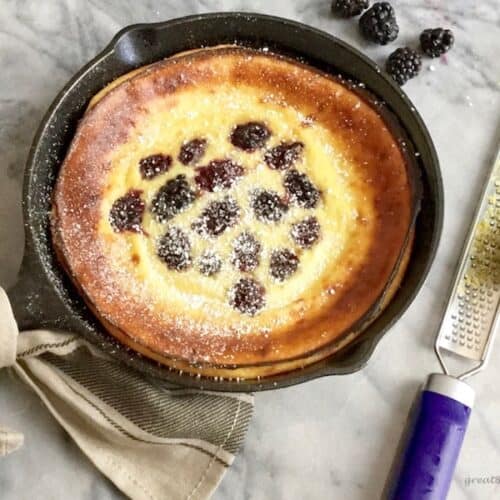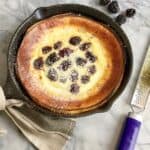 Print Recipe
Pin Recipe
Save this Recipe
Saved!
Please leave a rating!
Dutch Baby
With the freshness of the berries and the light and airy puffiness, this Dutch Baby will leave quite an impression on your friends and family! A Gr8 start to the day! Easy and delicious, too!
Ingredients
¾

cup plus 2 Tablespoons

all-purpose flour

⅓

cup

sugar

1 ½

cups

low fat milk

7

ounces

cottage cheese

,

heavily whisked until cream like consistency

6

medium sized

eggs

,

beaten with a whisk

zest of 3 small

lemons

Unsalted butter enough to coat large cast iron skillet

,

(about 2 Tablespoons)

½

cup

assorted berries

,

any combination * (plus a few more to sprinkle in the end)

Powdered sugar to finish

*boysenberries, raspberries, blackberries and blueberries are best.
Instructions
Whisk the flour and the granulated sugar in a medium bowl.

Add the milk, cottage cheese, eggs and lemon zest, whisking after each addition.

Cover and refrigerate overnight.

Preheat the oven to 450°

Heat a 10" cast-iron skillet in the preheated oven for 10 minutes.

Remove the batter from the refrigerator and whisk lightly to combine. Careful not to over whisk.

Remove the hot skillet from the oven and swirl in enough butter to coat with a thin layer.

Pour the batter into the hot skillet.

Sprinkle the berries on top.

Bake until puffy and nicely browned around the edges. Approximately 15 to 25 minutes, or until fully set (different ovens vary).

Sift powdered sugar over the top and an added sprinkle of a few extra berries.

Serve immediately.
Notes
Gr8 Tips: 
Serve with vanilla ice cream. Also amazing with that fresh cup of java in the morning! Delicious with sliced stone fruits, too!
sm 9/1/18