A Chinese New Year party is full of many traditions from that rich and timeless culture. If you want to celebrate, here are some easy decorating ideas, a menu plan and the cute invitations!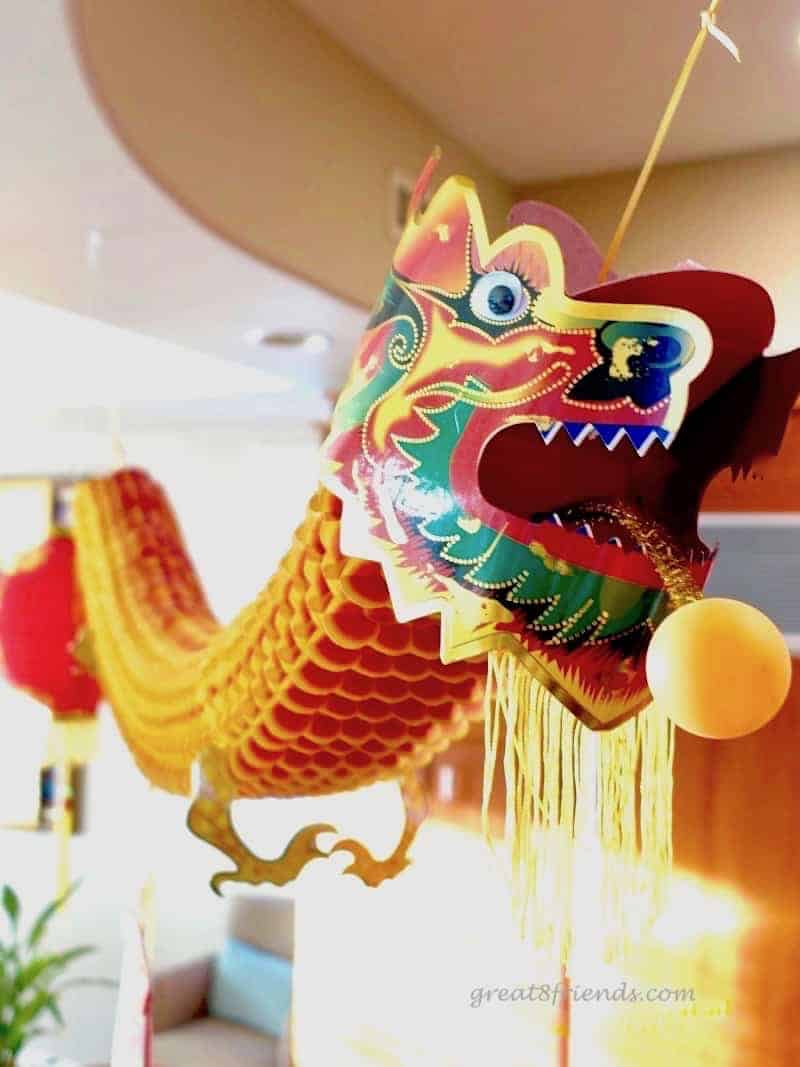 Vince and I love deciding on our next theme for our Gr8 Dinners. Last year our date was in February, and the obvious choice would be Valentine's Day, but we wanted something a little different.
I have always loved learning about other cultures and their traditions, and our Gr8 Dinners have been a wonderful way to explore many cultures. So, we chose the Lunar New Year! We called it Chinese New Year and did mostly Chinese dishes.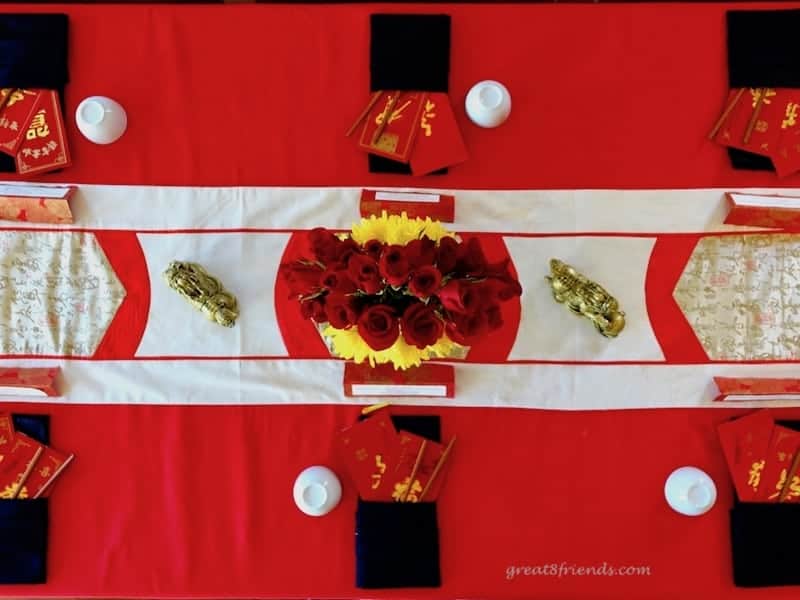 In Asia, the Lunar New Year is an important holiday. Most workers get one to two weeks off of work so they can travel to the country to be with their families.
Millions travel during this time; it's the "world's largest annual human migration." Since I didn't know a lot about the traditions we had fun doing all the research.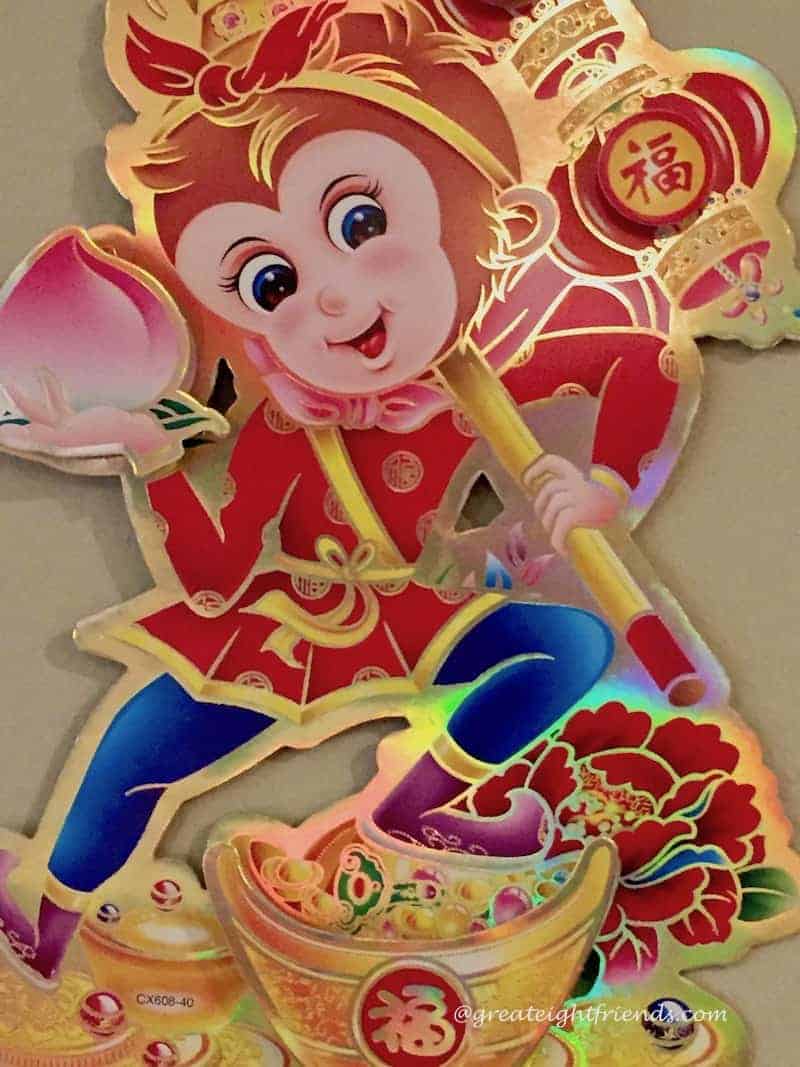 Decorations
This is a fun party to host because the decorations are so colorful. The reds and golds are easy to work with and there are a lot of paper decorations that are reasonably priced.
We went to Chinatown in LA and went a little crazy with all the ideas. If you don't live near a Chinatown, be sure to price shop. I found that the prices can vary greatly.
There is a different animal represented for each year, so be sure you choose the right one!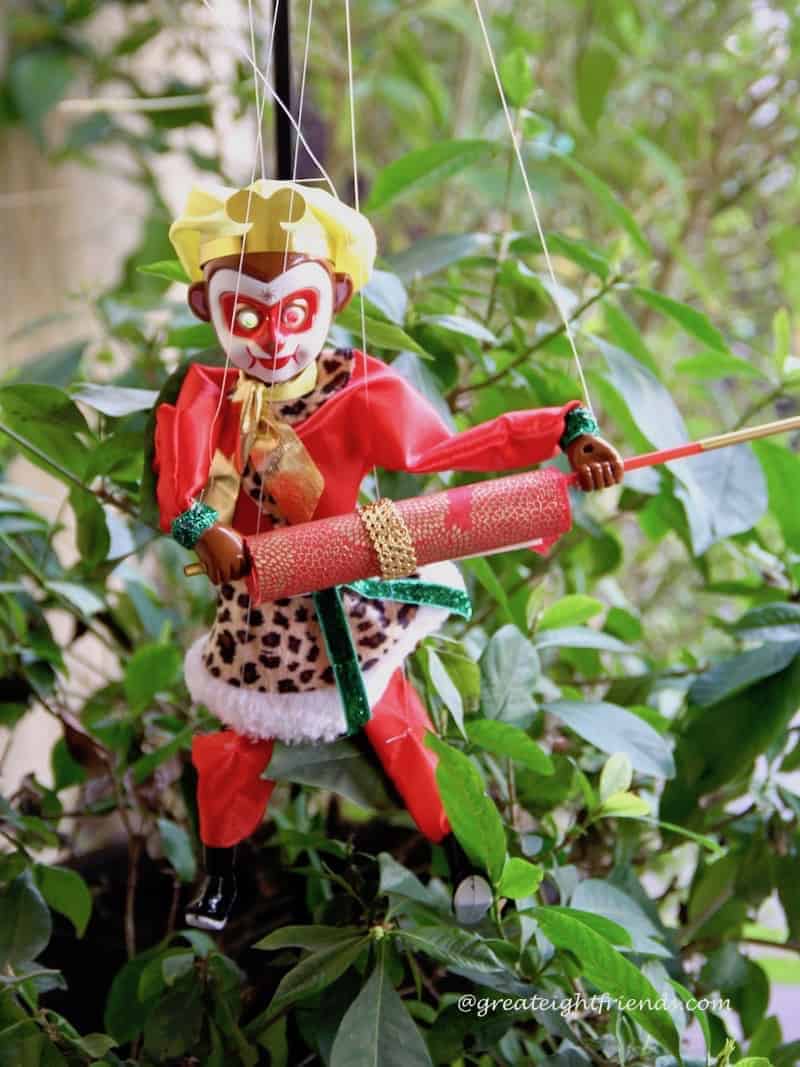 Invitations
The year we hosted this party was the Year of the Monkey and we found a marionette monkey that played a couple of Asian melodies, "Aha," I thought, "this is perfect for the invitation!"
A local craft store had beautiful red and gold paper and parchment was the perfect accent for the actual invite. The Shinzen Stroke font was perfect for "Gung Hey Fat Choy," (Happy New Year).
After printing the invitations and tearing the sides (carefully!), the paper was wrapped around the balancing bar the monkey had in his hands. Yes, it is a little work, but remember, we only have to do 3!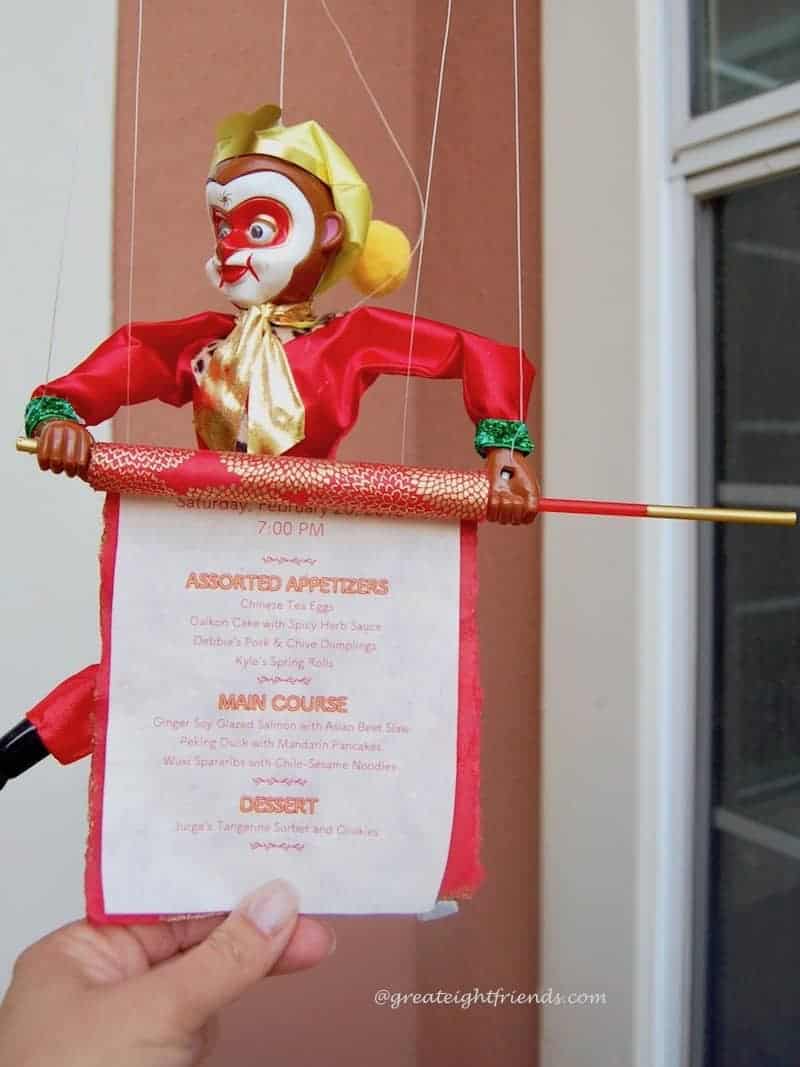 We used planter hanger stakes to hang the invites, pushed the button for the music, texted the recipient, then scooted back into the car and drove away. (Such fun!) And my favorite part? Getting texts back from our Gr8 Friends saying how excited they were for the coming event.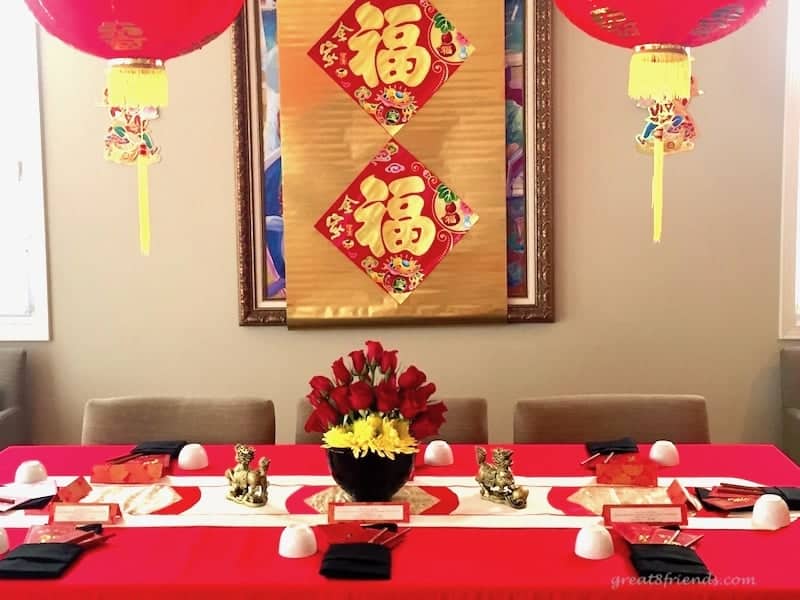 In order to make the day of the dinner a little less work we like to set the table and decorate 2 to 3 days ahead of time. This takes the pressure off AND totally gets us into the mood of the party!
So I taped the decorations to the walls and set the table on Wednesday and I did the fresh flowers on Friday. (I like to make a run to Costco for the flowers, much more affordable!) With some of the food prep on Thursday and Friday, Saturday was easier than expected!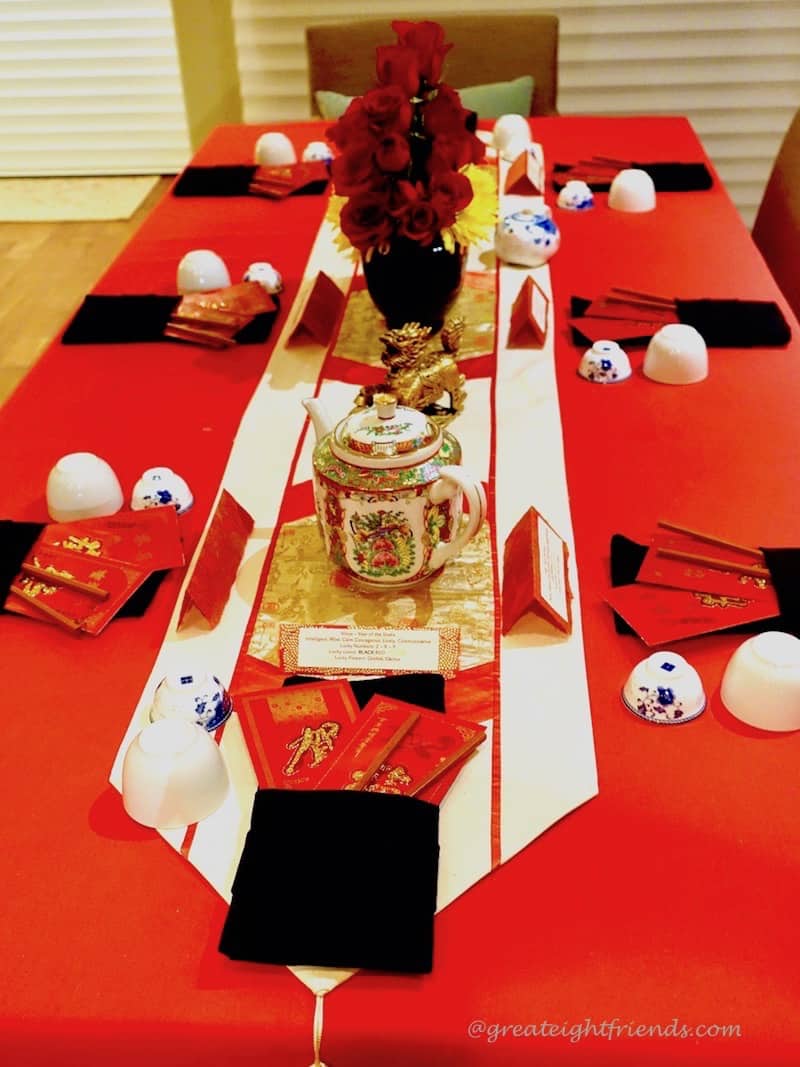 Asian cultures have many interesting beliefs and traditions. Every year is assigned an animal, lucky numbers, lucky colors and lucky flowers. So each place card had a name, the "Year of" animal, and included all the "lucky" information. Our 8 covered the years of the snake, horse, sheep, rooster, boar, rat and ox. We had only 2 who shared an animal...Jurga and Tim!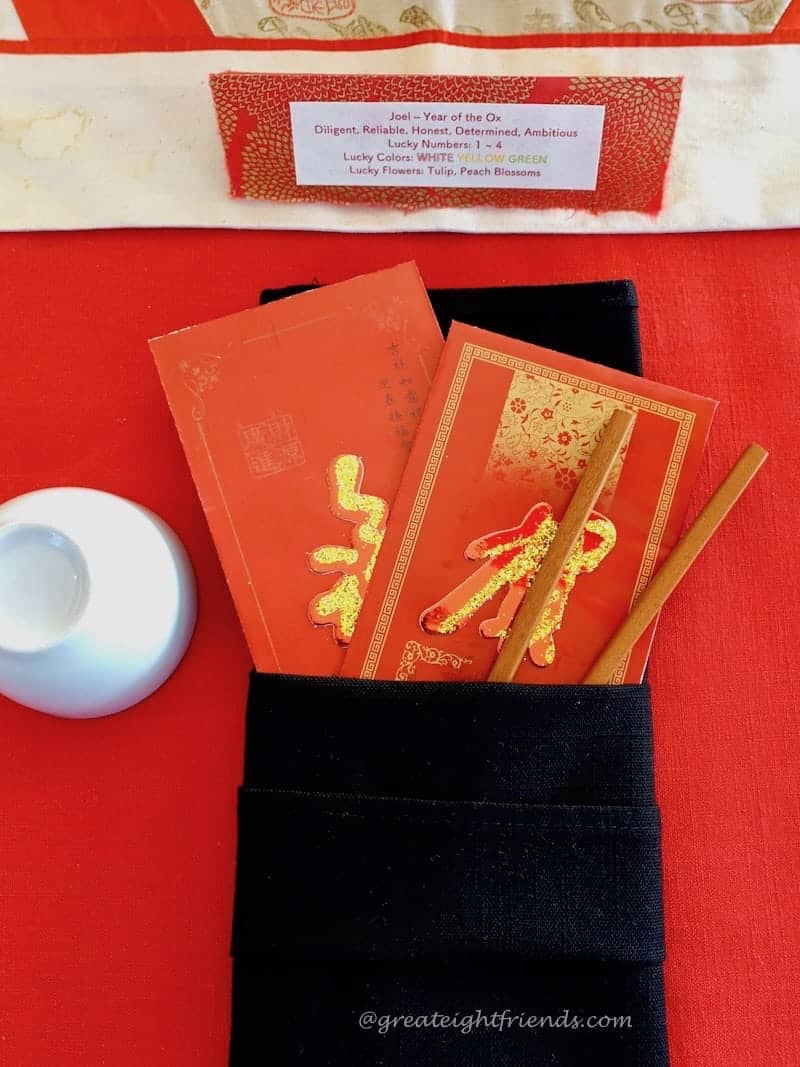 Another fun tradition is giving away money. The money envelopes each contained a lottery ticket...unfortunately, none of us were the big winners. Imagine that!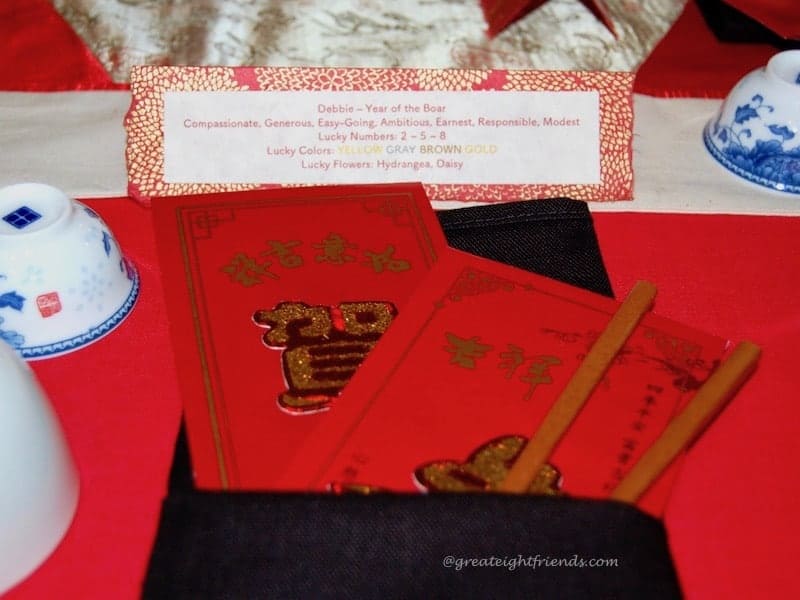 A Chinese New Year Party Menu
For some reason, and I can't remember my thought process, I chose several different entrées to serve. Normally at our Gr8 Dinners we serve the main courses all together, but I decided to do small plates.
Over the years people have gifted me various beautiful appetizer plates, and this was the perfect opportunity to showcase them.
To make it easier, you should probably choose only ONE entrée. Then have your guests each bring a dish, too!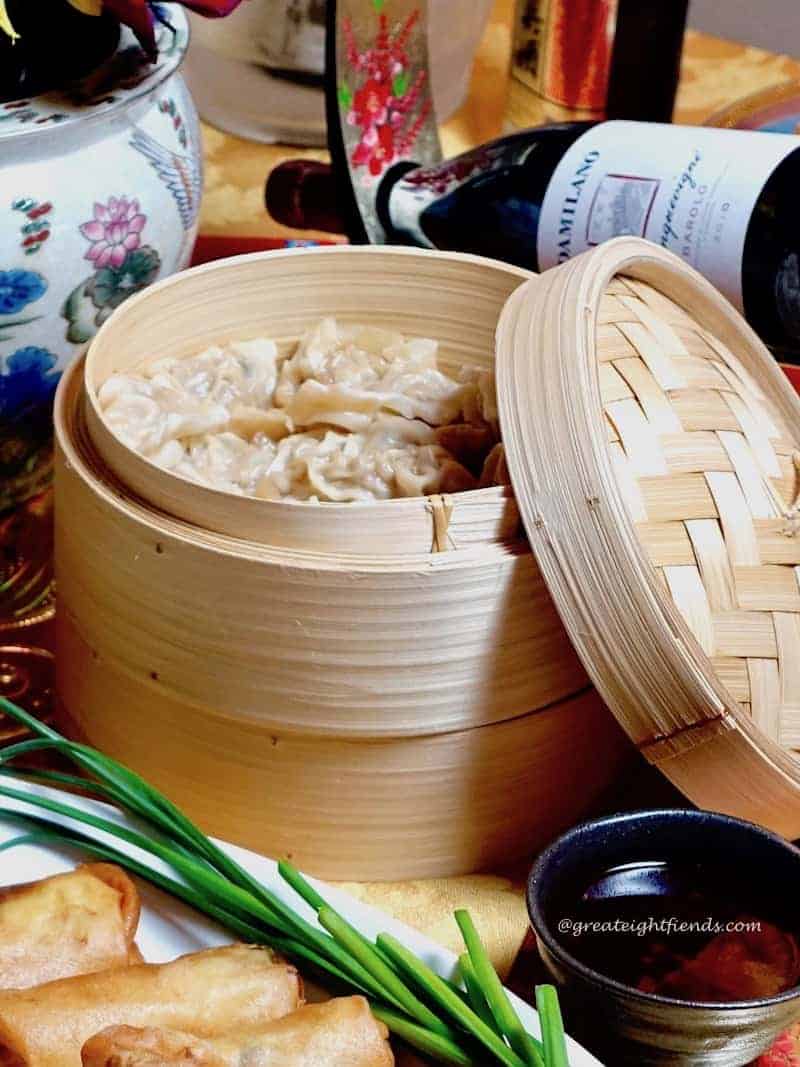 As usual we started with the appetizers and chatted (there's always LOTS of chatting to be done!). Debbie brought Pork Dumplings with Sesame Sauce. And she served them in a traditional bamboo steamer, of course! So perfect!
Kyle outdid herself, the invitation said, "Kyle's Spring Rolls"...instead of just making one kind, she made regular Spring Rolls AND made fried spring rolls...what a Gr8 Friend!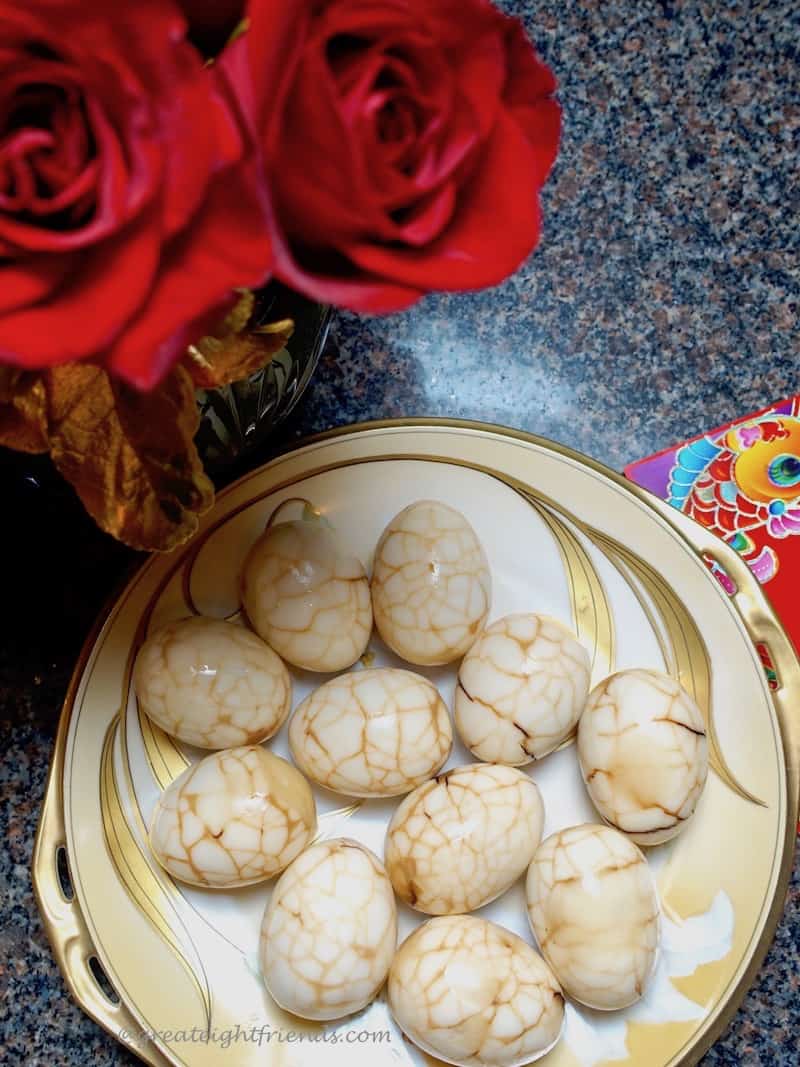 I made Chinese Tea Eggs, they are so pretty and easy, and the spices don't really change the flavor of the egg. I also made a Daikon Cake, it didn't turn out, never really cooked. I must have done something horribly wrong because the whole concoction smelled up the house something terrible, it ended up in the trash....we all have our failures!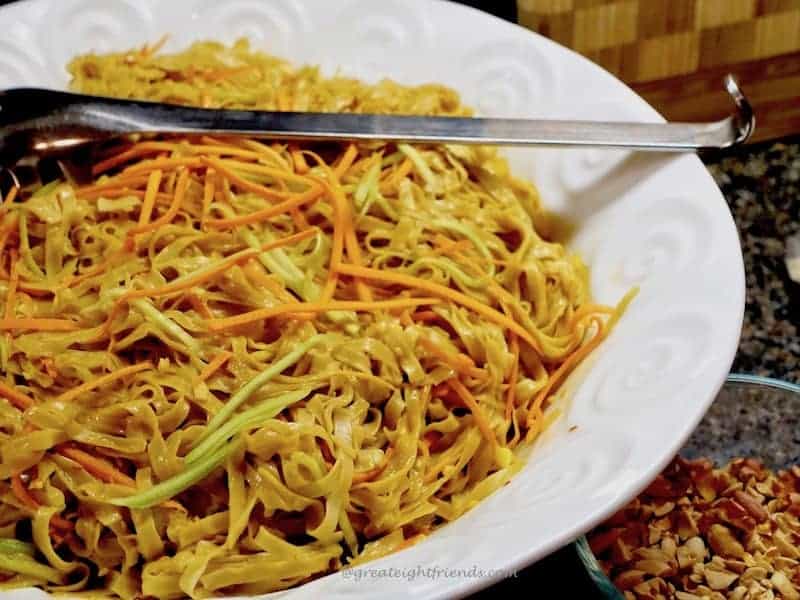 We then sat down to a first course of Sesame Noodles, a recipe from Saveur. Long noodles symbolize longevity in the New Year and these are served at room temperature, so they are a simple choice. This is one of the most delicious dishes I made...so why haven't I made it since??!!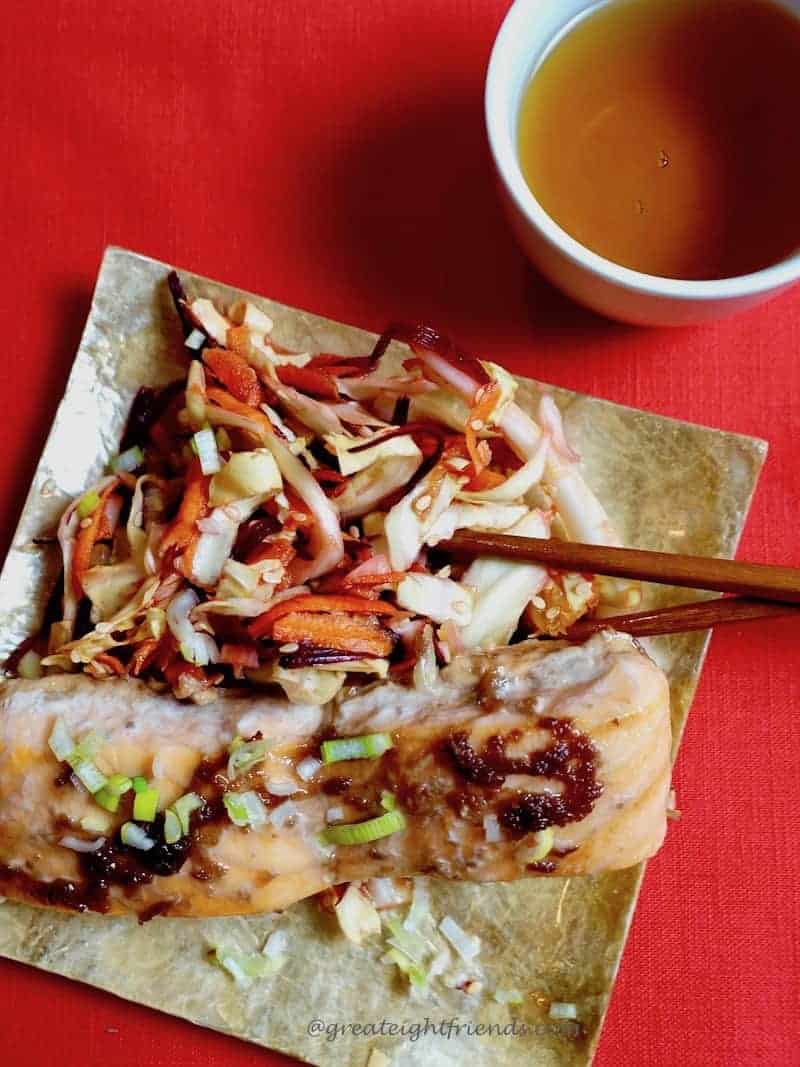 Our three entrées, served on small plates, were a Slow Roasted Glazed Salmon with Asian Beet Slaw, one of the best salmon dishes. Even the guests who normally don't eat salmon, loved this preparation; and it roasts slowly so there is plenty of time to do other things!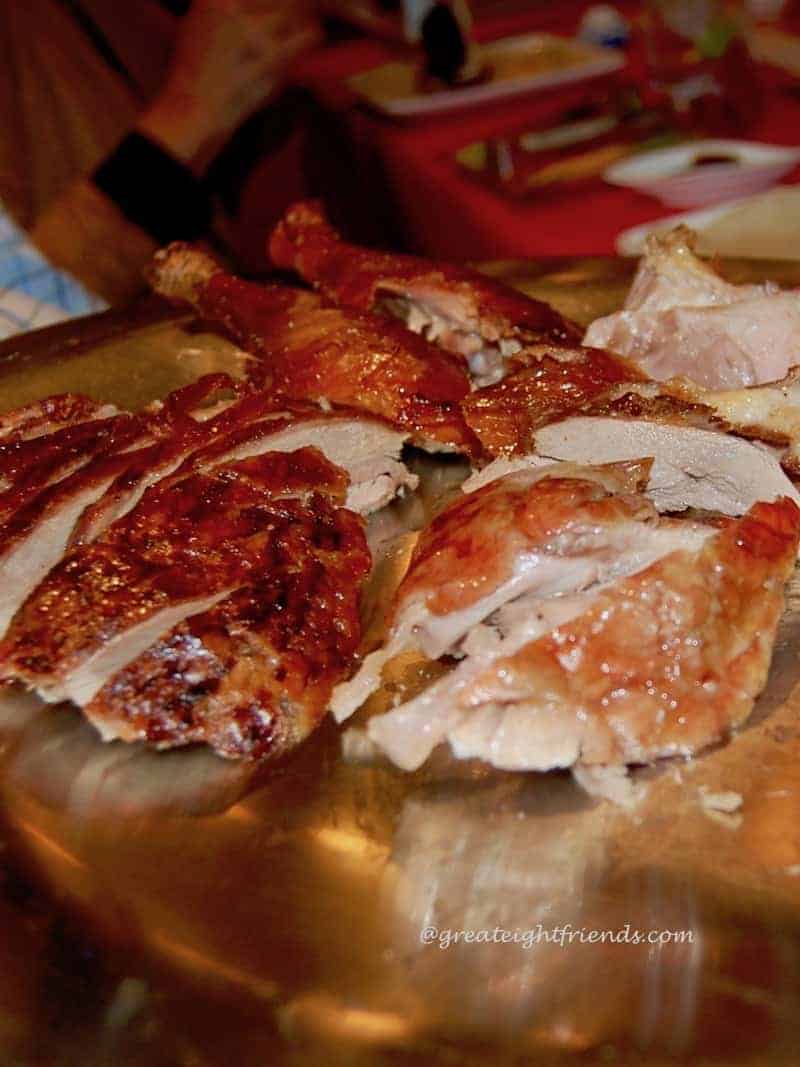 Orange Peking Duck served with Mandarin Pancakes with fresh vegetable accompaniments. We set the accompaniments on the table and passed the "pancakes" (more like a flour tortilla) and carved duck around. Each person was able to make their own combination, much like a taco bar!
Don't shy away from making your own Mandarin pancakes, they are extremely easy and can be made a day ahead of time, or they will keep frozen for 3 weeks.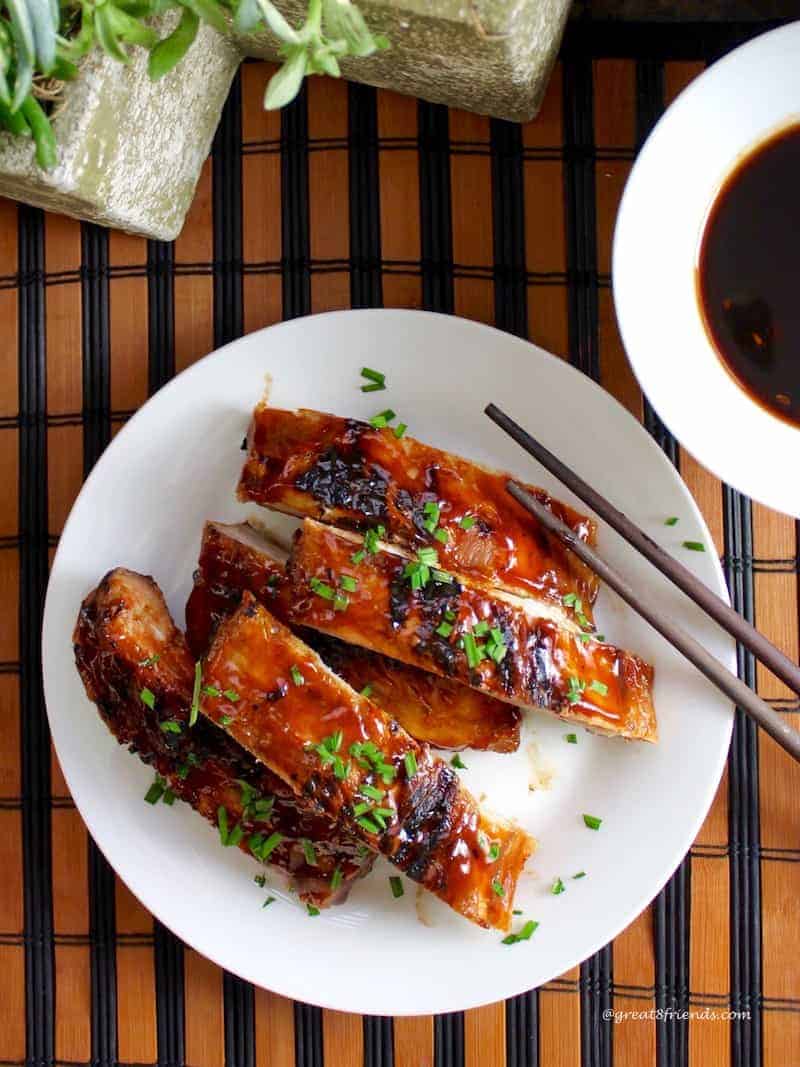 And what is a Chinese dinner without ribs? These Chinatown Ribs are delicious served with a scoop of sticky rice and that yummy sesame sauce.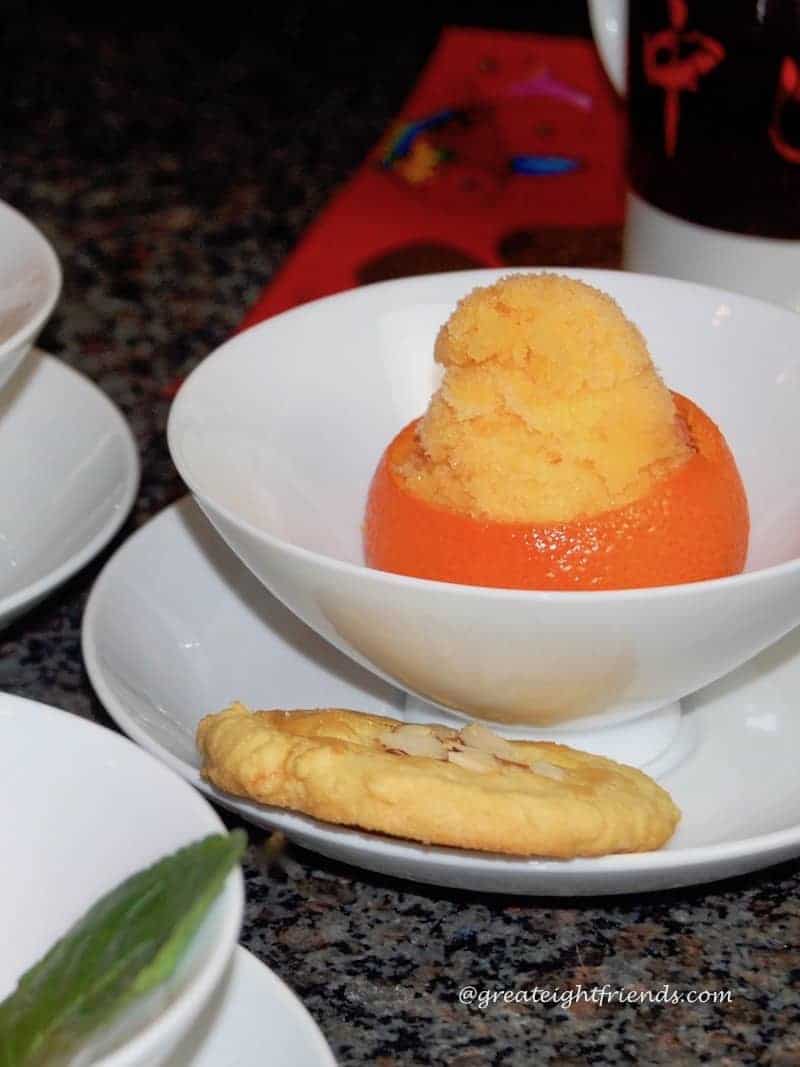 Tangerines and oranges are another symbol of luck and prosperity in the Chinese culture so Jurga was asked to bring Tangerine Sorbet and cookies (just because I love cookies!).
Well, she outdid herself by bringing homemade Tangerine Sorbet and serving it in tangerine shells! Then Jurga also MADE Almond Cookies (how did she know they are a particular favorite of mine?).
AND she brought fortune cookies, which were filled with personalized fortunes!!!! That's right, Jurga and Tim wrote up individual fortunes for each of us and slipped them into fortune cookies.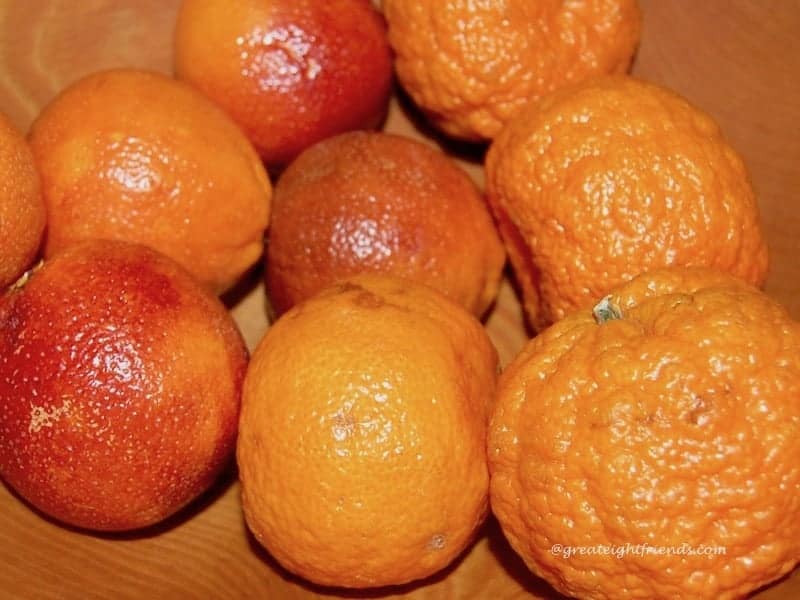 So, as you can see, our Chinese New Year Party was not only a Gr8 Time but also shows how LUCKY we each are to have the GOOD FORTUNE to be Gr8 Friends.
Host your own Lunar New Year party, and let us know about your good fortune!
Pork Dumplings with Sesame Dipping Sauce
You will get rave reviews when you make these delicious Pork Dumplings with Sesame Dipping Sauce! Perfect side dish, appetizer or meal!

Recipe adapted from Epicurious.
Gr8 Recipe Here!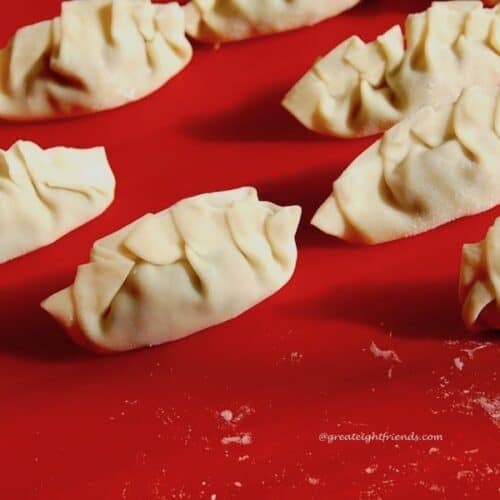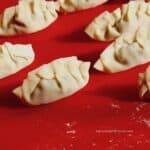 Veggie Spring Rolls
Below are the vegetables I included. Use whatever vegetables you like. These spring rolls are also a Gr8 meal when cooked shrimp, chicken or pork is included with the vegetables; or keep it vegetarian by adding tofu.
Sauces may not be gluten free.
Gr8 Recipe Here!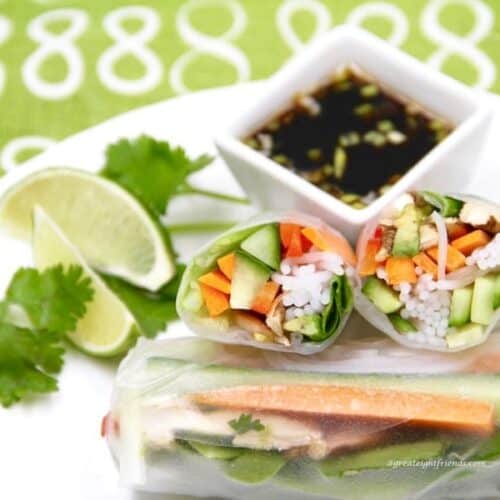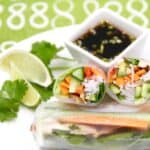 Glazed Salmon
Salmon roasted slowly in the oven will be your new favorite way to make this fish.
Inspired by Food 52.
Gr8 Recipe Here!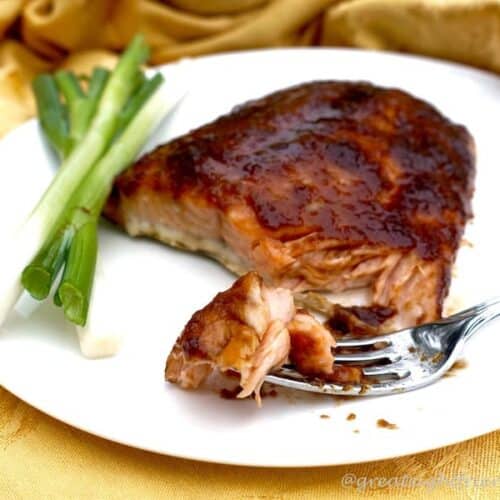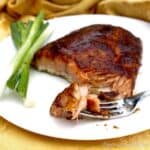 Chinatown Ribs
These Chinese ribs have a unique flavor given to them from brining, marinading and slow cooking in a fantastic Chinatown Rib sauce.

Gr8 Recipe Here!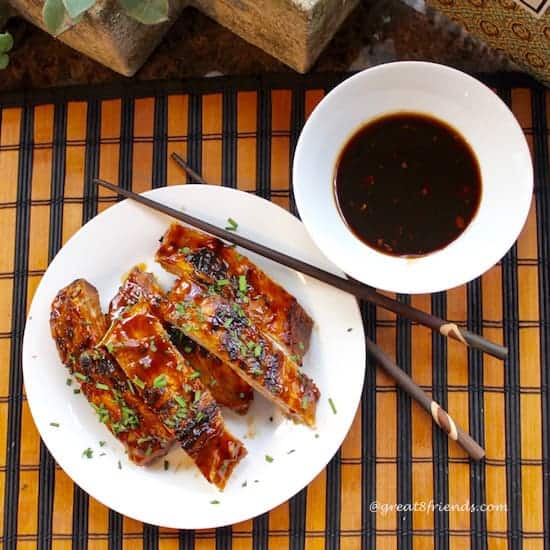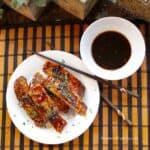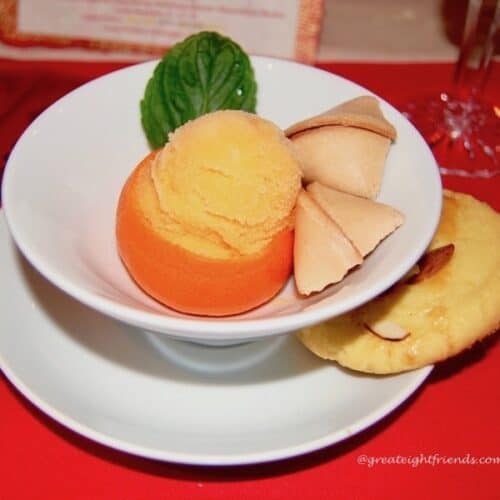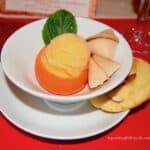 Almond Cookies
These easy to make and delicious Chinese Almond Cookies are very similar to shortbread cookies and perfect for any occasion!
Gr8 Recipe Here!