This two ingredient Tangerine Sorbet is easy, refreshing, and delicious! Serving it in a tangerine shell makes it seem much fancier than it is!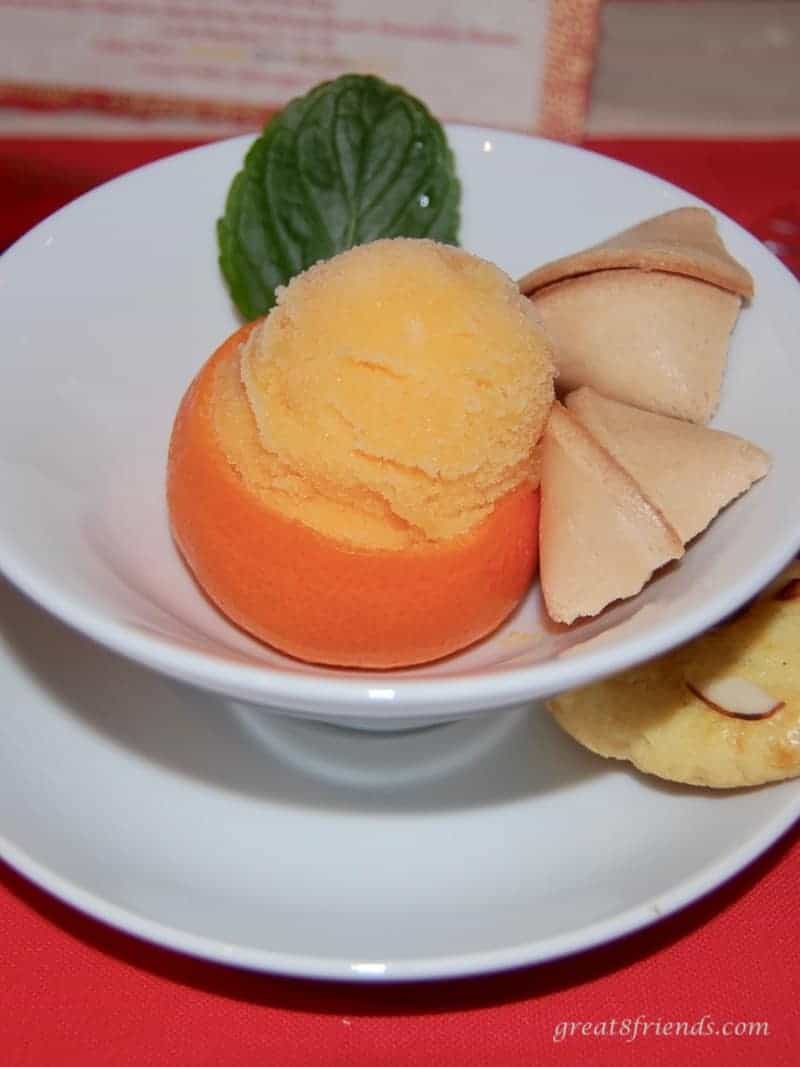 Homemade ice cream or sorbet is one of my favorite desserts to make, so when Anna asked me to make a Tangerine Sorbet for their Great Eight Chinese New Year dinner, I was happy to oblige!
This sorbet is super easy, using only 2 ingredients; how difficult can that be?!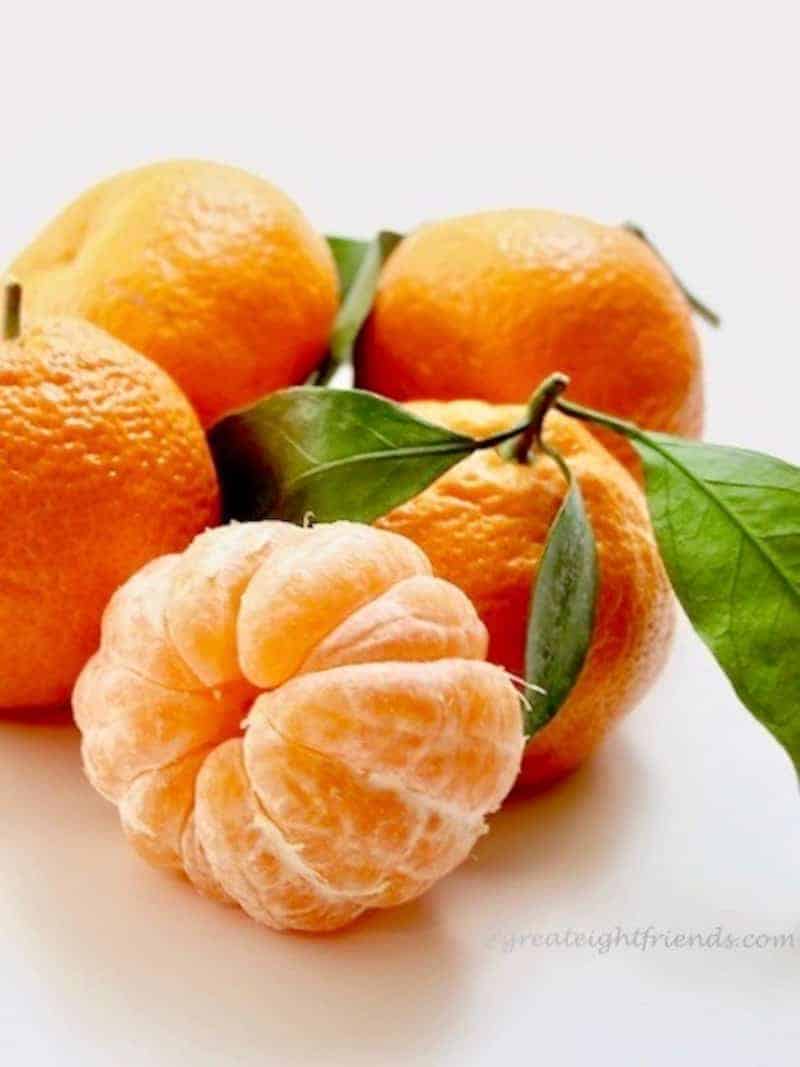 Tangerines are at the peak of the season right now here in the California, so they are bountiful and scrumptiously delicious. If tangerines or "mandarins" are not available in your area, store bought tangerine juice can be substituted.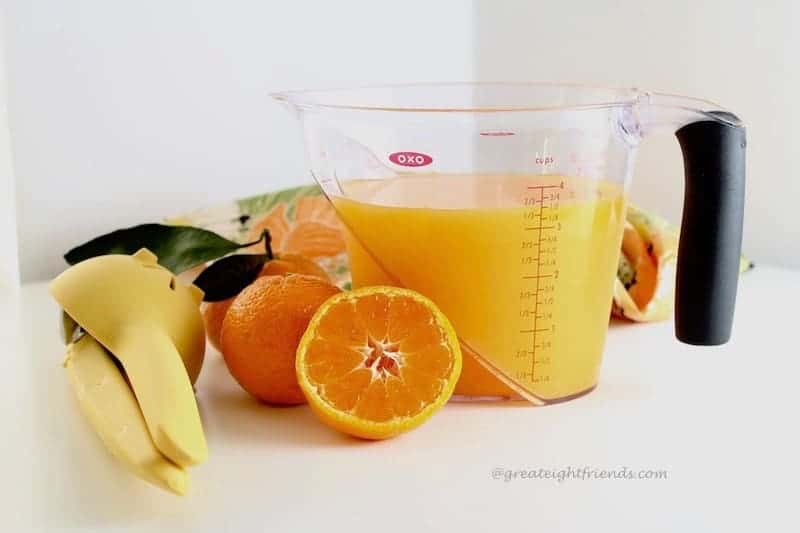 Our Gr8 Chinese meal was delicious and very filling and a small scoop of this refreshing sorbet was the perfect ending to a perfect meal. Once you have made this recipe, you will never buy store bought sorbet again!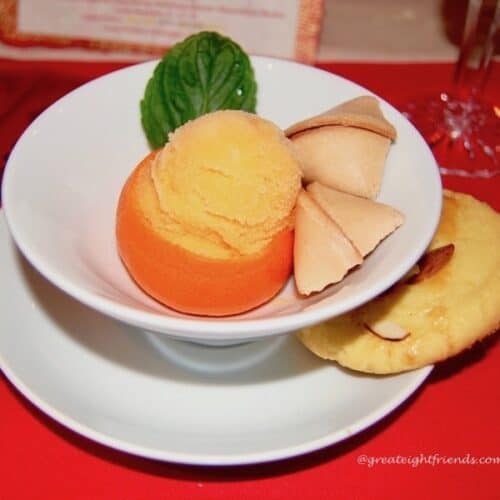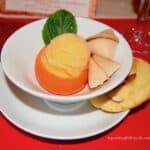 Print Recipe
Pin Recipe
Save this Recipe
Saved!
Please leave a rating!
Simply Delicious Tangerine Sorbet
Ingredients
3 ½

cups

fresh squeezed tangerine juice

,

(roughly 15 medium tangerines or store bought tangerine juice from Trader Joe's.)

½

cup

superfine sugar

,

See Gr8 Tip below
Instructions
Squeeze tangerines and pour juice into a medium bowl.

Add sugar and stir until sugar is dissolved.

Cover the bowl and refrigerate until well chilled, at least 3 hours.
To Make With an Ice Cream Maker
Pour the juice in to an ice cream maker and churn, according to manufacturer's instructions (about 30-40 minutes)

After the sorbet is made, transfer to a sealed, airtight container.

Freeze until ready to serve.
Without an Ice Cream Maker
Make the sorbet mixture (see instructions above).

Put the bowl with the sorbet mixture over an ice bath to chill, be careful not to get water into the mixture.

Meanwhile, freeze an empty freezer-safe shallow bowl or pan (stainless steel works well). This should take about 45 minutes.

Move the chilled sorbet mixture into the frozen bowl or pan.

Freeze for about 45 minutes and check the sorbet.

As the edges start to freeze, stir the mixture with a whisk or spatula.

Return to the freezer.

Stir sorbet vigorously every 45 minutes until it is firmly frozen.

You may need to repeat 4 or 5 times until sorbet is firmly set.
Notes
Gr8 Tips:
Regular sugar can be used. Put sugar into your food processor and process until sugar becomes very fine.
In order to ensure that the sorbet doesn't freeze too solid, you may want to add a little alcohol (just a touch!) or agave syrup or honey.
Gr8 Do Ahead Tip:
Sorbet can be made 2 days in advance. It should be eaten within a few days of making it because it will start to break down and become icy.