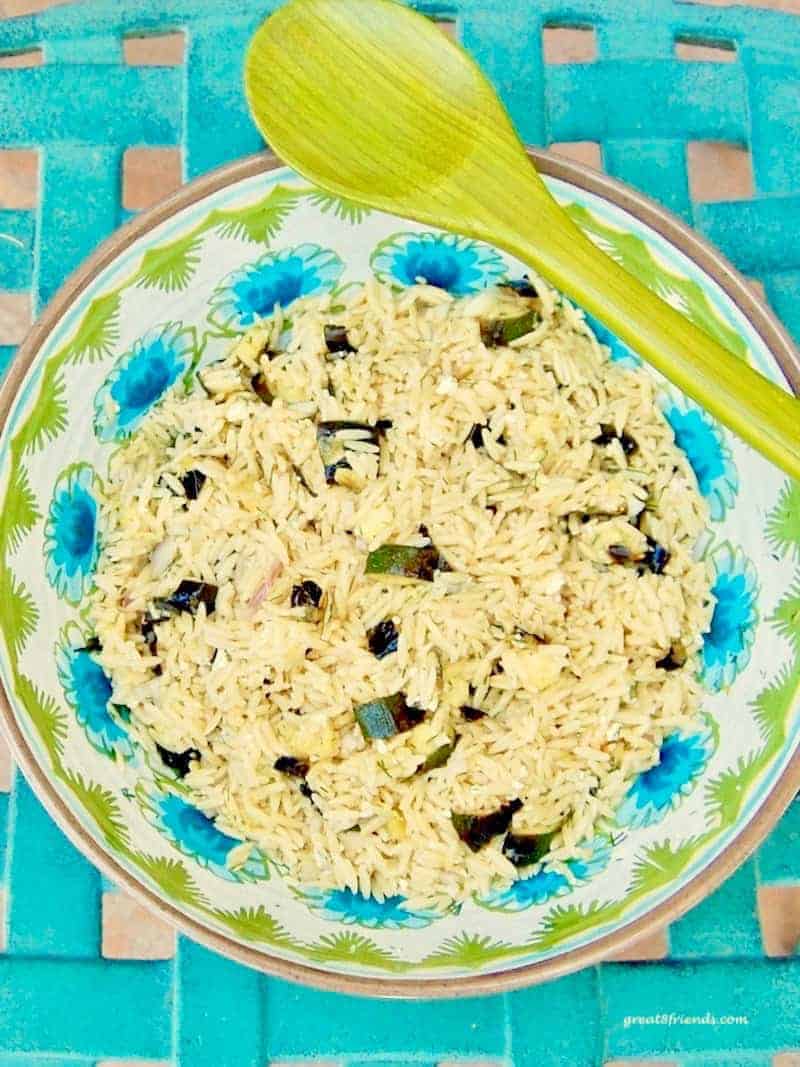 How's this for a delicious go to dish?! Zucchini with Orzo, Dill and Feta! Warm or cold! Side dish or salad! I love how fresh the flavors are. I knew it would be a hit when I first stumbled upon it at www.countryliving.com It's fast, fresh and easy! A bit basic on its own, zucchini gets pumped up in this dish with the distinct flavor of dill (which I LOVE!) and the added tang of citrus, which I love even more!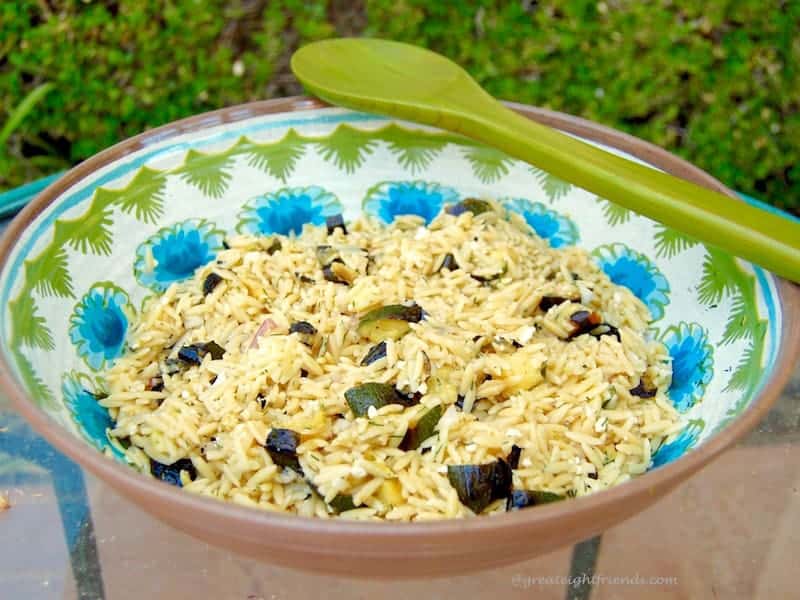 Grab a few zucchini when the green beauties are at their freshest and most plentiful. It's also a Gr8 recipe to use up those late-summer extras.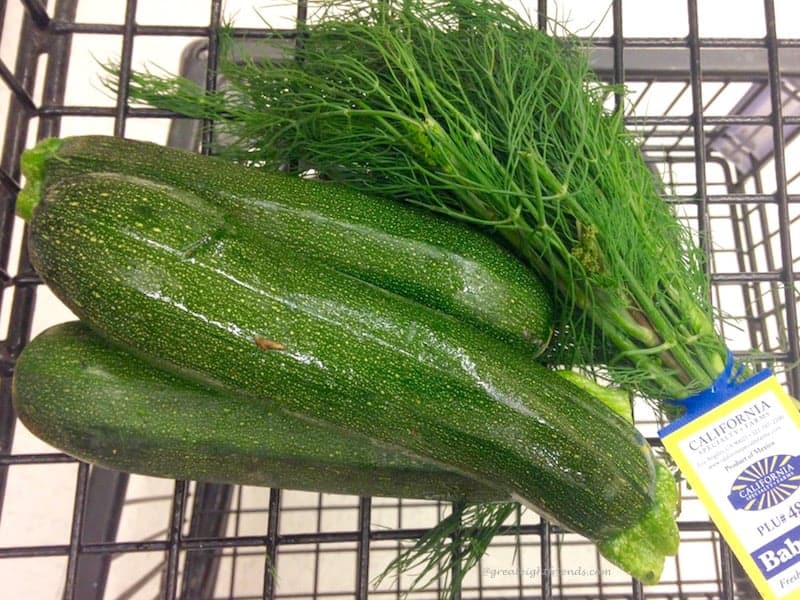 With the minimal ingredients and ease of preparation, this will be a dish that your family will love... and it might even be a frequent request at your social gatherings!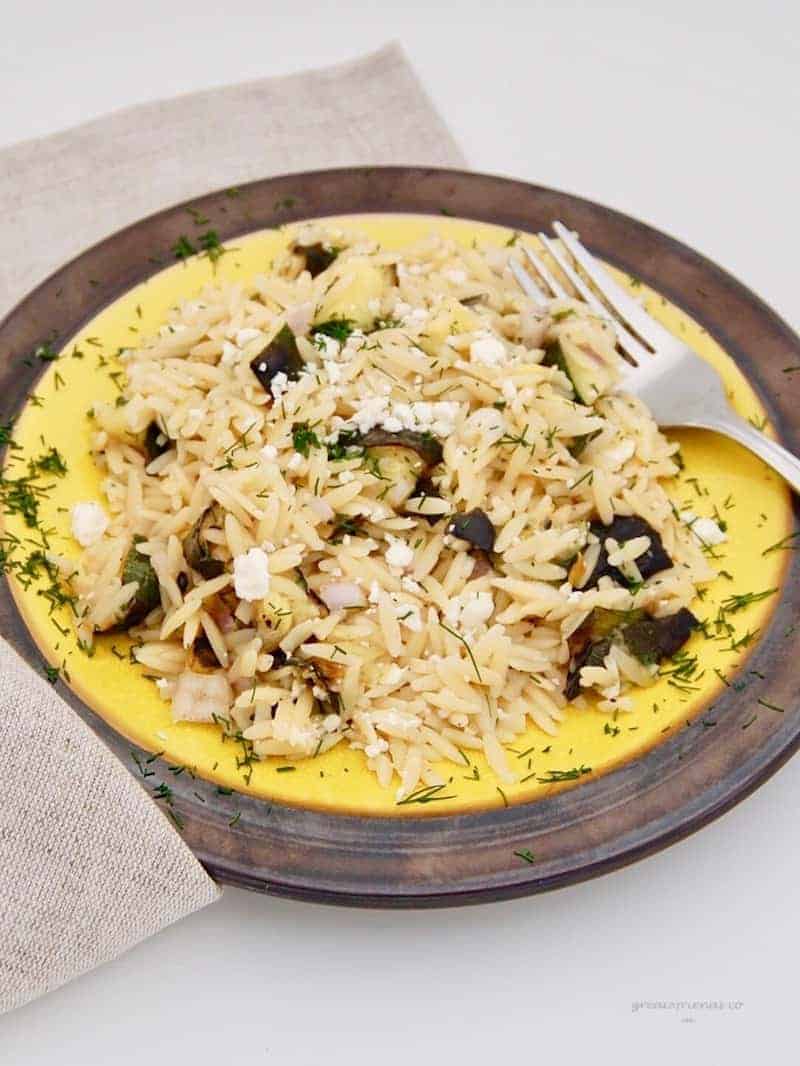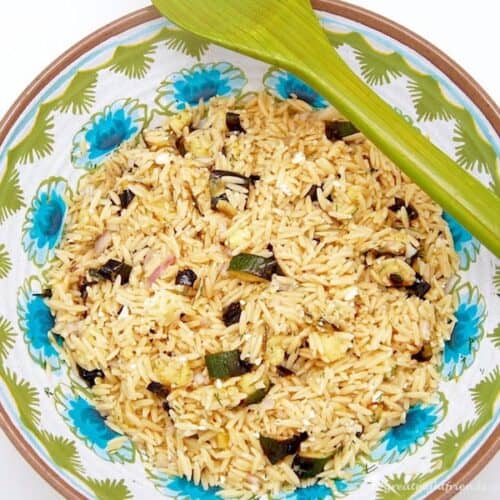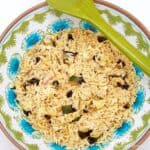 Print Recipe
Pin Recipe
Save this Recipe
Saved!
Please leave a rating!
Zucchini with Orzo, Dill and Feta
Serve this easy to prepare fresh and flavorful Zucchini with Orzo, Dill and Feta side dish or salad either warm or cold using only a few ingredients.
Recipe adapted from www.countryliving.com.

Ingredients
Instructions
Preheat a grill or grill pan to 350º (medium) or grill pan on stove to medium heat.

While warm, oil grill grates or pan, if using. Cut off stem and blossom ends of zucchini and then cut in half lengthwise. Sprinkle with ½ teaspoon salt.

Grill cut sides down first until fork tender and grill marks are visible. Turn to grill the skin sides, about 5 minutes each side.

Meanwhile, peel thin brown skin from shallots and and finely chop.

Once zucchini is grilled and cool enough to handle, transfer to a cutting board and cut into pieces, no larger than ½″

Gently combine zucchini and shallot in a large bowl. Try not to overwork it, since the zucchini will be softer once grilled.

Tent with foil and set aside.

Cook the orzo according to package instructions to al dente.

While orzo is cooking, chop the dill and set aside.

Drain orzo completely and add to the reserved zucchini shallot mixture.

In a small bowl, whisk together the olive oil, lemon zest, lemon juice and chopped dill. Toss to combine.

Sprinkle crumbled feta on top and toss. Although feta cheese adds a little more saltiness, you may want to adjust seasonings (salt and/or pepper) before serving.
Notes
Gr8 Tips:
It's up to you (personal choice)…I kept the zucchini whole while grilling, giving the skin a crispy charred layer, but soft and tender inside. As per the recipe's instructions, the flesh of the zucchini would be grilled as well as the skin.
With a loaf of crusty bread this is a Gr8 Vegetarian meal…lunch or dinner! Add cooked chicken and there's your protein and an even heartier meal! It's Gr8 at room temperature, too!
This would be a perfect vegetarian dish to take to a potluck!
Recipe adapted from www.countryliving.com
sm 8/19/19