Our sweet, creative Debbie's special day falls at the end of December and she loves that it's extended into January every year as we Celebr-8 her! As you all know from many previous posts, Debbie did a year abroad in college and she spent that year in Spain. So in addition to being fluent in the language she LOVES the food. (Here is her Gr8 Dinner celebrating the foods of Spain.)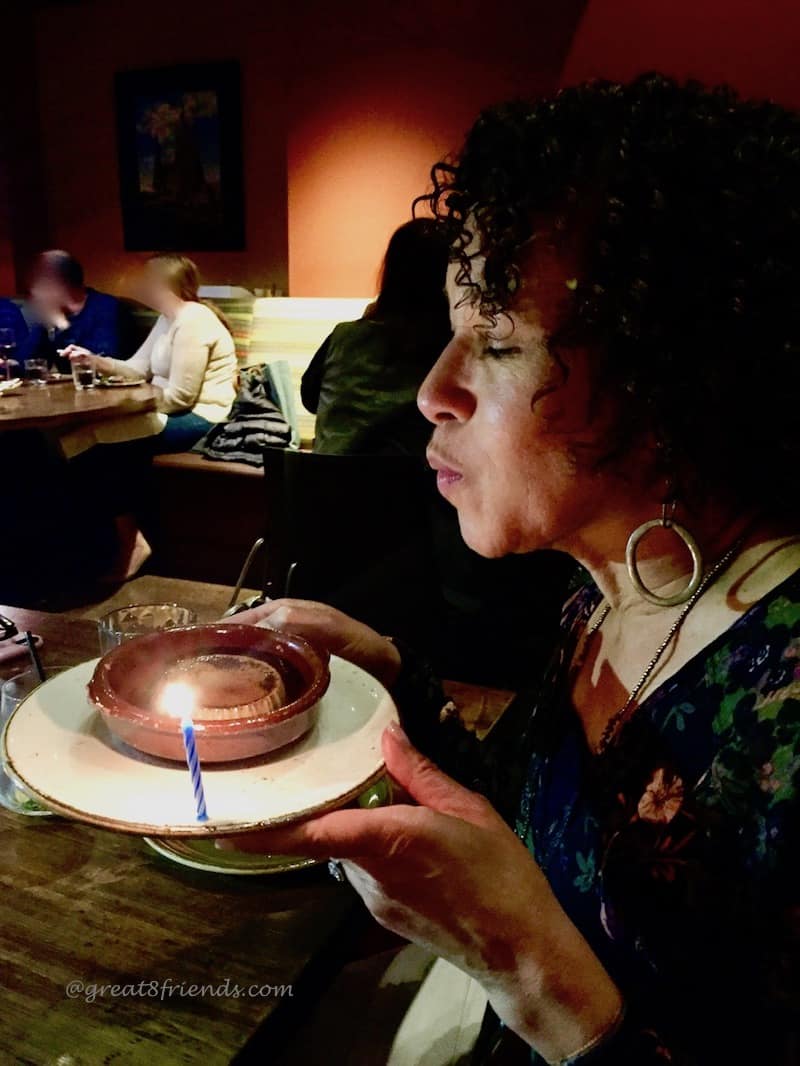 Lucky for us a new Spanish restaurant opened in Orange County just over a year ago, Vaca, and Debbie hadn't been there yet! Reservations made, we were ready to celebr-8 our friend with tapas and craft cocktails. Yes, the word Vaca means "cow" in Spanish, and there is an impressive glass-front refrigerator displaying a variety of beautiful cuts of steak. But us girls were there for the equally impressive tapas selection.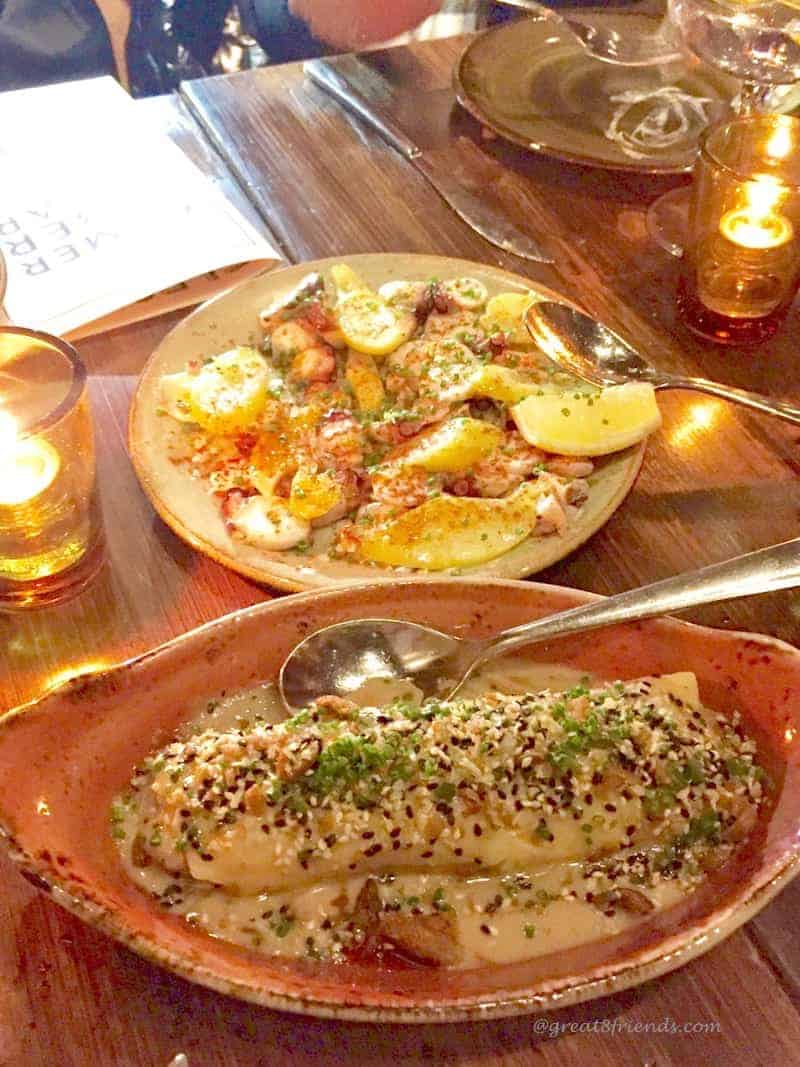 Debbie's first choice, as the birthday girl, was the Pulpo a la Gallega, warm Spanish octopus with fingerling potatoes, pimenton and Spanish olive oil. The thin tender slices of octopus melted in our mouths. We also ordered the most popular tapas dish. (Pro tip: when a server tells you that a dish is ordered more than any other on the menu by far, that is the one to try!) Canelon de Pollo Ahumado, smoked chicken cannelloni, foie gras sauce, with a sherry reduction. If food can be silky, this is it. I'm not usually partial to smoked flavors, but this is subtle, rounding out the flavors of the canelloni, chicken and sherry reduction.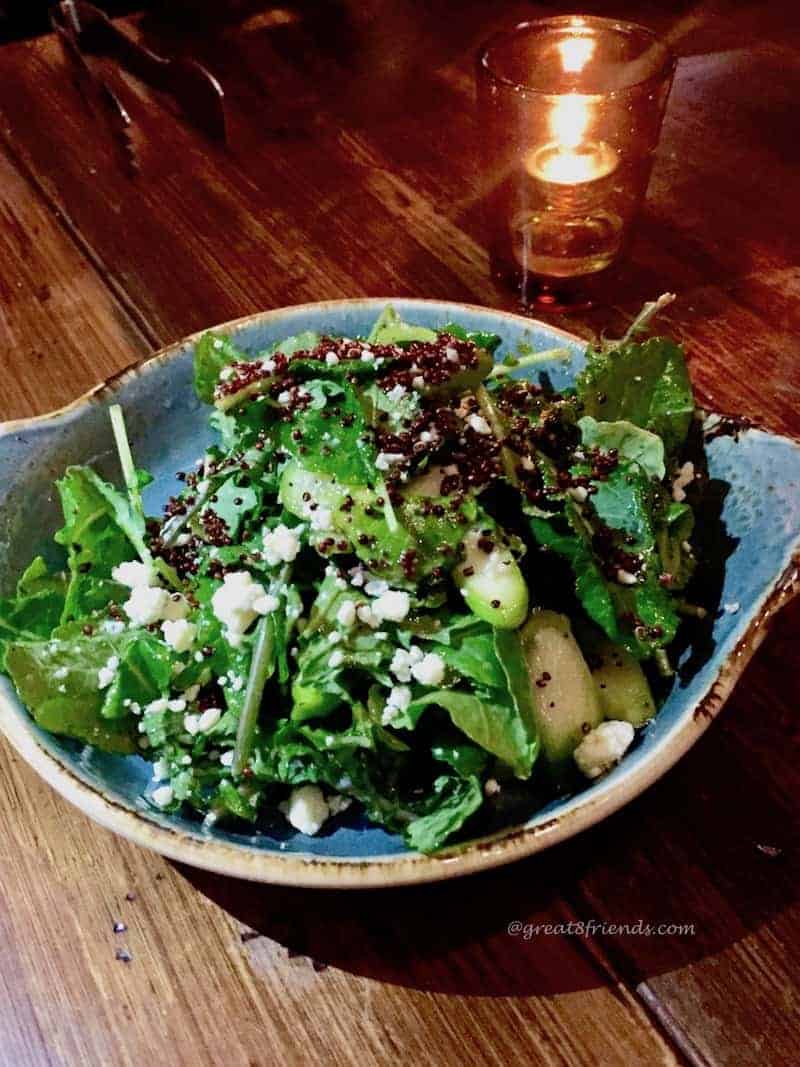 Of course we had to have some greens, so Jurga chose the Ensalada de col Rizada, baby kale, toasted quinoa, green asparagus, lemon poppyseed vinaigrette and a sprinkling of  cabrales blue cheese. The most intriguing part of this dish was the toasted quinoa. Quinoa is simply toasted in a skillet on the stove top until it browns. Cooking in this manner brings out the warm nutty flavors of this gluten-free ancient grain and makes it the perfect addition to a salad. And it's easy enough to do at home!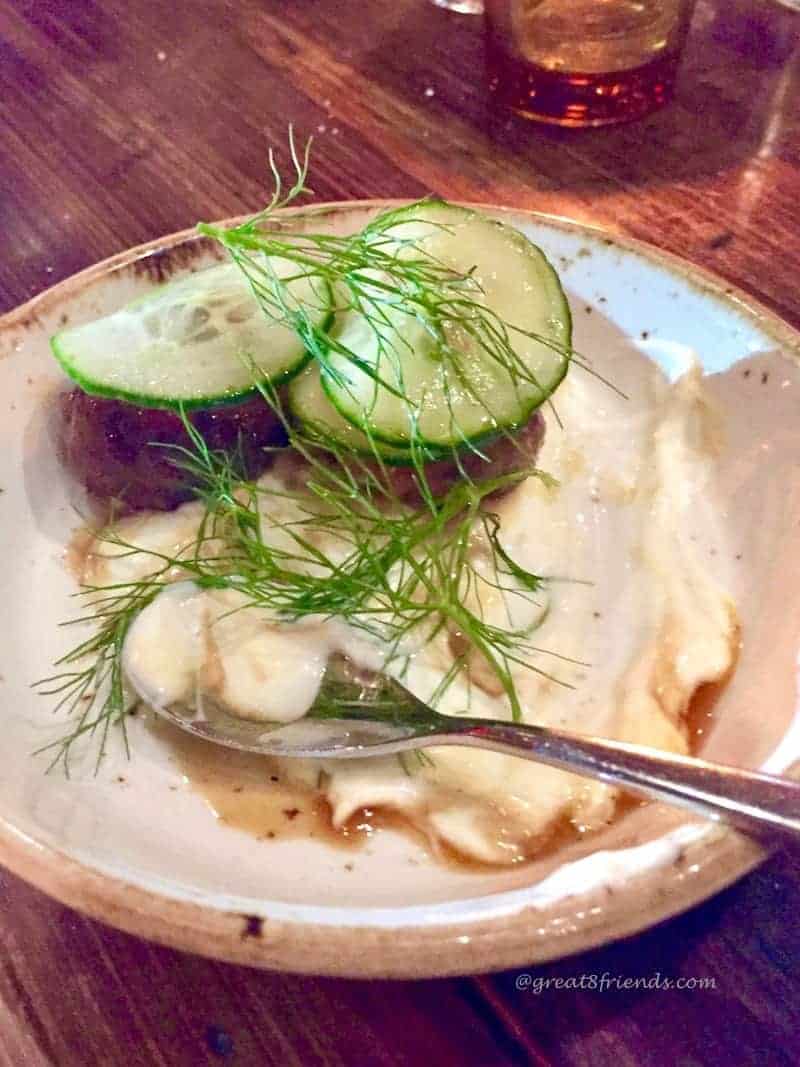 I'm a carnivore so I chose a meaty selection, the Albondigas, roasted lamb meatballs served with lemon yogurt, thinly sliced cucumbers and fresh dill. These are so well made that they are not the least bit gamey or lamb-y. Even if you aren't a lamb lover, you will love these! You can tell we loved them, we ate half of the dish before Kyle could snap the photo!
In addition to loving meat, I love potatoes too! That's right, my parents hail from Omaha, Nebraska, and I was raised on meat and potatoes. So, of course, we had to try the Patatas Bravas, spicy potatoes in a tomato sauce with garlic aioli. Not too spicy, they had just the right amount of kick.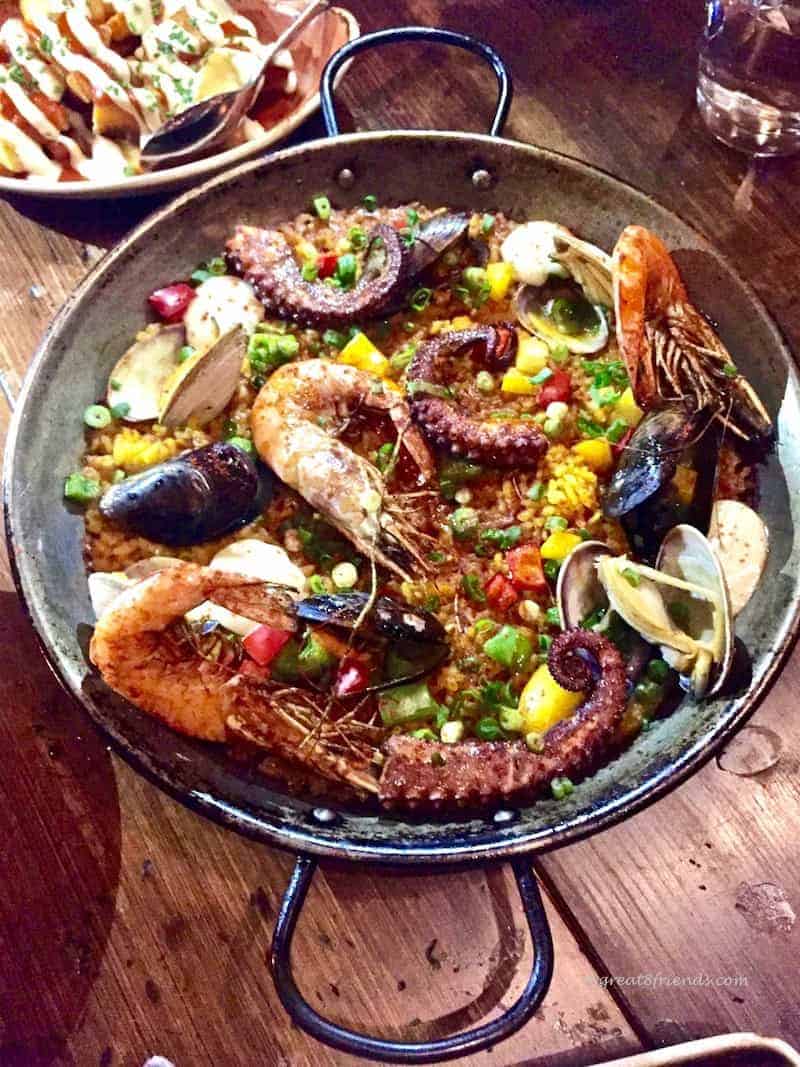 All of us are paella lovers and Vaca has a whole section of their menu devoted to various paellas. We chose the Paella de Mariscos, seafood paella with clams, mussels, shrimp, and octopus and served atop a delightfully crunchy and chewy saffron bomba rice. The variety of seafood was gr8 for each of us to enjoy our favorites and paella is always the perfect, shareable meal.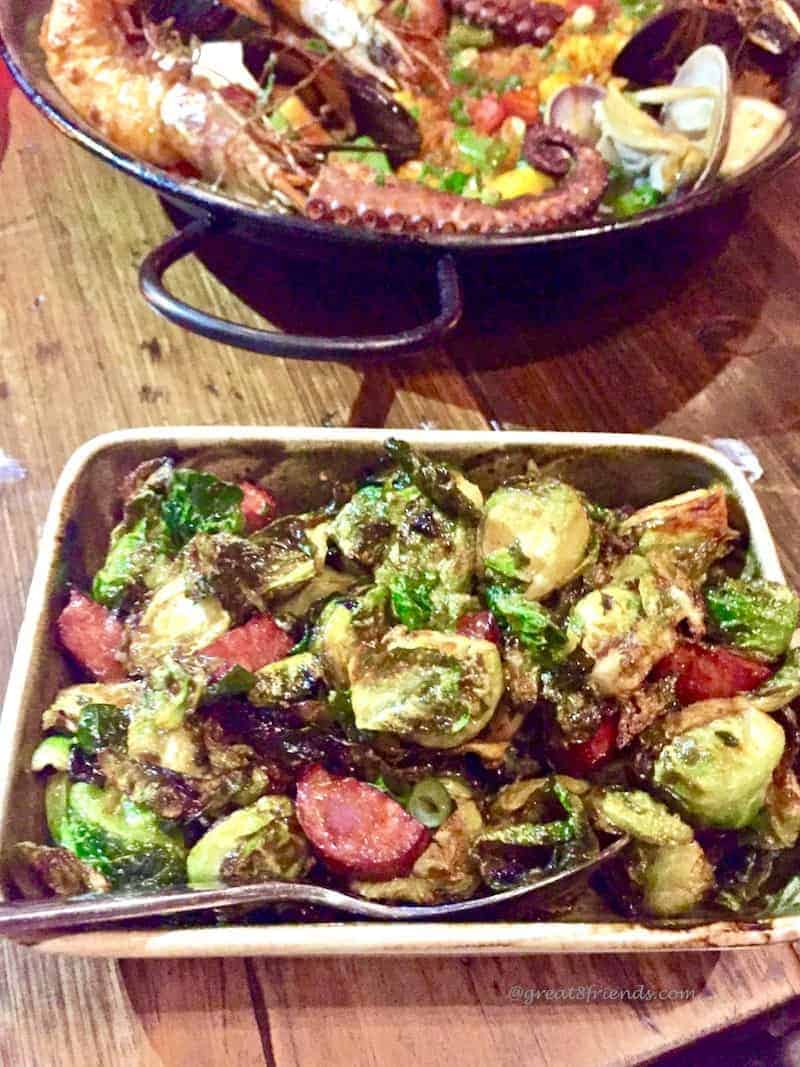 At a tapas meal, the dishes don't all come to the table at the same time, they are served at a leisurely pace to be nibbled upon over good conversation. The paella arrived with the Bruselas, Kyle's choice, brussels sprouts roasted with chunks of Spanish chorizo and glazed with a sherry gastrique. As an adult I've decided that the ONLY way to prepare brussels sprouts is to roast them. They can be combined with any number of other flavors while roasting for a truly delicious and healthy side dish. And these were cooked perfectly to bring out their distinctive nutty flavor with the chorizo a tangy counterpoint.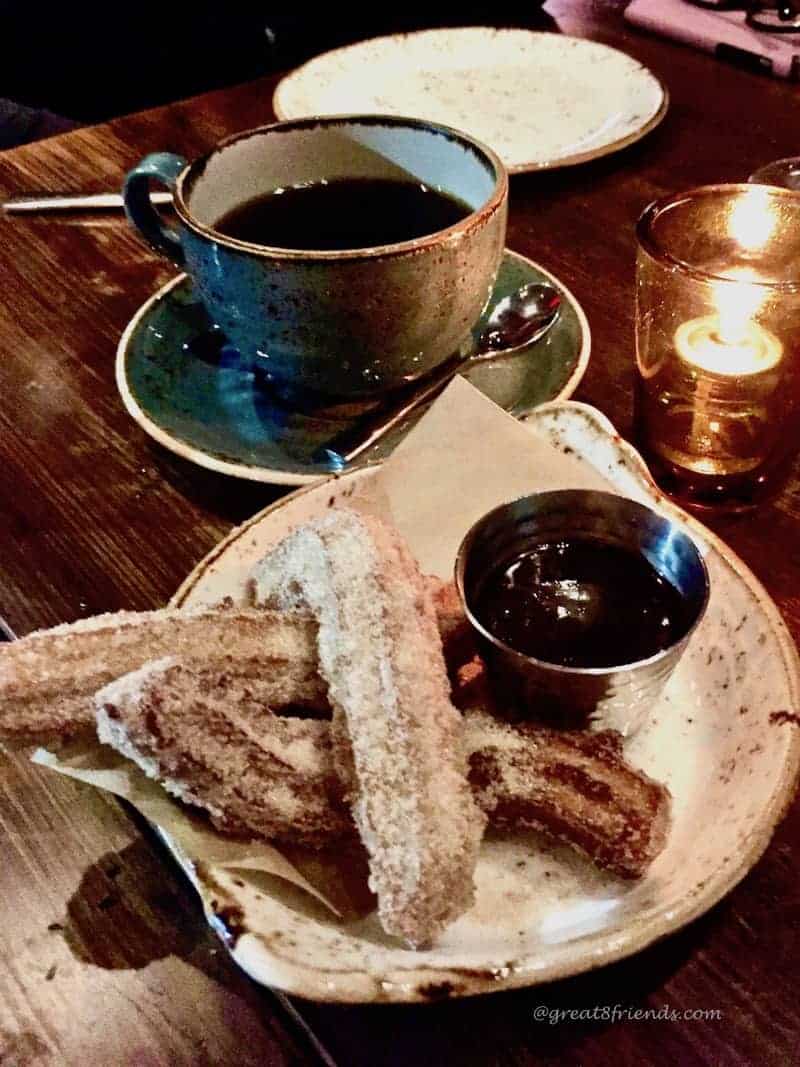 Since it was a birthday we had to have dessert! Vaca graciously brought a Mama Santana's Flan with a candle for Debbie's wish. We also ordered the house made churros with a thick and velvety chocolate sauce. The perfect ending to a perfect meal!
If you are in the area, make a reservation at Vaca. In addition to the inside space being warm and inviting, they have a large outdoor patio to enjoy the Southern California weather.
Vaca Restaurant - 695 Town Center Dr. Ste. 170 - Costa Mesa, CA 92626 - 714.463.6060