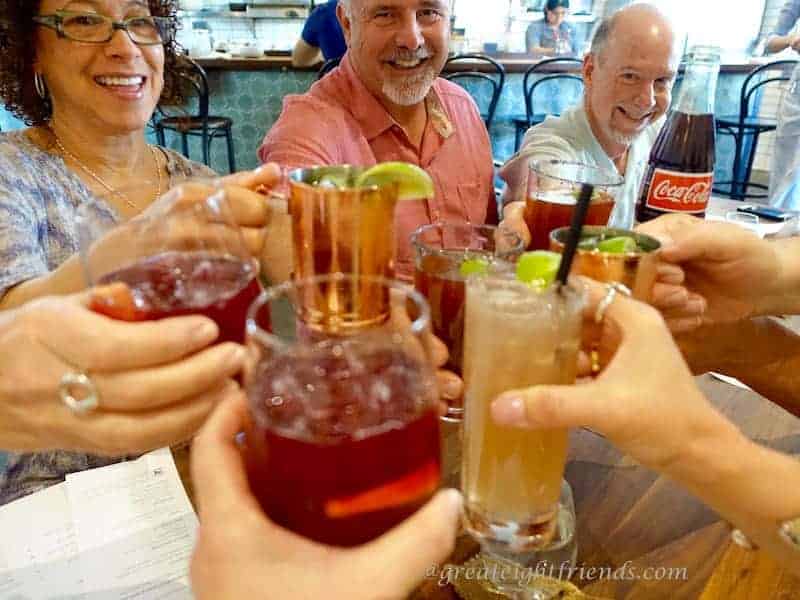 Sunday brunch used to be an overpriced buffet with dried out scrambled eggs and mimosas made with cheap champagne. No longer! Many restaurants are raising the bar (and the bar..."hic") and creating memorable, gourmet brunches.
The 8 of us recently gathered for brunch at Taco Maria in the OC Mix in Costa Mesa. This is a small restaurant with a large patio. Since we were a large party, we were seated inside at their only indoor table.
I was so excited to try this restaurant because my youngest daughter kept telling me we should and because Brad Johnson of the OC Register named it Number 1 on his 75 best places to eat in Orange County. And if that's not enough to make you want to visit, Chef Carlos Salgado was named a Food & Wine Best New Chef in 2015, and was a 2016 James Beard Award semifinalist for Best Chef: West.
What a yummy, yummy day this was! Their prix-fixe brunch menu offers three courses. On this day we had a choice of:
Molletes - Grilled Bread, Refried Beans, Queso Fresco, Salsa Tatemada, Huitlacoche Butter
or
Yogurt & Fruit - Coconut-Poppy Seed Granola, Yogurt Mousse, Cherimoya Jam
—♦—
Oatmeal with Ember-Roasted Strawberries and Vanilla Butter
or
Meyer Lemon-Buttermilk Pancakes with Candied Citron and Thyme Maple Syrup
—♦—
Chilaquiles with your choice of Chicken, Hanger Steak or Mushroom Chorizo
or
Huevos Pescador - Poached Egg on House Brioche with Seafood and Hollandaise
The Molletes is a meal in itself, perhaps the next "avocado toast"; velvety refried beans sprinkled with one of my favorite cheeses, a smoky salsa, and butter infused with epazote leaves. The crunchy softness of the warm grilled bread, the creaminess of the beans, lightened up by the cheese and a pop of flavor from the salsa...a perfect morning starter.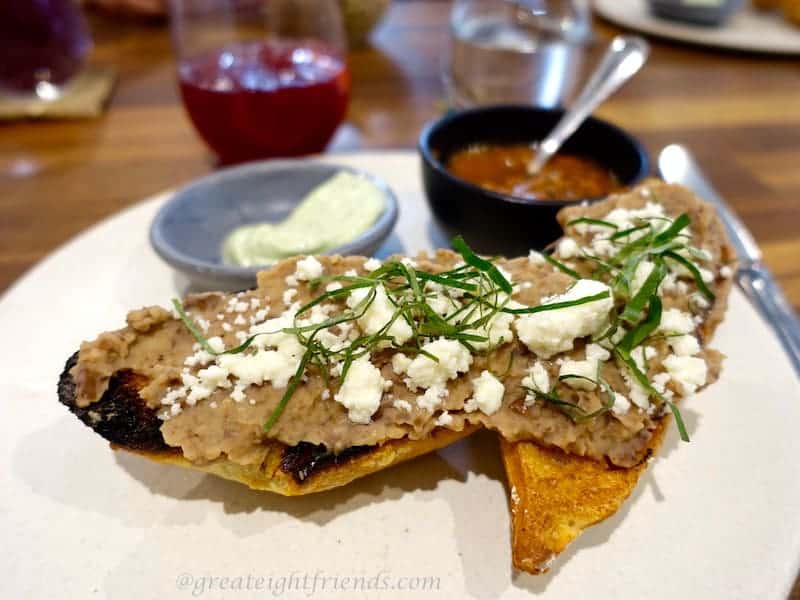 The Yogurt & Fruit combo included a delicious granola with a yogurt that literally had the consistency of mousse. It felt like dessert!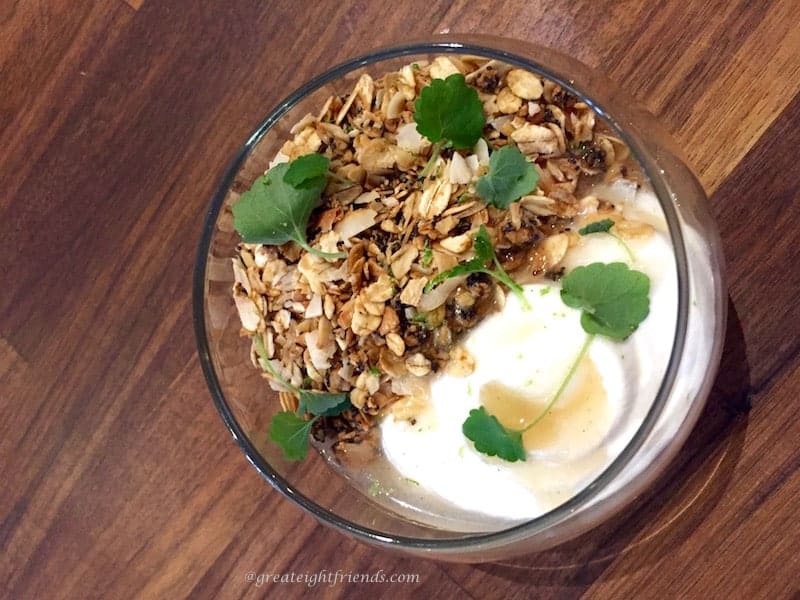 For the second course, I asked the server why I should choose the oatmeal over the pancakes. Because, you know, oatmeal...just doesn't seem like a very fancy brunch choice. But our server, Emily, did a Gr8 job of describing the oatmeal. The oats are from Anson Mills, "artisan mill goods from organic heirloom grains." Apparently difficult to procure and much different from the Quaker Oats we grew up with. Then the fresh strawberries are roasted over the wood fire, which concentrates the sugars and adds a delightful charred flavor. Well, we all still ordered the Meyer Lemon-Buttermilk Pancakes, but one day I will go back and try the oatmeal!
The pancakes are the perfect size for the second course of this odyssey. They are about the size of a large coaster. Fluffy and light, the candied citron and thyme maple syrup elevates the humble pancake to a sweet symphony for the mouth.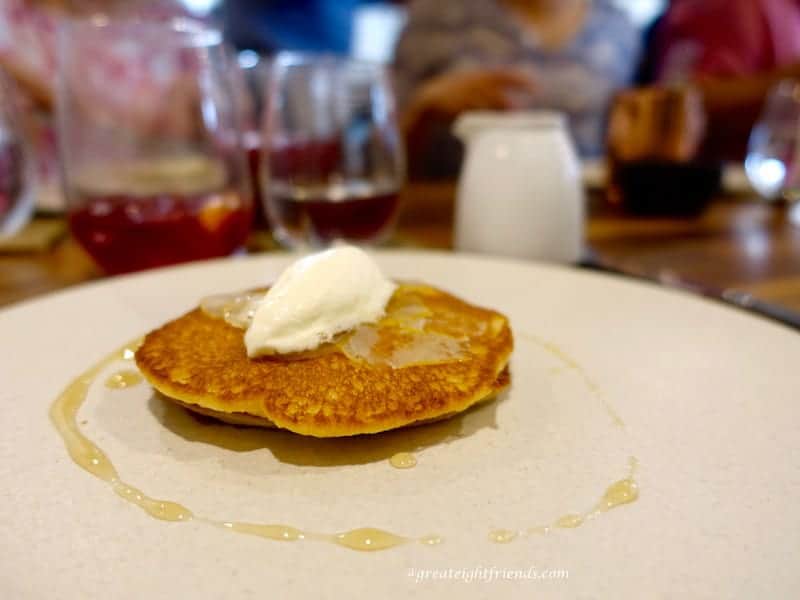 There was a good division of the final course among the 8 of us. Some went seafood and the others chose the versatile chilaquiles. The Huevos Pescador was almost like a very fancy Eggs Benedict...almost. The Dungeness crab and shrimp were tender and sweet and perfectly balanced with the creamy poached egg and brioche.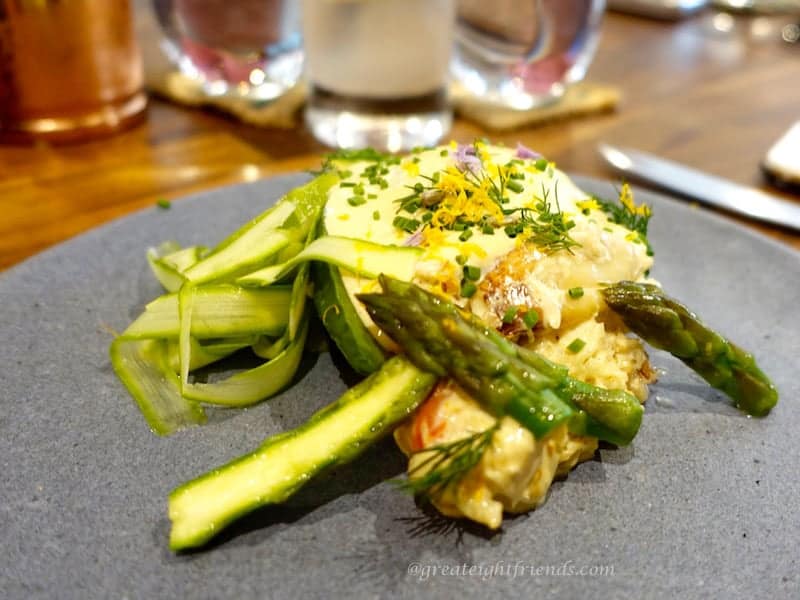 I chose the chilaquiles with the hanger steak at the suggestion of Emily, our server. And I was not disappointed. I love chilaquiles, so it's difficult to review this without bias. Let's just say that this amazing chef takes chilaquiles to an entirely new level.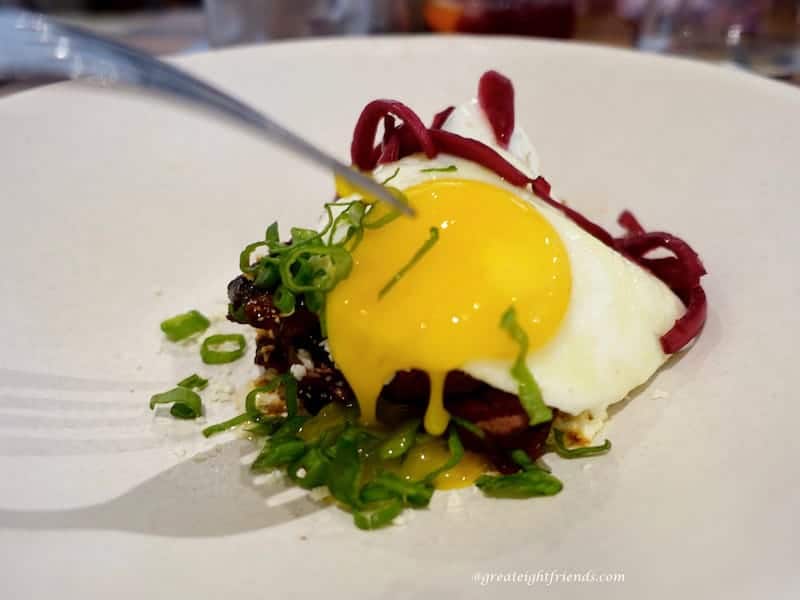 So, if you are in the area, go to Taco Maria for lunch or brunch or dinner...and be blown away!
Taco Maria — 3313 Hyland Avenue, Suite C21, Costa Mesa, CA, 92626 — (714) 538-8444