Spaghetti Squash is the ultimate low-carb pasta substitute. It is easy to make, tasty and healthy. With a just a few simple ingredients, you'll have a meatless meal on the table in no time.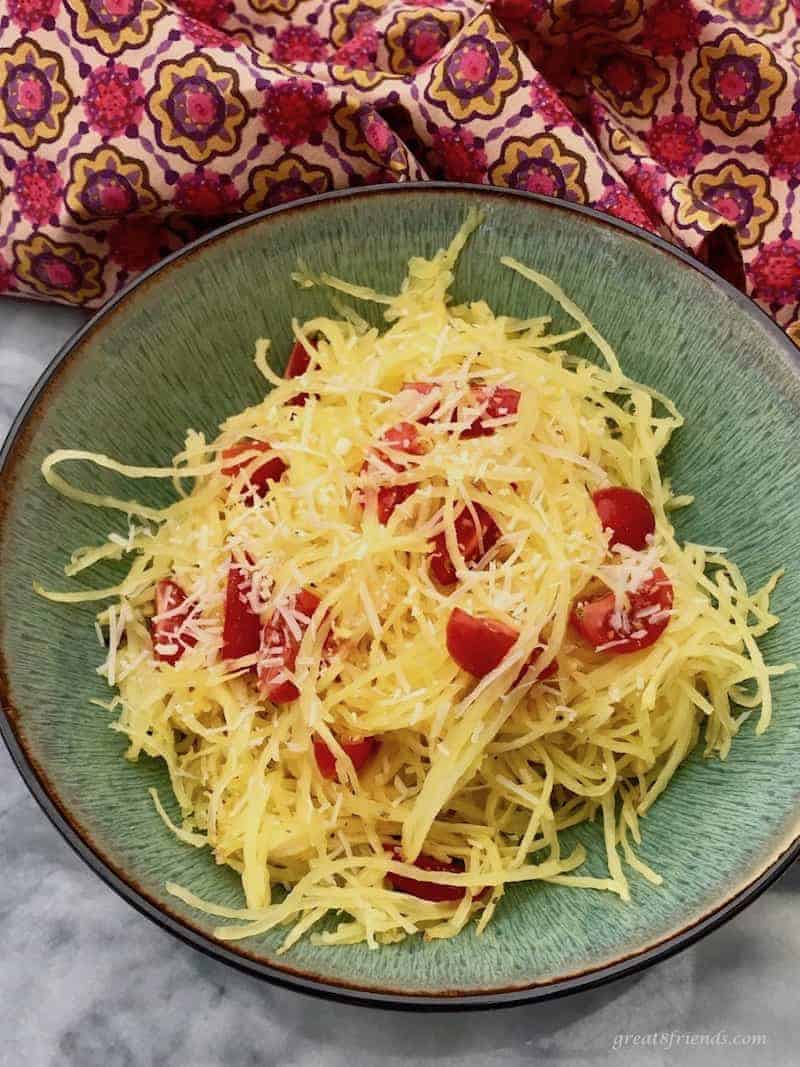 "Pasta" without the carbs? Wait....What?! If you've had a weekend of heavy, meaty, meals and want to start the week off a little bit lighter, Spaghetti Squash with Tomatoes and Garlic is the best go to recipe!
We're fortunate to have Manassero Farms nearby where we can grab the freshly picked spaghetti squash from their little on site market. We know we can find this mild flavored noodle-like squash there! Talk about "Farm to Table"!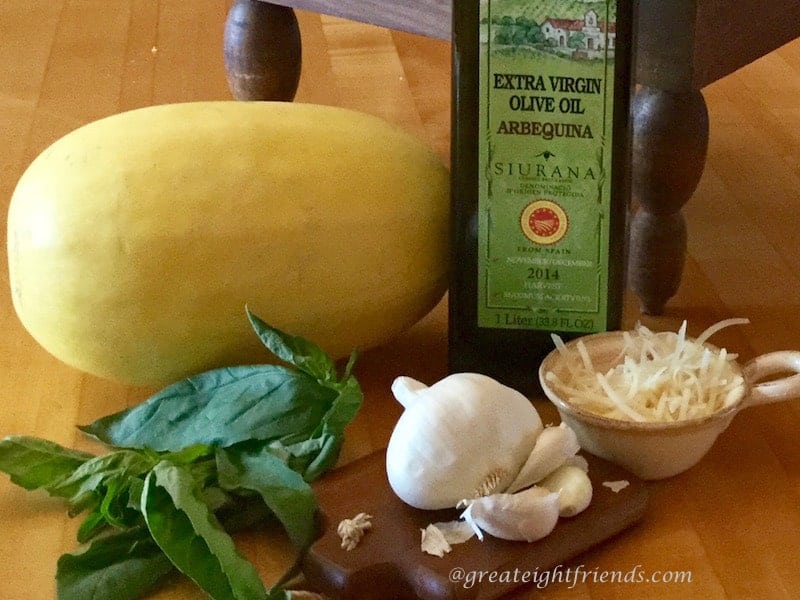 No worries if you don't have a farm stand in your neighborhood, your local grocery store's produce department should have just what you need.
An "Italian dish" with the benefits of veggies, it's one of my favorites! Meatless, light and healthy...and oh so easy! It gets its name from the long strands tangled inside that separate once cooked.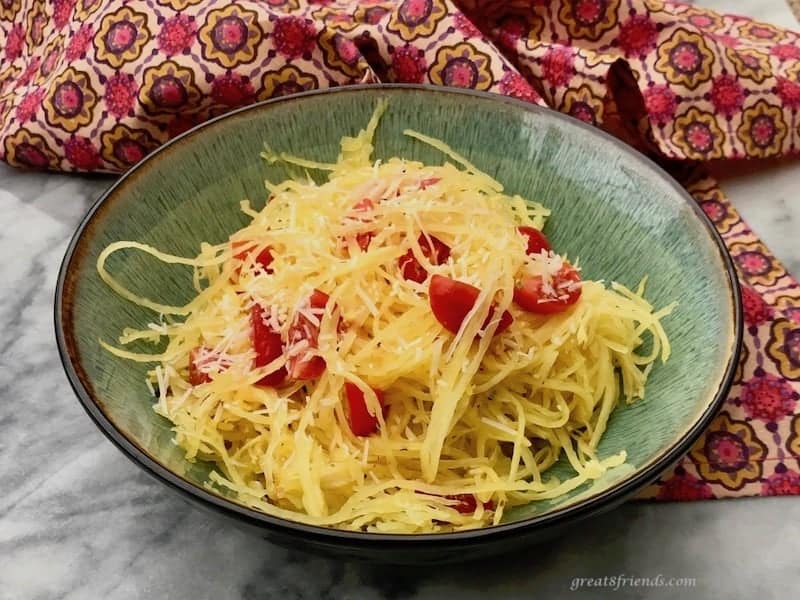 Cutting the Spaghetti Squash
A few words of caution though when you're cutting the raw spaghetti squash. Just like when you carve it's cousin, the pumpkin, the rind here is EXTRA hard and the knife has to really work hard to get through it. Be careful friends!
Here's how I do it. Using my butcher knife, I carefully cut the blade through the rind. going in as deep as I can and I leave it in the squash with the handle up. Place a folded dish towel on workspace, to use as a "cushion".
Holding the knife handle, I give the squash a little whack on the cushion. The knife then splits it to a certain point (a little "jagged" though). As a result, it's a bit easier to cut the rest of the way.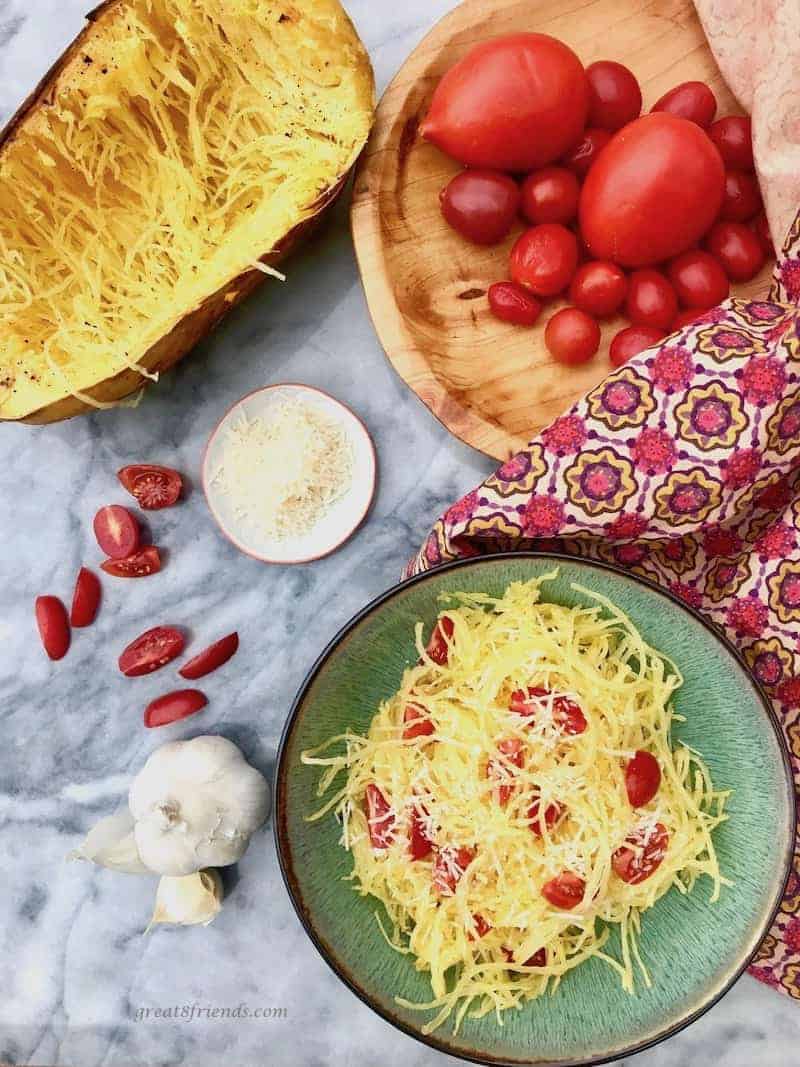 Now back to the deliciousness! With the freshly chopped tomatoes, garlic and grated parmesan, you can have Spaghetti Squash on your table in no time! Delicious, healthy and hearty, this can be an excellent side dish.
So, since the "noodle" flavor is mild, it can be a fun substitute for your favorite noodle recipe!
Whether you add just a sprinkle of parmesan cheese or hefty douse of Kyle's Italian Red Sauce, it'll be a delicious meal bursting with bright flavors and colors! With a nice glass of Chianti, a delicious salad and a crusty loaf, Mamma Mía! What a Gr8 feast it'll be!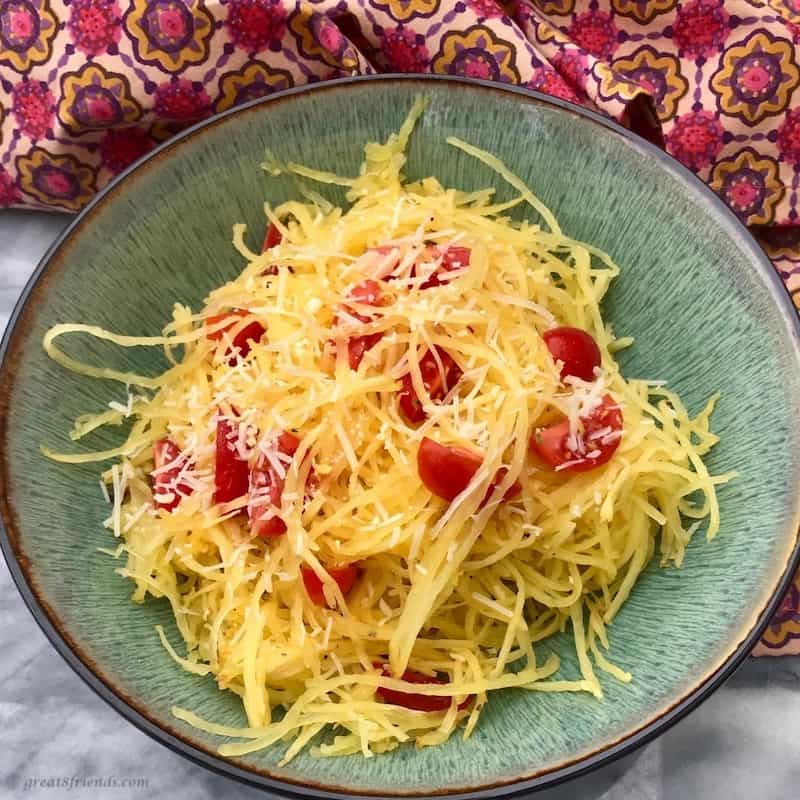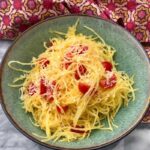 Print Recipe
Pin Recipe
Save this Recipe
Saved!
Please leave a rating!
Spaghetti Squash with Tomatoes and Garlic
If you want a meatless meal that's full of flavor, Spaghetti Squash is a delcious way to go! With a simple sauce or just a sprinkle of parmesan cheese, you'll love the leftovers just as much!
Servings:
2
as a main course
Ingredients
1

medium

spaghetti squash

,

(2 to 2-½ lbs.)

2

Tablespoons

extra-virgin olive oil,

plus a bit more for the baking sheet

Salt

2

garlic cloves

,

minced

¼

cup

finely chopped onion

1

pint

pear or cherry tomatoes

,

cut in half lengthwise

¾

cup

freshly grated Parmesan cheese

2

Tablespoons

chopped or julienned basil

Freshly ground pepper

,

to taste
Instructions
Carefully halve the squash, lengthwise.

With a spoon, scrape out seeds, and the darker orange "goop"!

Line a rimmed baking sheet with foil and coat the foil with a little olive oil.

Sprinkle each half of squash with a little salt (not too much, the Parmesan is salty).

Place squash cut side down on the prepared baking sheet.

Roast for 35 minutes or until easily pierced with a fork, or when it gives a bit when pressed.

Meanwhile, in a large skillet over medium heat, warm 2 Tablespoons of extra-virgin olive oil.

Add garlic and onion and cook until the onion is translucent, about 4-6 minutes.

Add the tomatoes and cook until softened.

With a fork, separate the strands of the spaghetti squash, and scrape into a large bowl.

Toss the "noodles" with the tomato garlic mixture and mix in half of the Parmesan cheese.

Sprinkle with the basil and season with freshly ground pepper.

Once served, pass more Parmesan.
Notes
Gr8 Tip for a Quicker Meal:
For Steps 4 through 7: Wrap squash halves in plastic wrap and pierce the plastic a couple of times so the steam can escape. Cook 1 at a time in microwave on high until tender, about 8-10 minutes (depending on your microwave). Continue with Step 8.
*The larger the spaghetti squash, the larger the strands and the more flavorful.
sm 7/26/19