No matter what the temperature is outside, who doesn't love a little icy refreshment? How does a Refreshing Blackberry Mint Italian Ice sound?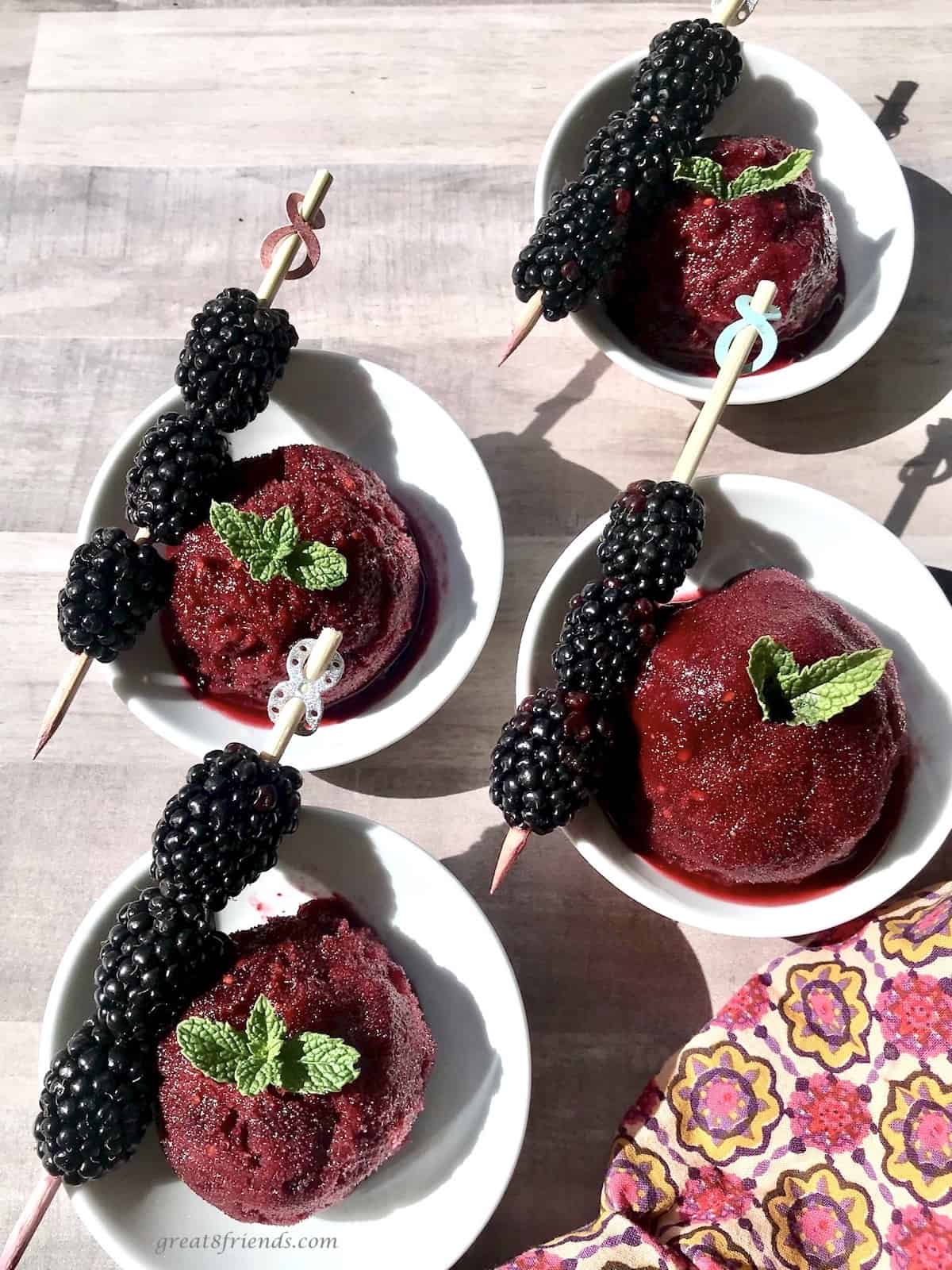 Imagine walking along the quaint little side streets in Italy. Pick a city, Milan, Naples, Rome, you name it, you'll find the best gelateria in town. Well, since we can't hop on a plane whenever our cravings hit, I knew I had to come up with a recipe.
My contribution to Jurga and Tim's Chicago's Little Italy Great 8 Dinner gave me the jumpstart! I was on dessert duty, and Italian Ice was the request. My choice of flavor.
Loving all things berry and with an herby twist, I decided that Blackberry Mint Italian Ice would be the perfect choice! But since I got to pick the berry to use, so can you! Boysenberries, blackberries, raspberries, you like it, you use it! As easy as that!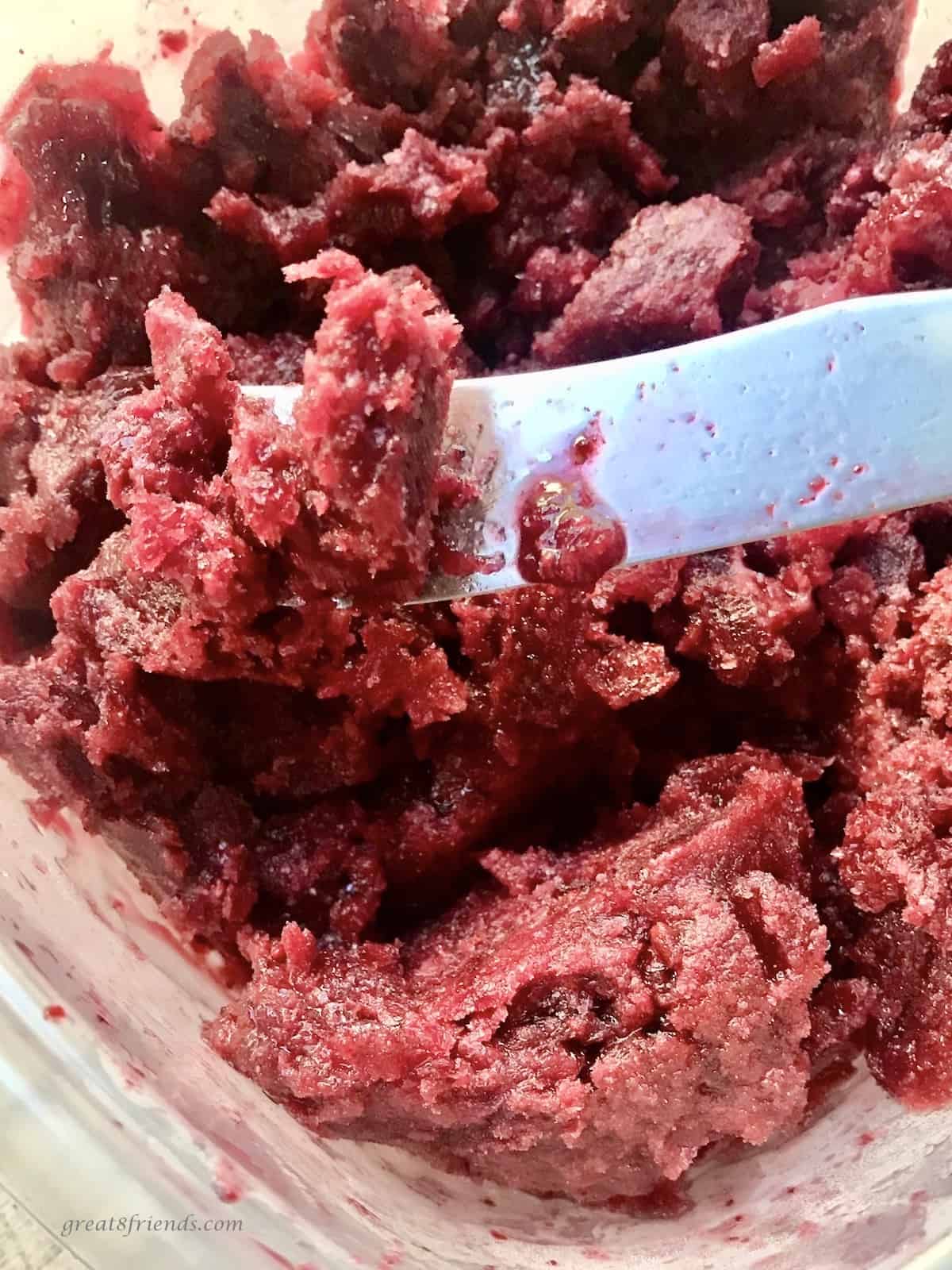 Nothing but the freshest!
Only wanting the best of course for our recipes, I have 2 options for the freshest ingredients. Manassero Farms, a nearby actual farm with a farmstand in our area, selling produce grown right there and Growers Direct, another Gr8 option with good prices.
Decisions, decisions. I always have the best of luck at either place, always finding what I need. This time, blackberries! Perfectly plump and super sweet. (If sweet enough for you, see Gr8 Notes below.)
Minty fresh
Although I don't have much of a green thumb, I did know for sure that we had a pot of mint in the backyard. That's one herb that's easy to keep alive!
Making sure the minty leaves were the freshest, I waited until just before I needed them to do some snipping out back.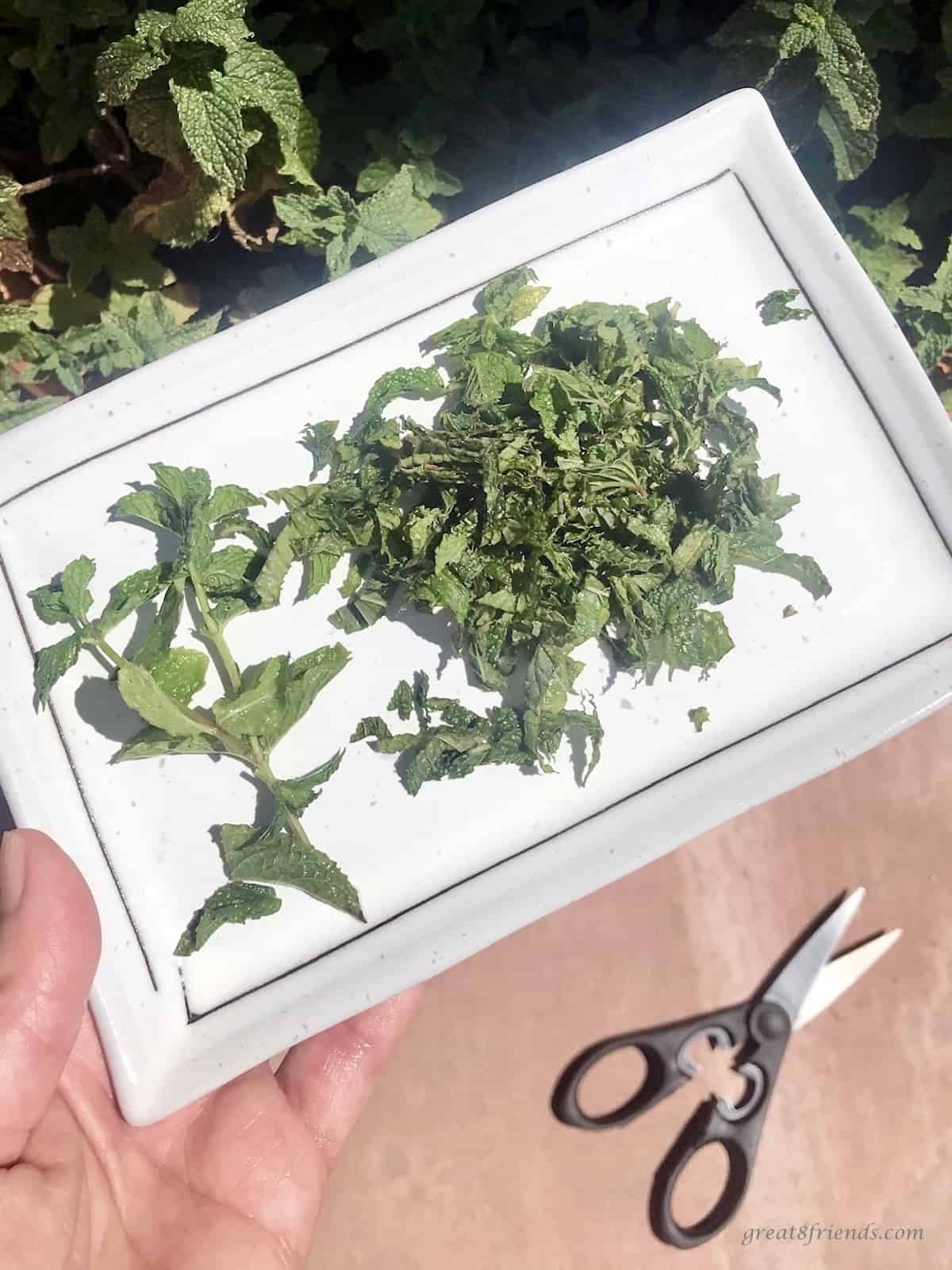 How easy is that!
As the berries cook the color gets richer and deeper and wow, is it ever gorgeous! With just a few ingredients, it's an easy make-ahead recipe. No machine? No worries! You don't even need one!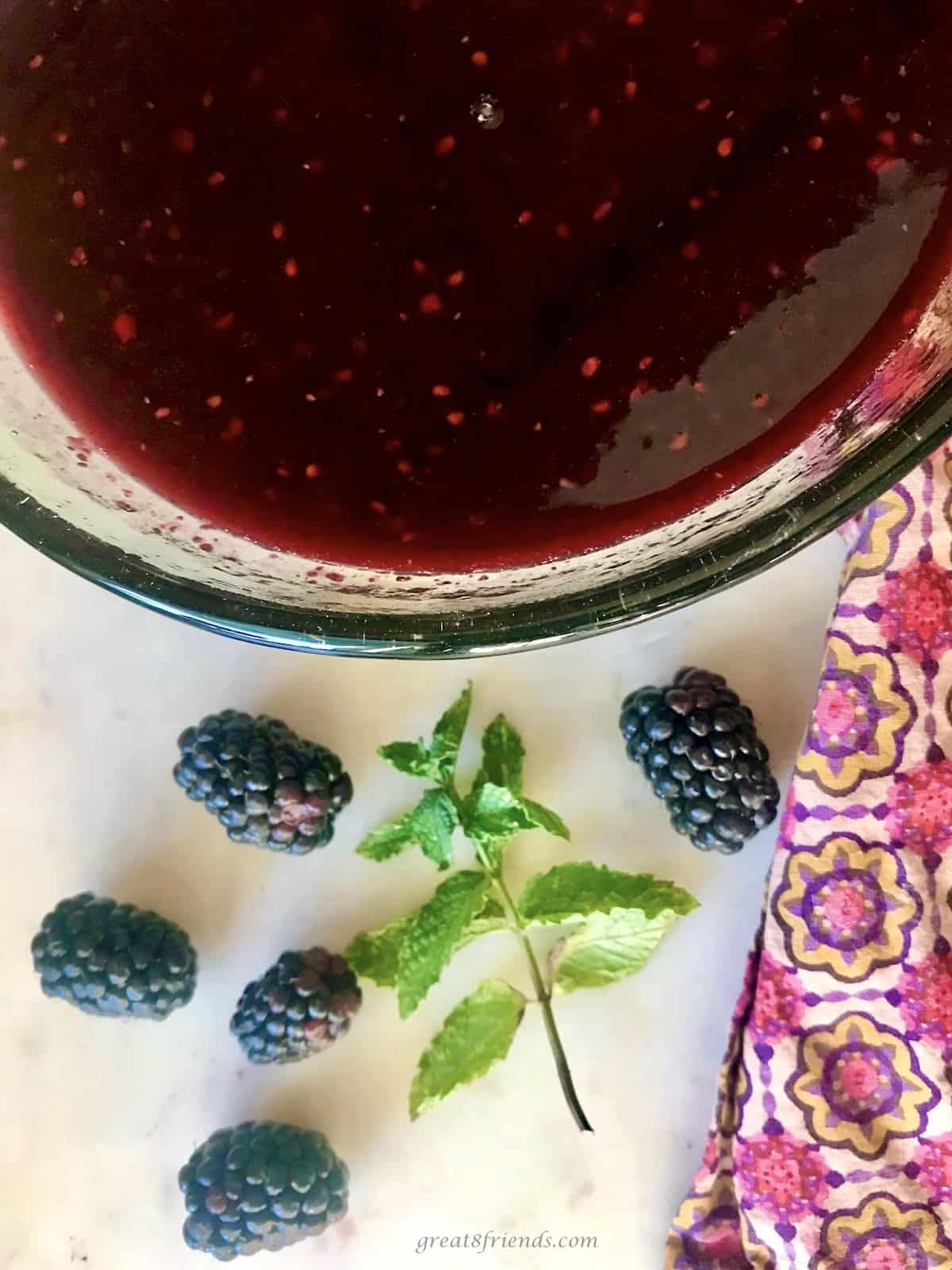 Refreshing and ready to have on hand whenever you have a craving. Serving Refreshing Blackberry Mint Italian Ice at a party? Prescoop and freeze, saving time and giving you more time with your guests.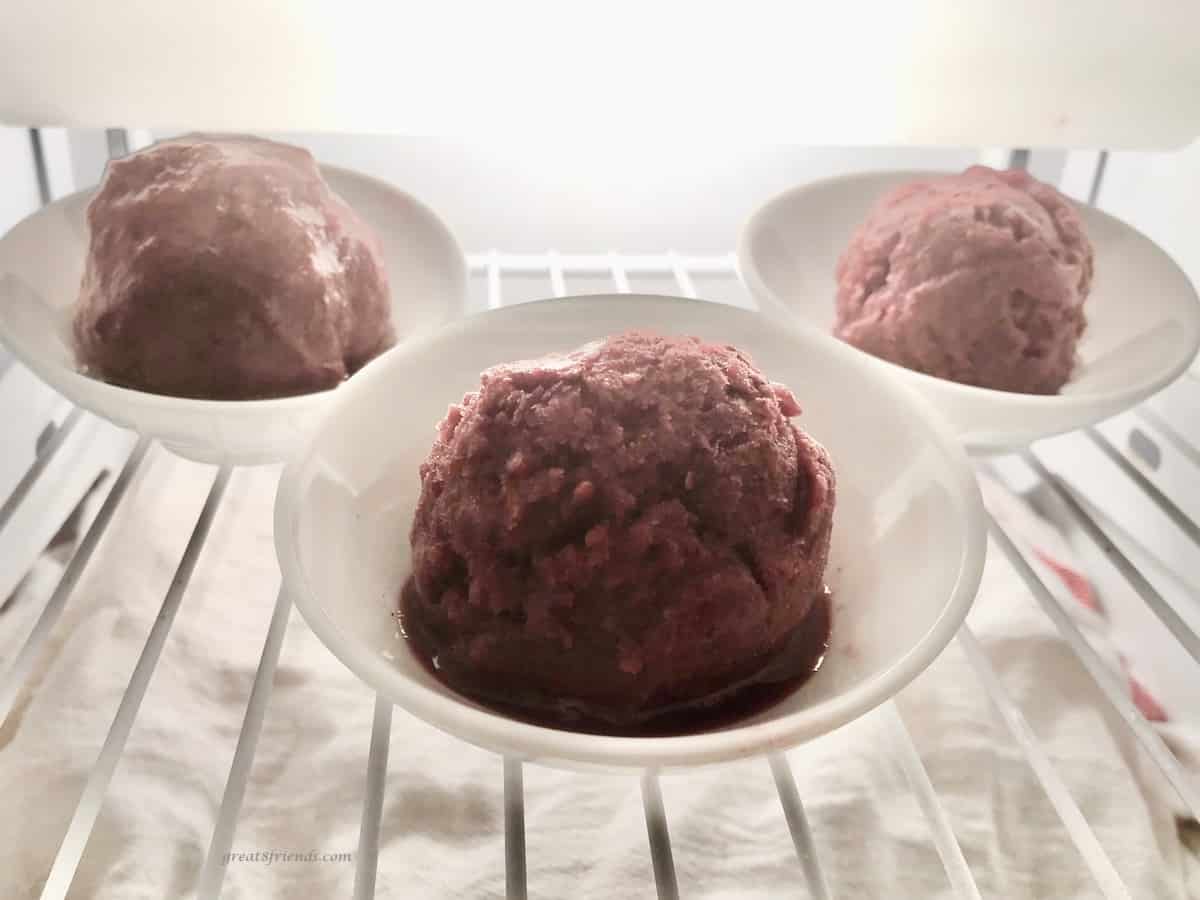 A crafty touch
If you know me, you know how I love to add a little paper-crafting to my presentation every chance I get!. It's all about that little touch, right?
With some quick die-cutting on my Sizzix Sidekick Machine, and using the number "8" from the Tim Holtz Sizzix Marquee Letter set, I added a little something to the skewered berries.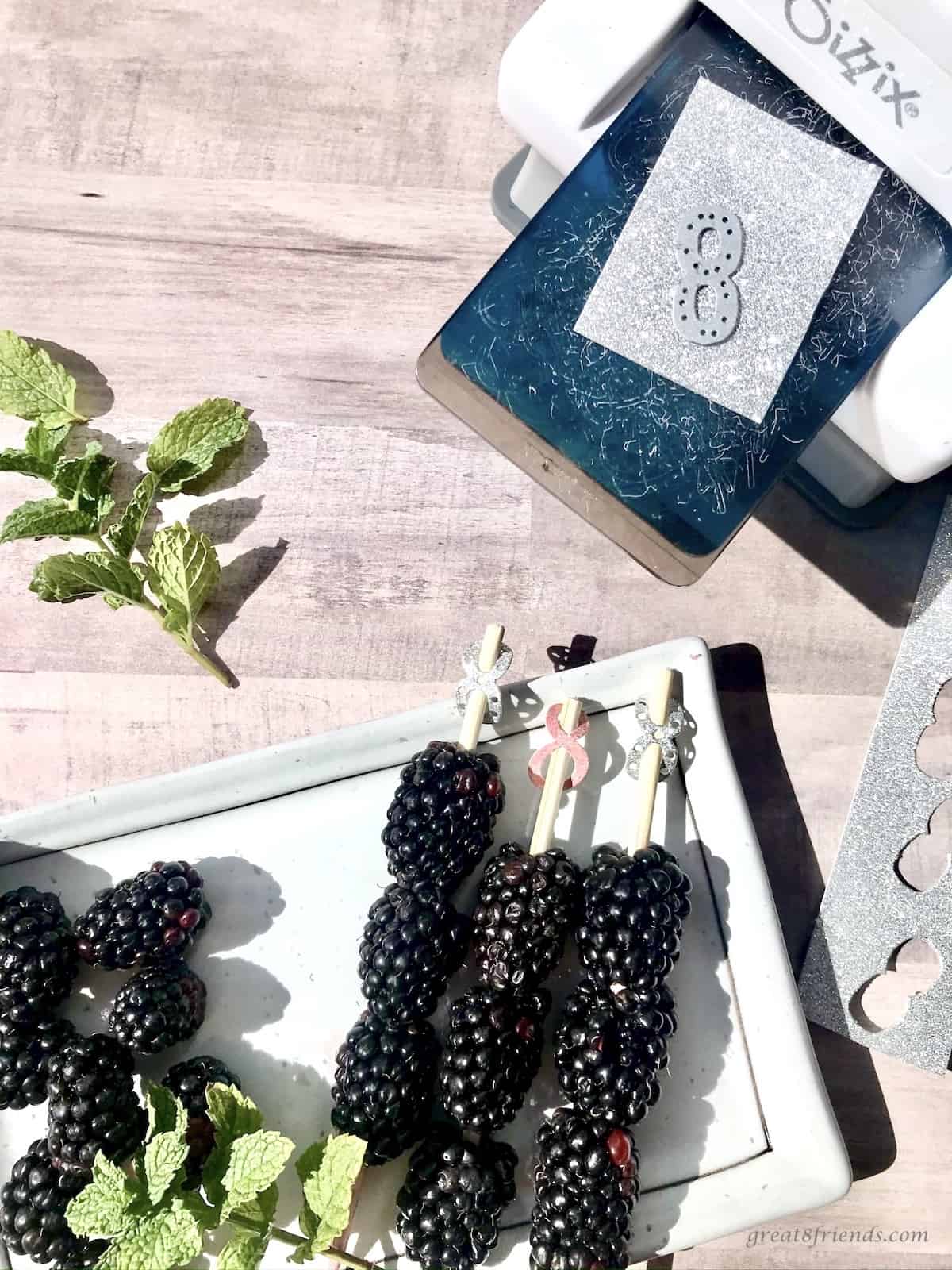 Serving this as the dessert at a dinner party, a palate cleanser in between courses, or at the end of a small plates soiree, Blackberry Mint Italian Ice fits into any of these options perfectly.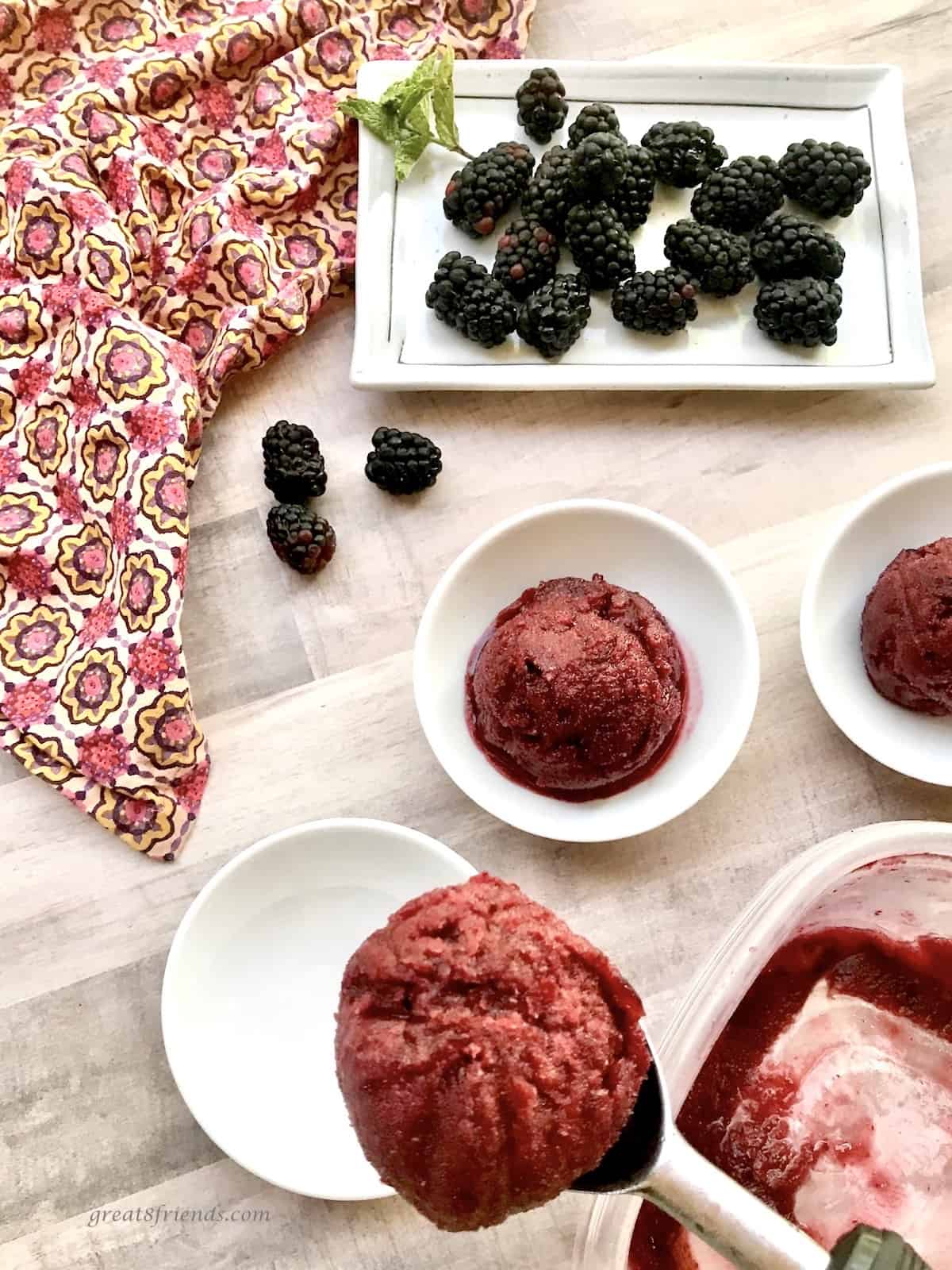 Light and refreshing following Jurga's Chicago Pizza, or since the evening had an Italian feel, Anna's Baked Italian Ricotta Cake would be delicious to serve alongside it as well!
Whether your senses are taking you to the Amalfi Coast or the "tip of the boot," Blackberry Mint Italian Ice will help satisfy them all. Buon appetito!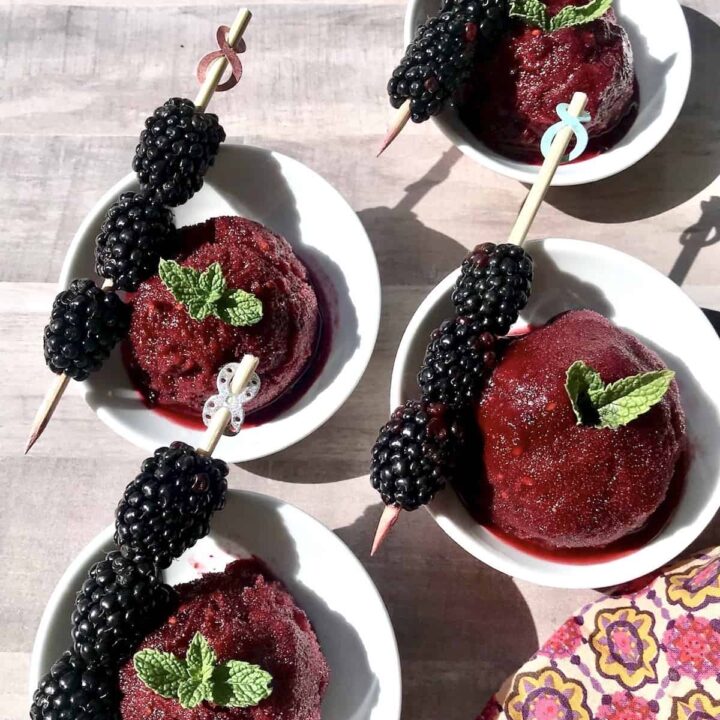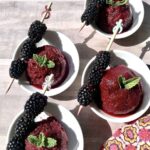 Print Recipe
Pin Recipe
Save this Recipe
Saved!
Please leave a rating!
Blackberry Mint Italian Ice
Blackberry Italian Ice is the perfect option to serve as a dessert, palate cleanser or a refreshing snack. Deep in flavor with a minty fresh finish, it's a Gr8 make ahead recipe! Have it on hand ready to serve when the craving hits.
Servings:
6
standard size scoops
Ingredients
1

cup

superfine sugar

,

* See Gr8 Note below

1

cup

water

¼

cup

julienned fresh mint leaves, plus 6 full leaves for garnish

3

cups

fresh blackberries

,

** See Gr8 Note below regarding sweetness

¼

cup

freshly squeezed lemon juice

,

from 1 large or 2 small lemons
Instructions
Dissolve the sugar in water over medium low heat in a medium sauce pan. Add the mint and stir and warm until sugar dissolves and begins to simmer. Remove pan from heat and cover. Let rest until room temperature, about 45 minutes. Refrigerate until completely chilled.

While mixture is chilling, place the blackberries in the bowl of a food processor or blender. Add lemon juice and puree until evenly blended.

Place a mesh sieve over a bowl. Press the pureed mixture through the sieve, "scrubbing" with a rubber spatula or back of a large spoon to collect majority of the liquid. Discard solids (***OR see Gr8 Notes below). Place covered bowl in refrigerator to chill.

When completely chilled, strain the minty sugary syrup through a mesh sieve. Discard the mint pieces.

In a medium bowl, thoroughly combine both mixtures. Transfer into a shallow freezer safe container with a lid to fit. Freeze without "interruption" until solid and firm.

Once frozen, break up into large pieces. As it softens, mash with the back of a spoon, scoop and garnish with mint leaves. Or freeze scoops until ready to serve.
Notes
Gr8 Notes:
 * You can purchase superfine sugar or make it yourself with granulated sugar.
** Once tasting a fresh berry and you find it is already sweet enough, reduce the amount of sugar, but keep the water measurement the same.
***If you prefer a little chunkiness or solid pieces in the Italian Ice, add ⅛ cup or more of the solids to the mixture before freezing.
If serving as dessert instead of a palate cleanser, depending on your desired scoop size, you may want to double the recipe.