Whenever we invite guests to dinner, my first question to myself is, "what shall we serve?" And my answer to me is, "I don't want to spend all my time in the kitchen while our guests are here." So I try to plan foods that can be prepared ahead of time...at least where most of the actual "work" can be done in advance! Then all of those pots, pans, cutting boards, knives, etc. can be washed and put away.
For very special guests and occasions my go-to recipe is Osso Buco. The entire main course can be made one to two days before serving. In fact, it is better if it is made ahead of time! This is one of those meals where the meat is braised for hours and is falling off the bone succulent.
Last Mother's Day I made this on Friday night and took it to my mom's house on Sunday. It was the perfect lovely meal and nobody had to work very hard on Mother's Day!
But beware, veal shanks are trés expensive, $$$. If you can't find them on sale, try making this with pork shanks, much more affordable.
Osso Buco con Gremolata
Ingredients:
8 pieces cross-cut veal shanks, tied (about 10-12 ounces each), ask the butcher to tie them for you, it will save time in the kitchen.
3/4 cup all-purpose flour
2 1/2 teaspoons salt
1 1/2 teaspoons freshly ground pepper
4 Tablespoons butter, divided
2 Tablespoons olive oil, divided
1 cup dry white wine
1 medium onion, diced
2 garlic cloves, minced
3 medium carrots, chopped
3 celery ribs, chopped
1 1/2 pounds of plum tomatoes, seeded and chopped, OR 28-ounce can of diced plum tomatoes, drained
1/8 teaspoon nutmeg
1 bay leaf
8 fresh Italian parsley sprigs
4 fresh thyme sprigs
6-8 cups chicken or beef broth
Gremolata, recipe below
Directions:
Put the flour into a shallow dish (I use a pie plate) and mix in the salt and pepper.
Pat the veal dry with a paper towel and dredge in the flour mixture, shaking off the excess.
On medium-high heat, heat an ovenproof pot (large enough to hold all the shanks), melt 1 Tablespoon of the butter and 1 Tablespoon olive oil.
Add 4 of the shanks and brown both sides, turning only once. This should take about 15 minutes total. (Timing will depend on the type of pot and your stove.)
Transfer to a dish that will catch any released juices.
 Wipe out the pot with paper towels and add another Tablespoon each of butter and olive oil.
Melt over medium-high heat and brown the remaining 4 shanks, as in Step 4. Remove veal to the dish with the other 4 shanks.
Turn the heat to high, add the wine and let it reduce to 1/3 cup, scraping up the bits and pieces from the pan as it boils. This should take about 10 minutes.
Add the remaining 2 Tablespoons butter to the pot and melt.
Add the onion, garlic, carrots and celery and cook until the onion is translucent.
Stir in the tomatoes and the nutmeg. (I know, nutmeg sounds strange, but it adds lovely hint of flavor.)
Put the browned shanks back into the pot along with any accumulated juices, nestling the veal down into the vegetables.
Add enough broth to reach about 3/4 of the way up the shanks.
Tie the bay leaf, parsley, rosemary and thyme in some cheesecloth, then nestle that down into the mixture.
Cover and braise either on the stove-top on low heat, or in a 325º oven, until the meat begins to come away from the bone, 2 to 2 1/2 hours. Add broth occasionally, as needed.
Serve over saffron rice (traditional), or noodles, or mashed potatoes.
Sprinkle with gremolata.
Gr8 Do-Ahead Tip:
After braising is complete, through Step 15, remove from heat and cool at room temp for about 1 1/2 hours. Cover and refrigerate for up to two days. When ready to serve, remove the solidified fat that will have risen to the top. Let sit out for about an hour to take the chill off and heat in a 325º F oven for 25-30 minutes or until heated through.
Gremolata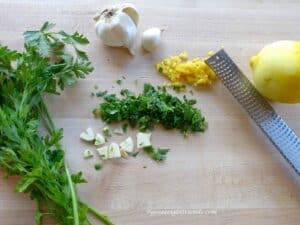 Gremolata is an Italian condiment traditionally served over braised meats. But try rubbing it with oil on fish before grilling, or sprinkled over sautéed vegetables.
Directions:
In a small bowl mix together:
Zest of 1/2 lemon
3 Tablespoons finely chopped parsley
1 garlic clove, minced