Veal Osso Buco is a fall off the bone succulent main course. This classic Italian recipe is heartily flavored with vegetables, wine, and the delicious marrow from the round bones.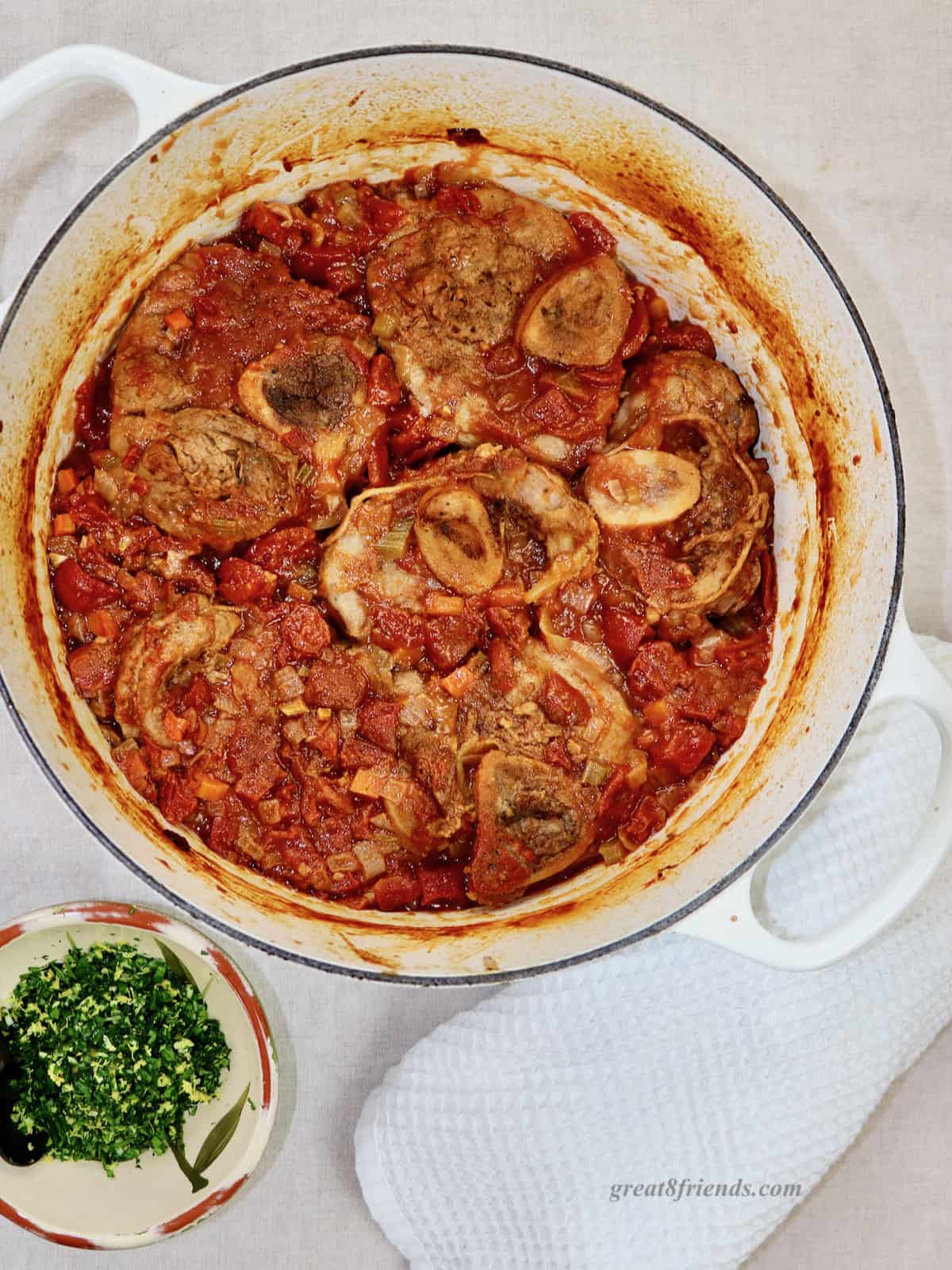 Whenever we invite guests to dinner, my first question to myself is, "what shall we serve?" And my answer to me is, "I don't want to spend all my time in the kitchen while our guests are here."
So I try to plan foods that can be prepared ahead of time...at least where most of the actual "work" can be done in advance! Then all of those pots, pans, cutting boards, knives, etc. can be washed and put away and I can enjoy the evening!
For very special occasions my go-to recipe is Veal Osso Buco. The entire main course can be made one to two days before serving; in fact, it's better if it is made ahead of time!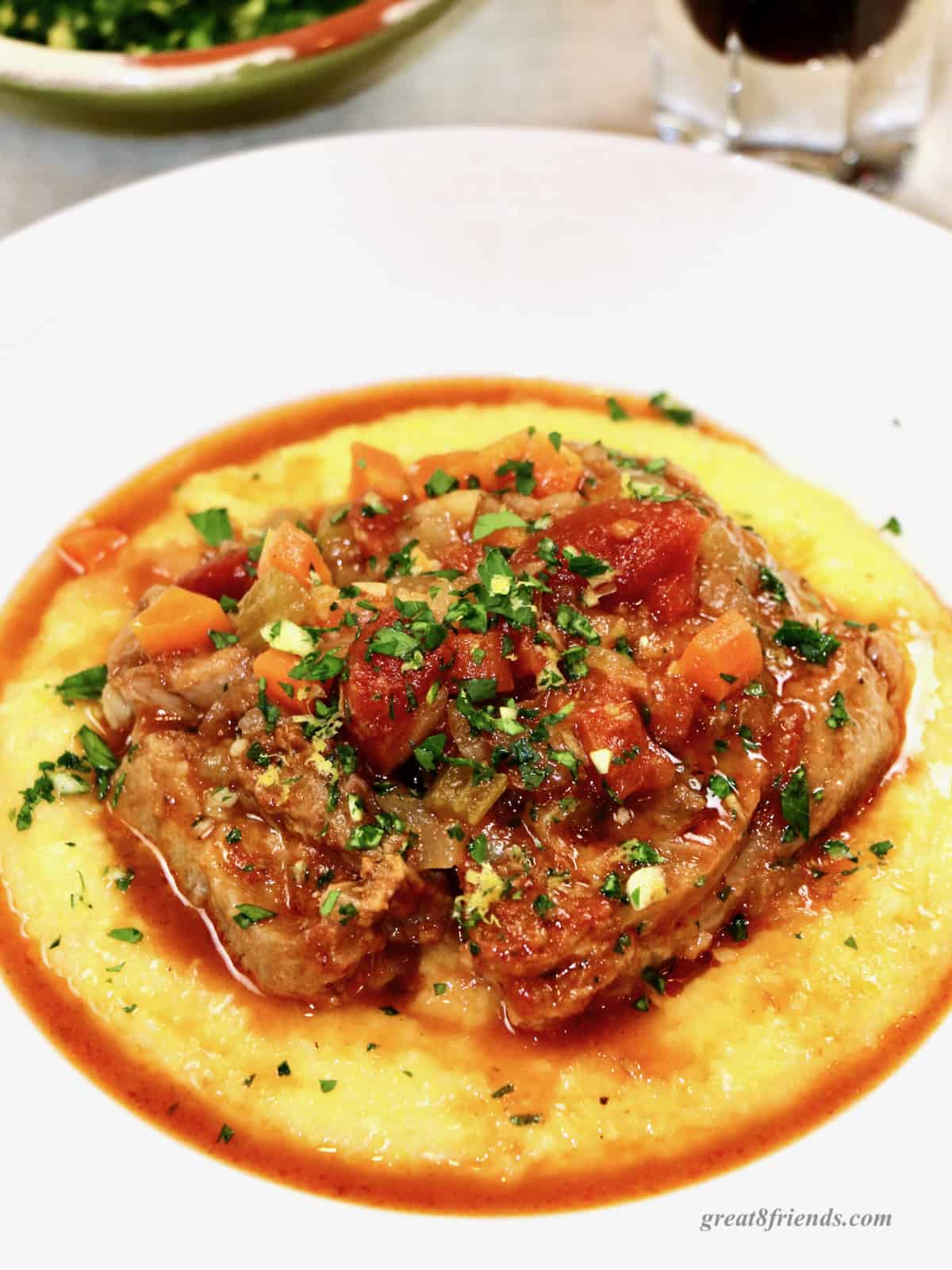 Some Gr8 Tips
Ask your butcher to tie the shanks for you. This will save you time in the kitchen.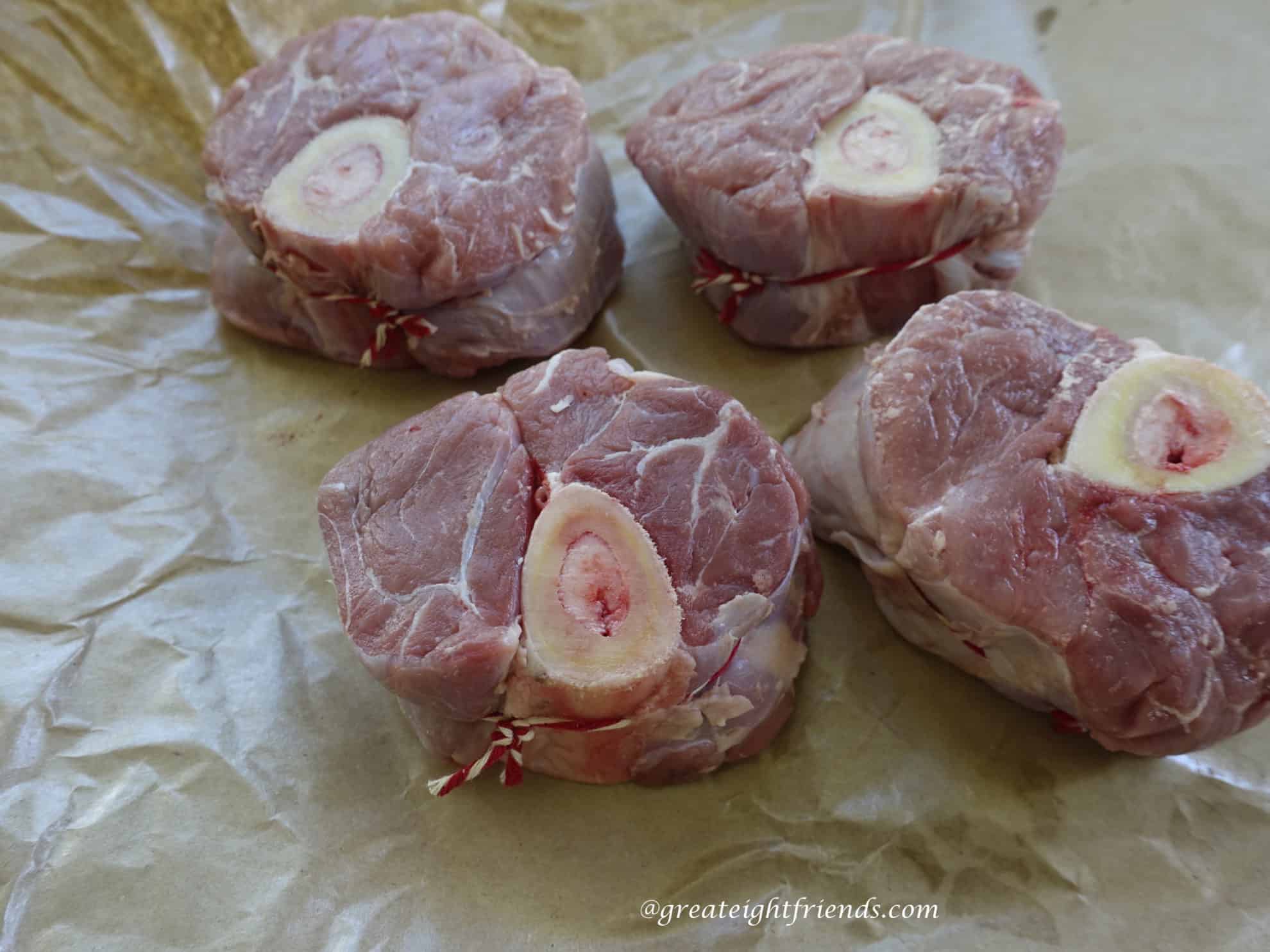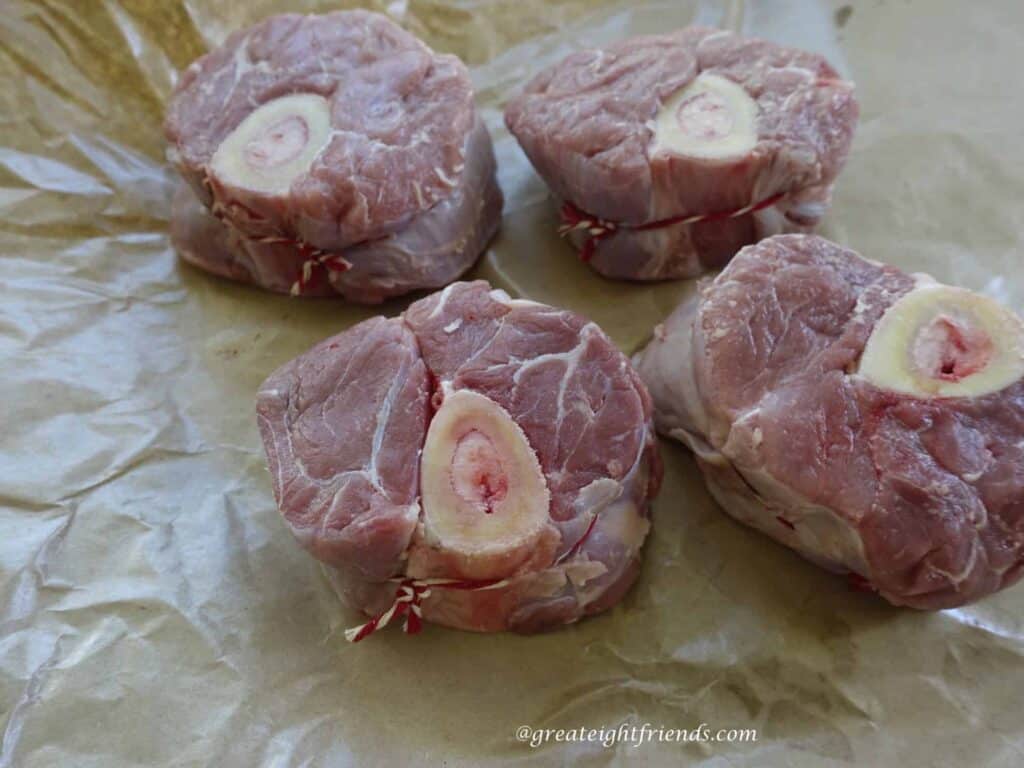 If you make this a day or two ahead of time, the fats will rise to the top and solidify in the fridge. Then you can easily remove the fat before reheating, making this a bit healthier.
Before reheating, let the Osso Buco sit at room temperature for about an hour to take the chill off.
Don't forget the Gremolata! This is essential for brightening and lightening all the flavors in this slow cooked meal.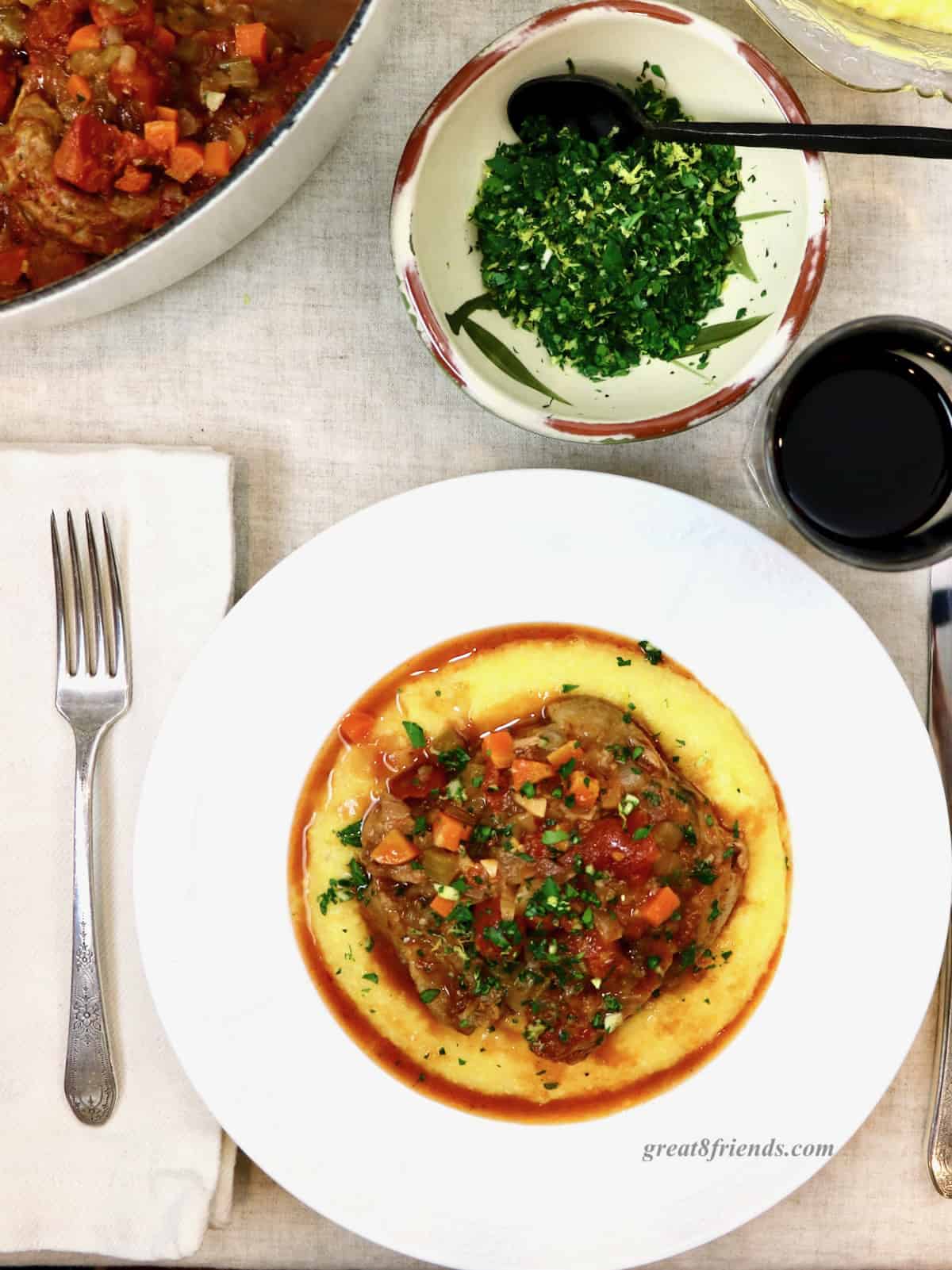 Cooking times will vary depending on your stove/oven and especially what kind of pot you use. My enamel cast iron Dutch oven cooks much faster than my stainless steel Dutch ove
How to Serve Osso Buco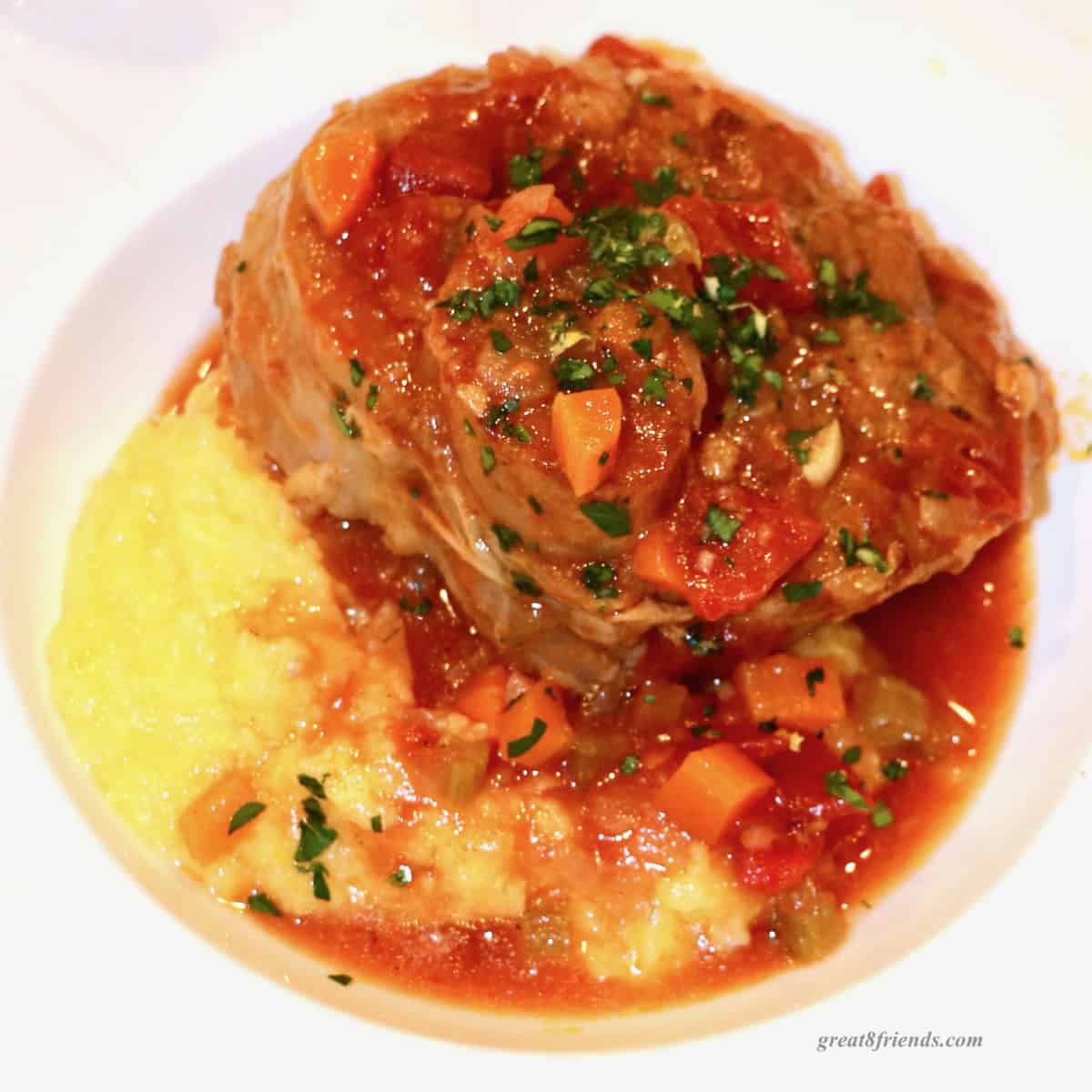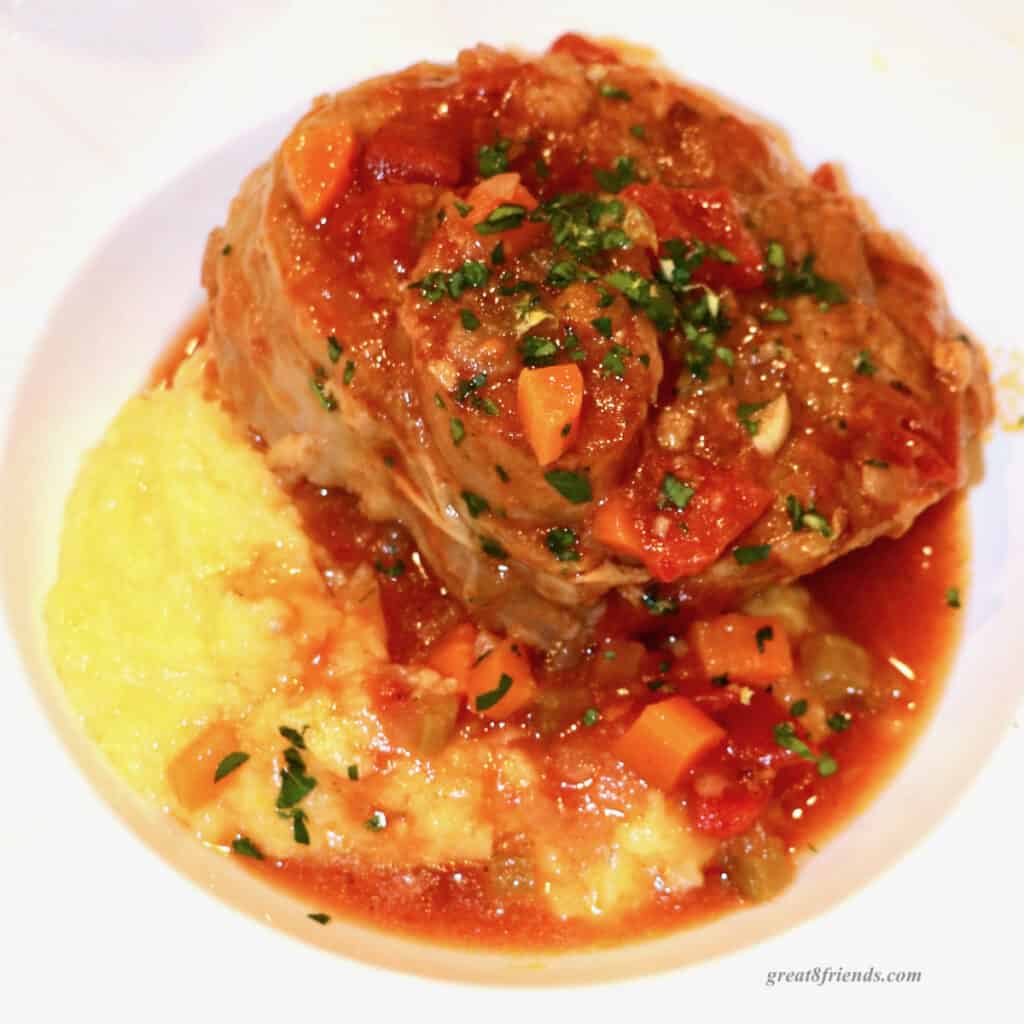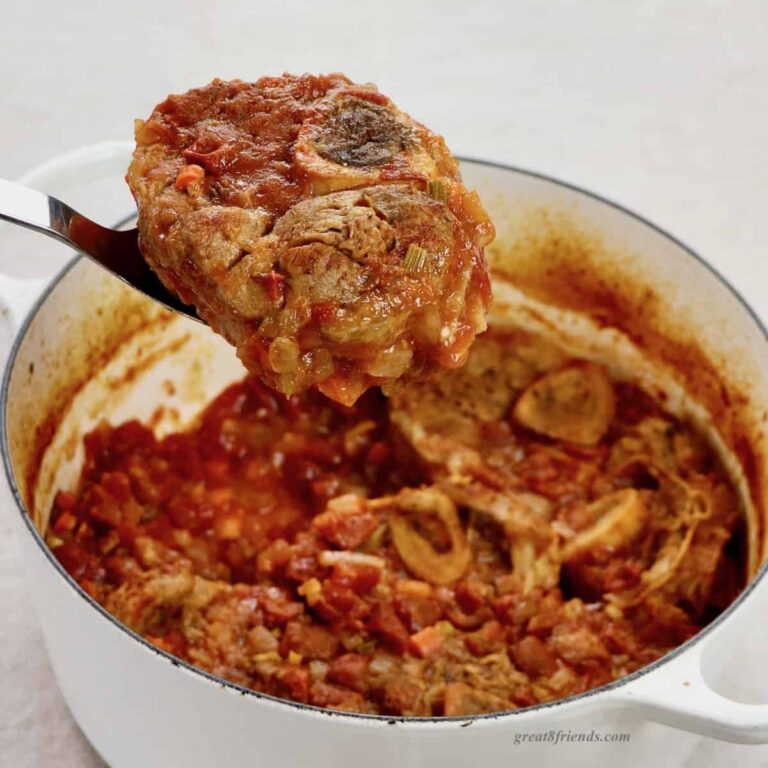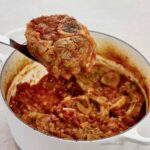 Print Recipe
Pin Recipe
Save this Recipe
Saved!
Please leave a rating!
Osso Buco con Gremolata
Osso Buco is a delicious traditional Italian meal. You can substitute beef shanks if you prefer, but don't use any butter in the browning. The beef shanks are fattier than veal so you won't need the butter. Also, since beef shanks are larger, I can only fit four in my pan.
Special Equipment
Dutch Oven - I use my 7 quart and can fit 8 veal shanks

Cheese cloth
Ingredients
8

1½" to 2" thick tied veal shanks

,

should be about 10 to 12 ounces each. Have your butcher tie them to make your life easier.

¾

cup

all-purpose flour

2 ½

teaspoons

salt

1 ½

teaspoons

freshly ground pepper

4

Tablespoons

butter

,

divided

2

Tablespoons

olive oil,

divided

1

cup

dry white wine

1 ½

cups

diced onion

,

about 1 large onion

3

garlic cloves

,

minced

3

medium carrots

,

chopped

3

celery ribs

,

chopped

1 ½

pounds

of plum tomatoes

,

seeded and chopped, OR 28-ounce can of diced plum tomatoes, drained. I have used canned tomatoes several times with Gr8 results.

⅛

teaspoon

nutmeg

1

bay leaf

8

fresh Italian parsley sprigs

4

fresh thyme sprigs

4 to 6

cups

chicken or beef broth
Gremolata
Zest of ½ lemon

3

Tablespoons

finely chopped parsley

1

garlic clove

,

minced
Instructions
Put the flour into a shallow dish (I use a pie plate) and mix in the salt and pepper. Pat the veal dry with a paper towel and dredge in the flour mixture, shaking off the excess.

On medium-high heat, heat a Dutch oven(large enough to hold all the shanks), melt 2 Tablespoons of the butter and 1 Tablespoon olive oil. Add 4 of the shanks and brown both sides, turning only once. This should take about 10 to 15 minutes total. (Timing will depend on the type of pot and your stove, see note.)

Transfer to a dish that will catch any released juices. Wipe out the pot with paper towels and add the remaining butter and olive oil. Melt over medium-high heat and brown the remaining meat, as in Step 3. Remove veal to the dish with the other 4 shanks.

Add the wine to the pot, bring mixture to a boil and let it reduce to about ⅓ cup, scraping up the bits and pieces from the pan as it boils. This should take about 8 - 10 minutes. (Again, depending on your pot.)

While the mixture is reducing tie the bay leaf, parsley, and thyme in some cheesecloth and set aside.

Once the wine is reduced add the onion, garlic, carrots and celery and cook until the onion is translucent.

Stir in the tomatoes and the nutmeg. (I know, nutmeg sounds strange, but it adds lovely hint of flavor.)

Put the browned shanks back into the pot along with any accumulated juices, nestling the veal down into the vegetables, then nestle the herb bundle in. Add enough broth to reach about ¾ of the way up the shanks.

Cover and place in the oven, until the meat begins to come away from the bone, 1½ to 2½ hours. If you don't have a Dutch oven that is oven safe, you can also braise this on low heat on your stove. Again, the timing depends on the pot you are using.

Add broth occasionally, if needed.

Serve over polenta, egg noodles, or mashed potatoes. Sprinkle with gremolata.
Gremolata
Mix together the lemon zest, chopped parsley, and garlic. In Italy this is a commonly used condiment. It adds a lovely brightness.
Notes
Gr8 Do-Ahead Tip:
After braising is complete, remove from oven and cool at room temp for about 1 ½ hours. Cover and refrigerate for up to two days. When ready to serve, remove the solidified fat that will have risen to the top. Let sit out for about an hour to take the chill off and reheat in a 325º F oven for 25-30 minutes or until heated through.
Timing:
The first few times I made this, I used my All-Clad stainless steel Dutch oven. Now that I have an enameled cast iron Dutch oven I use that. Everything about this dish takes a little longer in the stainless steel pot. Because an enameled cast iron pot holds and conducts heat better, the cooking goes faster.
Gremolata
Gremolata is an Italian condiment traditionally served over braised meats. But try rubbing it with oil on fish before grilling, or sprinkling over sautéed vegetables.
What kind of meat is Osso Buco?
The meat in Osso Buco is veal, cross-cut veal shanks, to be specific. This is a lean meat that is tender and delicious after braising.
You can definitely use cross-cut beef shanks if you don't want to use veal. If you use beef shanks, be sure to eliminate the butter during the browning because the beef shank is a much fattier piece of meat than the veal.
The beef will release plenty of its own fat, so just use the olive oil. If you make this a day or two ahead of time, you can skim the solidified fat off before reheating.
I've heard that you can also use pork or lamb shanks. Since I have not tried either of these, I can't speak to the flavor or the amount of oil or fat to use, or the cooking times.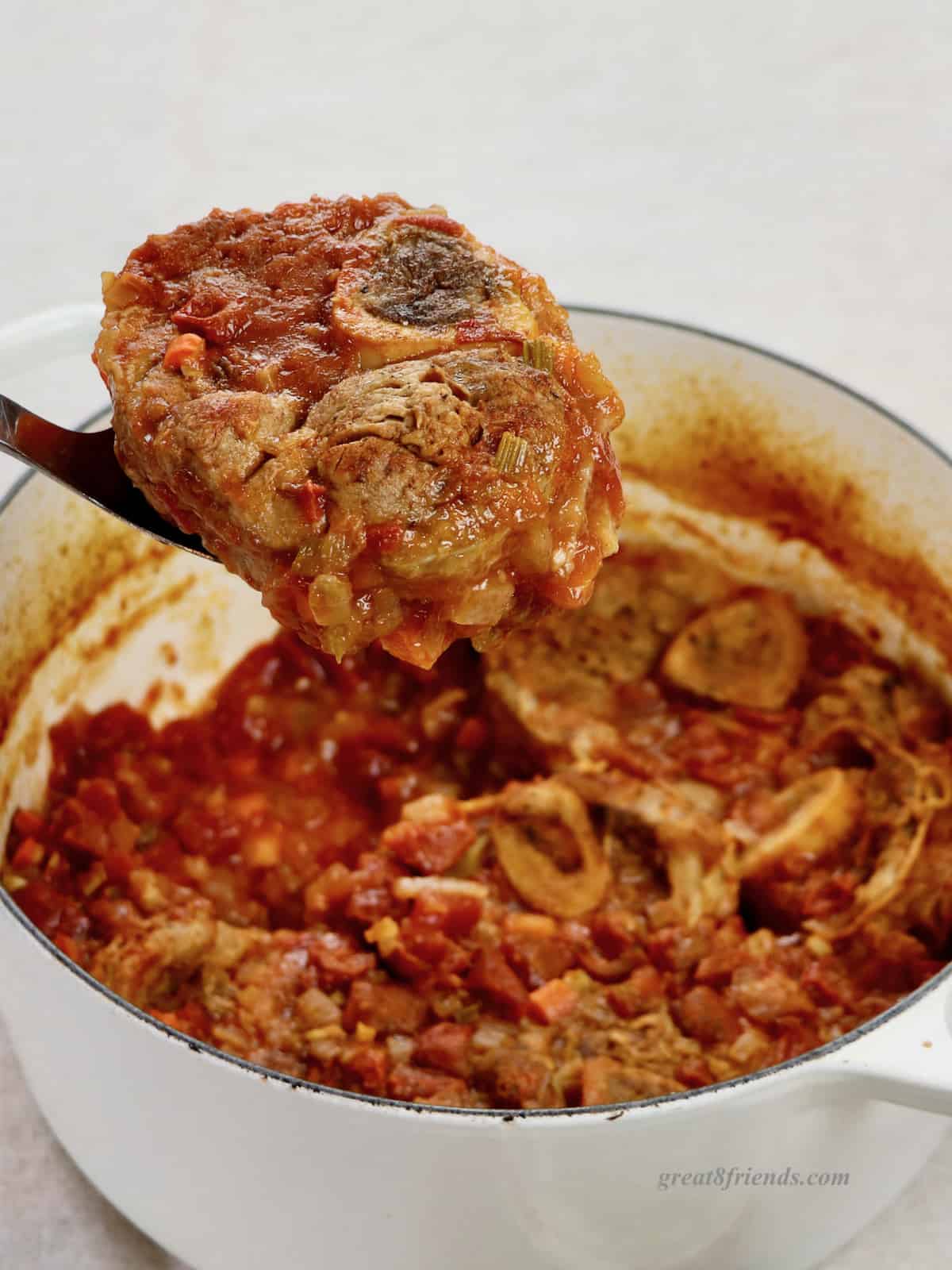 What does Osso Buco mean?
Whichever kind of meat you decide to use, it won't be Osso Buco unless you get the meat with the marrow bones.
Osso Buco literally means "bone hole." The round bones contain the marrow and the marrow not only flavors the sauce but also creates a silky consistency.
Some people spell it Ossobucco or Osso Bucco, but however you spell it, it's still yummy!