In honor of National Scotch Whiskey Day I decided to review three of the single malts in my collection.
I chose one from three of the five regions in Scotland: Speyside, Islay and Highlands. In the future I will include the other two: Lowlands and Campbeltown.
Whiskey preference, like wine, is all up to individual taste. My review of these three Scotches may very well differ from your own personal experiences and likes.
Originally published July 27, 2015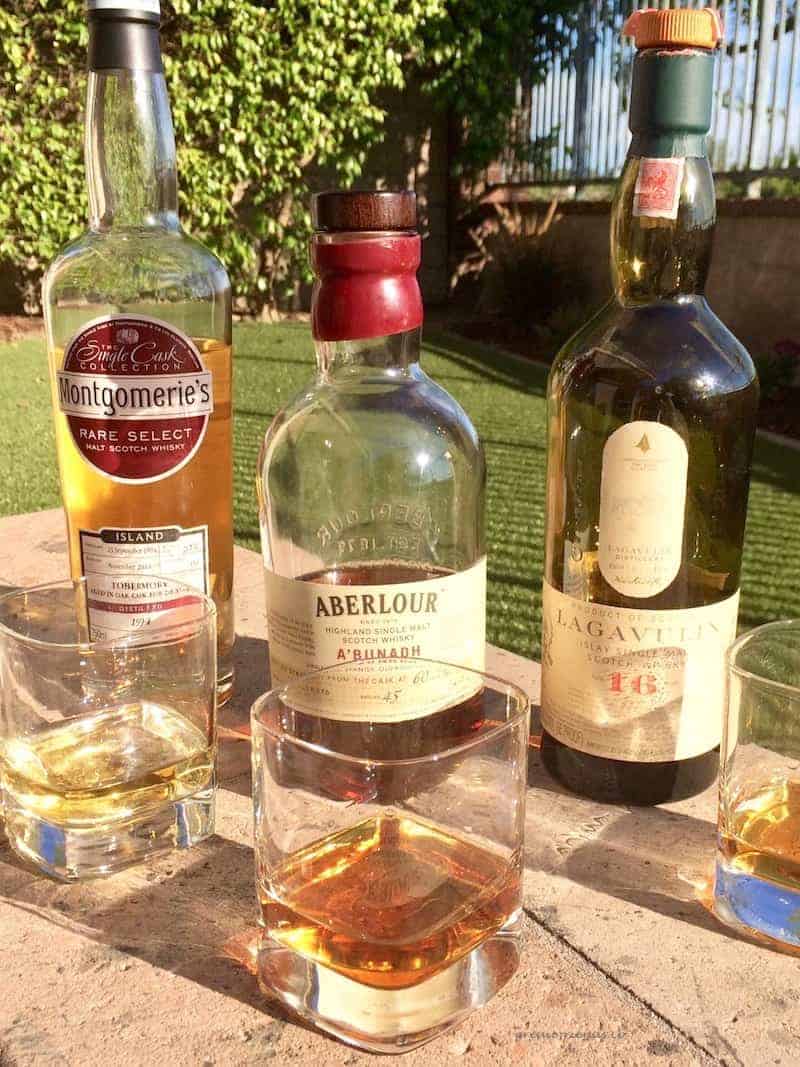 I will describe the color, nose (smell), and flavor of each; which should provide you with some insight into each one.
All three were tasted 'neat' (no ice or water added) then tasted again with a small ice cube added to decrease the temperature and add a little water.
Montgomerie's Tobermory Rare Select Whiskey 20yr
Aged in oak casks
46% alcohol
Island/Highland region
Straw color with a wet hay nose
Very light flavor profile with a little vanilla hint at the end, there wasn't as much depth of flavor as I usually expect from a 20 yr old, but probably a good intro for Scotch beginners, however, the price point is a little high.
Aberlour A'Bunadh Cask Strength
Aged in Spanish Oloroso Sherry Butts (casks)
60% alcohol
Speyside region
A'Bunadh means 'of the origin' in Gaelic
Burnt orange color with a fruity nose.
Starts strong due to the cask strength (high alcohol content) but smooths out quickly due to the sherry cask. Complex flavors with a sweet, almost cherry finish. One of my personal favorites, but probably not for beginners due to the front end heat.
Lagavulin 16yr
Aged in oak casks
43% alcohol
Islay region- known for their peaty/smokey profiles. This region burns the peat to smoke/dry the barley.
Caramel color with a peaty/smokey nose.
Starts off with the peaty/smokey flavor with a hint of salt, but soon mellows into a sweeter profile with a faint toasty finish. The Islay style is typically not my favorite, I usually prefer the sweeter mellower styles, however, Lagavulin is a truly amazing Scotch which I have grown to love.
Tasting Notes:
When I added the small ice cube to each Scotch, it seemed to help mellow the front end heat of the high alcohol Aberlour. The ice also brought out a little more hidden flavor/depth in all three that I tasted.
Some Scotch drinkers only have their pour served 'neat'. I prefer mine with one large ice cube, to add a little water and to cool the Scotch as well. To each his own.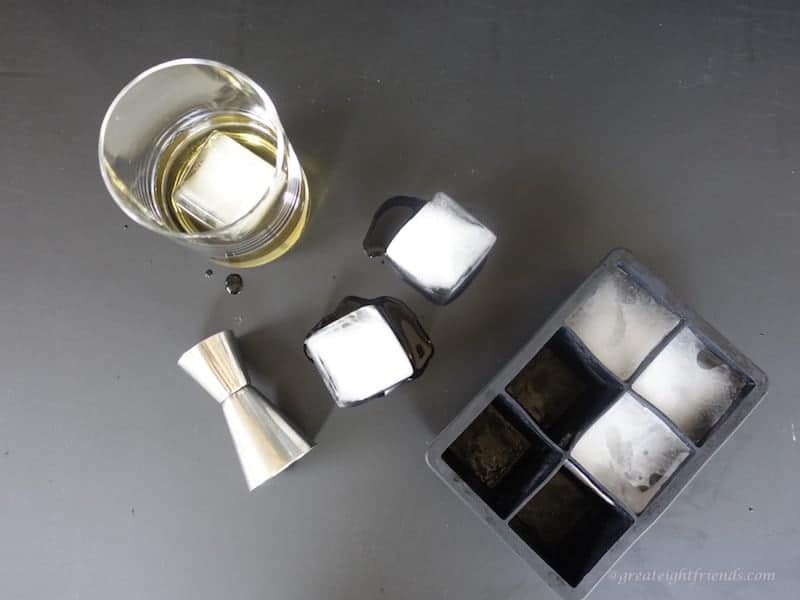 Gr8 Tips:
I realize I have only scratched the surface of the numerous choices in the Single Malt Scotch Whiskey world. Next time you are out, many restaurants/bars offer a 'flight' of three different styles to sample simultaneously; a gr8 way to explore the many different regions in Scotland without having to board an airplane.
Although a distillery tour through Scotland would be a great trip too. How about to celebrate National Scotch Whiskey Day?
Also, instead of using several small ice cubes, which can dilute the whisky quickly, you can purchase a silicone ice tray that forms large individual cubes or spheres.
More Tastings
A couple years after the writing of this article, I did another Scotch tasting with the rest of the Gr8 guys. You can find our favorites here.
And if you're into vodka, Vince conducted an informal tasting on his patio one Sunday afternoon.
Slainte!
sm 7/28/19