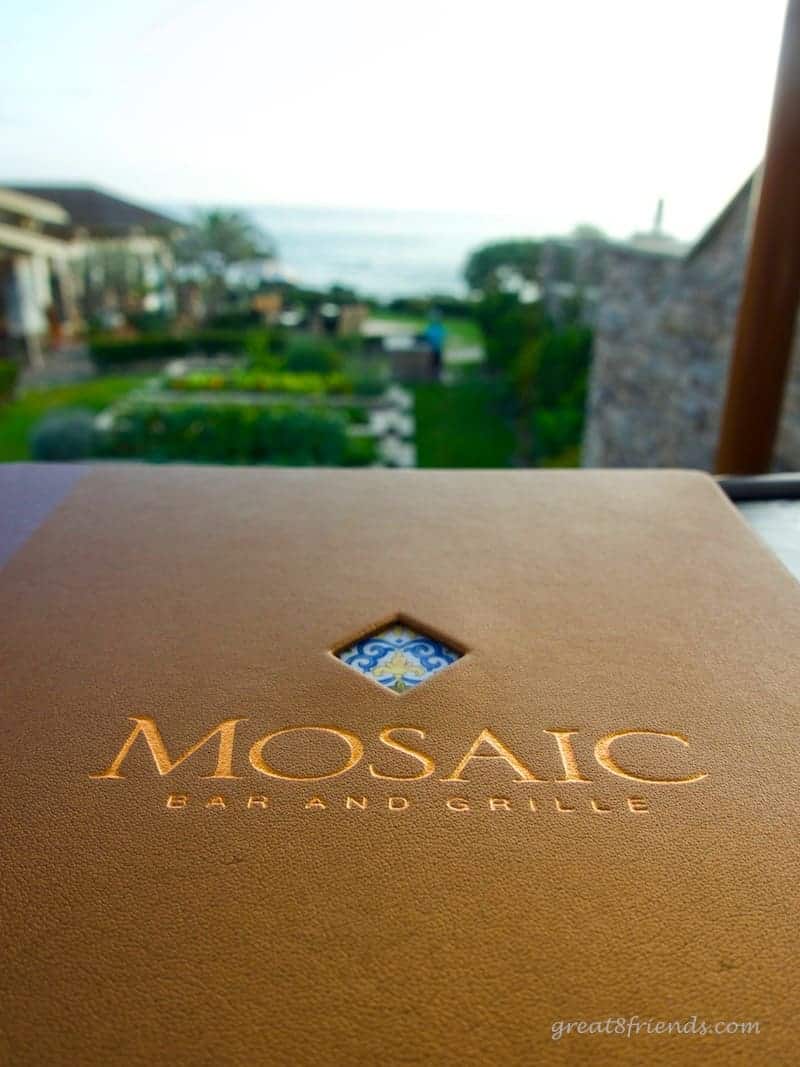 Mosaic Bar and Grille at the Montage in Laguna Beach, California, is a restaurant like no other.
This is one of those restaurants that's pricey but Vince and I try to go to dinner there at least once a summer. There is nothing better than eating outside on a beautiful evening, add to that the view of the ocean (it's right there!), and a solo guitarist singing popular songs, old and new, and you have the perfect dinner setting.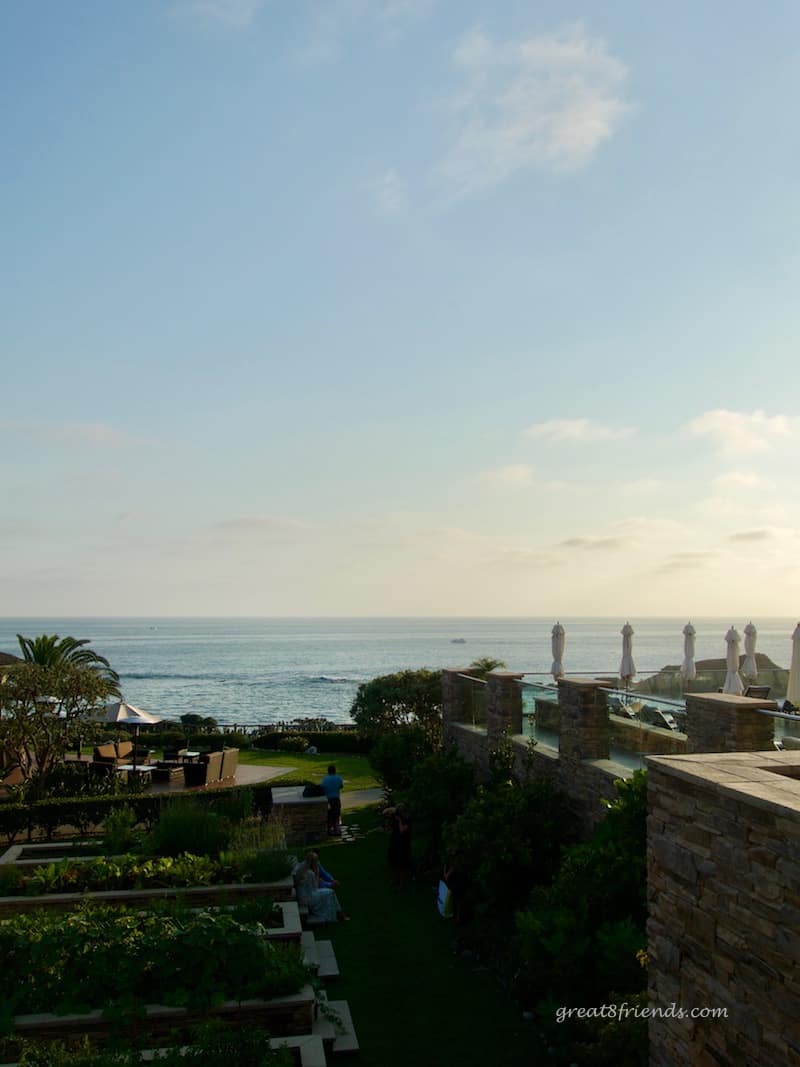 On a recent balmy evening we decided to join our son and his beautiful wife (and their new baby!) for a bite.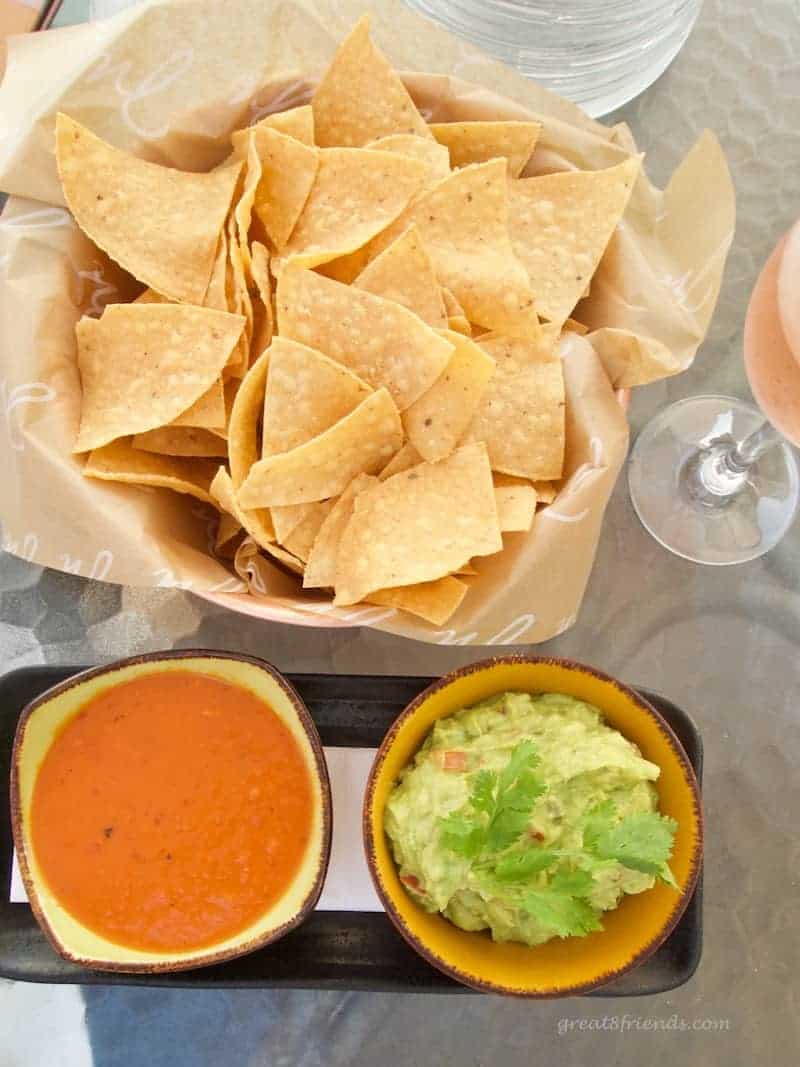 We started with the Guacamole, served with crispy corn chips and a house made fire roasted salsa. The guac was chunky like we like it. And the best thing about guacamole is that it's fairly healthy!
I break the chip in 2 or 3 pieces then pile as much guacamole as possible on each little piece, so I'm maximizing my guac intake while minimizing the fried chips!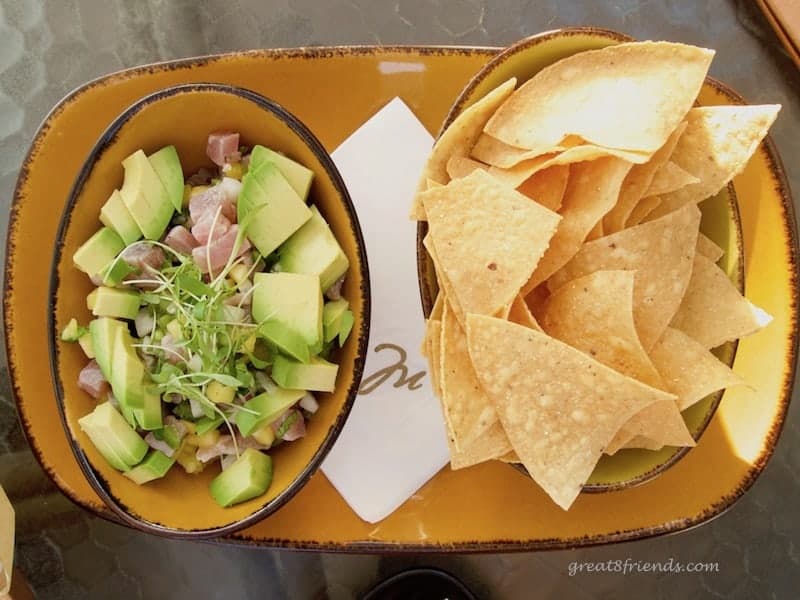 We also ordered the Baja Ahi Ceviche. Ceviche is a wonderful dish because it's full of vegetables and fruits and protein.
And if you eat it with a fork, (instead of those dreaded, but DELICIOUS, chips) it's a Gr8 low-fat, high protein, healthy appetizer. These are hard to find!
(If it sounds like I'm focusing on the health aspect of eating out...I am! With my 60th birthday fast approaching I'd like to fit back into the clothes in my closet instead of having to buy new ones in a larger size - YIKES!)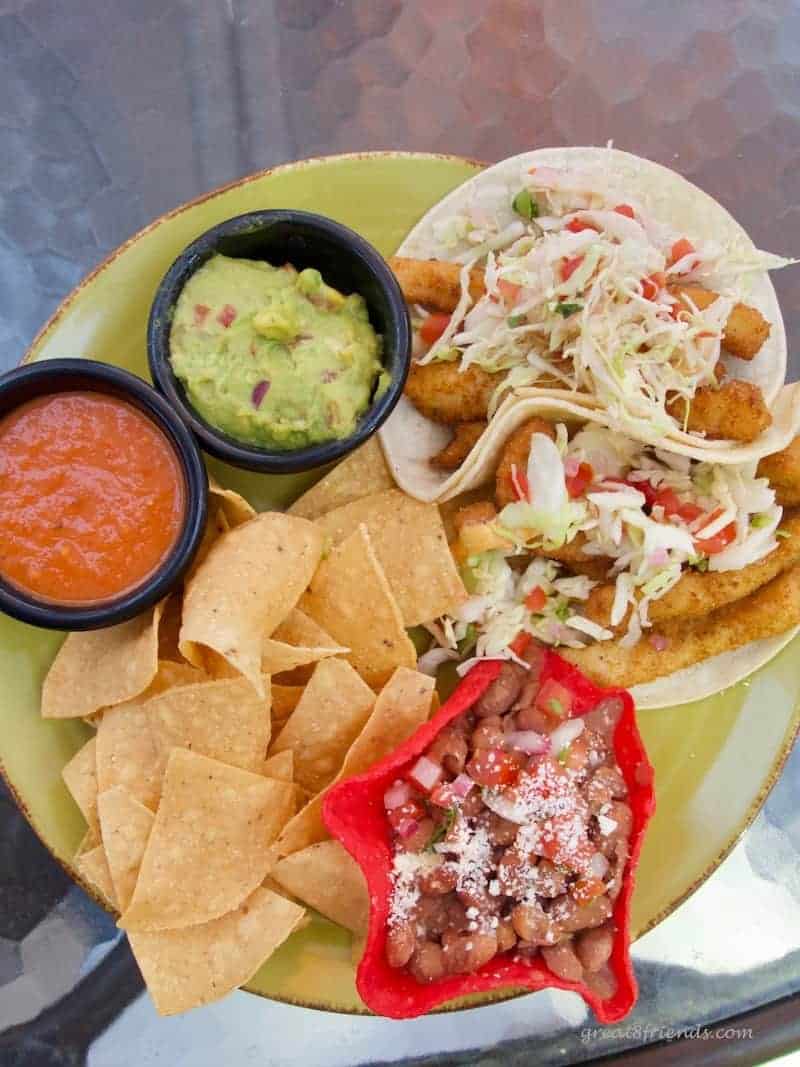 Because we had indulged in 2 appetizers, we skipped salads and soups and went straight to the main course. Lauren ordered the Mosaic Tacos with the crispy calamari. Tender pieces of calamari deep fried to perfection then tucked into tortillas with some cabbage, chipotle aioli and pico de gallo. Is your mouth watering yet? The plate is completed with beans, chips and guacamole and that delicious fire roasted salsa. Ummmm, Yummmm!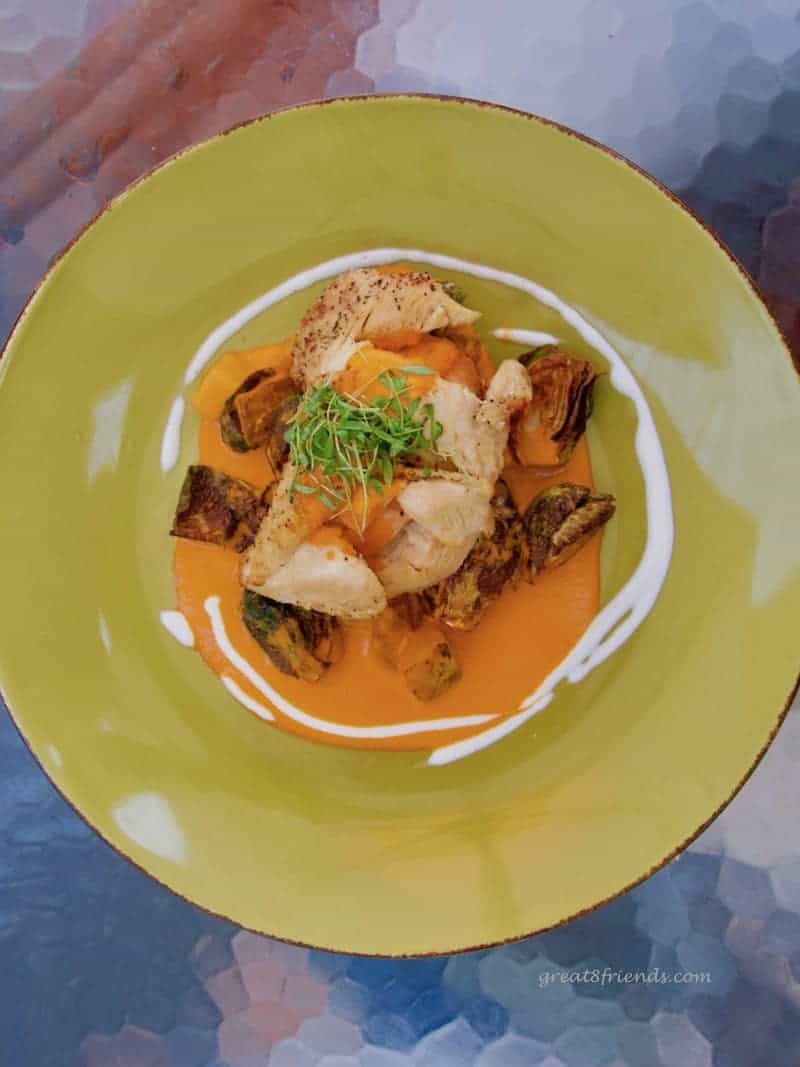 Bill chose the Roasted Chicken Breast with Brussels Sprouts and Roasted Potatoes. The chicken and veggies sit on top of a pasilla pepper sauce which is surrounded with a lime crema. The flavors blend perfectly for a lovely dish with a Southwestern flair, but not overwhelmingly spicy.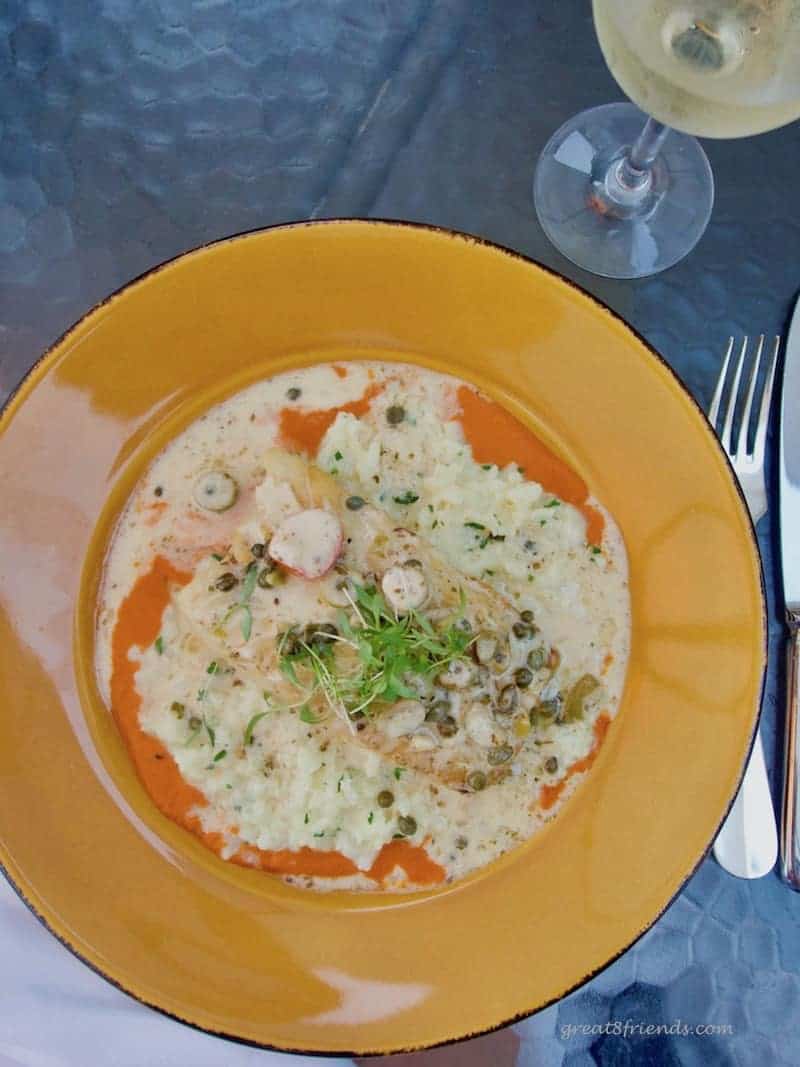 Vince always asks the servers what they would eat if they could only choose one thing on the menu. Our server, Eric, said the Pan Roasted Halibut, so halibut it was. The roasted fish was perched atop an herb risotto with a Veracruz Sauce and a Lemon Buerre Blanc and finished with olives and capers. Vince loved it!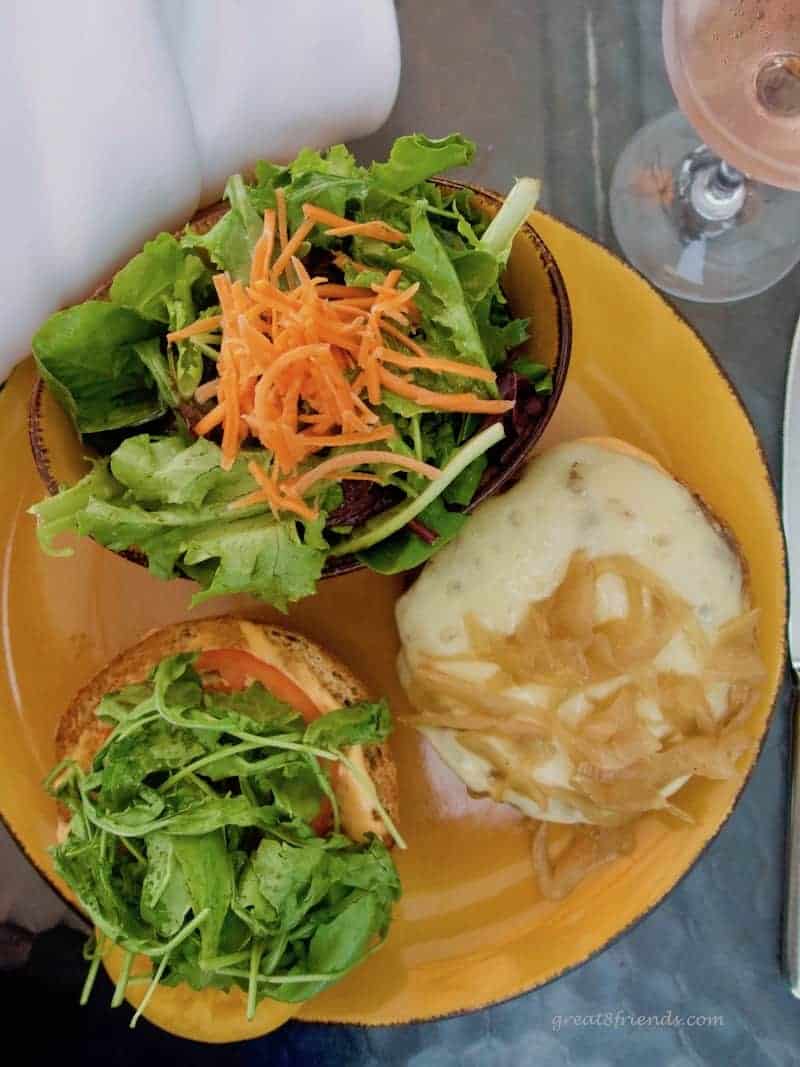 I was craving a burger, but also wanted to be fairly good (remember...dieting!). Mosaic has the perfect solution, their Grilled Natural Turkey Burger on a Whole Wheat Bun. And I didn't miss the beef! The burger was char-grilled and topped with melt-y, gooey Swiss Cheese. Caramelized onions were added along with a good portion of arugula. The wheat bun was smeared with the same chipotle aioli that's on the tacos for a wonderful burger experience.
We enjoyed coffee while chatting and listening to the tunes and watching the sunset. What could possibly be a better evening with Gr8 Family?
If you want an indulgence, visit the Montage and dine at Mosaic, poolside AND ocean side. They do not take reservations, but if you have to wait, there is a lovely walking path for a stroll.
Montage Laguna Beach • Mosaic Bar and Grille • 30801 South Coast Highway, Laguna Beach, CA 92651 • 866.271.6953