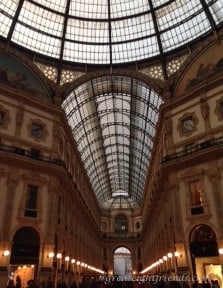 How can every restaurant get better than the one before? Well, in Italy, everything tastes better, so I think that answers my question!
Walking the streets of Milan and soaking in the hustle of the Milanese city life, we scoped out dinner possibilities for that evening. Still full from lunch at Rinascente's top floor marketplace (you have to check that out too, for sure!), we weren't ready for dinner until, believe it or not, 10:45 pm! We peeked into Galleria Vittorio Emanuele II. It is a shopping mall-like building, lined with small shops and sprinkled with restaurants and cafés, all still open at that hour. We decided on the Galleria Cafė, Ristorante & Pizza, for our late night supper. Again, as in all previous restaurants, the staff is so welcoming and accommodating. Whether you are the first patrons in the door or the last ones just before the kitchen closes, you are treated the same.
Our menu choices:
~ Phil's daily cocktail... Campari, gin and sweet vermouth on the rocks with a blood orange garnish
~ Bean soup for me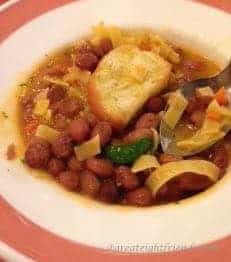 ~ Olive, artichoke, mushroom and fresh mozzarella pizza for us! Look at those delicious creations!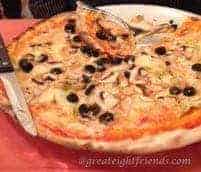 As we savor the last bites and sips, we are served a complimentary tray of amazing house made desserts (which by the way, most places offer). Perfect finish with our nightly cappuccinos!
As we talk to the owner's son, who now runs the restaurant, the doors open to the regulars who come each night at the close of La Scala, the nearby opera house. He greets them with a kiss on each cheek and knows them all by name. He tells us that this was the one thing his dad asked him to continue. It was apparent that the local opera enthusiasts are grateful for that promise. We sure were!
Galleria Vittorio Emanuele II, 75 — 20121 Milan, Italy — +39 02 86464912