Ciao from Milan
The first thing on our list during our second day in Milan was to visit Leonardo da Vinci's original painting of The Last Supper. We followed that with the amazing beauty of the Duomo and a hike to its glorious rooftop (all 248 steps...one way!). Later that evening, I was fortunate enough to teach a papercrafting class at Impronto d'Autore. A busy day filled with a lot of walking clearly deserved an incredible feast and that is exactly what we enjoyed that evening at Ristorante Be Bop.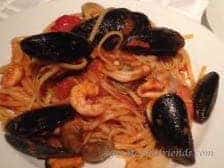 There's nothing better than enjoying dinner with the restaurant's owner and family. We were so happy to have them make our food choices...wine, assorted appetizers, the main course, dessert wine, dessert, limoncello and espresso. Grazie Stefano!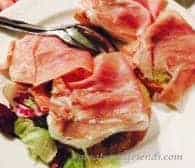 Linguine Sotto Coperta (linguine undercover)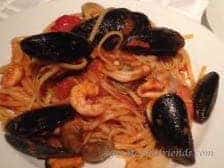 This was quite the show stopper! Linguine underneath a thin pizza dough-like "blanket" with mussels, shrimp, fish, clams, cuttlefish and a light red sauce....holy cow! I need that recipe! It was an amazing dish! Can't you just imagine the aroma by looking at the photos?!
Every bite at that table was better than the next!
Felice Mangiare and Ciao from Milan!

Debbie
P.S. I loved the bowl of color at the door. Choose your piece of paper and read your life's fortune.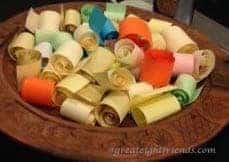 To the entire Bernasconi family, Umberto, Ermanna, Stefano and Francesca, Grazie mille!
Be Bop — Viale Col di Lana, 4 — 20136 Milan, Italy — +39 02 837 6972