MARDI GRAS!!! What do you think when you hear that? I think of parades and beads and bright colors and lots of fun. Which makes this the PERFECT party theme! After all, the main point of a dinner party is to have fun, right?!?! Which is why, many years ago when we were hosting our Gr8 Dinner in February, we chose Mardi Gras. Keep reading for the invitation idea, decorations, menu, and more!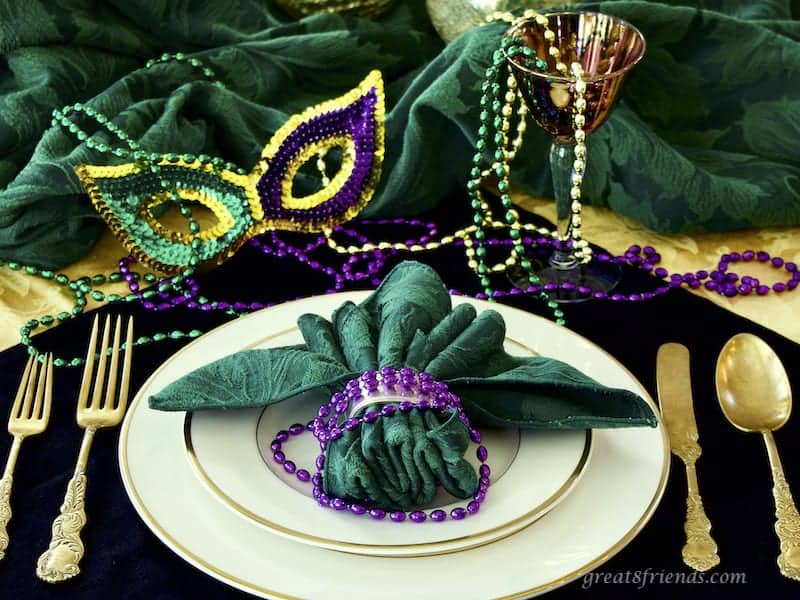 Mardi Gras Invitation
As you know, we do physical invitations for our Gr8 Dinner parties. And I believe this is one of the reasons that we've stayed together for over 20 years. When you receive a beautiful invitation, you feel special because that invite was meant just for you. And there are only 3 to make!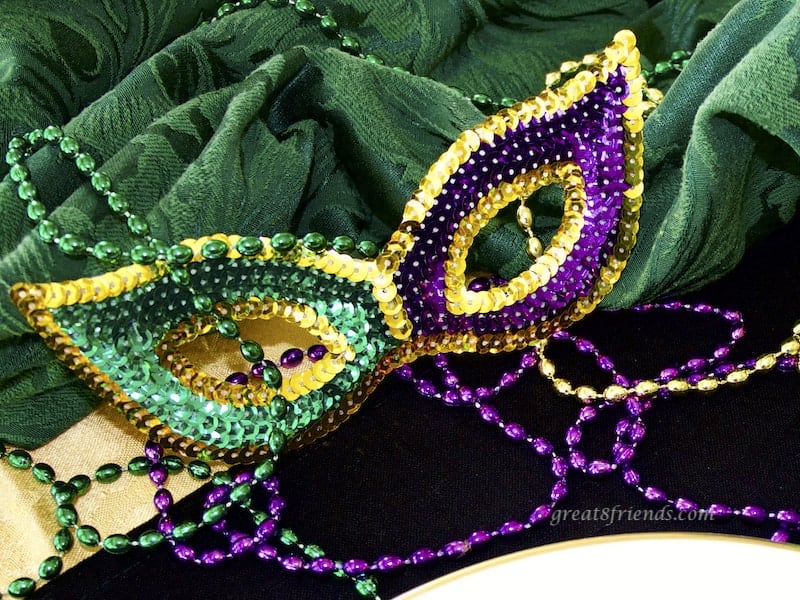 You don't have to be as elaborate as we are. I love crafting so I love thinking up something intriguing and special. But if you aren't into crafting, then by all means, just do what works for you! (Evites work, too!)
For these, I used a box and covered it with fabric and paper and tassels in the rich jewel=tone purple, gold and green hues of Mardi Gras. Then I bought black plastic face masks from the party store and nestled them in the box with colorful shred with a Mardi Gras mask on top. The invitation information was penned in gold on the inside of the box lid.
Decorations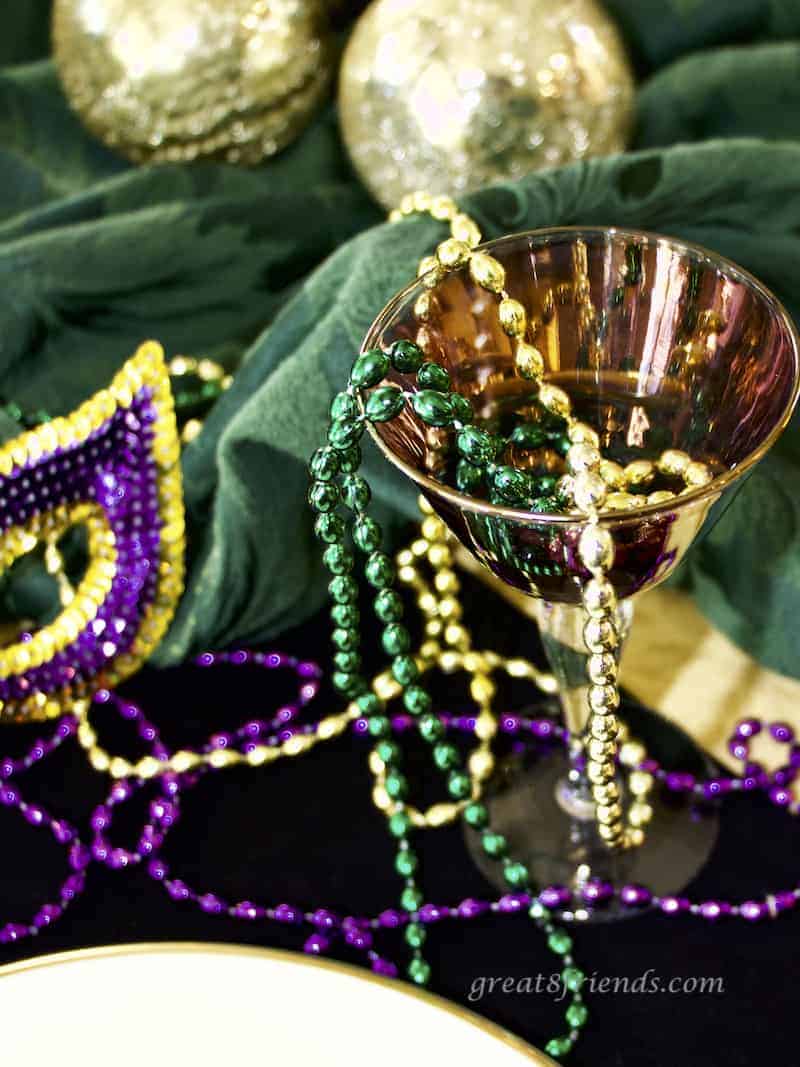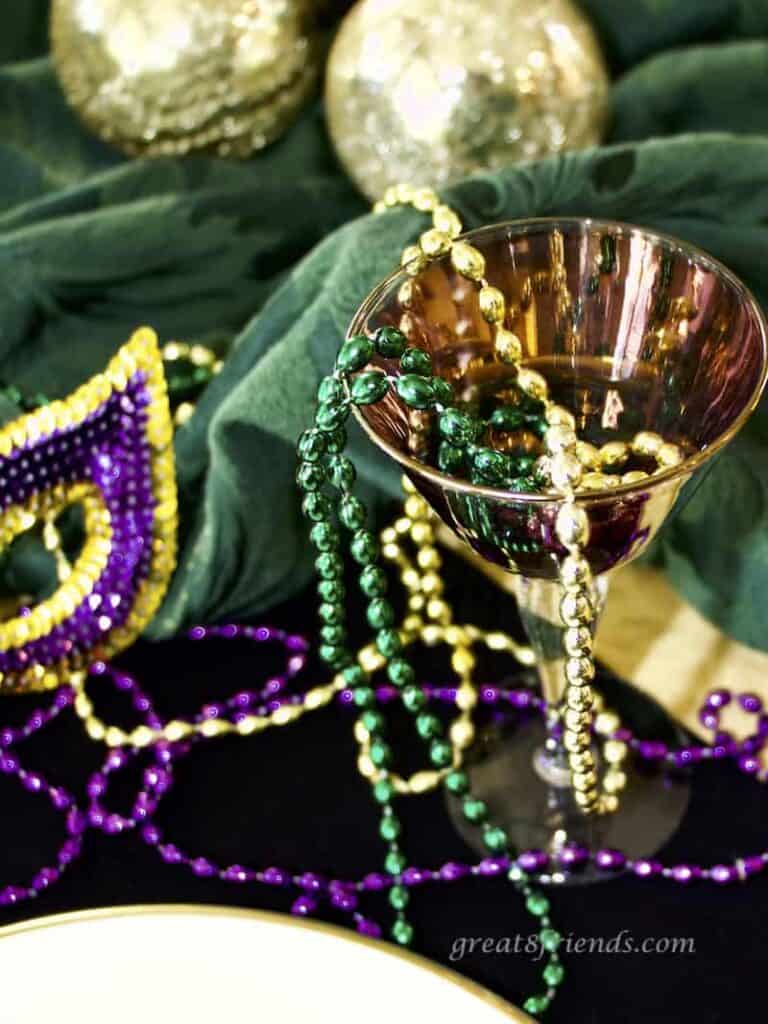 Again, the colors of this season are so festive and bright, rich purple, gold, and green. If you're into tablecloths, as I am, that's an easy way to set the theme. You could use gold, emerald green or purple (got something left from Christmas?). The beads are inexpensive to buy in bulk and now is the time to use anything gold that you may have in your home to create a centerpiece. This is the time to go gaudy!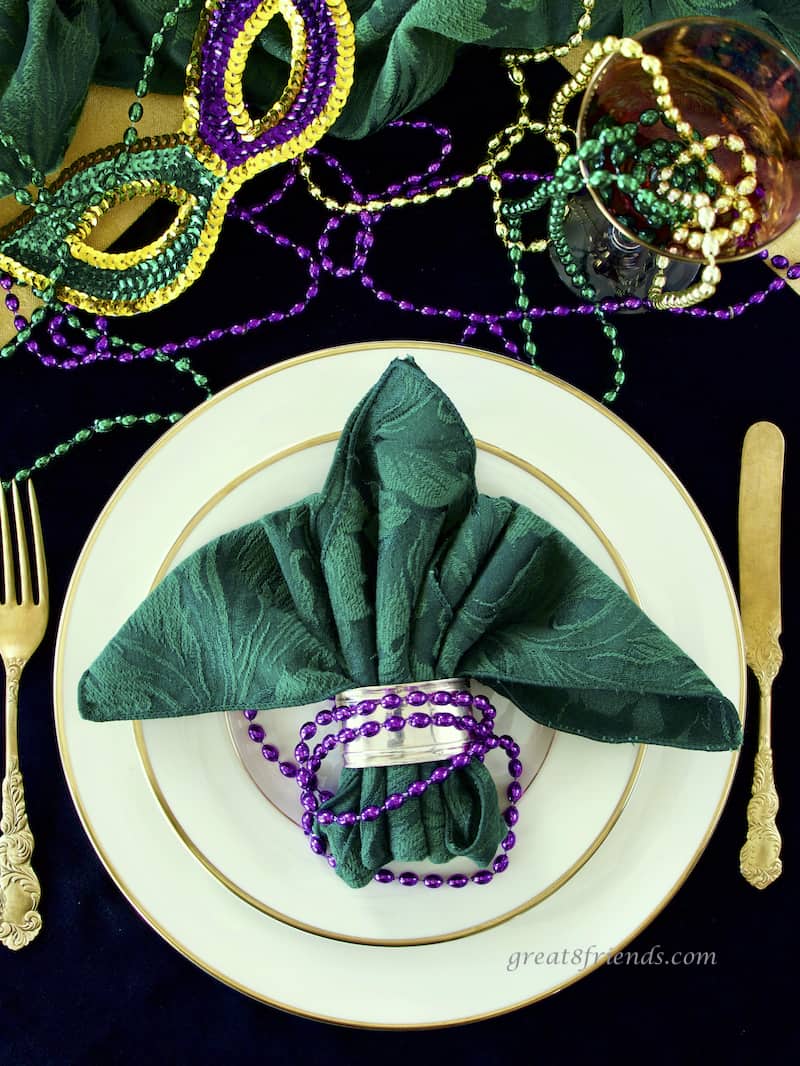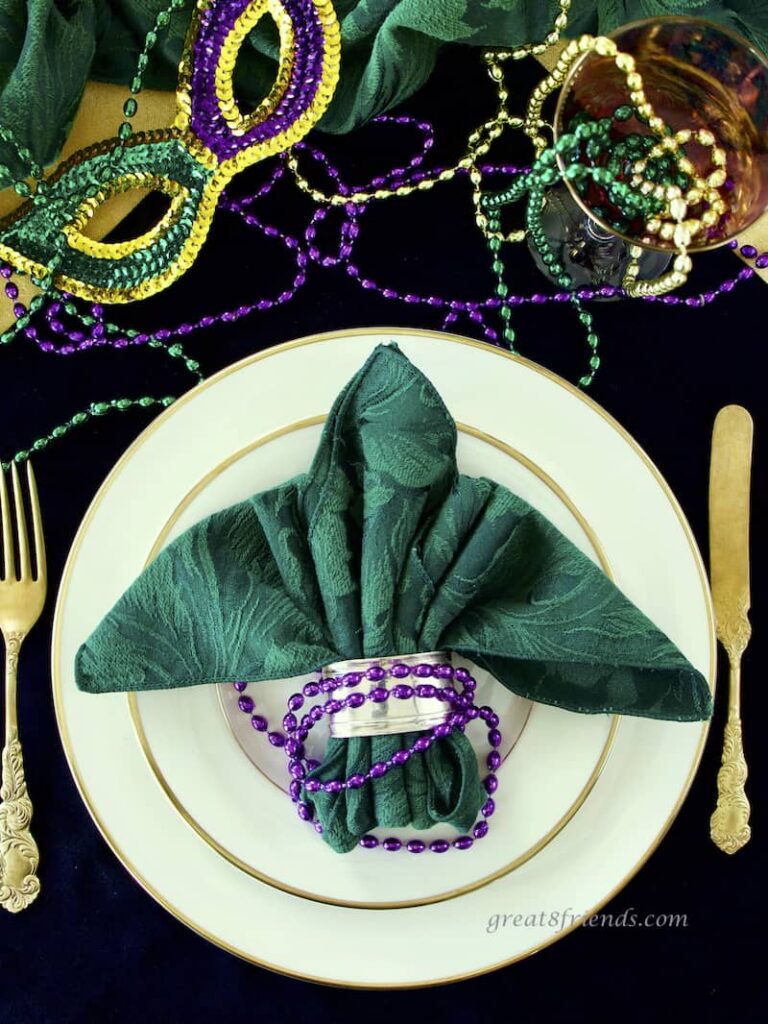 And look at that cute napkin folded like a fleur de lys! Check out the folding directions. I also strung colored lights above the table, it was so festive!
Menu
Now the fun begins. There is so much delicious food associated with New Orleans and Mardi Gras that it's hard to pick! Since New Orleans is on the bayou a lot of the cuisine revolves around seafood.
And when we start with seafood, Jurga's yummy Crab Cakes are a must! For appetizers, make them bite sized. To amp up the NOLA vibe, serve them with Emeril's Remoulade Sauce.
I also served Gumbo in small cups, espresso cups work Gr8. Serve it without the rice.
To lighten things up a Spinach Salad came next. This one even has the colors of Mardi Gras!
The main course was Kyle's Pork Cutlets with Onion Applesauce served next to her Jambalaya; a flavorful bayou combo!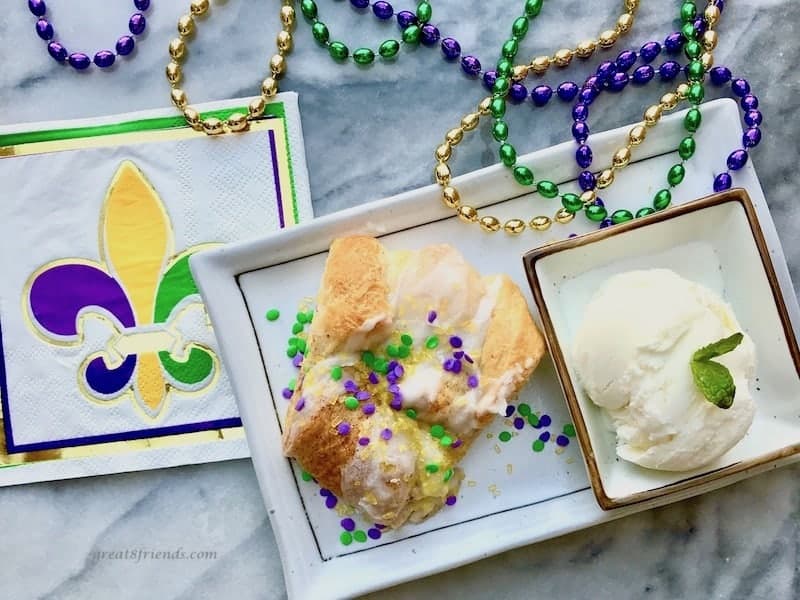 When celebrating Mardi Gras, there is only one dessert to consider (in my opinion)... King Cake! And Debbie's recipe is SOOOOOO easy! Anybody can make it!
So gather your beads and masks, send out an invite, and plan to have a Gr8 time with friends and family!
If you love this post, please be a Gr8 Friend and comment below or share on your favorite social media site. Thank you!