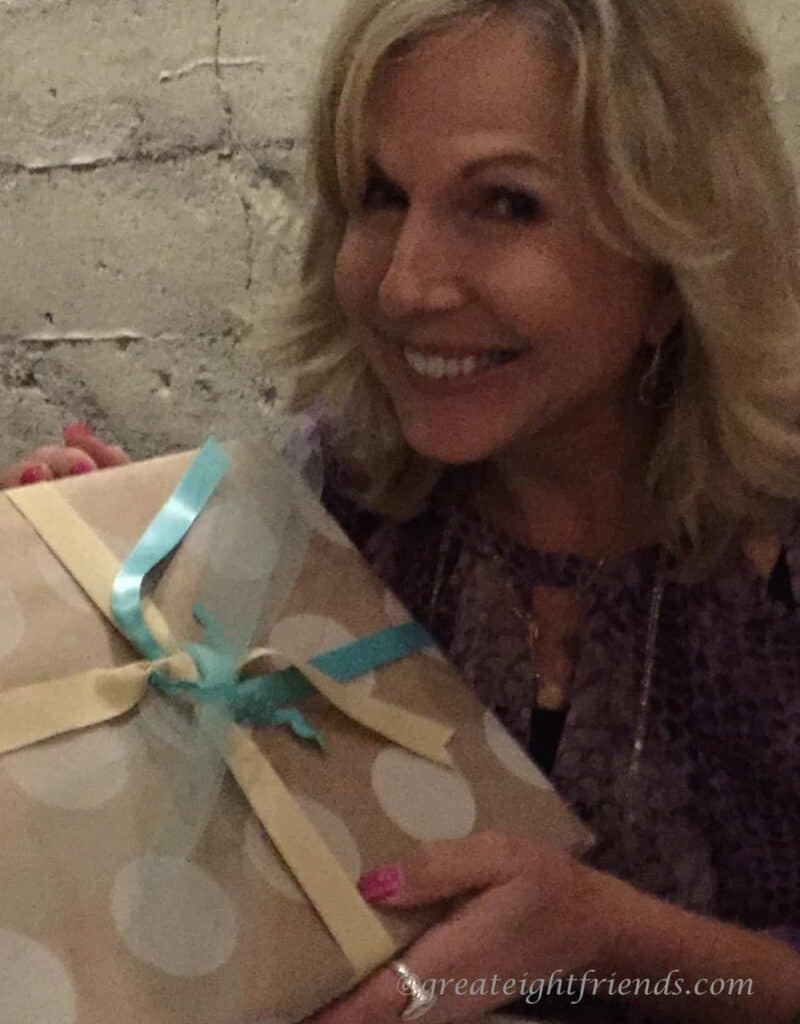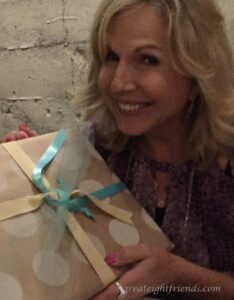 In addition to our four Gr8 Dinners each year, we ladies celebrate our birthdays at a restaurant. Some years the birthday girl picks the place, some years we pick a place that we know the guest of honor loves. This year the three "non-birthday" girls are choosing a restaurant that none of us has yet tried; and it is a surprise for birthday girl!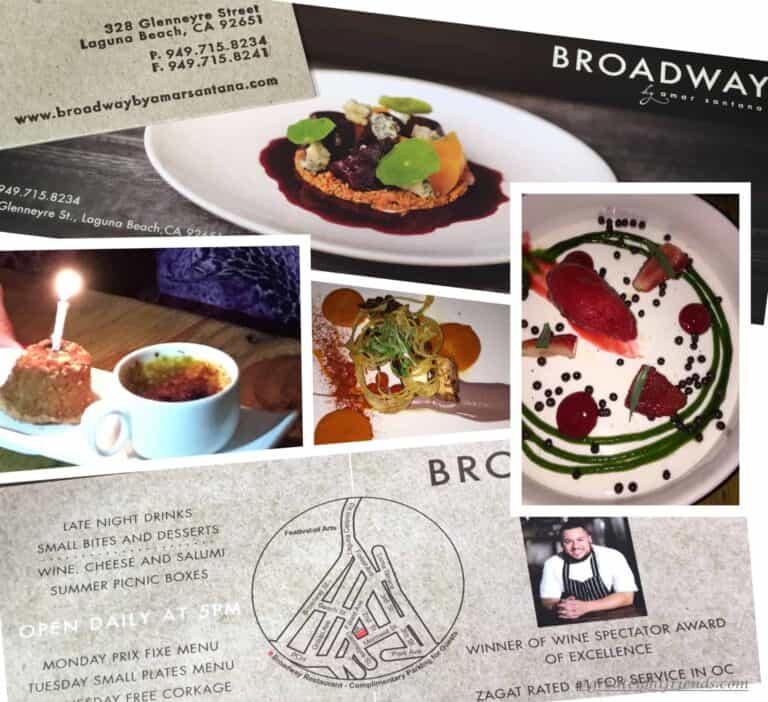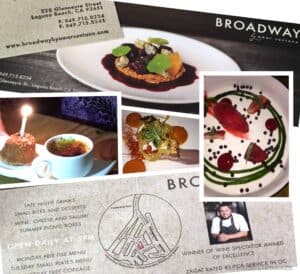 Broadway by Amar Santana in Laguna Beach, California, is just off of one of the main shopping streets. Go early and stroll along Forest Avenue to check out the unique shops and maybe pick up some party favors! We love party favors for our Gr8 Friends, they add fun to any gathering, and they don't have to be expensive.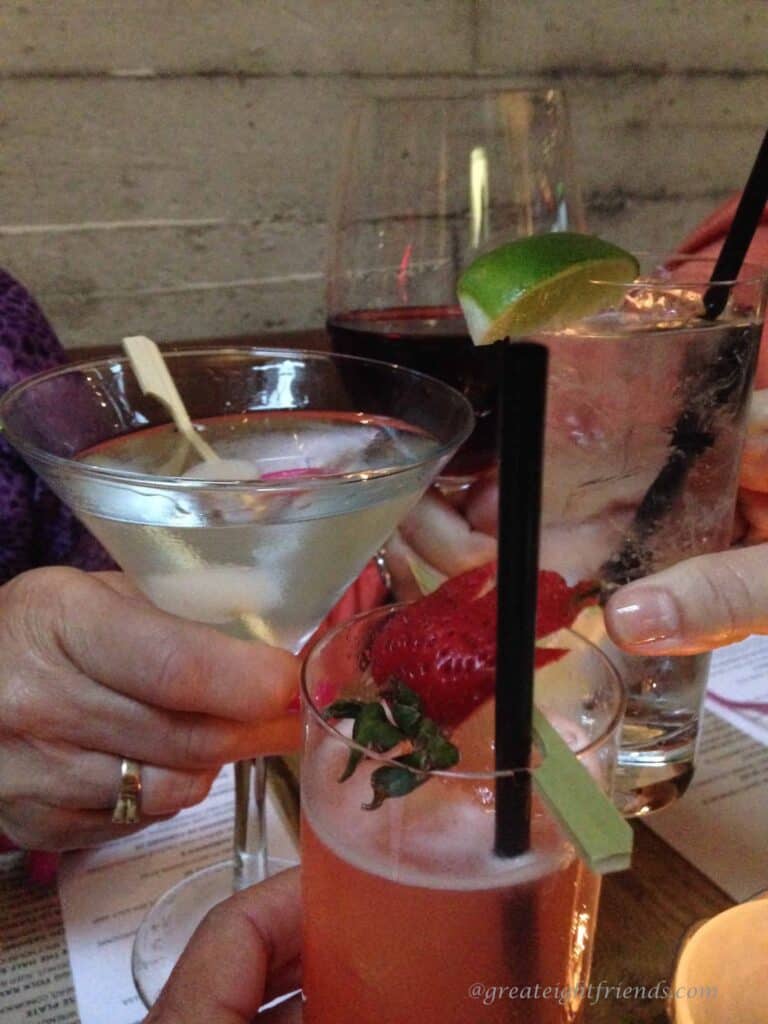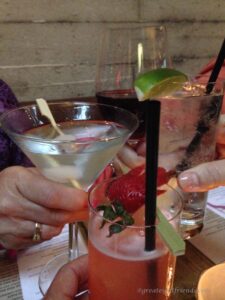 Starting with cocktails is our tradition because we have to toast the birthday girl! Debbie usually prefers something peppery and sweet, Kyle loves her wine, I generally choose a classic cocktail and Jurga always switches it up.
Tuesday is Small Plates Day, one of my favorite ways to dine! We ordered several small plates, then we each had salads and dinner. I wanted to order the Fried Smelt, it is not available on too many menus so I was excited to revisit the dish I had fallen in love with in Greece so many years ago. It wasn't quite what my palate was prepared for; the fried coating wasn't crisp enough and the dish was very fishy tasting, perhaps the fish was not fresh enough. The Roasted Potatoes were crispy outside and tender inside just as expected with a delightful pepper sauce.
Kyle had the Baby Kale Caesar Salad with creamy parmesan dressing and Debbie and the birthday girl each ordered the Marinated Heirloom Beet Salad which comes with a goat ricotta cheese and saffron poached pears.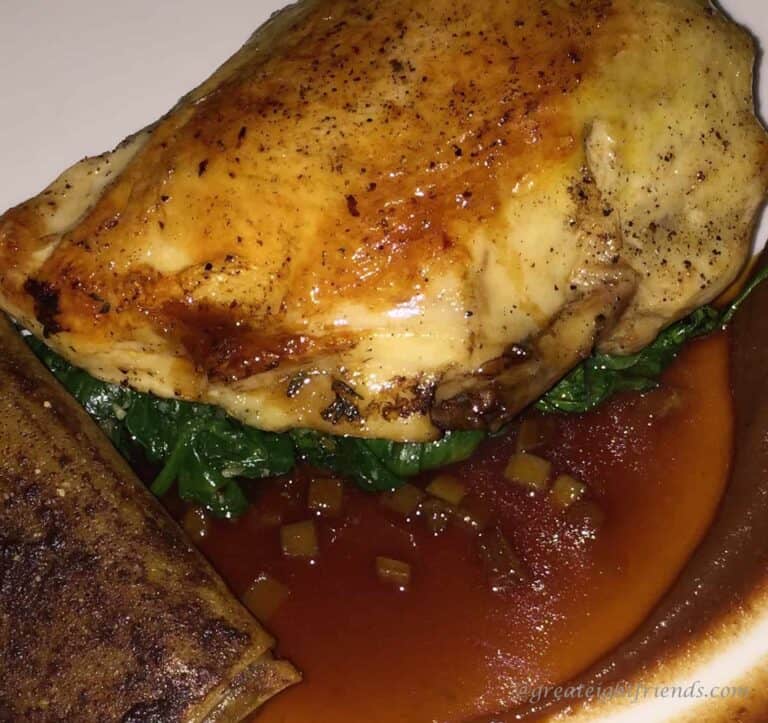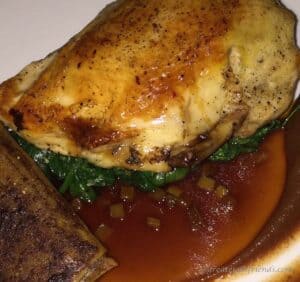 For dinner I ordered the small plate of Lamb Meatballs, they were tasty, but slightly dry, maybe they had been overcooked. Jurga and Kyle shared the Roasted Mary's Farm Chicken Breast with date purée, braised chicken bastilla, preserved lemon jus and sautéed spinach. And Debbie ordered the octopus, Spanish Octopus à la Plancha Romesco, served with crispy potatoes and a beautiful black olive emulsion painted on the plate.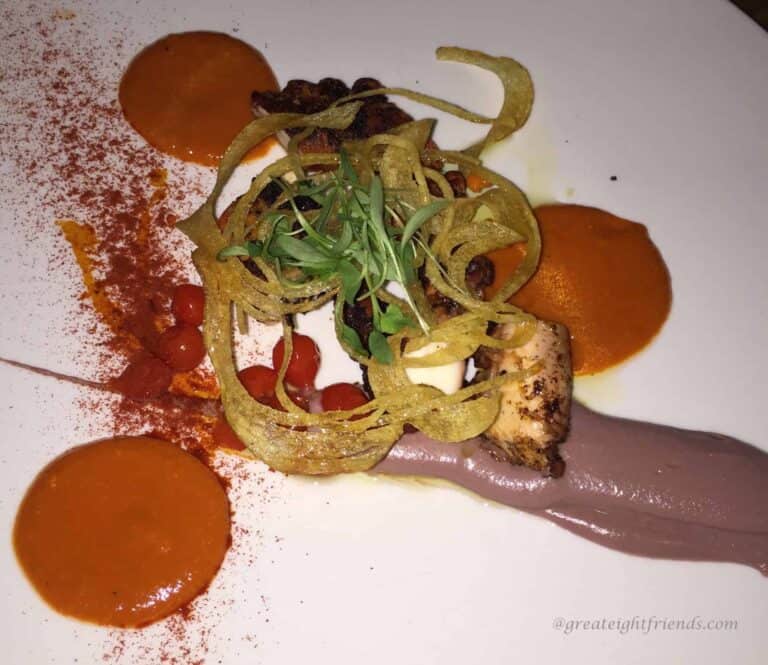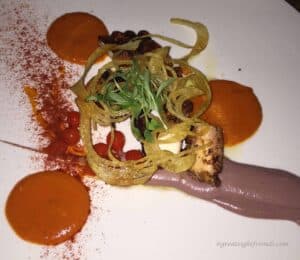 You have to love a restaurant that brings a complementary dessert to the table for a birthday. A lovely muffin with an espresso cup of crème brulée.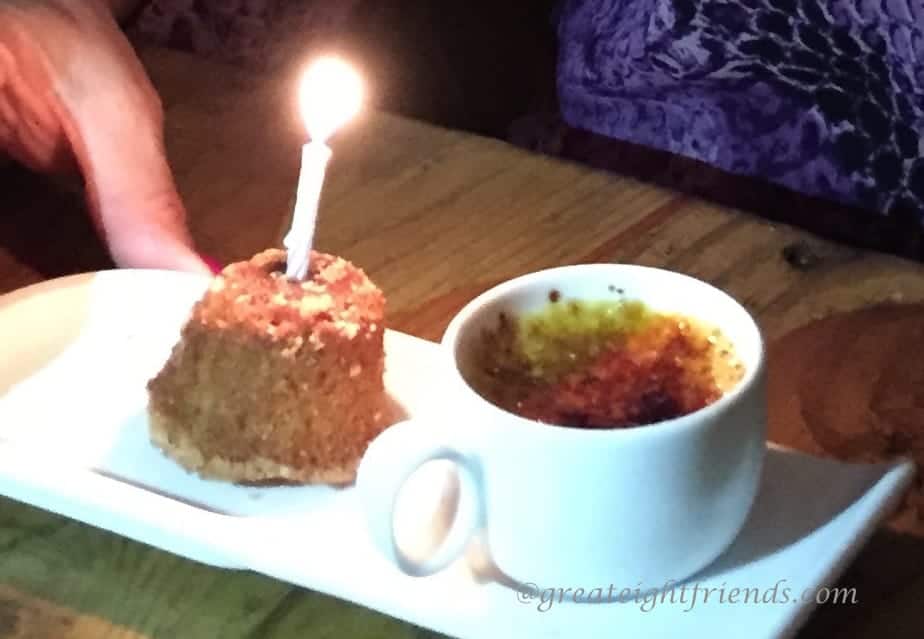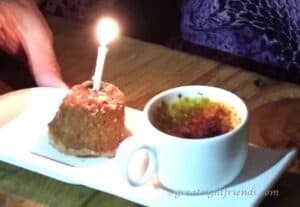 It was delicious, but we had to try a couple other desserts on the menu because that's what we do! And we were not disappointed...they were both heavenly.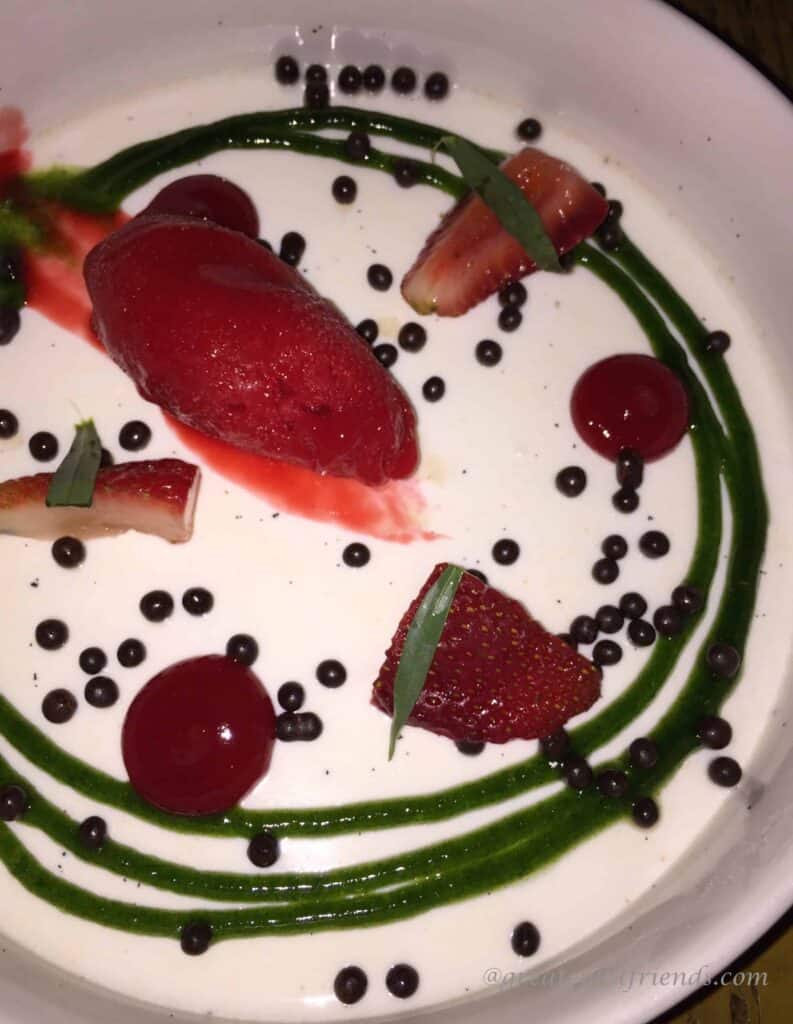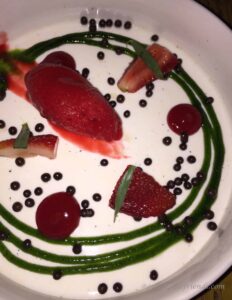 To look at the Bourbon Vanilla Bean Panna Cotta it looked like the white bowl just had some strawberries and chocolate pearls in it. That's because the panna cotta itself was pure white and the flavors...strawberry can be overused this time of year, but the dollops of sweet strawberry sorbet offset by the herbiness of the tarragon drizzle perfectly complemented the eggless custard. By adding the chocolate pearls the dish catered to all the tastes and textures enjoyed by the tongue. It was a subtle dessert, very different from the rich, deep flavor of the Bread Pudding with Bourbon Caramel Sauce.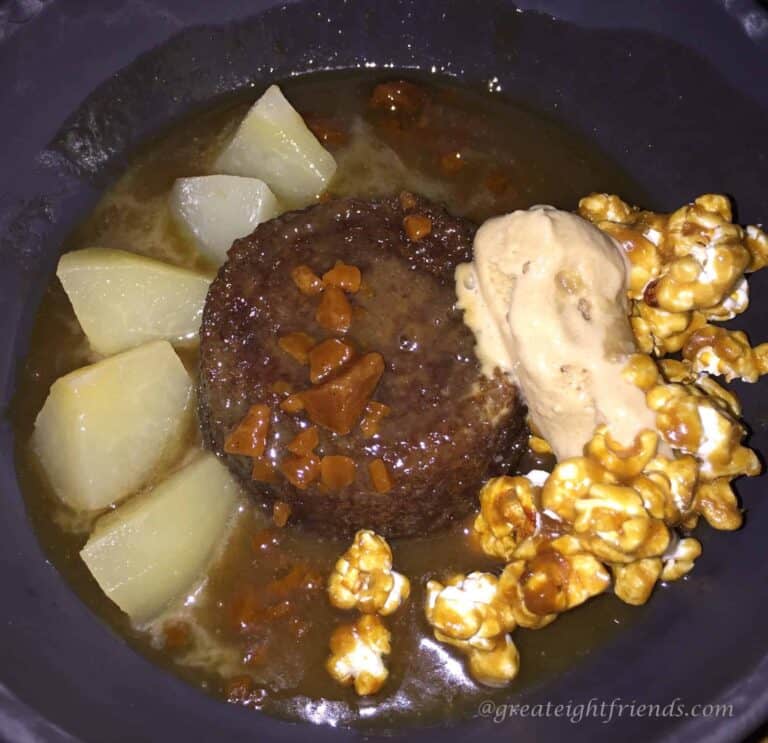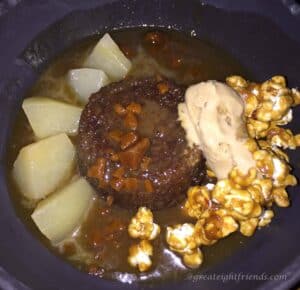 The surprise on this dish was the caramel corn, a creative and crunchy addition that was a delight to the eyes and the mouth!
Overall, the appetizers and main courses were good, but nothing dazzled us. The desserts, however, were showstoppers. I would definitely go back to Broadway for an enjoyable meal and I would be sure to leave room for dessert!
Broadway by Amar Santana — 328 Glenneyre Street, Laguna Beach, CA — 949.715.8234
Share with us your birthday dinner experiences!
Anna