These Homemade Hamburger Buns are simple to make and nothing is better than homemade bread. You don't need to be a professional baker!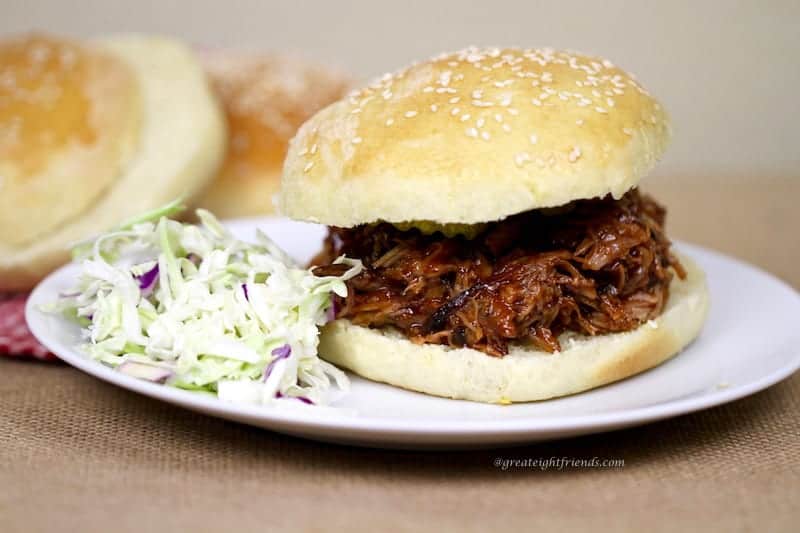 Why, you ask. Why make homemade hamburger buns? Well, we all agree that there is nothing better than homemade bread! Trust me when I tell you that these are really easy to make and taste so good. Why serve something out of a plastic bag when you can serve complete wonderful freshness?
The prep time is only about 20 minutes and there is no special equipment needed. Do allow about 2 ½ hours to let the dough rise (time enough to prepare the rest of the meal).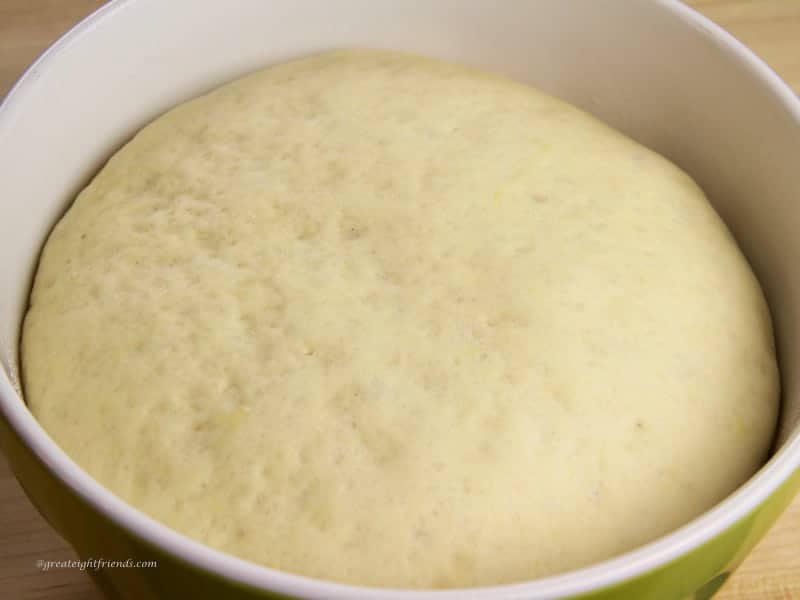 Working with dough sounds intimidating but I'm here to tell you, you can do this! It's always fun to remove the kitchen towel to see that the dough really did double in size just like the recipe said it would.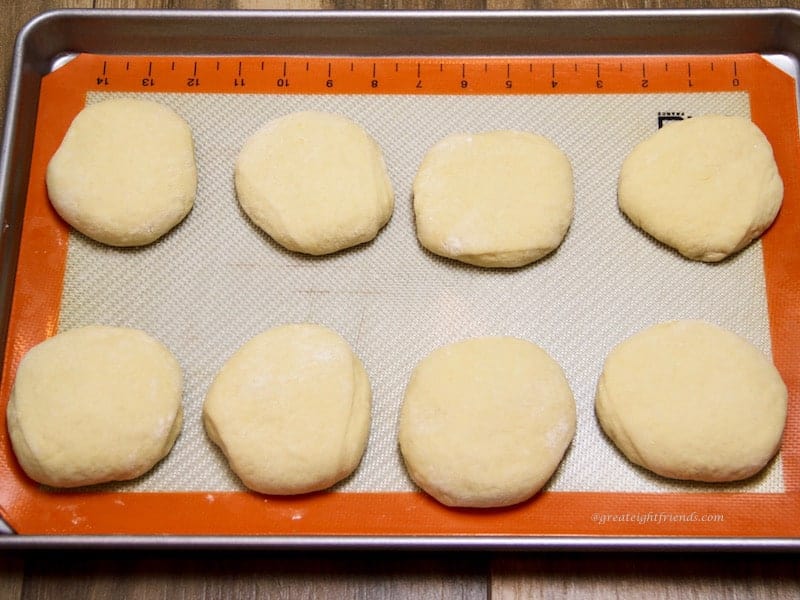 When beginning the recipe, just be sure that your yeast begins to get frothy before you proceed. If your yeast does not start to bubble, that can mean one of two things:
Either your water wasn't warm enough. It should be between 105°F and 110°F.
Or, your yeast is no good.
In either case, you need to toss out the yeast water and start over.
And look, they will rise again on the baking sheet.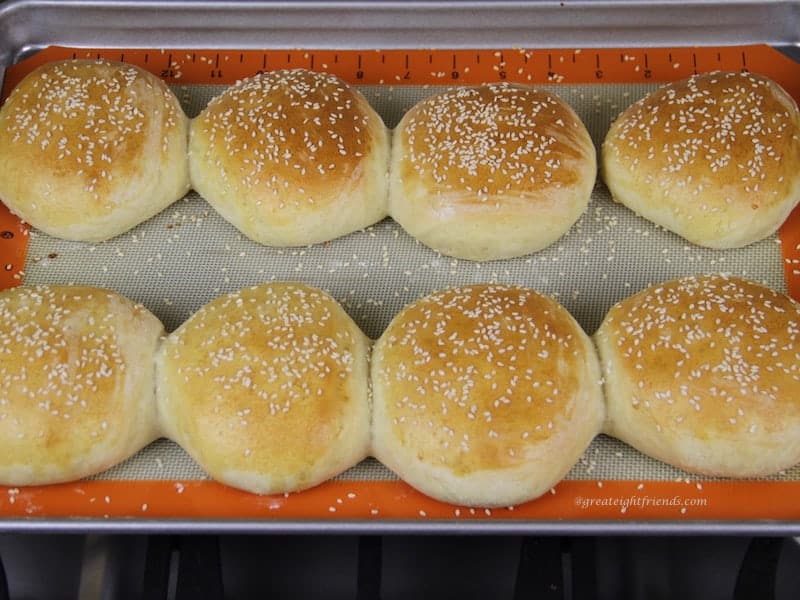 Oh, they smell so good! What, you can't smell them? Ok, you need to make them in your kitchen!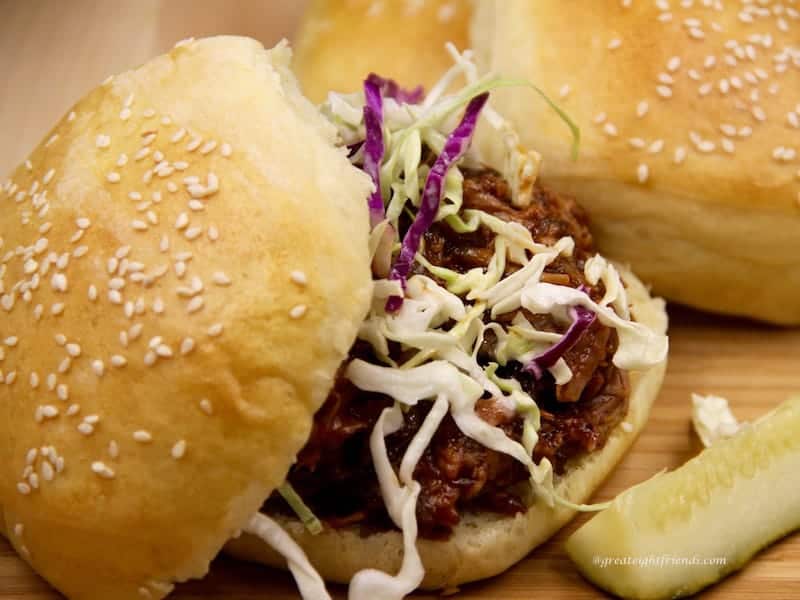 Serve your grilled hamburgers on these buns and impress your friends and family! Easy recipes that everyone will love!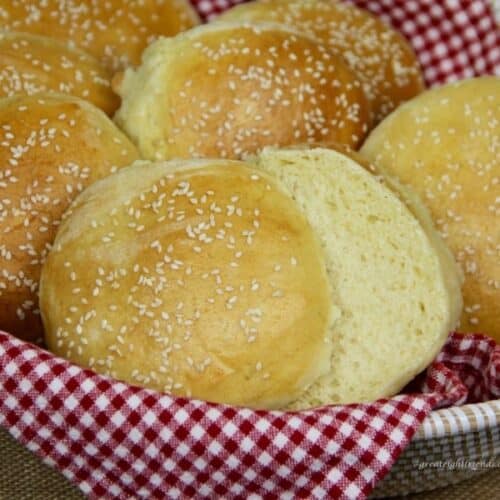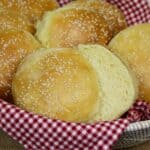 Print Recipe
Pin Recipe
Save this Recipe
Saved!
Please leave a rating!
Homemade Hamburger Buns
You do not need to be a professional baker to make these homemade hamburger buns! These buns are simple to make and nothing is better than homemade bread!
Instructions for both by hand and using a stand mixer below.
Ingredients
1

packet yeast

,

~2 ¼ teaspoons

1

cup

lukewarm water

3 ½

cups

all-purpose flour

3

Tablespoons

unsalted butter

,

melted

3

Tablespoons

granulated sugar

2 

large

eggs

,

divided...not separated

1 ¼

teaspoons

salt

1

teaspoon

olive oil

1

Tablespoon

milk

Sesame seeds
Instructions
Line a large baking sheet with a silicone mat or parchment paper.

Sprinkle the yeast into the water and leave for 5 to 10 minutes until it starts to look frothy, then stir to dissolve.

In a large bowl combine the flour, butter, sugar, 1 egg, and salt.

Add the yeast water and combine all ingredients with a rubber spatula.

Turn the dough out onto a floured surface and knead for 5 - 10 minutes until the dough is soft and smooth.

Grease a large bowl with the olive oil and place the dough in the bowl.  Turn the dough over once so that it picks up a bit of oil on both sides.

Cover the bowl with a kitchen towel and let the dough rise for about 1 to 1 ½ hours.

Once the dough has doubled in size, turn the dough out on a floured surface and divide the dough into 8 pieces.

Shape each piece into a flat disc about ½ inch thick and place each on the prepared baking sheet.

Drape a piece of plastic wrap over the baking sheet.  Do not seal tightly.

Let the buns rise another 45 minutes to 1 hour until they have doubled in size.

Preheat the oven to 375°F.

Beat the remaining egg with the milk.

Lightly brush the tops of the buns with the egg wash without deflating the dough.

Sprinkle each bun with sesame seeds.

Bake for 15 - 17 minutes or until golden brown.

Let cool completely, slice, serve and Enjoy!
To make using a stand mixer:
Fit your mixer with the dough hook. Put the warm water in the bottom of the stand mixer bowl and sprinkle the yeast over the top.

In about 5 to 10 minutes the yeast should start to bubble. (If it doesn't start to bubble by 10 minutes, the yeast might be dead. You need to start over with new yeast.)

Stir the yeast mixture then add the flour, butter, sugar, 1 egg and salt. Turn the mixer on low.

When the ingredients are blended together, turn the mixer to high speed and mix until the dough is together. Pinch a piece of dough off and spread it with your fingers; if it doesn't tear, then the dough is ready to turn out. If it tears easily, then mix some more. Depending on the humidity in your kitchen, you may have to add a small bit more flour.

When the dough passes the "windowpane test" turn it out onto a lightly floured smooth surface and knead two or three times, until smooth, then form into a ball.

Continue with Step 6 above.
Need a burger recipe? Why not try Jurga's Grilled Hamburgers?