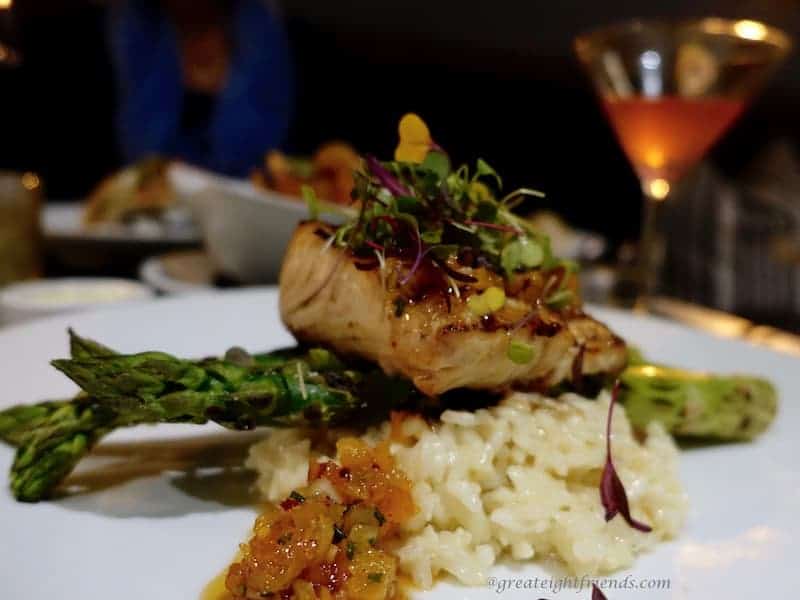 Looking for a restaurant that you can put on your list of "go-to" places? Tired of the same old, same old? LOVE finding a restaurant that can be counted on for delicious food and Gr8 service? Hanna's Restaurant & Bar is one of those consistently good restaurants that can be added to your list. For the past several years I have been hearing how GOOD the food and service is. And I finally got the chance to try it!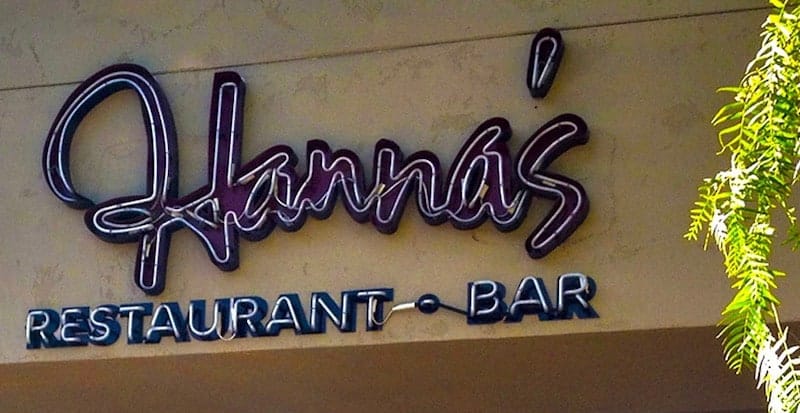 My recent dinner was a mini girls' night out with Kyle. The enclosed patio was our choice, but there is also the fun bar scene, the main restaurant area, and a beautiful wine room. So you have your choice to dine in a very social setting or a quieter, more intimate environment.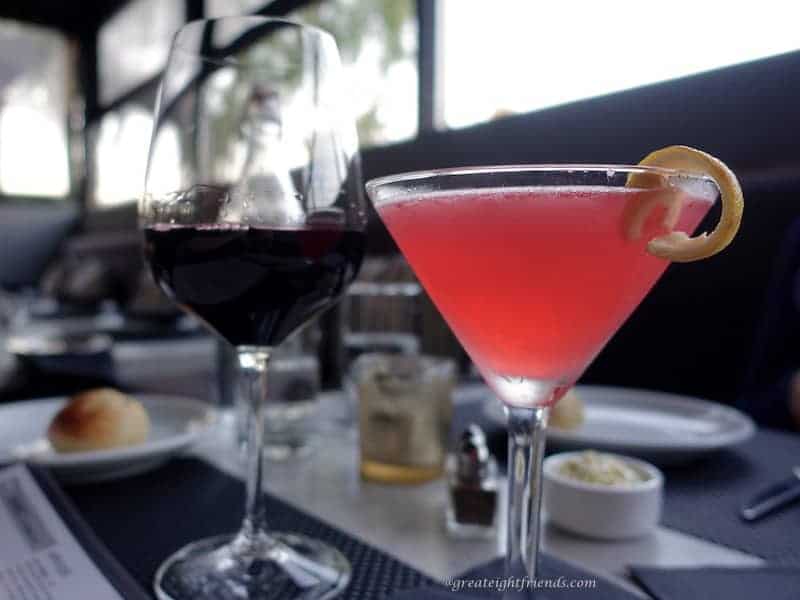 Of course we started with a cocktail. My choice was a Cosmopolitan and Kyle had a glass of red wine. The Cosmo was perfect, not to sweet, exactly how I like mine.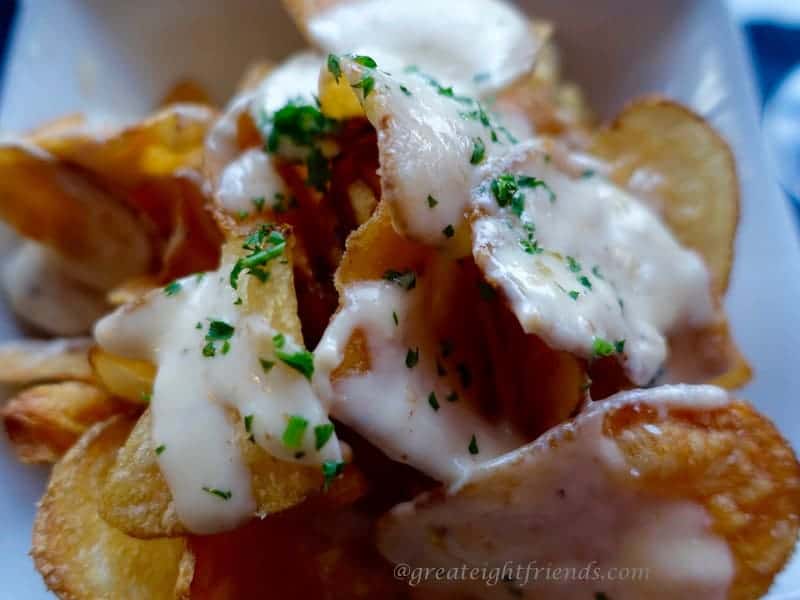 Generally I don't order both an appetizer and a salad, but the Kennebec Potato Chips with Truffle Oil and Bacon Gouda Sauce looked like the perfect crunchy, salty snack that we would love. And were they ever delicious! The truffle oil was just right, and the bacon gouda sauce...HELLO!...Bacon AND cheese TOGETHER?!?! Such a perfect pairing on the chips.
The house salad looked like the most interesting house salad ever, so we decided to split that, and it is large enough to split. (Thank you, Hanna's!) The fresh leafy greens, light goat cheese, candied pecans, strawberries and raspberries gave the perfect balance of sweet and savory. And the white balsamic vinaigrette pulled it all together. Not too tangy, not too sweet, the most delicious combination of flavors with the ideal amount of dressing, not dripping and not dry.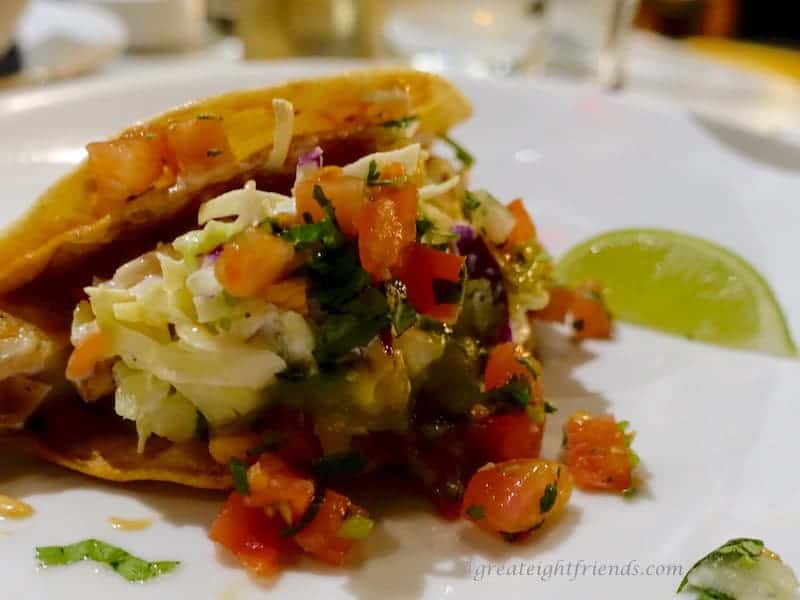 Kyle chose Sean's Tacos, with grilled fish, for her entrée. You get your choice of protein, chicken, prime steak, salmon, sea bass or braised short rib. It is the perfect meal to order if you want to fill up on their delicious appetizers, salads and/or soups.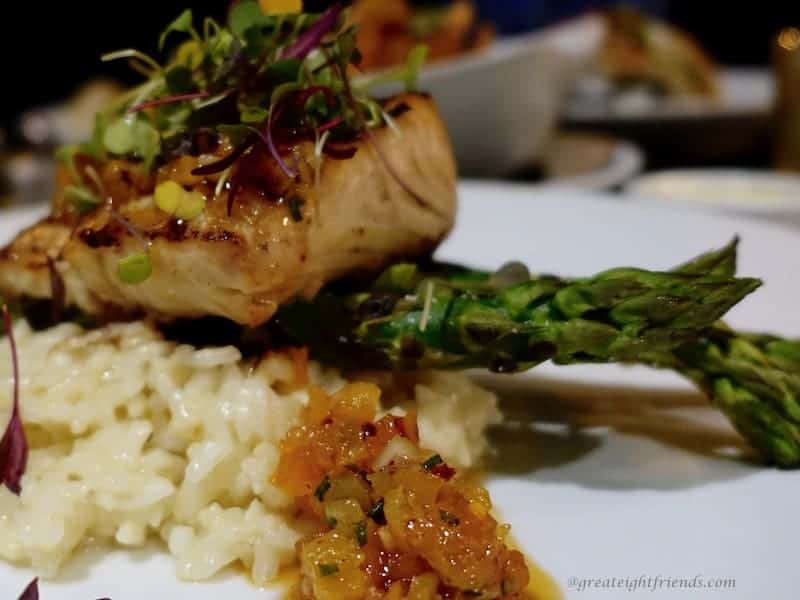 I decided to go with the special of the evening: Grilled Mahi Mahi with Spanish Manchego Risotto, Grilled Asparagus and finished with Apricot Chimichurri. Oh My Gosh...I am normally a very plain food kind of girl, I love my meats and veggies to taste like they taste, there is no need for me to have a lot of sauces or seasonings; but something about this combo of flavors intrigued me. And I was delighted. The fish was cooked perfectly, the asparagus was tender crisp, the apricot chimichurri was a wonderful, creative twist on that Argentinian favorite, and the risotto acted as the perfect canvas for all of these fresh flavors.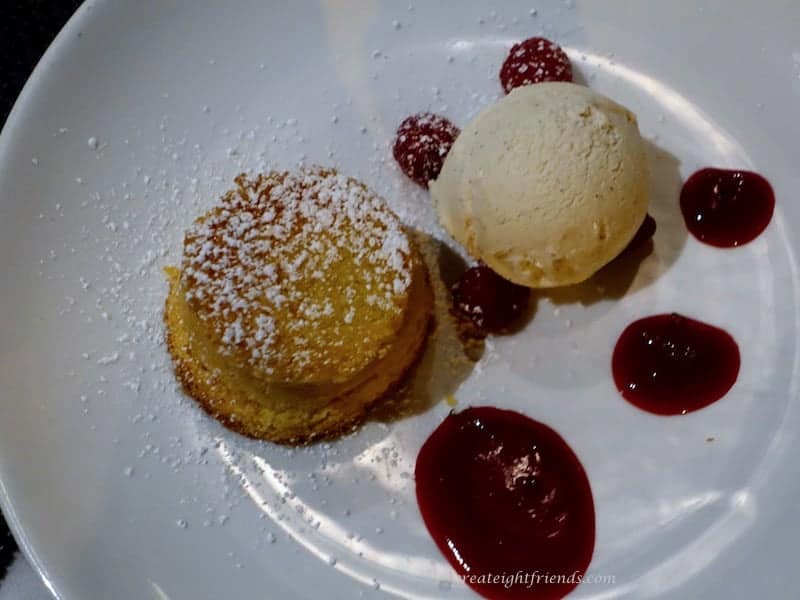 We were full after all the fabulous food, but because I was doing this review I HAD to try dessert. Kyle said that Hanna's provides a mini butter cake (their signature dessert) for special occasions. So we asked our server, Giovanni, if it was possible to get one of those instead of the full size dessert. And soon one appeared at our table! Sooooooo, moist and delicious. The perfect way to top off a wonderful meal.
All of this Gr8 food is made even more special because of the service. From the moment we entered it was evident that the staff understands that customers are the most important part of the business. The hostesses and servers are friendly and accommodating. Giovanni was our server for the evening and was attentive without being intrusive. He knew the answers to all of our questions and didn't blink an eye when we made special requests.
Dave Hanna has created a unique place where locals gather regularly, special occasions are marked, and you feel like they know you, even if it is your first visit!
There are lots of restaurants in Orange County...many of them forgettable...the next time you are eating out, choose a memorable experience, choose Hanna's Restaurant & Bar.
Hanna's Restaurant & Bar — 22195 El Paseo #110 — Rancho Santa Margarita, CA — 949.709.2300