This Fruit Salad with Honey Orange Glaze is the perfect addition to a breakfast or brunch buffet or take it to a potluck or picnic!
I used to always make a simple fruit salad; just a bunch of cut up fruit, and I let it speak for itself. No dressing,
Then, I had a little cup of fruit at a local café and it was all the same berries and melons that I put in my salads, but for some reason it had an incredible flavor. Like there was a little something extra.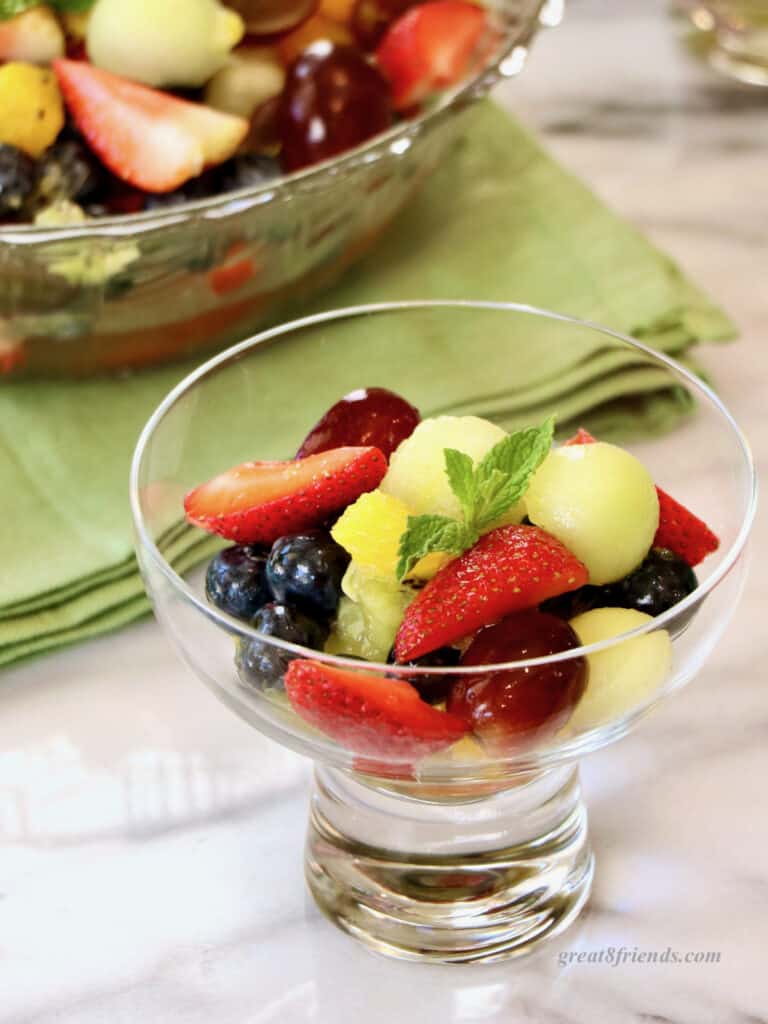 And there was! They make an orange juice based dressing in which the fruit macerates. It makes a delicious difference!
How Can I Make My Fruit Salad Better?
Make sure you buy seasonal fruits
These days it seems we get all fruits at almost any time of year. But the best flavored fruit will always be those that are in season. This produce guide from the USDA lists the typical seasons for fruits and veggies.
I've mixed spring and summer fruits in this recipe.
Choose Fruit that is Ripe
Ripe fruit is sweet fruit. And that's what we want, sweet and tender fruit for our salad.
Make Sure It's Colorful!
An appetizing dish is pleasing to the eye and fruits of different colors will make a beautiful presentation and people will think, "I want to eat that"!
Pieces Should be Bite Sized
Blueberries and grapes are naturally bite sized, but make sure that any fruit you are cutting is also bite sized or smaller so that it's easy to eat.
Use a Citrus Dressing
A citrus dressing brightens up the fruit flavors and brings out the best. Our Orange Honey Glaze is an easy and delicious way to achieve this!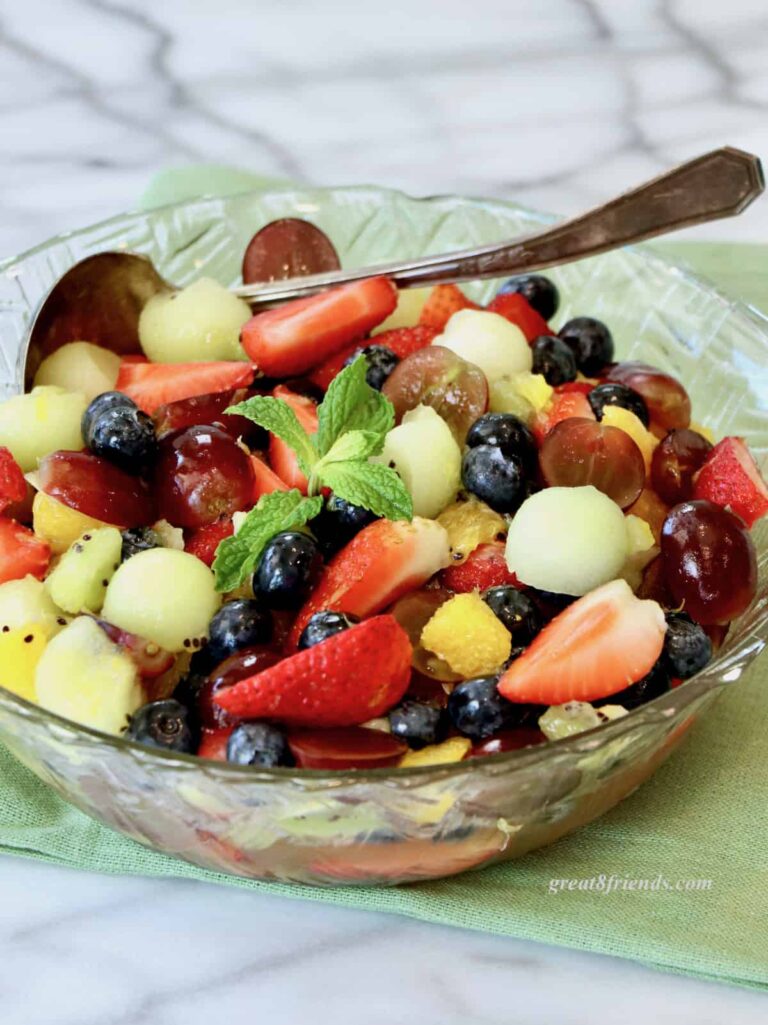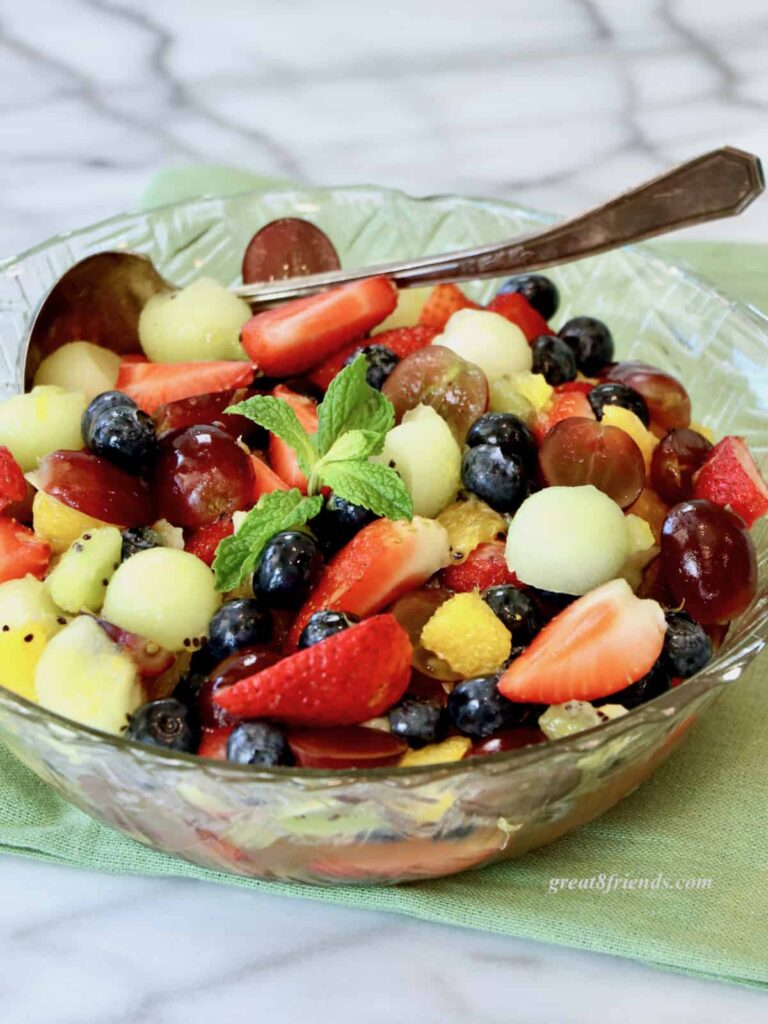 How to Make the Orange Honey Glaze
Section the orange for the salad.

Use a sharp knife and slice off the bottom of the orange
Set the orange flat on the cutting board and slice the peel and the white pith off so the juicy orange is exposed.
When the entire orange is "naked," hold it over a glass measuring cup and carefully cut between the membrane and each section. As you release each orange segment put it into a large mixing bowl. Let the juice fall into the measuring cup.
When all the segments are removed, squeeze the membrane to get every last drop of yummy juice, then discard the membrane.

Set the orange slices aside and check how much juice you captured in the measuring cup. If it's less then one-quarter cup, then squeeze another orange until you have the right amount of juice.
Whisk the honey into the orange juice.
Then add the lime juice.
Voilà! Simple Honey Orange Glaze!
If you want a more intensely flavored glaze, there are directions for an Orange Simple Syrup at the end of the recipe card.
Tools I Use to Make this Fruit Salad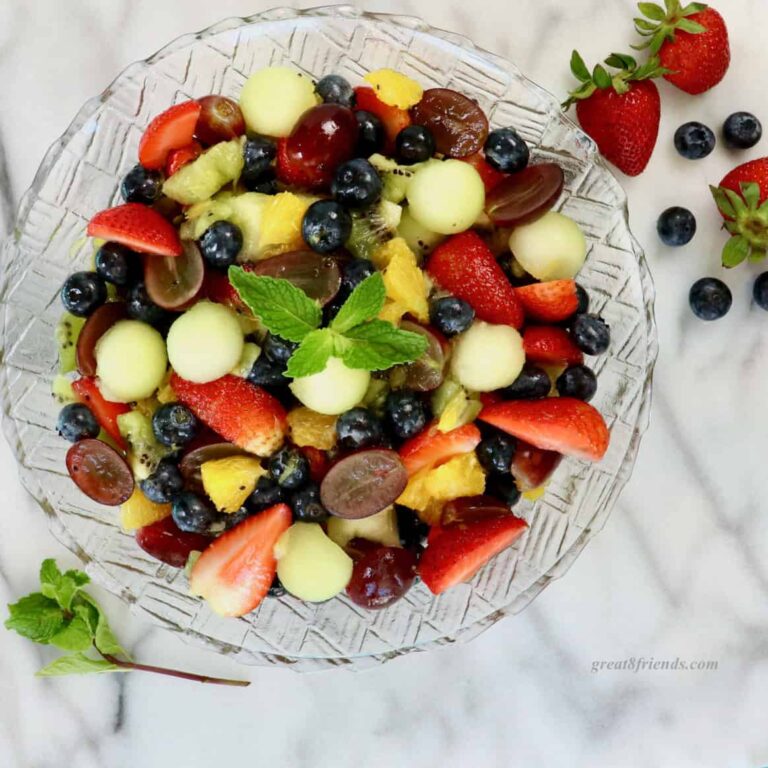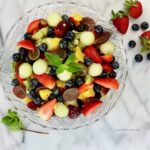 Print Recipe
Pin Recipe
Save this Recipe
Saved!
Please leave a rating!
Fruit Salad with Orange Glaze
Fruit Salad is a lovely light side dish at almost any meal! And this one can be made ahead of time! See the Gr8 Tips at the end of the recipe.
Servings:
12
half-cup servings
Ingredients
Fruit Salad
1

orange

½

honeydew melon

2

cups

strawberries

1 ½

cups

red seedless grapes

3

kiwi fruit

,

if available

1 ½

cups

blueberries
Orange Glaze
¼

cup

orange juice

,

use the juice from the orange you sectioned and add more to get to ¼ cup.

¼

cup

honey

1

Tablespoon

lime juice
Instructions
Fruit Salad
ORANGE - Section the orange by using a sharp knife to cut off the peel and the white pith. Then, hold the orange over a glass measuring cup and cut between the membranes so you have just the section of orange with no membrane or pith. Put the sections into a large mixing bowl and let the juice drip into the measuring cup. Do this for the whole orange.

After you have removed all the orange sections, squeeze the membrane to let the rest of the yummy juice fall into the bowl then discard the membrane. (Congratulations, you've just cut and orange using the "supreme" method!)

Cut the orange sections into small pieces.

HONEYDEW - Take the half honeydew and remove the seeds. Then use a melon baller to make balls. Measure 1 ½ cups and add to mixing bowl with orange sections.

STRAWBERRIES - Wash and hull the strawberries by removing the green stem and and thick white center piece. Then cut the berries into quarters lengthwise. If they are large berries, you may want to cut them into smaller pieces. Add them to the bowl of fruit.

GRAPES - Cut the grapes in half lengthwise and toss into the mixing bowl.

KIWI - Peel the kiwi, slice about ¼" thick, then cut each slice into 4 pieces and add to bowl.

BLUEBERRIES - Wash the blueberries and add them to the fruit salad.
Orange Honey Glaze
Whisk the honey and the orange juice together. I do this in a glass pyrex measuring cup, so I can measure and mix without having an extra bowl.

Add lime juice and mix well.

Pour half the dressing over salad and toss well. Add more dressing if desired.

Garnish salad with a sprig of mint. Refrigerate until ready to serve.
Notes
Gr8 Make Ahead
Combine the orange, strawberries, grapes, kiwi, and blueberries, pour the dressing over and refrigerate several hours or overnight. Before serving add the honeydew pieces and toss well. Garnish salad with a sprig of mint.
You can also add the honeydew ahead of time, but the berries may stain the light colored flesh so it's not as pretty. That's why I add it just before serving.
Recipe for Orange Simple Syrup Glaze
This is also a delicious dressing for the fruit and can be made a week ahead of time. Use this glaze over ice cream or in cocktails for a real treat!
1 cup fresh squeezed orange juice
Zest from one orange
1 cup granulated sugar

½ cup water
Put all ingredients in a small saucepan and bring to a boil, stirring until sugar is dissolved. Turn the burner so the mixture is at a constant gentle boil and cook until reduced by half. Let cool, then stir in a teaspoon of lime juice. 
Nutritional information is only an estimate. The accuracy of the nutritional information for any recipe on this site is not guaranteed.
Nutrition Information
Calories:
94
kcal
|
Carbohydrates:
24
g
|
Protein:
1
g
|
Fat:
1
g
|
Saturated Fat:
1
g
|
Sodium:
11
mg
|
Potassium:
315
mg
|
Fiber:
2
g
|
Sugar:
20
g
|
Vitamin A:
107
IU
|
Vitamin C:
56
mg
|
Calcium:
23
mg
|
Iron:
1
mg
When to Serve Fruit Salad
Fruit Salad is super easy, always refreshing, and appropriate at many meals. Plus, it can be made the day before. The perfect side dish!
Also, this salad is gluten free and dairy free, so it works with many specialized diets.
Breakfast - Fruit at breakfast is a no brainer. This salad is good for about 3 days in the refrigerator so you can make it on Sunday night and grab a bowl each morning. Or if you're having weekend company and have to serve breakfast, make sure this is in your fridge and ready to go. Add some yogurt for a protein boost!
Brunch - Fruit Salad makes a lovely addition to your brunch buffet. Serve it at your Easter, Mother's Day, or Christmas Brunch.
Lunch - My mom always has a little bit of fruit every day with lunch. Maybe that's why she's still beautiful and going strong at 90!
Dinner - In Europe fruit is served as dessert, and why not?! Serve this salad in small bowls with a couple of these crispy cookies. Yum!