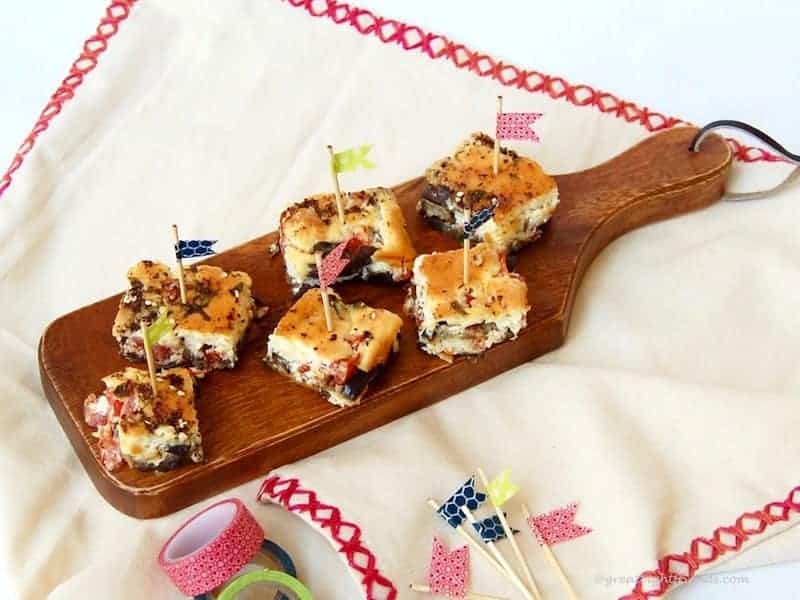 Did I have you at "cheesecake," but lose you at "eggplant"? Wait! Don't go! Not until you've listened and tasted! Kind of like the phrase "Don't judge a book by it's cover"....I hope you don't judge this dish by it's name!
Although I do love some sweet with a bit of savory, don't worry, this is not your typical cheesecake with some eggplant on top! Even I'd have to turn away from that idea! I happened to find some cute little Indian eggplant at Sprouts Market and just HAD to use them in a recipe! Anything with eggplant is pretty much a "let's try" for Phil and me! We love eggplant...baked, roasted, blended in a dip or occasionally fried.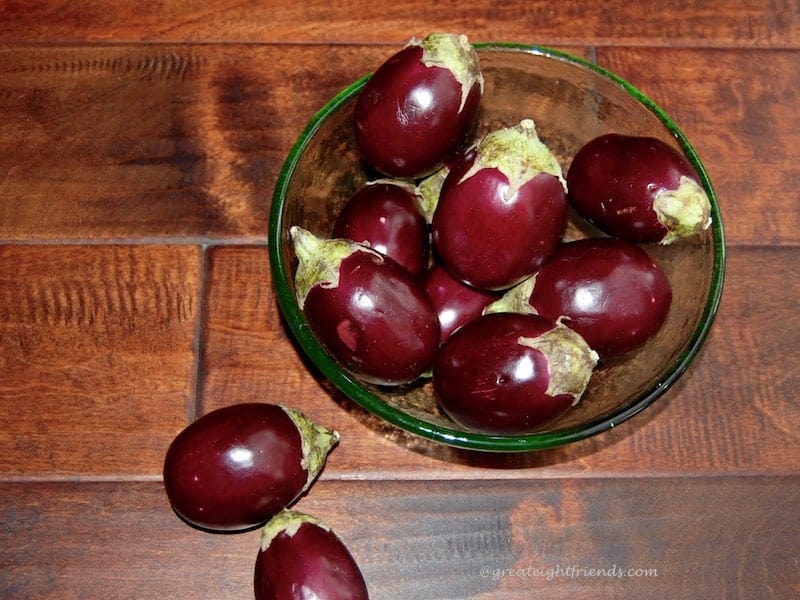 This, my friends, is savory, and nothing but! It's got the distinct flavor of eggplant, the freshness of the ripe little tomatoes and a hint of Za'Atar*. Za'Atar is a Middle Eastern spice blend that is quite aromatic. It has a citrus-y, woodsy and earthy hint. I had never heard of it before, but boy do I love it now! It is a delicious addition to this dish.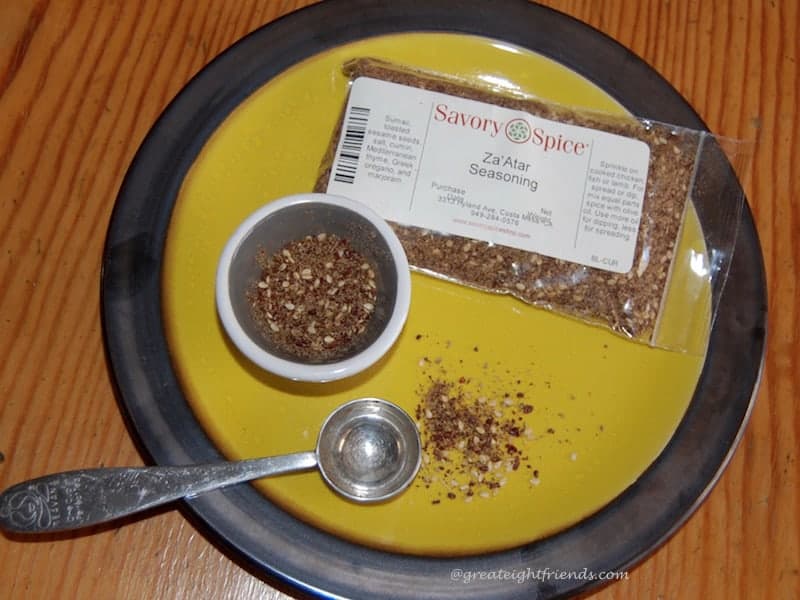 Yoram Ottelenghi is one of my favorite chefs and his cookbooks are within reach in my kitchen. I love his style of cooking and his combination of flavors. His recipes and his description of flavors make you want to try everything on every page. This eggplant cheesecake from Plenty More: Vibrant Vegetable Cooking from London's Ottolenghi is no exception.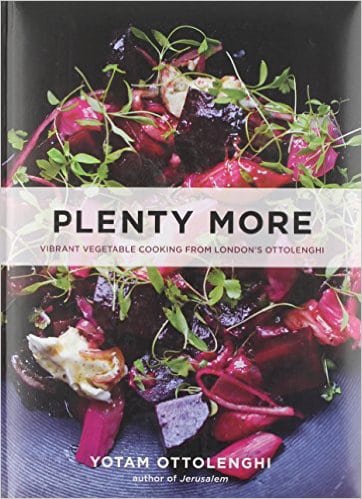 Preparing the sliced eggplant, and thank goodness there were extras, I couldn't resist the temptation to snack on them as they were pulled from the oven!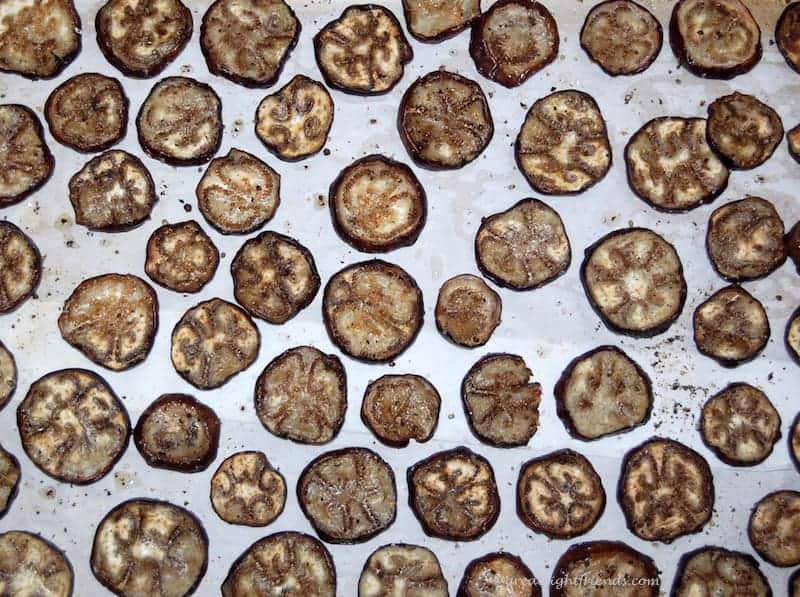 Layering them in the baking dish with the cream mixture, the timer couldn't ring soon enough!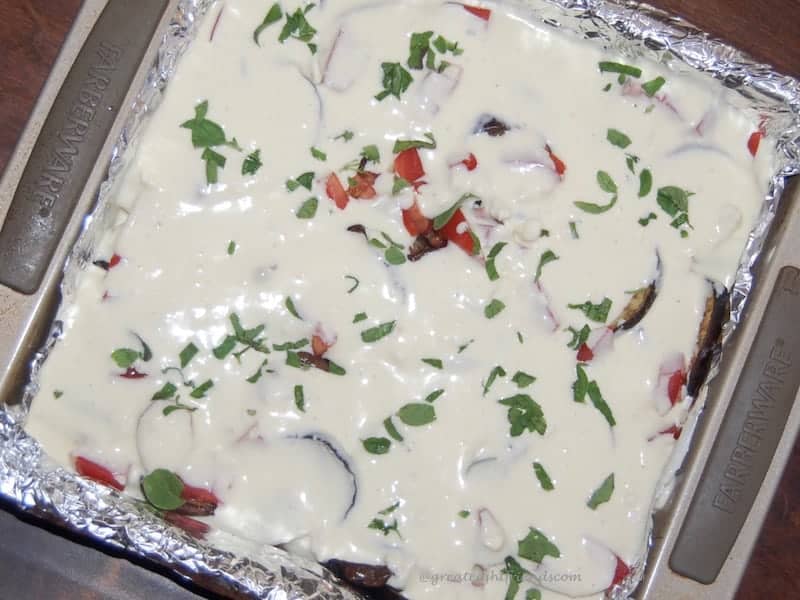 I was anxious to try a little taste before getting them cut and ready for the party. This eggplant cheesecake can be a side dish with any meal. I served it as an appetizer here; cut into cubes, speared with toothpicks and brought to Kyle and Joel's for their Birthday Party themed Great Eight dinner!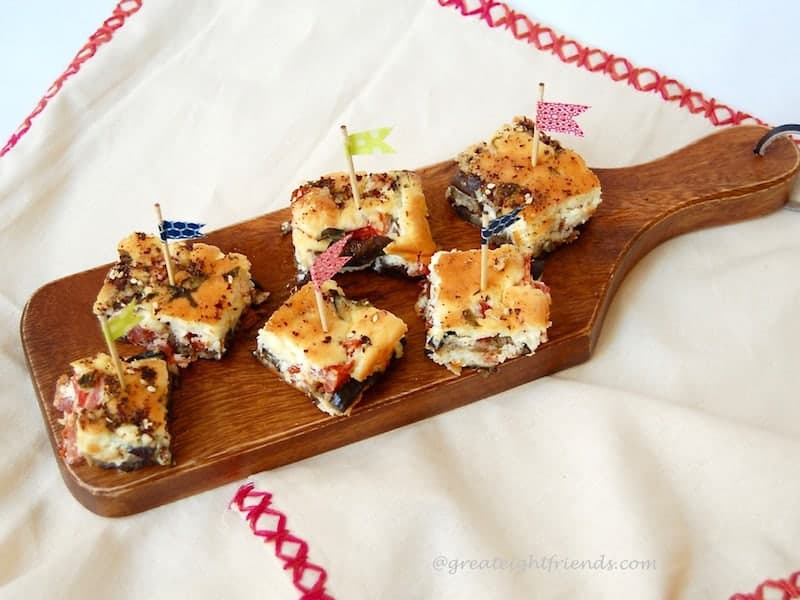 Of course I'm not going to just cut the eggplant cheesecake into cube sized pieces and just add them to a platter! That's way to easy and so so Simple Simon! I've gotta do a little something fun! That's just how I am! Hey Washi tape**! That'll work...and boy do I have a lot of it! I cut the tape pieces into a simple "flag," add them to the tip of a toothpick...it's the perfect touch. It brings a little something to the presentation, and makes the bite sized appetizers easier to grab...no serving utensils needed.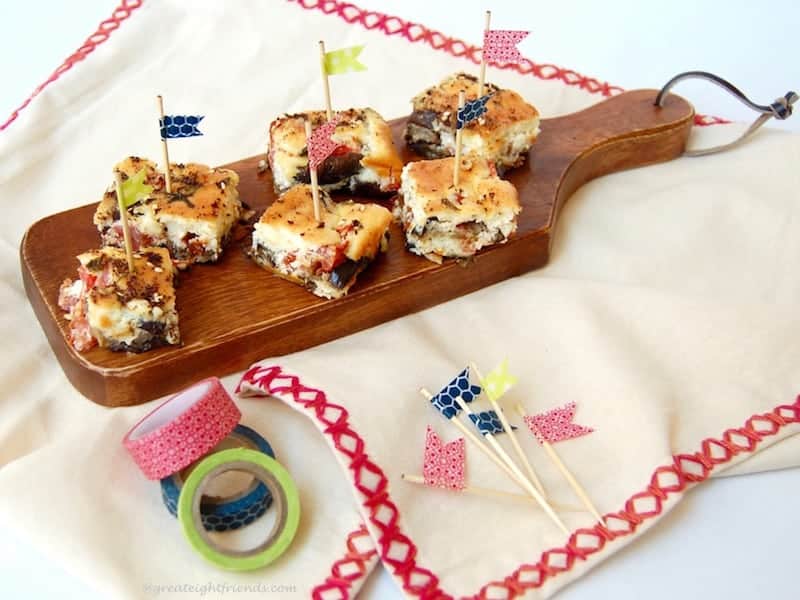 Give this eggplant cheesecake a go...it may not be what you'd consider a "cheesecake," but it will be what you'd consider "delicious"!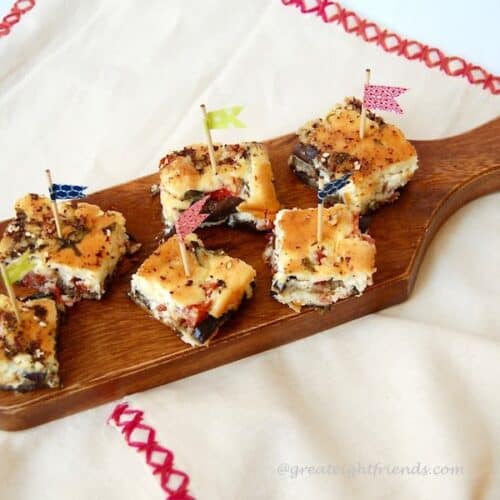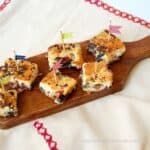 Print Recipe
Pin Recipe
Save this Recipe
Saved!
Please leave a rating!
Eggplant Cheesecake
Serves 4-6 as a side dish, 10-12 as an appetizer
Ingredients
2

medium eggplants,

,

(1 ½ pounds)

5

ounces

feta cheese,

,

crumbled

5

ounces

cream cheese,

,

softened

3

large eggs

¼

cup

heavy cream

1

cup

grape tomatoes,

,

cut in half

1

Tablespoon

dried oregano,

,

divided

1 ½

teaspoons

Za'Atar,

,

available online or at specialty spice shops
Instructions
Preheat oven to 400ºF.

Slice eggplants into ¾" thick slices. Oil a foil lined baking sheet and brush slices lightly with olive oil. Sprinkle with salt and pepper.

Roast eggplant for 40 minutes or until soft and golden.

Meanwhile, prepare an 8" square pan. Double line with foil with 2" extra foil hanging off of each side. Brush foil with olive oil.

In a mixing bowl, gently combine the feta, cream cheese, eggs and heavy cream and beat well. Season with pepper.

When eggplants are ready, remove from oven and reduce oven temperature to 325ºF.
Assemble the Cheesecake:
Lay eggplant slices evenly in the prepared oiled foil lined pan and place tomatoes in any nooks and crannies.

Sprinkle ½ Tablespoon oregano over the top.

Pour the cream mixture evenly over the eggplants.


Sprinkle the top with remaining ½ Tablespoon oregano.

Bake at 325ºF until the custard sets and the top is golden, about 35 to 40 minutes.

Allow a few minutes to cool.

Lift the "cheesecake" by removing from the pan lifting the foil.

Thoroughly combine the Za'Atar with a little oil to make a paste and brush over the top.

As an appetizer, cut into 1-½" cubes or larger squares as a light meal.
Notes
Gr8 Do Ahead Tip:
Prepare Eggplant Cheesecake the day before up through Step 3 of the "Assemble the Cheesecake" instructions. Cover and refrigerate. While the oven is preheating remove the dish from the fridge and let sit at room temperature to take some of the chill off before baking. Then bake and enjoy!
Gr8 Notes:
*Za'Atar ( which means "thyme") is traditionally made with a combination of dried herbs, such as Marjoram and thyme. Now commonly made with a variety of herbs and spices.
**Washi tape is patterned tissue paper "tape", available online, at craft stores, scrapbooking stores, and Target.

For Your Gr8 Shopping Convenience:
Just to let you know, some of the links on this page may be affiliate links, which means that Great Eight Friends will earn a small commission from purchases made through these links (this does not change your cost). These earnings help to support the cost of running this website. Thank you so much for being a Gr8 Friend!