This super delicious pickled okra has a fun kick to it and would be tasty as a snack or garnish your next Bloody Mary drink with this treat!
These are a big "dill"!
I've always loved okra...every which way! Cooked, fried or baked. And since dill is one of my favorite herbs, you can bet I love okra pickled!
And I'm a huge fan of anything pickled...carrots, green beans...even potato chips and popcorn (Don't cringe! The popcorn and chips are dry and in a bag...not wet in a jar!)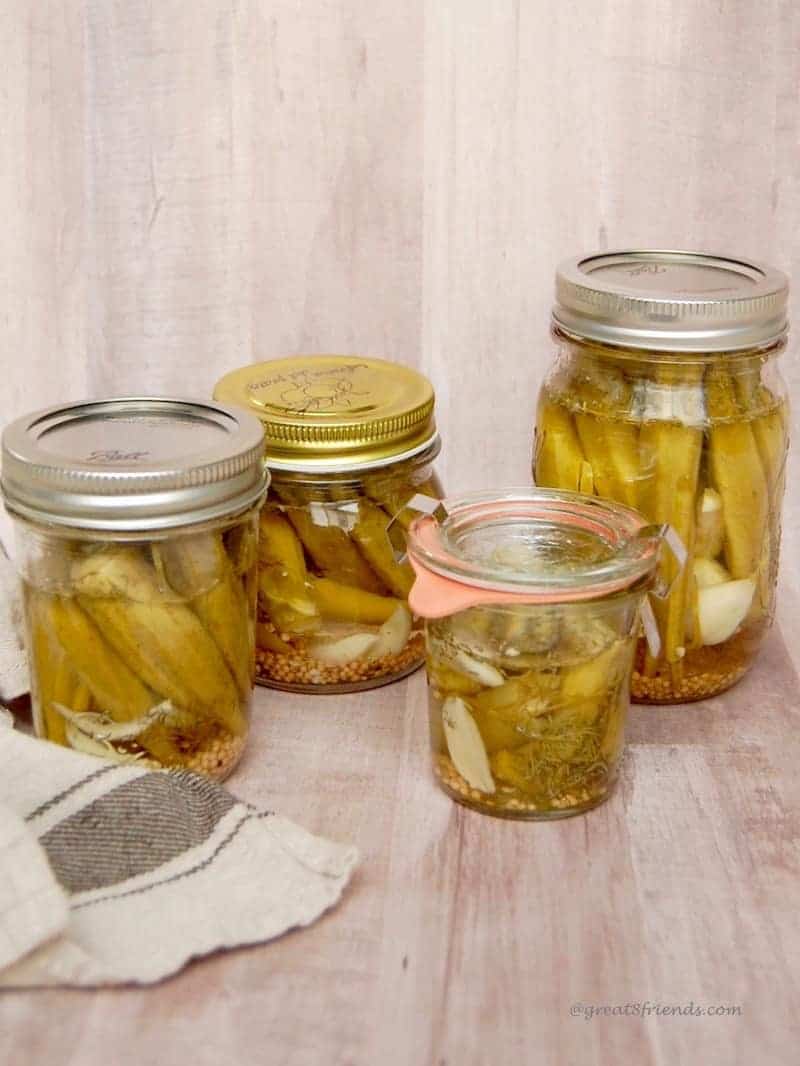 But pickled okra has been one of my favorites since I was a little girl! My grandparents used to have them in jars in the kitchen and were always so surprised when they'd see me eat one after another!
I think it was the teeny tart seeds inside the pods that kind of burst when I bit them...the silly little things kids notice!
As a "real grown up", there are so many things that go perfectly alongside pickled okra! Everything you'd normally eat with a pickle, try it next time with pickled okra!
Jurga's Best Grilled Burgers, brats, hot dogs, you name it...they give a fun little twist, and the spiciness of the chilies gives it a fun little kick!
Now if you really want to make it fun, pucker up and add it to a Bloody Mary or instead of an olive, add the pickled okra to a martini! Cheers!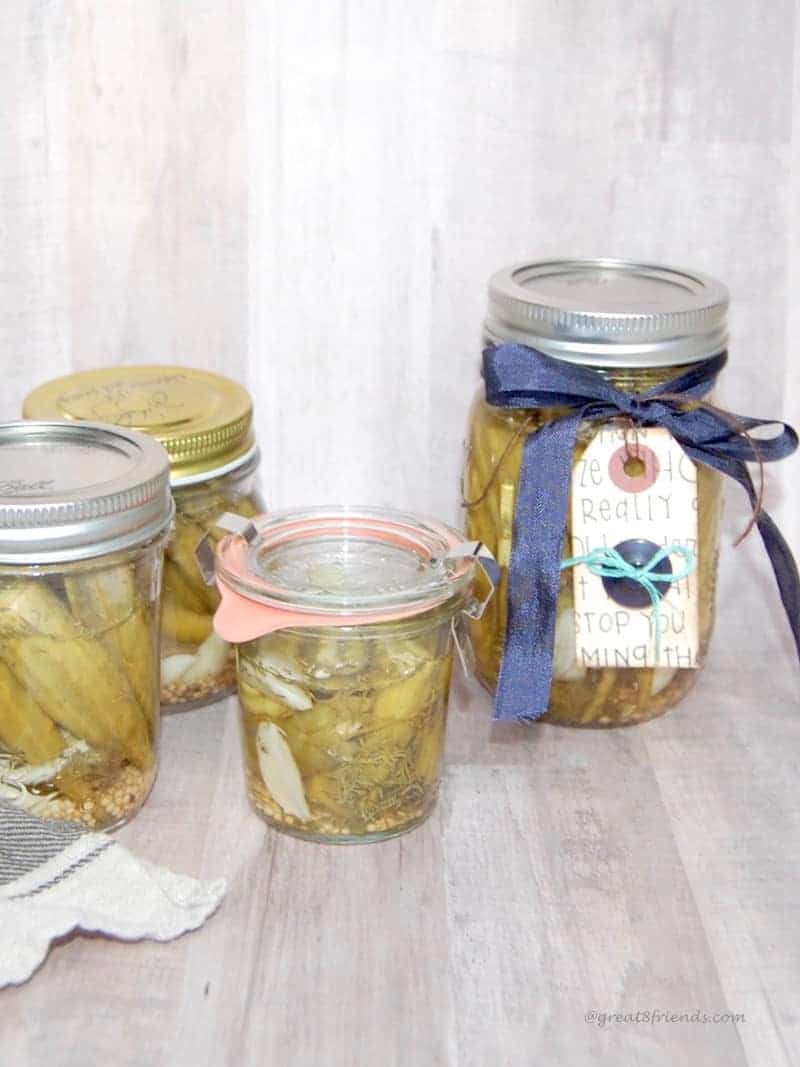 This post contains affiliate links which means Great Eight Friends may earn a small commission if you click on the link. There is no additional cost to you. As an Amazon Associate we earn from qualifying purchases.
And a "Mason" recipe!
When pickling these "pucker" pods, give yourself a little time, the sterilizing of the jars is one of the steps.
Wait...come back! Don't panic! It's actually kind of fun!
It'll make you feel like you're on Walton's Mountain or getting ready for winter with Carol, Pa and Laura Ingalls in the kitchen in Walnut Grove!
Now...what jars to use? I, myself LOVE all the shapes and sizes of Weck jars. They all have the traditional rubber ring and glass lid with clamps.
If I have the right sizes, I try to use those. If not, Mason and Ball jars are available at Target and most markets. I choose the jar shape that I like and just evenly distribute the okra, spices and liquid.
If you've got a southerner in your family or someone who's got a hankering for all things pickle-y, add a bow, a little tag, and run on over to leave a jar on their back porch! They'll be tickled! Tickled for pickles!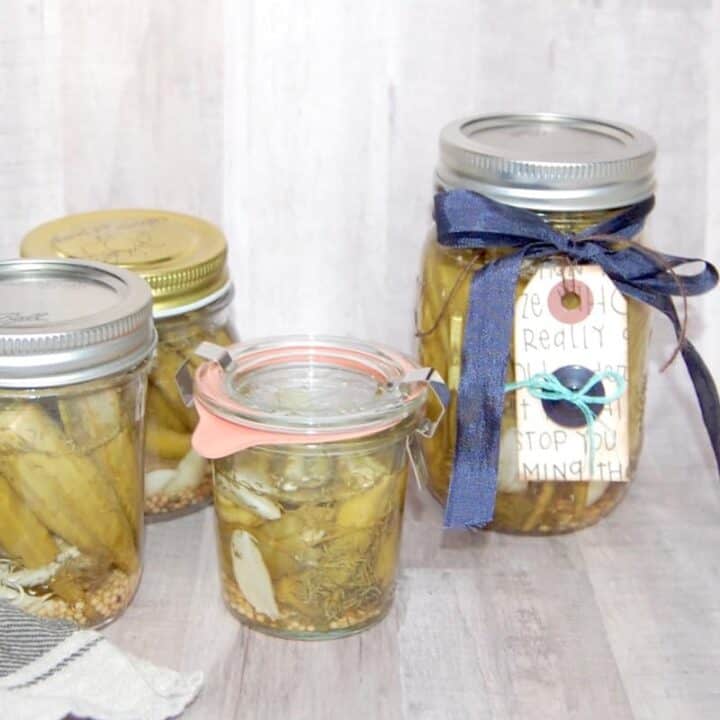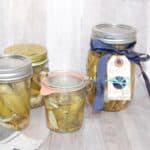 Print Recipe
Pin Recipe
Save this Recipe
Saved!
Please leave a rating!
Pickled Okra
Try this super delicious pickled okra! It has a fun kick to it and would be tasty as a snack or garnish your next Bloody Mary drink with this tasty treat!

Servings:
4
pint sized jars
Ingredients
1

teaspoon

dry dill

3

teaspoons

mustard seeds

1

cup

white wine vinegar

1

cup

white vinegar

1

cup

water

¼

cup

kosher salt

4

sprigs

fresh dill

4

cloves

garlic

,

peeled and cut in half lengthwise

4

green chile peppers

,

cut in half lengthwise (I use Serrano)

2

pounds

fresh okra

,

stems trimmed to ¼″

4

pint-sized

jars
Instructions
Sterilize Jars
Place 4 pint size jars (or sizes that you choose, but be sure to adjust the measurements accordingly) open end down in a large pot with water to cover by 1″.

Bring to a boil. Cover and continue at a rolling boil for 15 minutes.

With tongs, carefully remove jars and place on a towel on top of the counter, open end up.

In a smaller pan, boil the lids and rings. Boil for 10 minutes.
Pickled Okra
While jars and lids are being prepared, in a small bowl, mix together the dry dill and mustard seeds.

Combine the white wine vinegar, white vinegar and water in a small saucepan.

Add the kosher salt. Stir to mix.

Bring to a boil, stirring until salt has dissolved. Keep at a steady simmer.

Into each jar, place 1 fresh dill sprig and evenly distribute the garlic cloves and chile pepper strips.

Place the okra, alternating point up and point down, to fit best in jars.

Pour the hot liquid into each jar, leaving ½″ space at the top of the liquid and the lid.

Run a blunt knife around the okra and the outer walls of the jar, to make sure the liquid is evenly surrounding the okra.

Place lids and rings on jars. Tighten but not TOO tight. Once cool to touch, tighten.

Place in cool dry place for up to 2 weeks. Refrigerate for up to 6 weeks.
Notes
Gr8 Do Ahead Tip:
This is a Gr8 vegetable to keep on hand as it will keep in the refrigerator for up to 6 weeks. Serve it as an appetizer or side dish.
For Your Shopping Convenience: