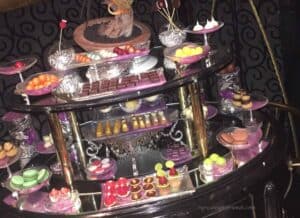 Sometimes you just have to do it...you just have to take the leap, break the budget, and go to the best restaurant in the town you are visiting. And when you do, if that town is Las Vegas (or Tokyo or Paris or London or...), be prepared to savor one of the most spectacular experiences of your life.
Joël Robuchon is that restaurant. Located in the MGM Grand on the strip, it is inconsistent with its surroundings. After a stroll through the flashing cacophony of the casino the mammoth polished wood doors opened to welcome us into the plush interior of this jewel box. We started in the intimate bar with cocktails. This space makes you feel as if you are sitting in a dear friend's home enjoying pre-dinner drinks. (Except you have to pay for the drinks!)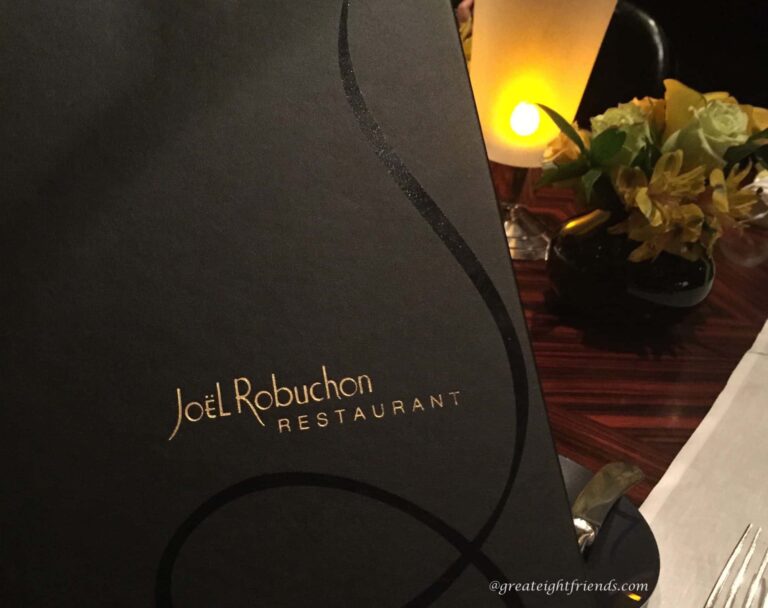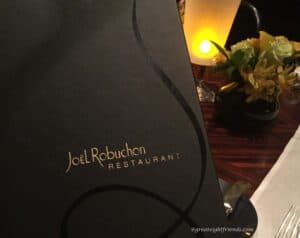 When we were ready we were escorted into the dining room and presented menus. And what menus they were! This is a gourmet nouveau French restaurant which has earned three Michelin Stars, the highest culinary honor for restaurants worldwide. The menu is a modified prix-fixe format; it includes the nine course Menu Degustation (a LOT of food!) or a selection of customizable prix-fixe menus. All of the choices start with an Amuse-bouche (a small appetizer complements of the chef) and end with "Seductive Sweets." You can choose a menu as large as two appetizers, two main courses, and one dessert all the way to a menu of one main course and one dessert. I highly recommend trying any of the menus that include dessert, you will see why at the end of this article.
Soon after being seated, we were presented with a tray of Quinoa Croquettes with Piquillo Mayonnaise, tender and crispy small bites to tease the palate and get our gastronomic juices flowing as we perused the menu.
We placed our orders and then a trolley service arrived with a giant mound of butter under a glass dome. The server dipped a spoon in hot water and then ran it up the side of the butter to make perfect curls. Nothing like fancy butter service!
Following that, in "rolled" another cart overflowing with bread...all kinds of bread, challah, brioche, olive bread, French bread, cheese rolls, bread sticks... you name it and it was probably on that cart. I could have just had wine and bread and butter and been happy!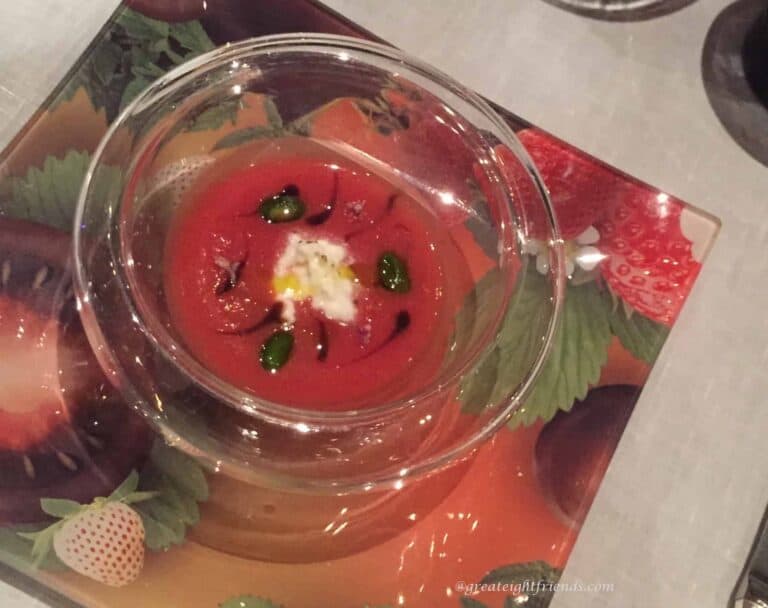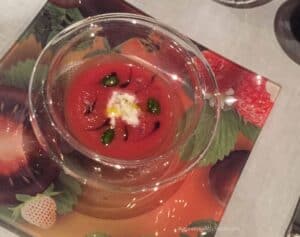 The Amuse-bouche was a Strawberry and Tomato Soup garnished with pistachios, burrata cheese and a drizzle of balsamic glaze. What a delight! I believe that gourmet food should be a blend of flavors that are each distinct in and of themselves, but which work together to make the complete dish. This soup accomplished exactly that. The strawberry and tomato flavors both shined through and with the crunch of the pistachio, the creaminess of the burrata and the bite of balsamic, the dish was perfection.
Our appetizer choices:
Main Courses:
Each one was as good as or better than the next...nothing disappointed. The portions may look small, but by the end of the evening we all were satisfied.
Then came dessert, the pièce de résistance.
First came, Le Soufflé - a "bitter chocolate hot soufflé" ...Beautiful and delicious but not the work of art that the next two desserts were.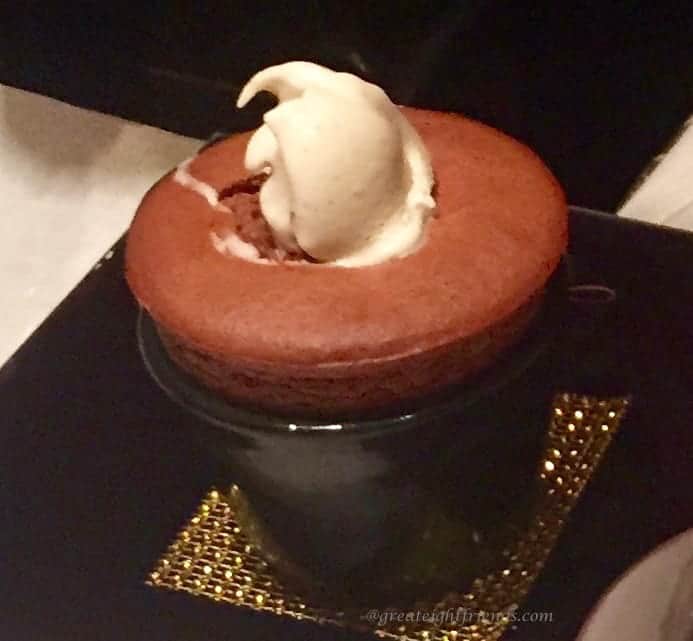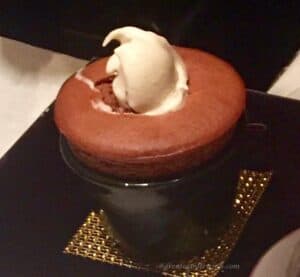 This next dessert is a fairy land house or maybe fit for a gnome...It is their Chocolate and Cherry Griottine "Black Forest," a unique spin on Black Forest Cake.
LOOK!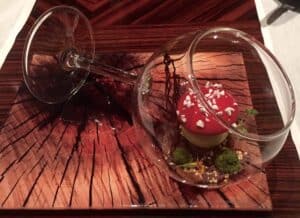 Now look closer!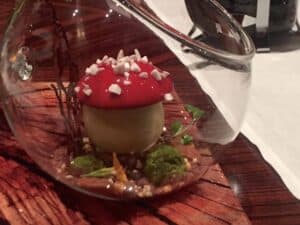 As delicious as it is darling.
I may be partial, but I thought my dish was the real show stopper: La Sphère - a "Bubble sugar sphere with creamy lemon sorbet and Thai basil gelee."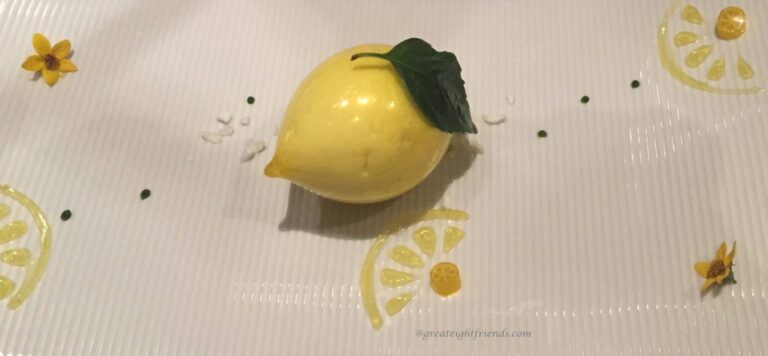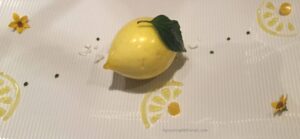 Isn't it pretty? This is not a real lemon...that is a sugar shell shaped like a lemon. I don't know how this was made, but it was such fun to behold and to eat. The shell cracked like crystal and the spoon pierced it to then sink into the creamiest, lightest lemon sorbet surrounding the Thai basil gelee. I have never seen or tasted anything like it; I felt like a child seeing Disneyland for the first time, it was truly magical.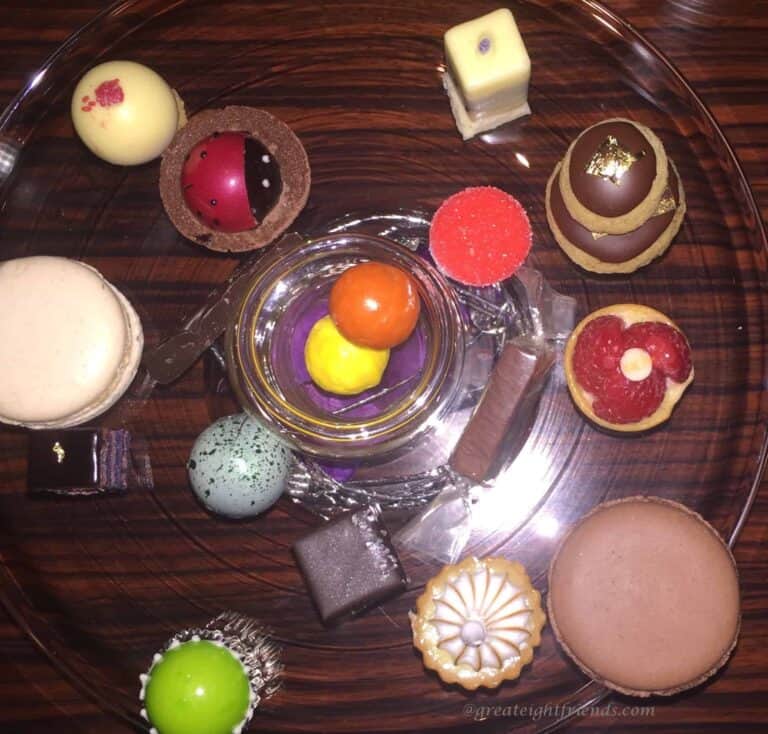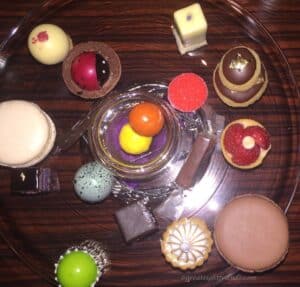 After we were through with the desserts and enjoying coffees and teas in came another delight, trays containing the "Seductive Sweets" mentioned at the beginning of this article...and you thought the desserts were the end (As did we!)...jellies, chocolates, caramels, macarons, meringues, éclairs; you name it and it was there...in miniature!
This meal was the most expensive I've ever had, it was also the most surprising and fun dinner I've ever experienced. And you would think a restaurant of this caliber would be stuffy, but the staff was friendly and easy. They laughed with us as we acted like children in a candy store, for indeed, that is what we felt like!
Joël Robuchon Restaurant — MGM Grand Hotel, Las Vegas — (702) 891-7925
A Note: Next door to the restaurant is L'Atelier de Joël Robuchon. We did not eat there, however, a friend mentioned that we should be sure to try it next time. It's a little less formal than the restaurant...and the pastry chef is the same!