Baked, raw, grilled or sautéed…don't let anyone tell you that zucchini is only good in bread or steamed as a side dish! I've got a recipe to add to their list and set them straight, a Zucchini Pesto Tart!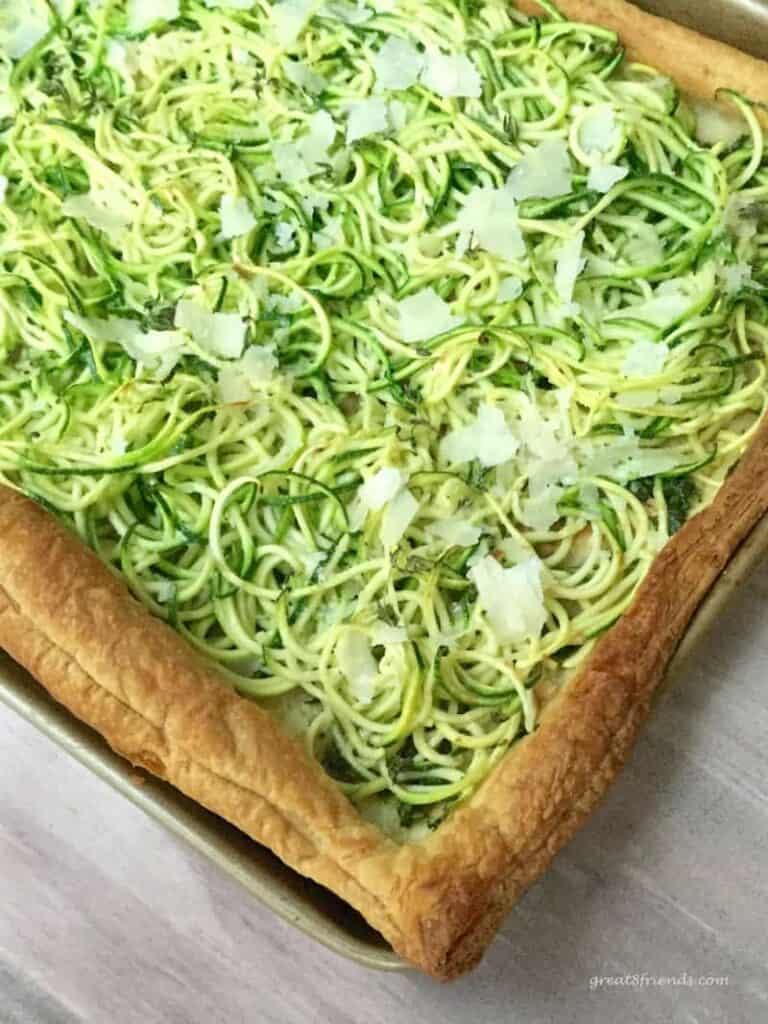 I have been itching to get a spiralizer ever since recipes have been popping up all over the internet and front and center in the cookbook section and cooking magazines. This one was one of those gadgets I couldn't wait to play with! Time to give in! Off I went, and now I have a new toy!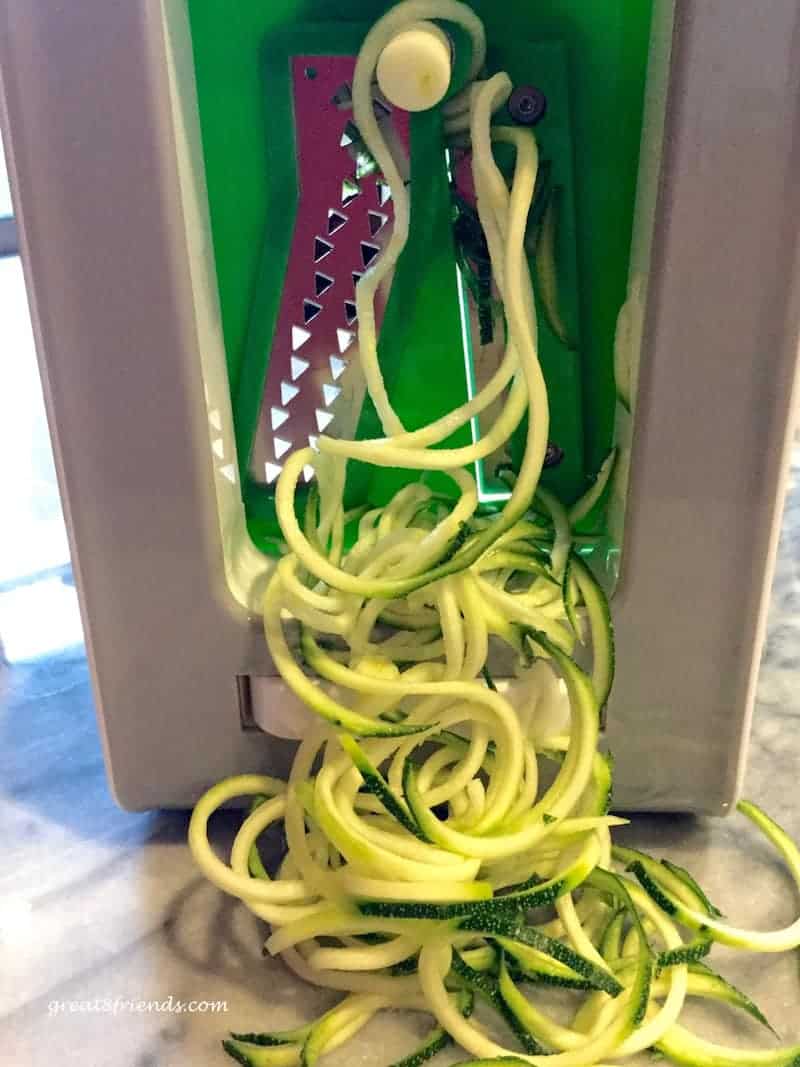 What a fun gadget this spiralizer is! I'm all set! Ready to "noodle-ize"! It is so much fun! I love the way it fell into curls! It kinda looked like my hair!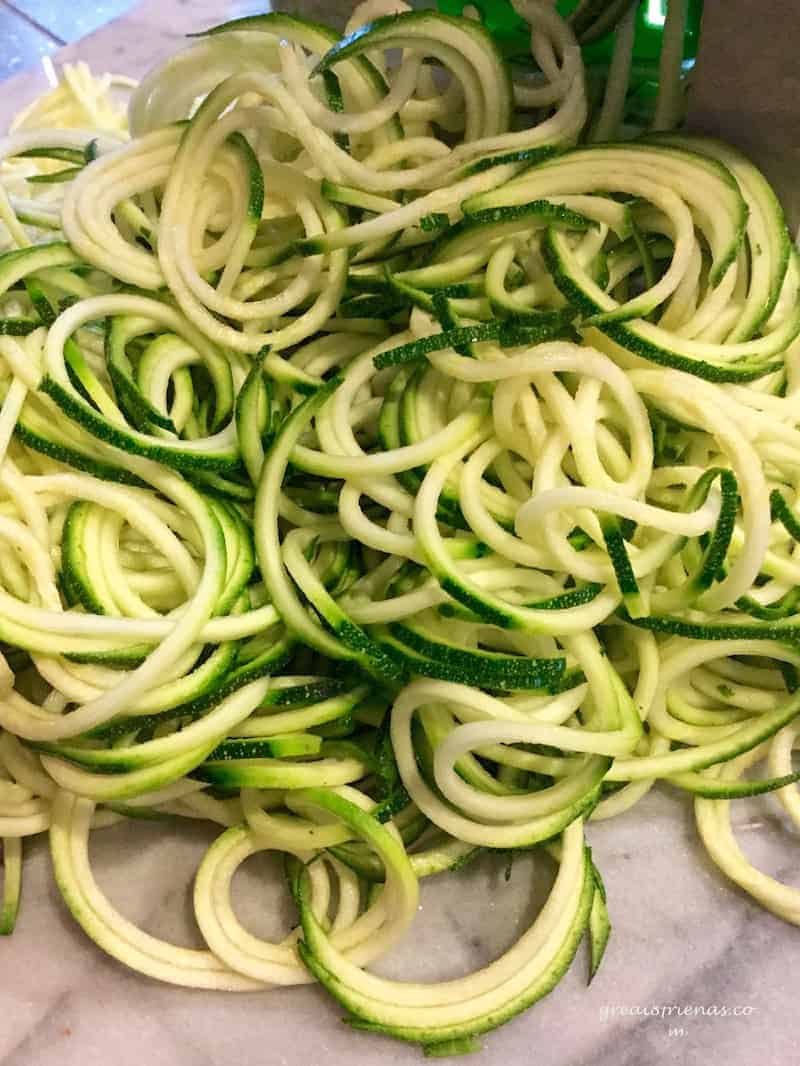 Haha! It was cool to see the design it left in the remaining "stump" of the zucchini...it had rings like a tree trunk does to shows its age..and as it cores, it leaves a long cylinder still connected!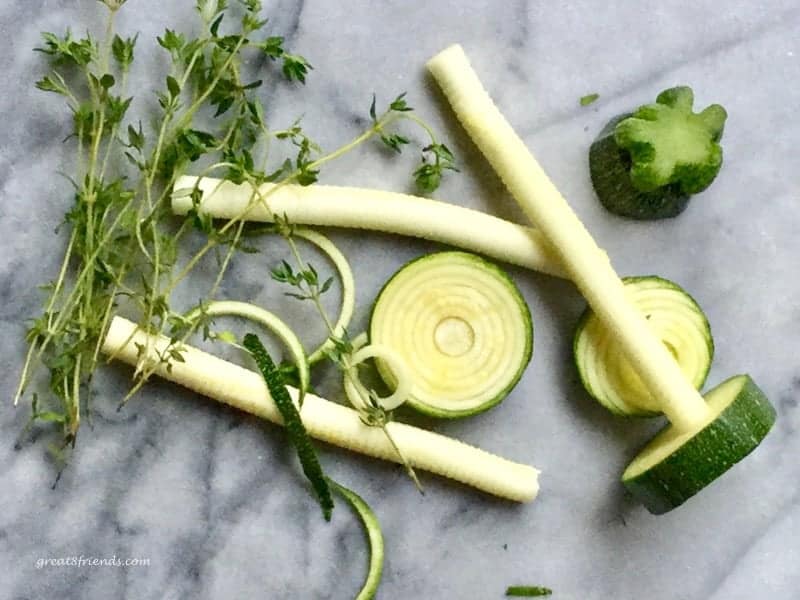 Which by the way, I ate those as I went! Not to worry, if you don't have a spiralizer! Zucchini shredded or cut in rounds, any which way is Gr8! Adding the pesto basil to the crust is the perfect herbal touch. Whether you have a quick minute to make your own pesto, or only have time to open up a jar…it's all good.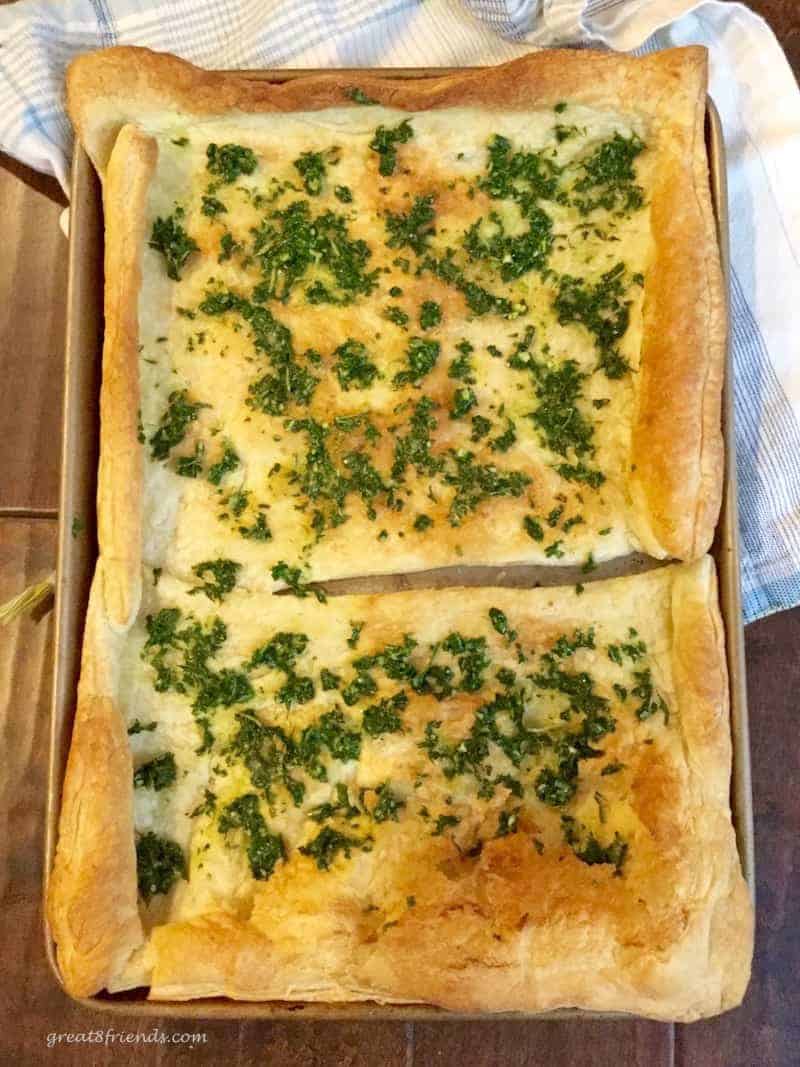 The freshness of this green squash decorating the flaky puff pastry will win them over!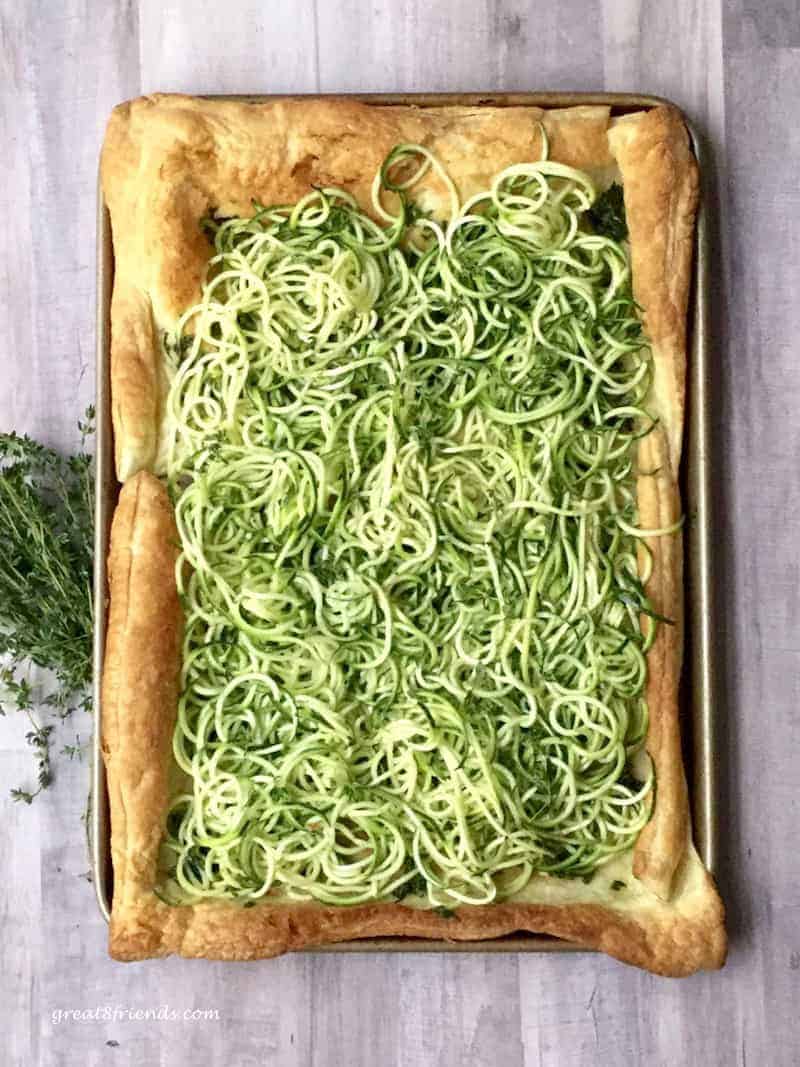 As soon as they see (and smell) it coming straight from the oven...oh boy!
It is quite the crowd pleaser, too! I'm so happy I put my fun new gadget to use this summer! This Zucchini Pesto Tart is the perfect appetizer at a summer soiree or served alongside a salad for the perfect weekend brunch. If it's for your own personal family fan club, you'll be a hit too!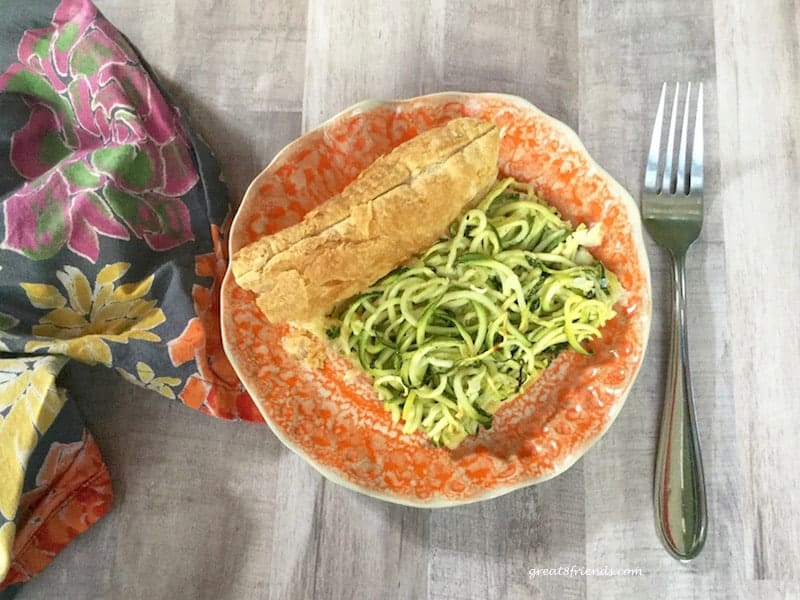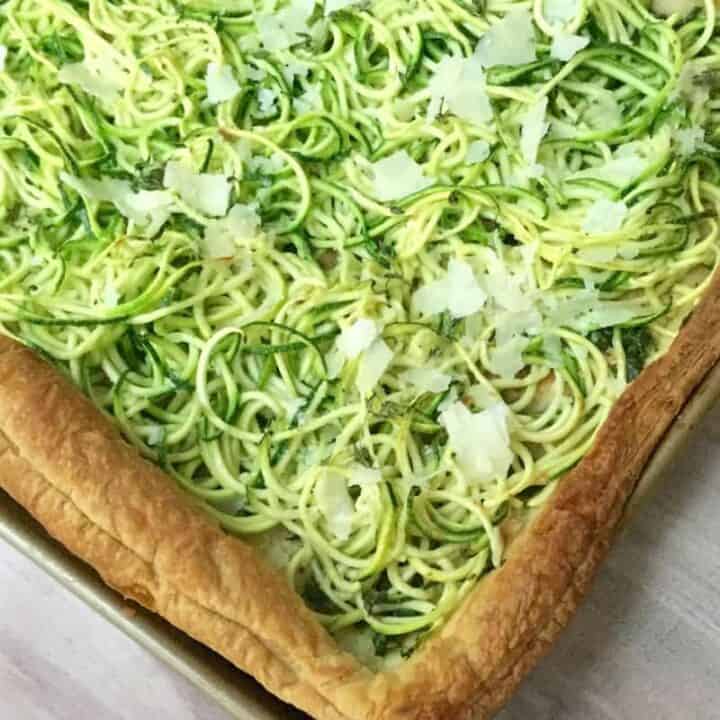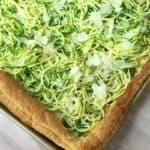 Print Recipe
Pin Recipe
Save this Recipe
Saved!
Please leave a rating!
Zucchini Pesto Tart
Enjoy this Zucchini Pesto Tart as the perfect snack, side dish or appetizer. The combination of the pesto and zucchini is the perfect flavor!
Ingredients
½

stick (¼ cup)

butter

,

melted

1

box

Frozen Puff Pastry

,

thawed

3

medium

zucchini

,

spiraled , cut in ⅛" slices or coarsely grated

2

teaspoons

Kosher salt

2

Tablespoons

extra virgin olive oil,

divided

1

teaspoon

freshly ground pepper

⅓

cup

pesto

1

Tablespoon

thyme leaves

2

Tablespoons

grated parmesan

,

optional
Instructions
Place zucchini in a strainer over sink with the salt and let it drain for a ½ hour.

Meanwhile brush melted butter on a large cookie sheet.

Roll out 1 sheet of dough, sized to fit cookie sheet. Brush with melted butter.

Place sheet of puff pastry dough onto prepared cookie sheet. (I pulled and stretched as I went. It didn't quite fit my pan, so I pressed the 2 rolled out sheets together...whoops! You can see my "seam"!)

Cover dough area with foil. Cut the foil to fit keeping the edges of dough exposed.

Bake for 8 minutes or until golden on the edges.

Remove foil and bake for 5 minutes longer, or until the large area is golden.

With zucchini wrapped in a paper towel, squeeze and "wring it out" to lose as much moisture as you can.

Place zucchini in a large bowl and add 1 Tablespoon of olive oil and the pepper. Taste a few strands (or slices) and adjust seasoning.

Spread pesto over puffed baked sheet.

Place the spiraled, sliced or grated zucchini, decoratively on top of pesto.

Drizzle with remaining Tablespoon of olive oil and sprinkle with thyme leaves.

Bake for 20 minutes. Sprinkle with Parmesan, if using. Allow to cool for 10 minutes.

Cut in squares and serve.
Notes
Gr8 Tip:
If you'd like to make it more of a meal, do what our daughter, Bela, did...add a little shredded chicken! It was a Gr8 idea and a perfect leftover! 
sm 4/11/19
SaveSave