Grilled Teriyaki Chicken Skewers with pineapple are a tasty and easy way to serve chicken to a crowd. These kabobs are great for any party from a Hawaiian Luau to a Beach Barbecue and the sauce is homemade!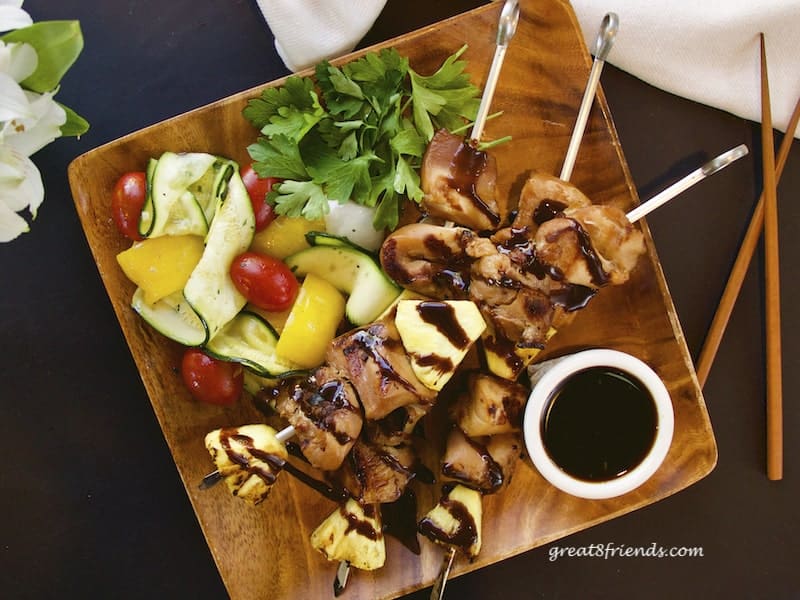 This recipe was created when Vince and I were planning our Beach Blanket Barbecue Gr8 Dinner. We decided that cooking the meat on skewers would be best for a beach picnic because no one would need a knife. And teriyaki has a beach-y vibe. Since I never really liked the store-bought stuff I made my own, and boy was it ever good! (Easy, too!)
How to Marinate Teriyaki Chicken Skewers
First of all, if you are using wooden skewers, soak them in water for at least 30 minutes, and longer is acceptable. The water will soak into the wood so the skewers don't burn up while on the grill! If you are using metal skewers, you are good to go.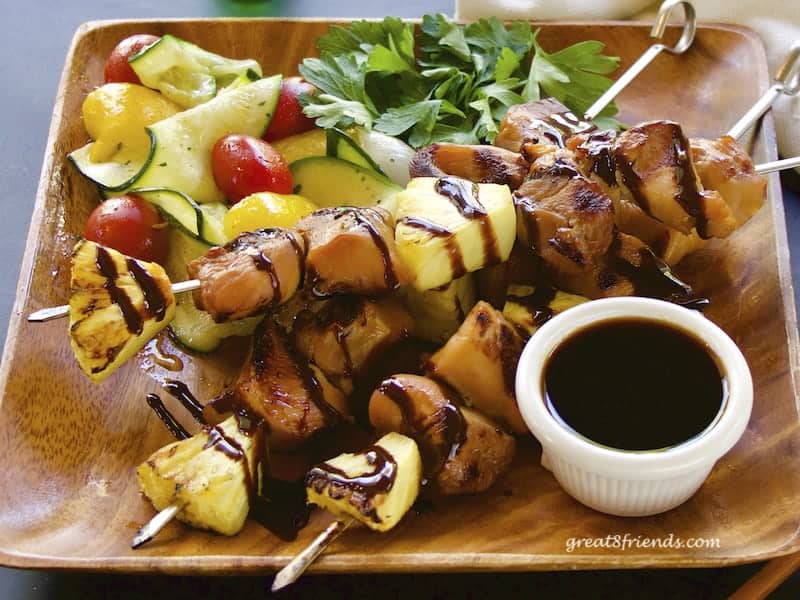 Pat dry your boneless, skinless chicken breasts then cut them into 1 ½" to 2" pieces. Try to cut the pieces as uniform as possible so they cook evenly.
When you've finished cutting the chicken, put it in a glass or ceramic bowl or zip top plastic bag then pour the Teriyaki Sauce over. If the chicken is in a bowl, stir the mixture up so each piece is covered. If you are using a plastic zip bag, you can lay it fairly flat in your refrigerator so all the pieces are in the sauce.
Marinate the chicken for a minimum of one hour and up to eight hours. Some recipes say you can leave the chicken in the marinade up to 24 hours. And you can, but the longer the pieces soak, the sauce will change the texture of the chicken slightly. It's up to you.
After marinating, thread the chicken onto the skewers with pineapple chunks. Use about ¼ pound of chicken per skewer. When all the chicken is on the skewers, DISCARD THE MARINADE. Use a reserved batch of sauce for serving.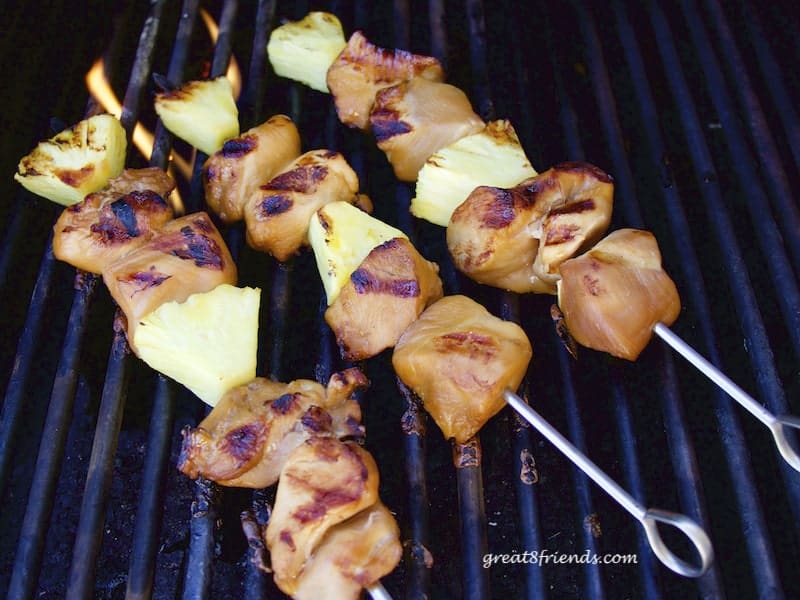 Once the chicken is skewered, fire up the grill and cook over medium-high heat until an instant read thermometer shows that the pieces are 165°F. This should take between 10 and 20 minutes depending on the size of your pieces and the heat of your grill.
Serve these Teriyaki Chicken Skewers with the extra Teriyaki Sauce and enjoy!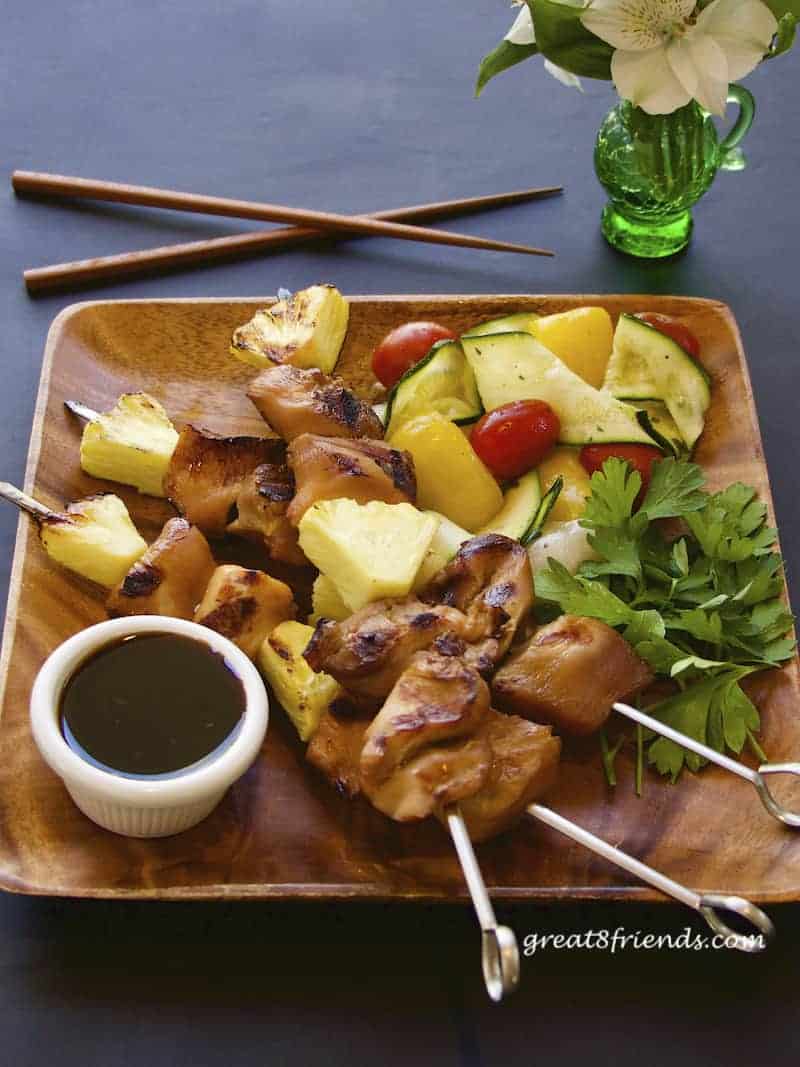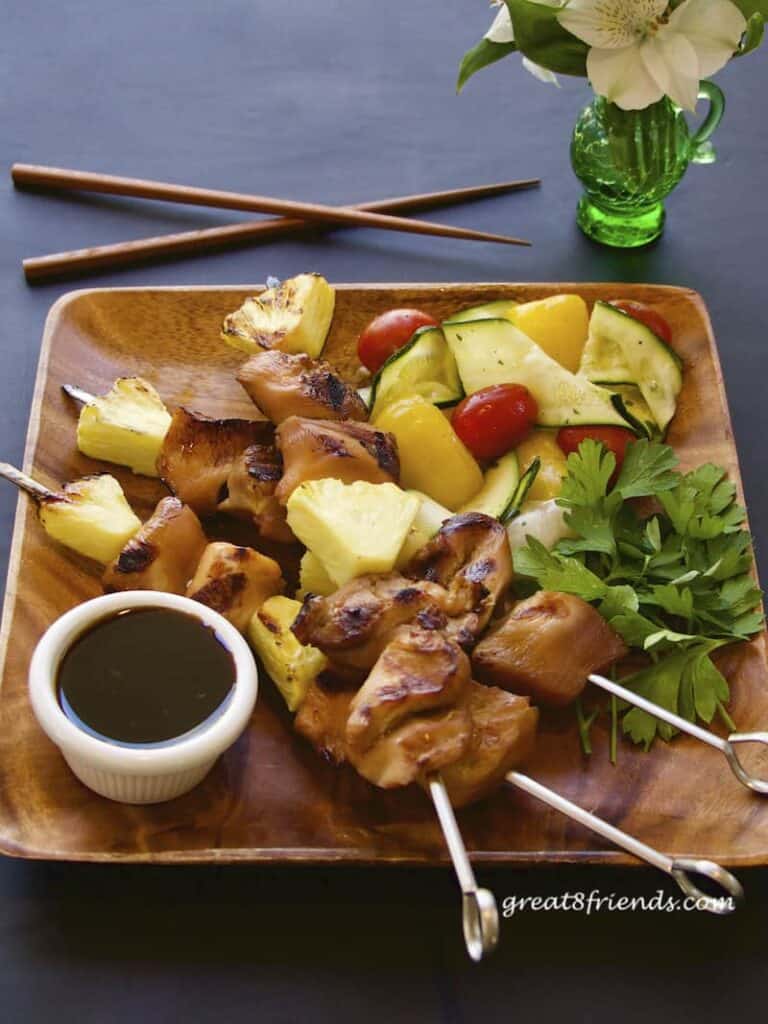 Whenever you're cooking chicken be sure to follow the accepted safety practices.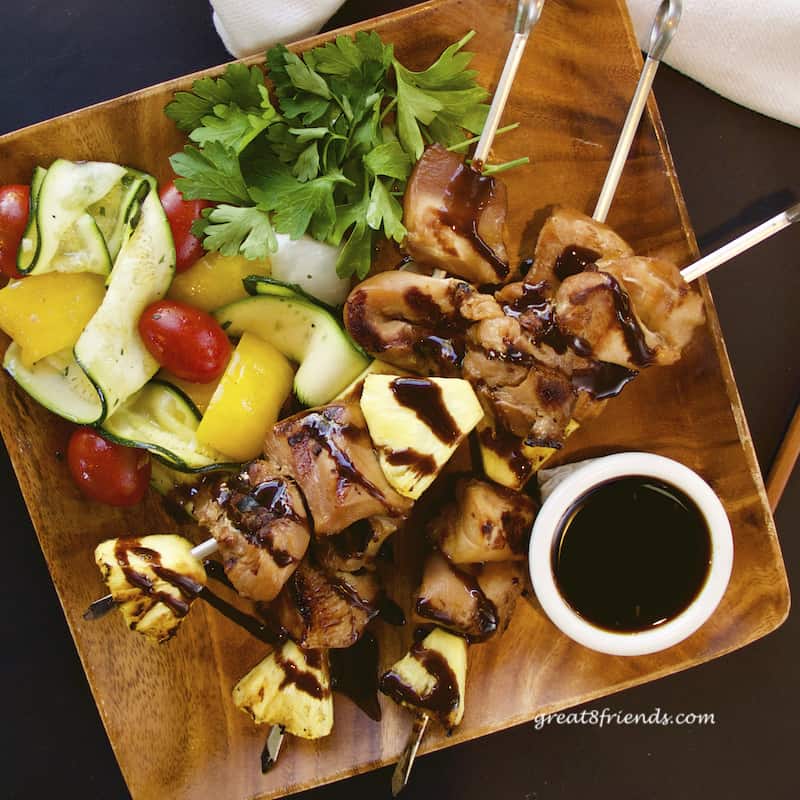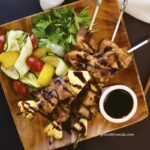 Print Recipe
Pin Recipe
Save this Recipe
Saved!
Please leave a rating!
Grilled Teriyaki Chicken Skewers
Using homemade teriyaki sauce makes all the difference in this chicken recipe.
Special Equipment
12-inch long skewers, either metal or wooden
Ingredients
2

pounds

boneless skinless chicken breasts

1 ¼

cups

teriyaki sauce,

divided

16

fresh pineapple chunks

,

about 1 ½" wide and ½" thick
Instructions
If using wooden skewers, soak the skewers for at least 30 minutes in water.

Remove the chicken from packaging and pat dry with paper towels. Then cut into pieces that are 1 ½" to 2" square. Try to keep the pieces as uniform as possible for even cooking.

Place the chicken pieces into a glass or ceramic bowl or sealable plastic bag and cover with ¾ cup to 1 cup of the teriyaki sauce. If in a bowl, the sauce needs to cover the chicken so each piece gets marinated. cover the bowl with plastic wrap and refrigerate. If in a bag, lay the bag as flat as possible on the fridge shelf so each piece is exposed to the sauce.

Marinate for at least 30 minutes, and up to 8 hours. My preference is about 3 to 4 hours of marinating.

Heat your grill to medium heat.

Thread a couple of pieces of chicken onto a skewer, add a piece of pineapple, a couple more pieces of chicken then top with a pineapple chunk. Each skewer should have about ¼ pound of meat.

Grill the skewers for 6 to 10 minutes on one side then turn over and cook for 5 to 10 minutes on the other side. Chicken is done when it reaches an internal temperature of 165°F. Timing will depend upon the size of your chicken pieces and the heat of your grill.

Serve with extra teriyaki sauce to drizzle.
Notes
Gr8 Do Ahead Tip:
Marinate the chicken and soak the skewers early in the day.