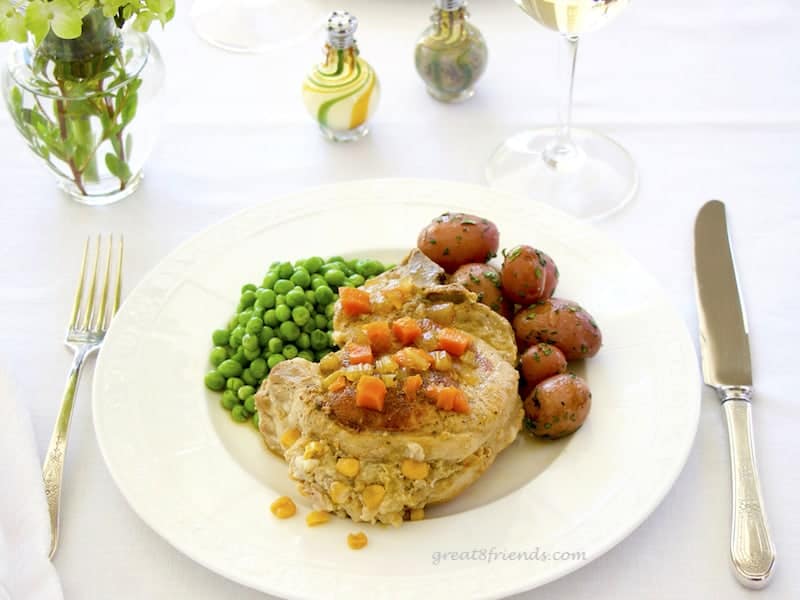 These Stuffed Pork Chops make a fabulous presentation to serve to company...and the best part is, they cook for an hour and a half, so they can be prepared and in the oven while you clean up and welcome your company. No mess to contend with when guests arrive!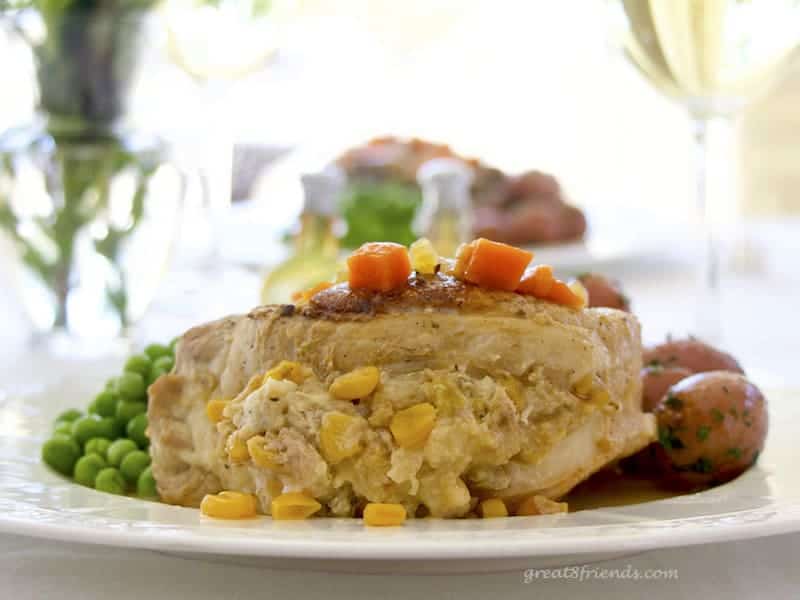 This is one of the first recipes I ever made when I welcomed guests into my first home. And it has been a favorite ever since. If you've ever wondered what to do with those delicious looking, extra-thick pork chops at the meat counter, try this! Just cut a slit and spoon in the savory stuffing. Then brown them on each side and lay on top of a brothy vegetable mixture for a satisfying and beautiful dinner.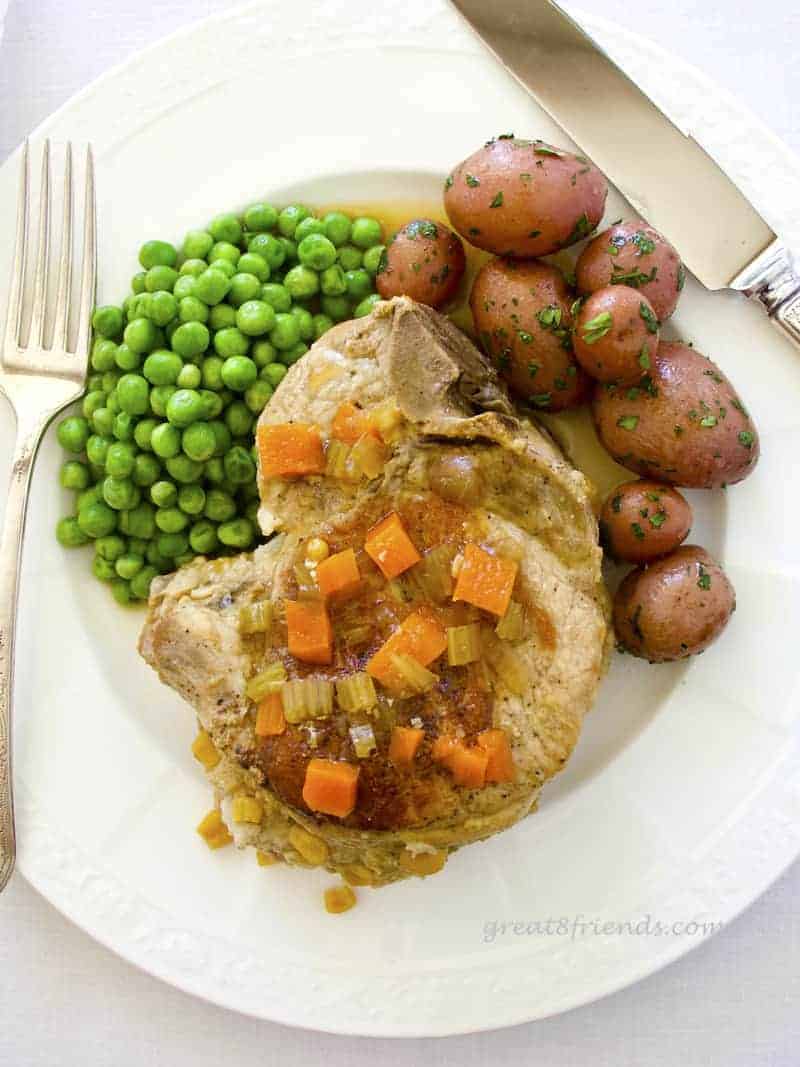 Serve these Stuffed Pork Chops with some roasted potatoes and a green vegetable for the perfect dinner. If you want to serve wine, try a Pinot Noir or Côtes du Rhône for red; or if white is preferred, a Sauvignon Blanc would pair nicely.
Let us know if you enjoy this Gr8 recipe as much as we do!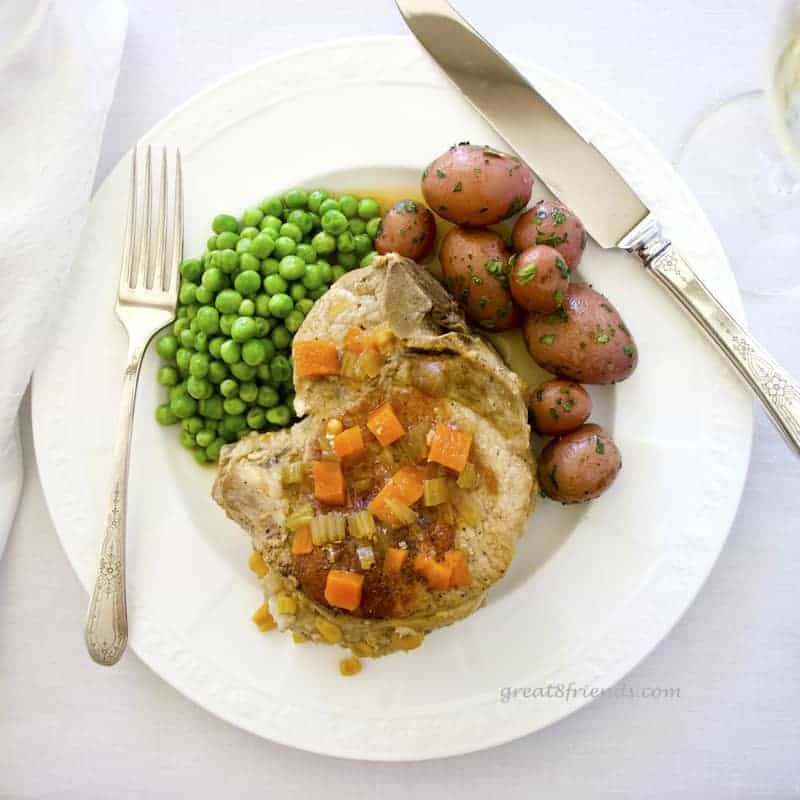 Print Recipe
Pin Recipe
Save this Recipe
Saved!
Please leave a rating!
Stuffed Pork Chops
This is a Gr8 dish for company because all the prep is done ahead of time and the chops bake in the oven while your guests arrive and you enjoy a cocktail.
Ingredients
Stuffing
2

Tablespoons

butter

¾

cup

diced onion

,

divided

¾

cup

diced celery

,

divided

1

cup

diced dried white bread

,

I used some leftover Italian bread

1

cup

whole kernel corn

1

egg

,

room temperature, lightly beaten

¼

teaspoon

dried sage

⅛

teaspoon

dried basil

⅛

teaspoon

ground thyme

salt and pepper to taste
Pork Chops
6

pork loin rib chops

,

bone-in, about 1 ½-inches thick

1

cup

beef broth

½

cup

diced carrots

⅛ to ¼

teaspoon

freshly ground pepper

1

bay leaf
Instructions
Preheat the oven to 325ºF.
Stuffing
Melt the butter in a 10-inch skillet over medium heat.

When the foam subsides, add ¼ cup of the onion and ¼ cup of the celery and cook until tender, about 5 minutes.

When the onion and celery are tender remove the skillet from the heat and stir in the bread, corn, beaten egg, sage, basil and thyme. Combine well.

Add salt and pepper to taste, about ½ teaspoon of salt and ⅛ teaspoon of pepper.
Stuffing and Cooking the Chops
Using a sharp knife, cut a slit horizontally in each pork chop to form a pocket for the stuffing. Cut almost to the bone.

Put ⅙ of the stuffing mixture into the pocket of each chop.

Salt and pepper both sides of the pork chops.

Wipe out the skillet with a paper towel (carefully!), then re-heat over medium-high heat.

Cut a piece of fat from a pork chop and rub over the bottom of the hot pan to grease well; then discard the fat.

Add the chops, a few at a time, to the skillet and cook until browned on both sides, turning only once. Remove and continue cooking the remaining chops. Adding more fat from the chops as necessary.

In a roasting pan, or 13"x9" pan, mix the beef broth, carrots, freshly ground pepper, bay leaf and the remaining onion and celery.

Lay the browned, stuffed pork chops on top of this mixture in the roasting pan.

Cover the pan tightly with foil and bake for ½ hour. Turn the chops, re-seal the foil over the pan and cook for an additional hour, until fork tender.

Place chops on a platter and spoon some of the vegetable mixture over the top.

Remove the bay leaf, and serve the liquid separately as a sauce for the chops.