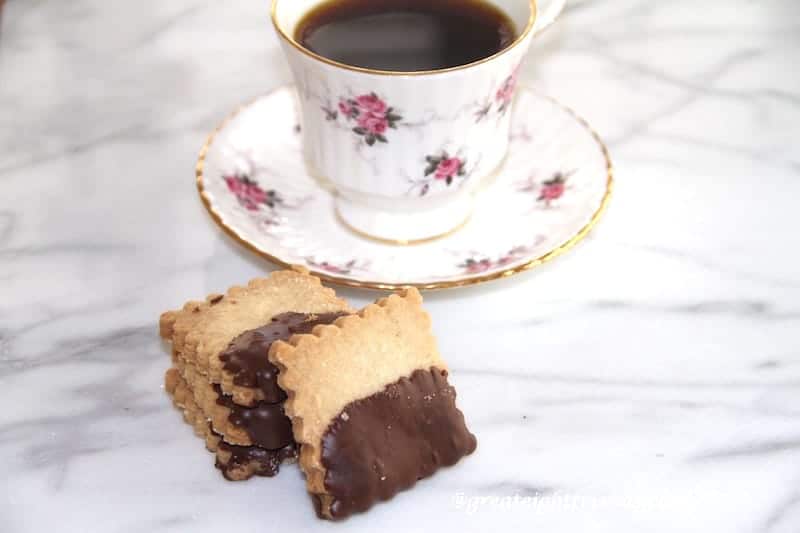 If you asked me what my favorite cookie is, I'd have to say Shortbread Cookies, for sure!  These are not sugar cookies.  Shortbread is one of the oldest cookies. If you are interested, here is a history of shortbread.  They have a completely different flavor and texture. So grab a cup of tea, coffee or a big glass of milk and enjoy these crisp and flavorful delights!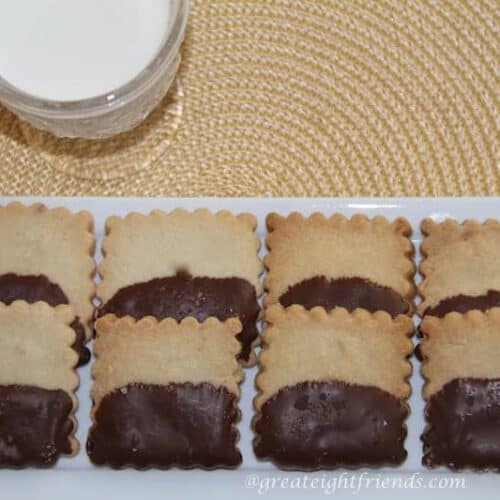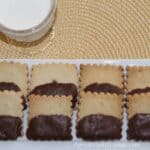 Print Recipe
Pin Recipe
Save this Recipe
Saved!
Please leave a rating!
Chocolate Dipped Shortbread Cookies
Recipe adapted from my "want to be" best friend, Ina Garten 🙂
Ingredients
Ingredients:
¾

pound

unsalted butter,

,

at room temperature*

1

cup

sugar,

,

(optional – extra for sprinkling)

1

teaspoon

pure vanilla extract

3 ½

cups

all-purpose flour

¼

teaspoon

salt

6 to 7

ounces

semisweet chocolate,

,

finely chopped or shaved
Instructions
Preheat the oven to 350°F.

In the bowl of an electric mixer fitted with a paddle attachment, mix together the butter and 1 cup of sugar until they are just combined.

In a medium bowl, sift together the flour and salt.

Add the flour mixture to the butter and sugar mixture.

Mix on low speed until the dough starts to come together.

Dump the mixture onto a surface lightly dusted with flour and shape into a flat disk, about 1 inch thick.

Wrap in plastic and chill for 30 minutes until firm but pliable. (After chilling, you can freeze the dough if you only wanted to make a few cookies.)

Roll the dough ¼ to ½ inch thick on a lightly floured surface and cut with a cookie cutter of any shape, a biscuit cutter, a fluted pastry wheel for decorative edges, or cut with a simple knife**. (Dip the cutter or knife in flour for ease of cutting.)

Place the cookies on a baking sheet covered with parchment paper or baking pad and sprinkle with sugar for an extra sparkle.

Bake for 18-20 minutes. The cookies should not be overly brown or golden. Take out of the oven once you see the edges just turning golden brown.

Allow to cool to room temperature. The cookies are also yummy without the chocolate.

Put 3 ounces of the chocolate in a glass bowl and microwave on high power for about 30 seconds. Stir with a wooden spoon and continue to heat and stir in 30-second increments until the chocolate is just melted. Be very careful as it is easy to burn the chocolate.

Add the remaining chocolate and allow it to sit at room temperature, stirring often, until it's completely smooth. If there are still bits of unmelted chocolate after about 5 minutes, return to the microwave in 5-second intervals, stirring, until completely smooth. Stir vigorously until the chocolate is smooth and slightly cooled; stirring makes it glossier.

Lay a large piece of parchment or wax paper on the counter.

Drizzle or dip ½ of each cookie (or cover as much of the cookie as you desirwith just enough chocolate to coat it and place it on the paper. Let the cookies stand at room temperature until the chocolate has firmed up, about 20 minutes.

Store cookies in an airtight container.
Notes
Gr8 Tip: 
*It is very important that the butter is at complete room temperature (very soft). The dough will be crumbly and harder to work with if the butter is cold.
**A heart cookie cutter would be perfect for Valentine's Day Shortbread Cookies!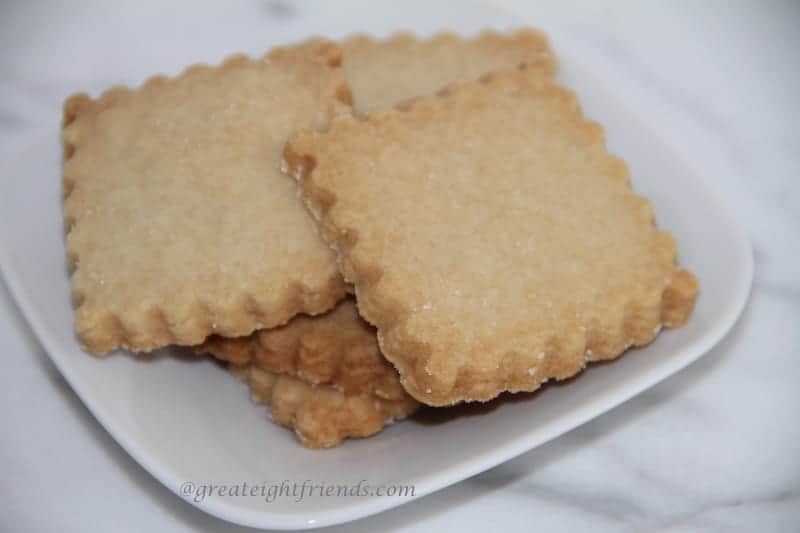 Recipe adapted from Ina Garten.