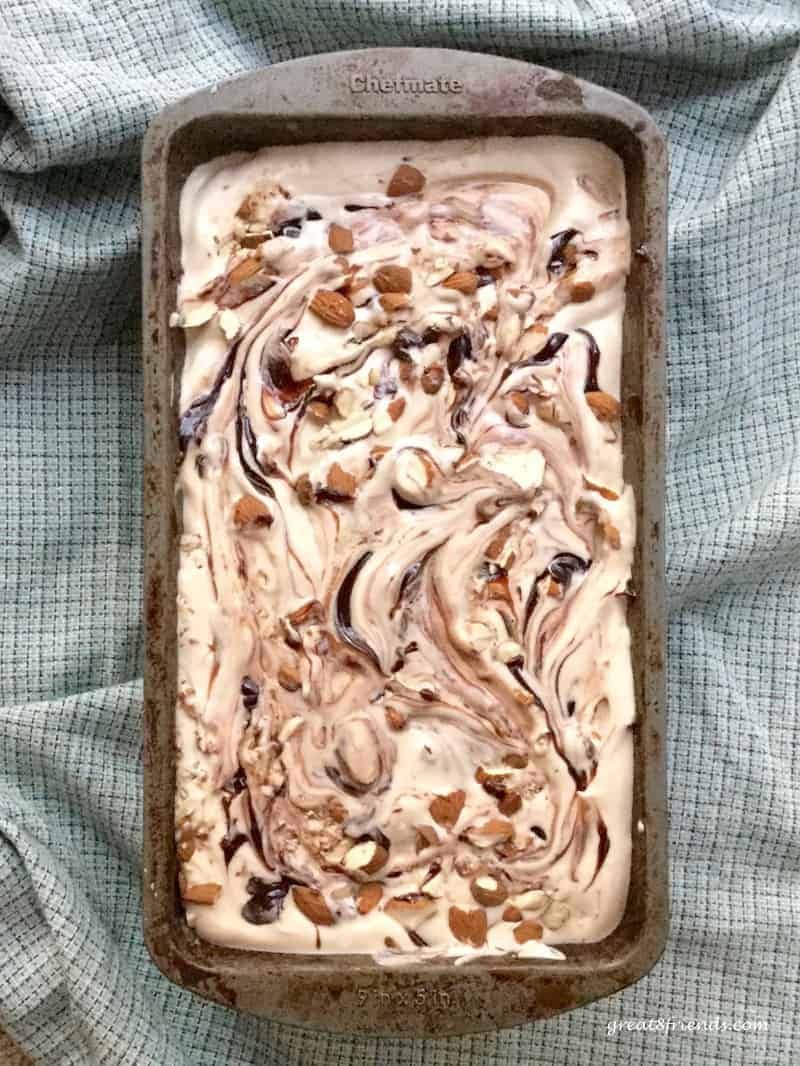 When I was younger, on the weekends, my best friend Gina and I would ride our bikes to the ice cream shop, Baskin- Robbins. Jamoca Almond Fudge Ice Cream was my flavor!
Back in the day it was called "Baskin-Robbins 31 Flavors." We called it "31 Flavors" because, believe it or not, they actually had a menu of 31 flavors!
So many to choose from, but for me there was only that 1! Jamoca Almond Fudge! A creamy coffee flavored ice cream with ribbons of rich fudge and loaded with my all time favorite nut, almonds!
When I say loaded, I mean "loaded"! Not finely chopped, slivered or sliced! Those almonds were practically whole...and a whole lot of 'em!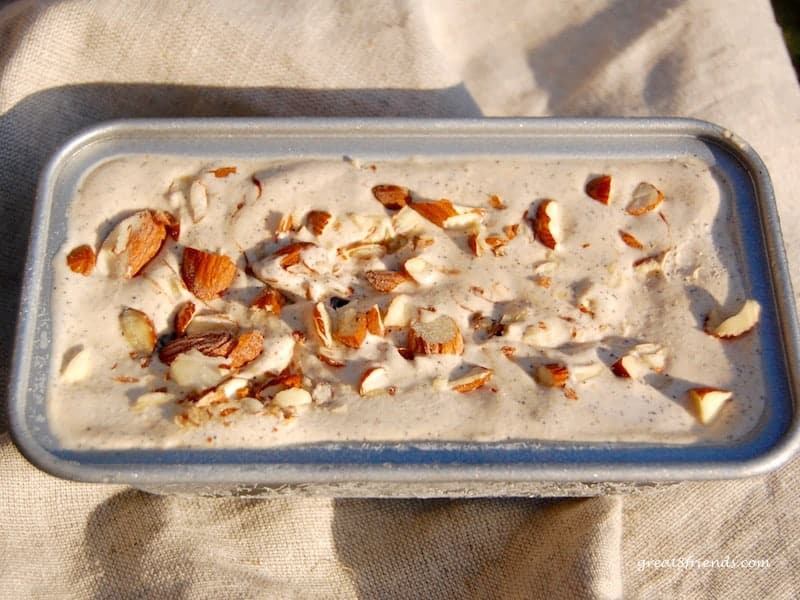 Coffee ice cream, Fudge and Almonds...The Holy Trinity! It must be a "best friend" thing, because all these years later, while at work at Sizzix, I was talking to my BFF Janette and we were talking about our favorite things...colors, food, ice cream, etc.
When I said "Jamoca Almond Fudge", her eyes widened and she said "No way! Mine, too!" Just one more thing we realized we had in common! One of a zillion!
So...on her last day at Sizzix, before she moved "across the pond" to Manchester, England, (thank goodness it's temporary!) I knew right away what I had to bring!
You guessed it, Jamoca Almond Fudge Ice Cream! But not in the iconic pink and white bag, and no pink spoons!
All my friends know about Great 8 Friends so I just HAD to surprise her with homemade!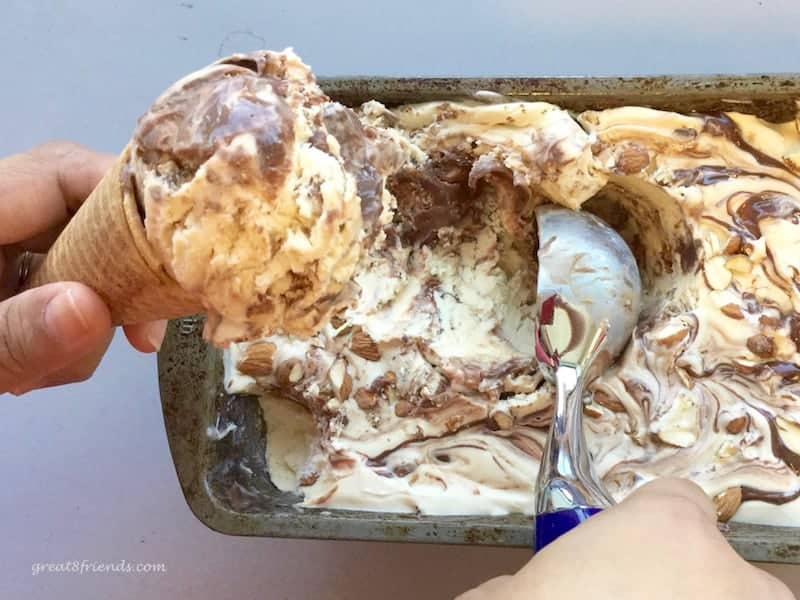 I've got the perfect recipe, My Java Almond Fudge Ice Cream! Of course I HAD to bring sugar cones, but I can only imagine how delicious it would be with Anna's One Bowl Slice and Bake Butter Cookies!
And guess what the best part is about this recipe? Gina and Janette don't need an ice cream machine to make it... and I don't need to take mine out and plug it in! All we need is our simple, handy dandy metal loaf pan!
Just tasting the creaminess of the ice cream, the rich fudge and crunch of the almonds took me back to those summer bike rides in the valley!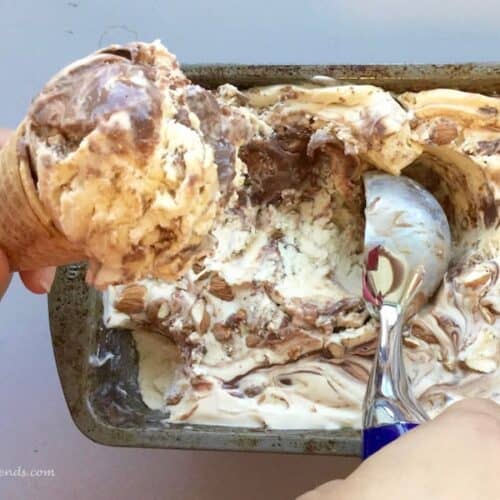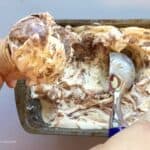 Print Recipe
Pin Recipe
Save this Recipe
Saved!
Please leave a rating!
Java Almond Fudge Ice Cream
Your dose of coffee doesn't have to just be in the morning! Creamy and nutty...cup or cone?
Ingredients
12

ounces

evaporated milk

1 ½

cups

sugar

2

Tablespoons

freshly ground coffee beans or espresso powder

2

cups

heavy cream

½

cup

raw almonds

,

I love almonds so I use more! toasted and chopped

hot fudge sauce

,

amount depends on your personal taste.
Instructions
Place evaporated milk and sugar in a medium saucepan.

Bring to a boil and stir until sugar is dissolved. Let cool 5 hours or overnight in the refrigerator.

45 minutes to an hour before starting, place mixing bowl and the beaters of your mixer in the freezer.

Place the chilled milk/sugar mixture in a medium bowl and add the coffee. Stir to combine.


With the chilled bowl and beaters, beat the heavy cream on high until stiff peaks form, about 2-3 minutes.

By hand and with a spatula, gently stir the milk/coffee mixture into the whipped cream. This becomes the ice cream base.

Layering in a metal loaf pan, start with the ice cream, followed by a few almonds and dollops of hot fudge sauce.

With the tip of a pointy knife, create a swirled pattern in the fudge, trying not to over mix.

Repeat steps 7 & 8, layering 3 additional times.

Top it off with almonds and a swirling of hot fudge sauce.

Place in freezer for 6-8 hours or overnight.

Once frozen...cup or cone?
Notes
Gr8 Make-Ahead Tip:
The ice cream can be made ahead of time and kept in the loaf pan in the freezer covered with plastic wrap or foil. Can be kept in the freezer for up to one week.
sm 9/6/18