Cooking classes are like New Year's Resolutions...most people think about doing them, but end up not following through. Here are a few reasons why taking a cooking class is totally worth the effort.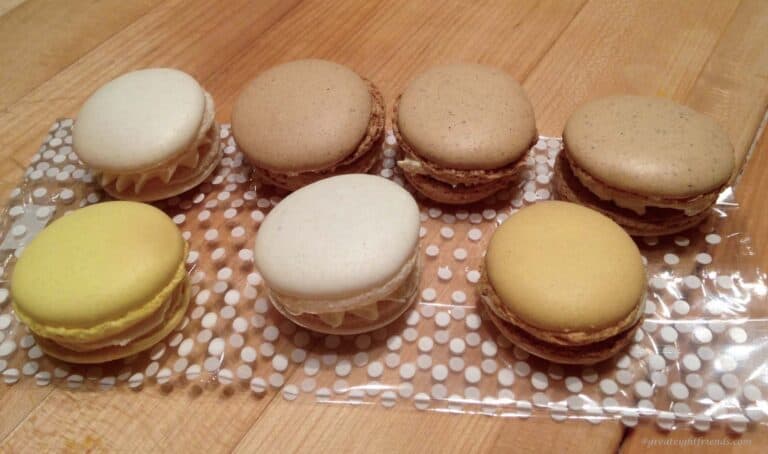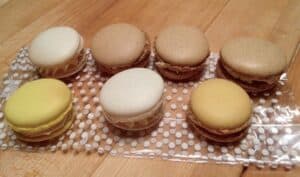 First, you can learn to make something a bit exotic or a dish that you would not otherwise attempt at home because it looks or seems too difficult. I decided to give the Gr8 gals the perfect gift for Christmas, a cooking class at Sur La Table in Newport Beach. Talk about gr8 fun! We signed up for the "Make Your Own Macarons!" class.
A macaron is a colorful, French, sweet meringue-based confection made with egg white and icing. When visiting downtown Los Angeles, Anna, Jurga, Debbie, and I always stop and load up on these delights from Bottega Louie. I never thought that I would ever attempt to make these beauties myself, but under the "hands-on" direction of Chef Lauren Haynie at Sur La Table, we surprised ourselves and made lemon, coconut, and hazelnut macarons with banana buttercream, praline buttercream and white chocolate ganache fillings.  They actually looked pretty good when we were finished and tasted even better!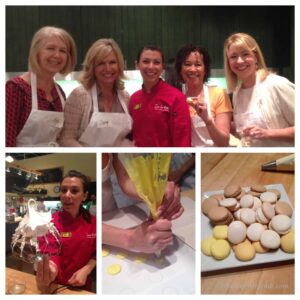 We came home with all the recipes, specific techniques, detailed ingredient lists, and written tips for successfully making macarons. We are now well equipped to attempt this at home and treat our friends and families.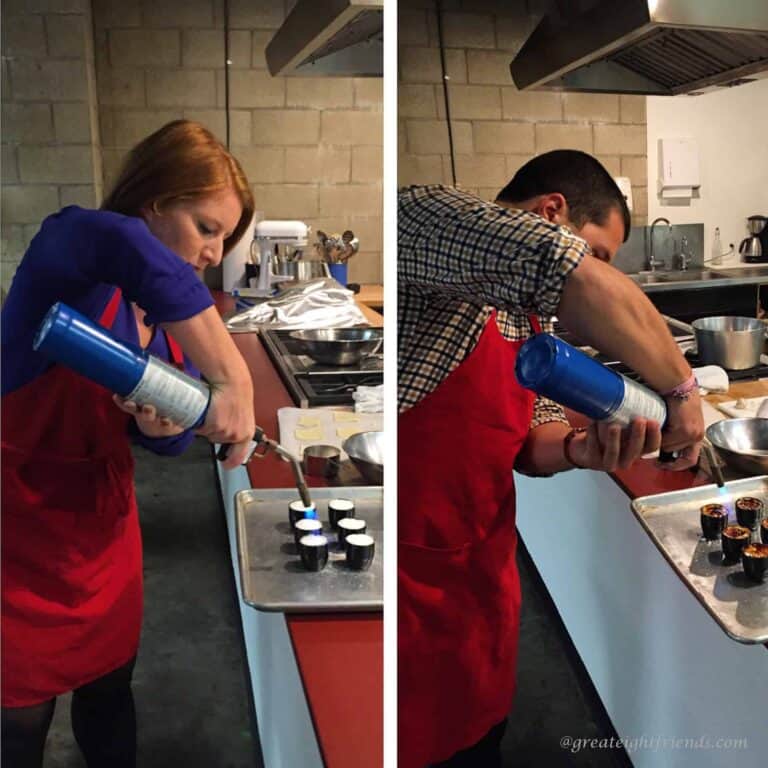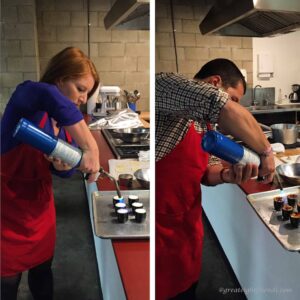 Second, a unique date night would be a fun reason to take a cooking class. My daughter and her boyfriend recently decided to take a class together. They went to Eat Street one evening and learned to make Coq au Vin and crème brulee. Eat Street offers, "date night and singles classes." A few days later the two of them made the crème brulee for both our families. It was fun to watch them work together in the kitchen and they proudly presented us with yummy, individual crème brulees. The ingredient list they received was also cost-efficient!
Finally, whether you are a seasoned cook or a novice, you'll learn something new. You will come home with new recipes, new ideas and new tips. I love to watch cooking shows on television, but taking a class takes the experience up a notch. Although some cooking classes are not hands on, the in-person instruction is very helpful. And of course you get to taste-test interesting dishes, sometimes sip wine while tasting and not have to do the dishes!
Taking a cooking class can give you that perfect go-to dish to wow your guests. And don't forget that a summer cooking class for kids is a fun activity and sometimes can be a great inspiration to get them involved in the kitchen!