Get Your Kicks
Our country, "America the Beautiful," has so much to offer and is a road trip fanatic's paradise. While Tim and I were planning our two day trip to Las Vegas for a friend's birthday celebration, we decided to tack on a few extra days and see some of the sights that were within driving distance of that shining beacon in the desert. You can find plenty of things to do in the area besides losing money...like I did.
Since I had never been to the Hoover Dam or the Grand Canyon those were definitely two items to check off my bucket list. Here are some the highlights of our trip:
Hoover Dam
Only about a 33 miles southeast of Las Vegas is the Hoover Dam, an historic landmark. It is the world's largest dam and was named after Herbert Hoover who, in the 30's, saw a need to supply water and power to the Southwest. We were able to view the immense hydroelectric generators and the elegant Art Deco designs in the four towers. It truly is a wonder of the modern world.
Seligman and Grand Canyon, Arizona
Seligman, the birthplace of Historic Route 66, is a small (pop. 445), town situated in the beautiful Upland Mountains of Northern Arizona. We drove through to try and capture the charm and feel of Route 66 and were delighted to see that it still represents all that is fantastic about Route 66 and its glory.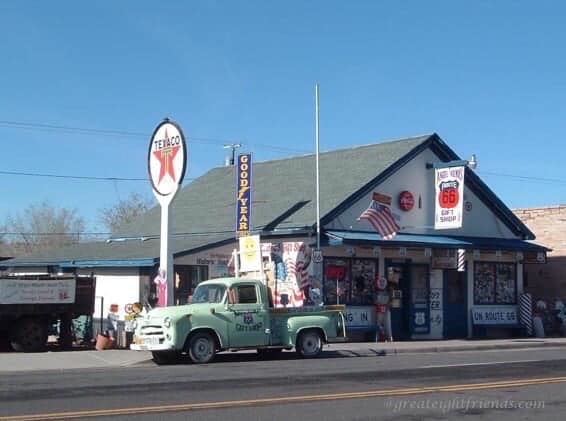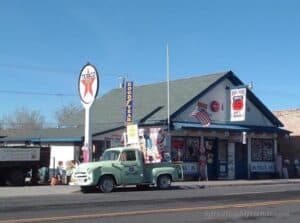 There were many souvenir shops basically all selling the same things but one shop, Angel and Vilma's, was unique in that it had some interesting photos of the past. This shop is generally known as the, "Original Route 66 Gift Shop."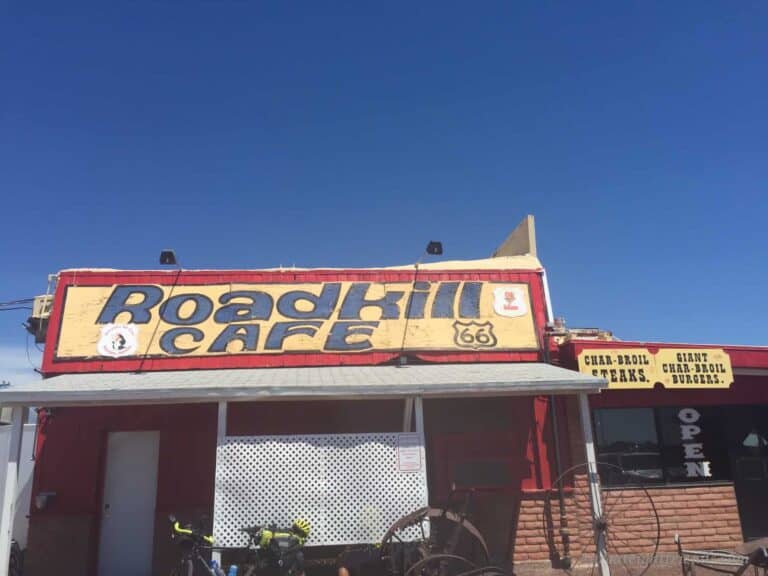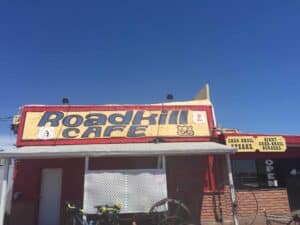 We stopped in at The Roadkill Cafe for lunch by following Yelp reviews. The reviews were mixed but we thought we'd give it a try. We were underwhelmed with the food (we shared the basic burger, fries and cole slaw) but our expectations were low since this is a small town whose only commerce is tourism. Right outside the cafe is the old Arizona territorial jail and the Old West storefronts which have been used as a background for many commercials as well as documentaries.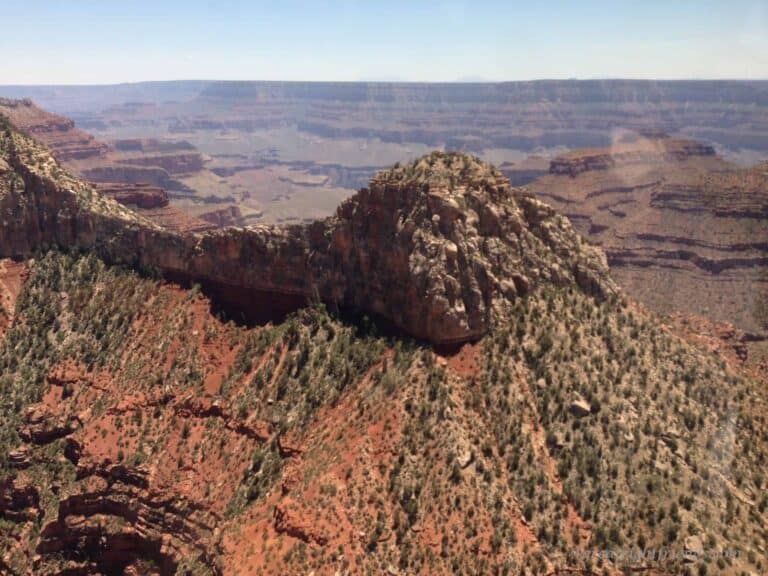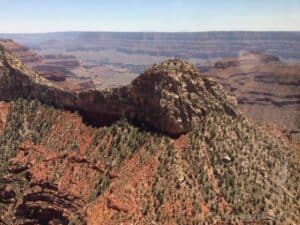 After a 2 hour drive we arrived at the Grand Canyon. I was excited about my first visit here (Tim had been here before) and was immediately overwhelmed! At 277 river miles long, 18 miles wide and a mile deep the size of the canyon was only surpassed by its geological color and the incredible erosion formations. Tim recommended that the best way to really experience the beauty of the Grand Canyon was to be seen by helicopter; so we scheduled a 45-minute tour with Papillon Tours for the next morning.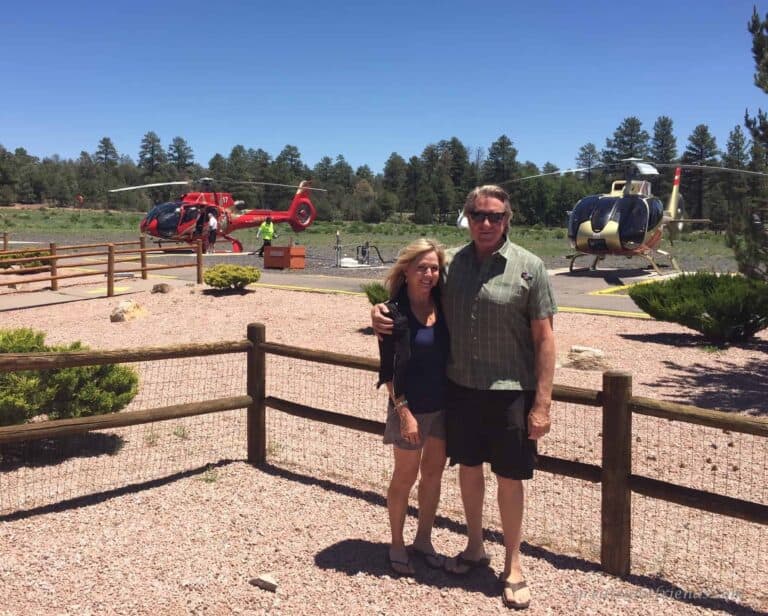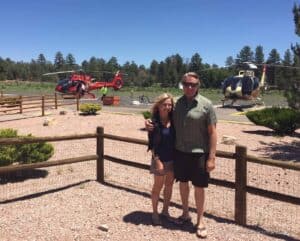 We settled into our hotel and then wandered over to the Big E Steakhouse for dinner. Tim and I shared a French Onion Soup, Wedge Salad and Prime Rib dinner. No surprise. The food mediocre and overpriced. Yep! Another tourist trap. Big E Steakhouse is a rather interesting place with the dining area simulating an Old West village with a saloon and a stage with a big screen pumping Grand Canyon images that totally dominated the dining area. This was great because it revved up our enthusiasm for our tour the next morning.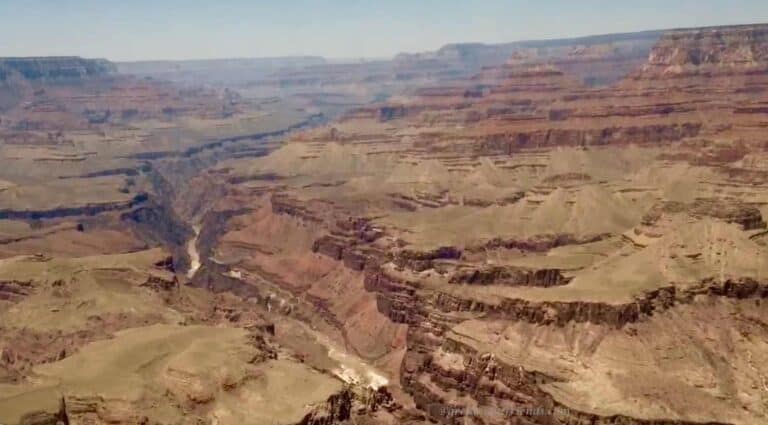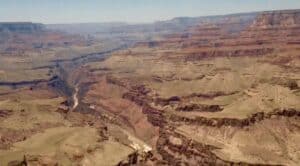 The helicopter tour was outstanding! It was not cheap, but when in your life will you have the opportunity to experience something as beautiful as this?! When the helicopter took off I felt my heart leap! We flew a short distance across the forest and then reached the crest that entered the Grand Canyon. I was so overcome with emotion that I started to cry. Spectacular — Beautiful — Magnificent.
Williams, Arizona
When we drove into Williams, I immediately knew we should have planned more time than just a couple of hours. The Historic Downtown District covers six square blocks and boasts a rich heritage that features the Old West and Route 66.
After strolling this quaint little town and checking out several shops we settled in at Pancho McGillicuddy's Mexican Restaurant, which had great atmosphere. We were the only patrons in the restaurant (it was close to 2:00) and the service was very slow (I think the cook was on his lunch break). However when the food finally arrived it was worth the wait! I had the daily special of Grilled Chicken with a Cream Salsa Verde Sauce. Tim had the Drunken Fish Tacos. Both were excellent!
Completing our visit to Williams was a stop at the Pine Country Restaurant across the street from Pancho's for a piece of one of their famous homemade pies (Coconut Cream was our choice). It did not disappoint! Tim and I gleefully enjoyed nibbling on our dessert on our drive to Sedona. (You could say we had dessert in the desert.)
Sedona, Arizona
Am I repeating myself when I say spectacular, beautiful and magnificent? That is how I describe Sedona and its enormous red rock formations. The ever shifting natural light, particularly at sunset, is something to see.  This was my first visit here and driving in I knew it was a place that I would be visiting again and again. The town has a resort like feel yet is still very rugged.
Our time here was short and I knew there was one place that I definitely wanted and needed to see - the Chapel of the Holy Cross. The chapel is built into the red rocks with the cross towering over the valley. The views from the outside of the chapel are breathtaking; definitely a must see for anyone visiting this beautiful town.
Our day in Sedona ended with a fabulous Italian dinner at Cucina Rustica, just a short distance from our home for the night, the Hilton Hotel. The concierge recommended that we take the hotel shuttle to and from the restaurant. What a bonus! The food was outstanding! We started with the Calamari Fritti appetizer and Ruccola and Radicchio Salad with Purple Onions and shaved Parmesan; followed by Linguine Con Vongole and Classico Bolognese for dinner. We were very pleased with the dinner, service and the ambiance. Truly a wonderful ending to a perfect day.
Jerome, Arizona
Jerome is known as an historic "ghost town," yet it is a bustling tourist magnet and artistic community with a population of about 450. The town sits above what used to be the largest copper mine in Arizona and was once a thriving mining camp between the late 1880's and early 1950's. Jerome is a quaint, peaceful town with many unique shops and restaurants.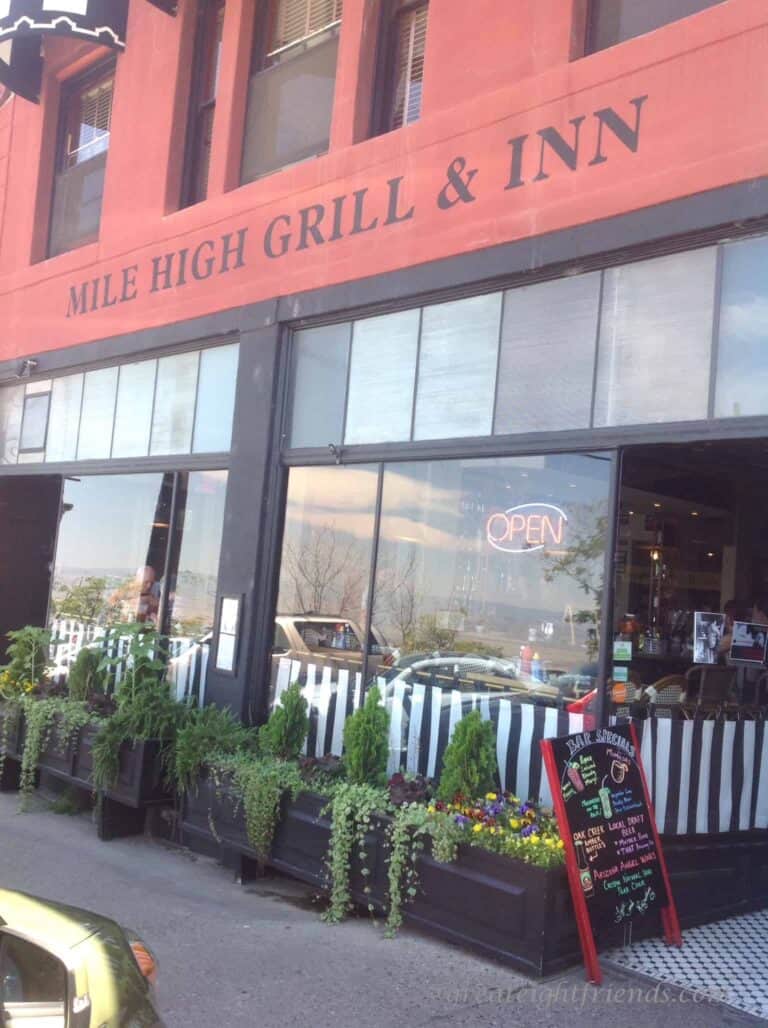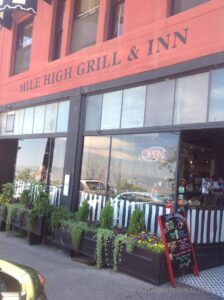 One of the restaurants we had the pleasure of patronizing was the Mile High Grill located on Main Street in the heart of town; it's also a bed and breakfast. The menu choices were unbelievable. I was pretty hungry so Tim's idea of sharing was not happening. We ordered the Smoke Stack Turkey Club and the Amelia Earhart Blue Burger with caramelized onions, mushrooms, bacon and blue cheese. Not a morsel was left!
Our road trip came to an end with an overnight stay in Scottsdale with friends and then back home to Orange County. We were blessed with a wonderful experience having seen some of the wonders of the modern world and spending time with Gr8 Friends. Life is good!