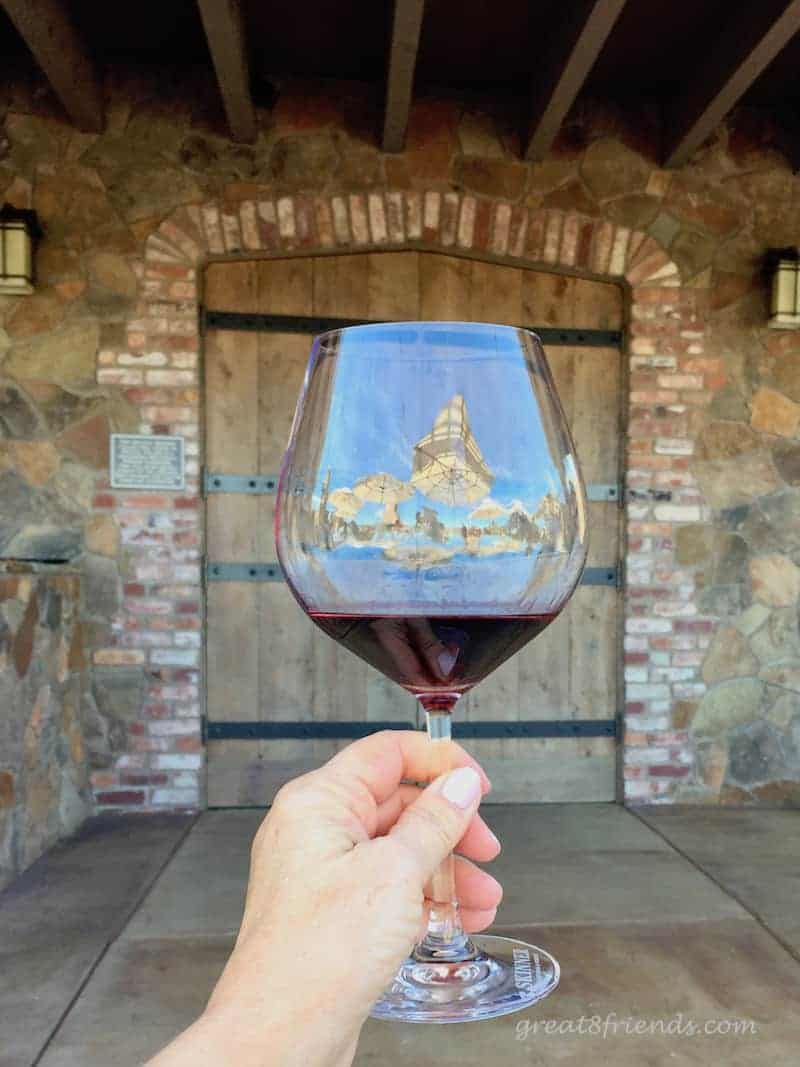 Sometimes you have a day that will live in your memory forever. That's how I feel about one of the side trips Kyle and I took while we were at the 2017 International Food Blogger's Conference. After the conference adjourned for the weekend Kyle and I were fortunate enough to be able to attend the El Dorado County excursion. It should have been titled, "El Dorado Wine Country."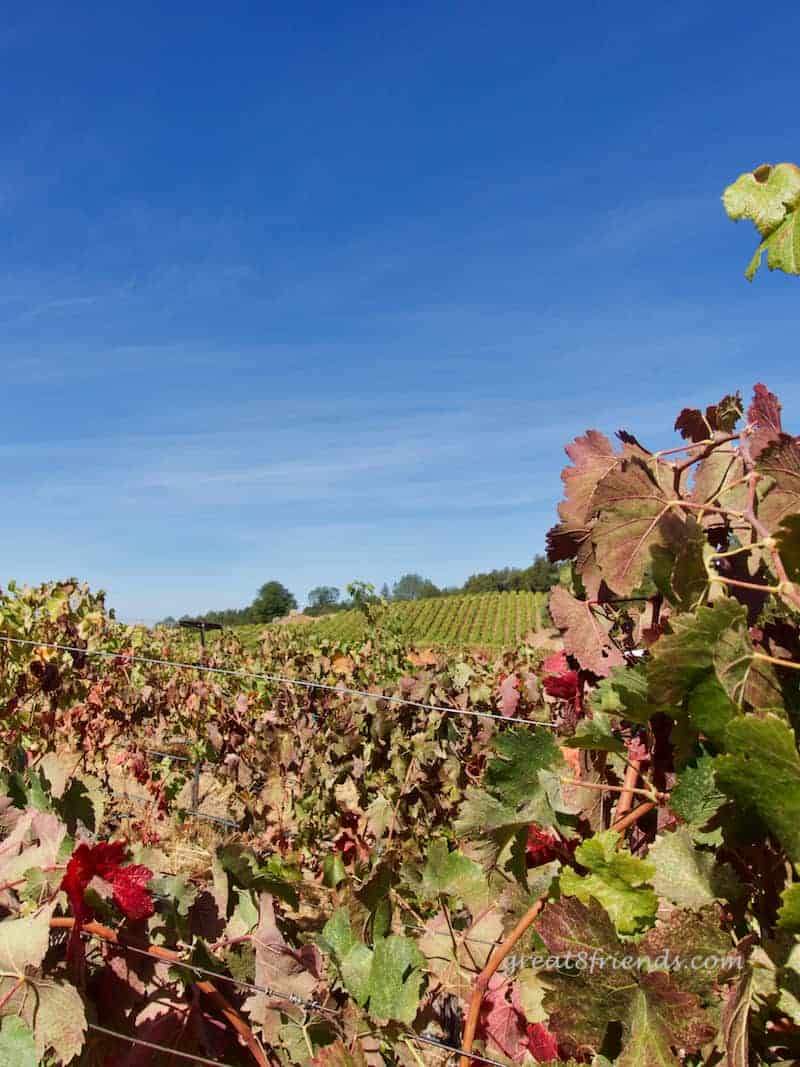 We started with brunch accompanied by several wines and we finished with an early dinner, also accompanied by several wines! (It's a good thing we were on a bus!) Who knew that El Dorado County has over 2,000 acres of grape vines and 70 wineries!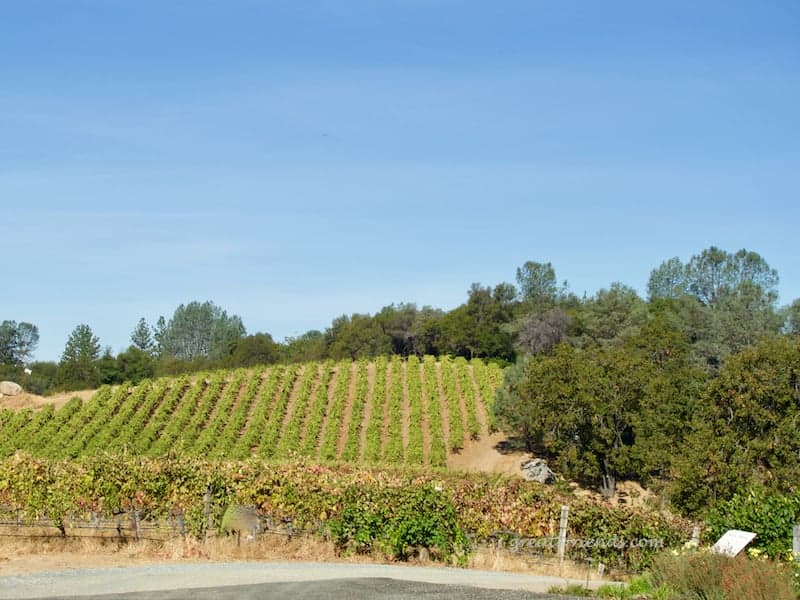 And because of the fluctuation in elevation and the 8 different types of soil, more than 70 varieties of grapes are grown successfully.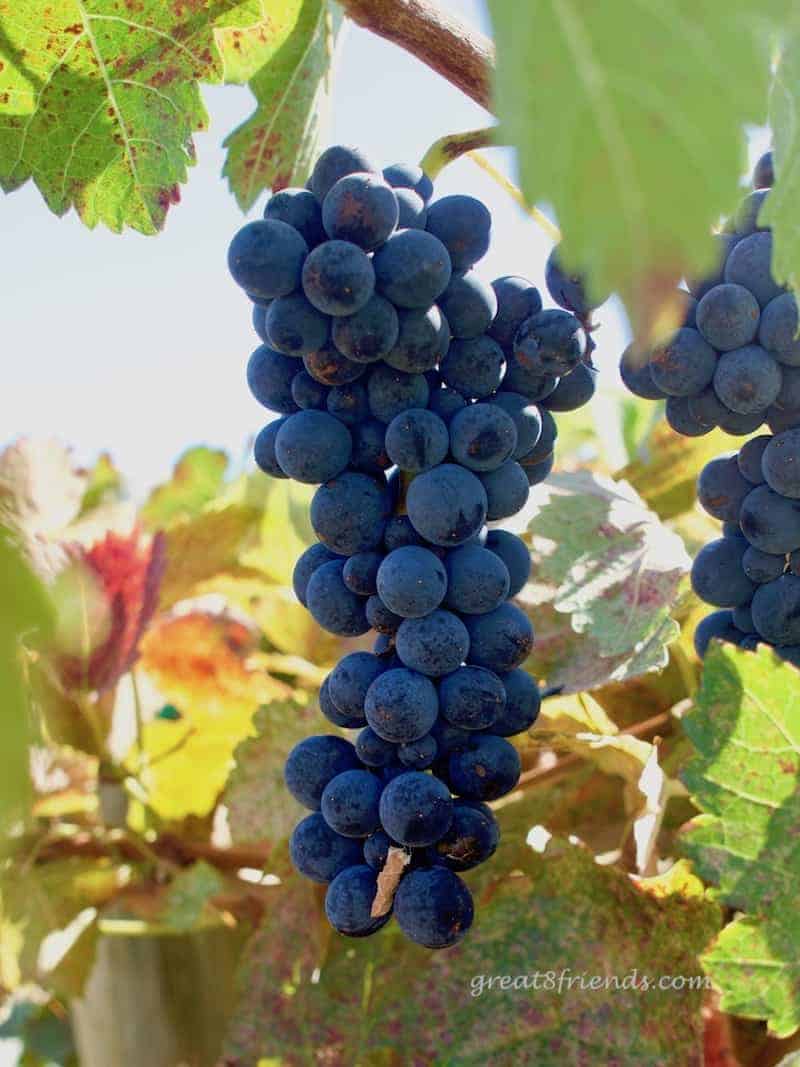 The day was packed with activities which would make a very long post; so, for the purposes of not boring you, I will stick with just telling you about our brunch, our first stop.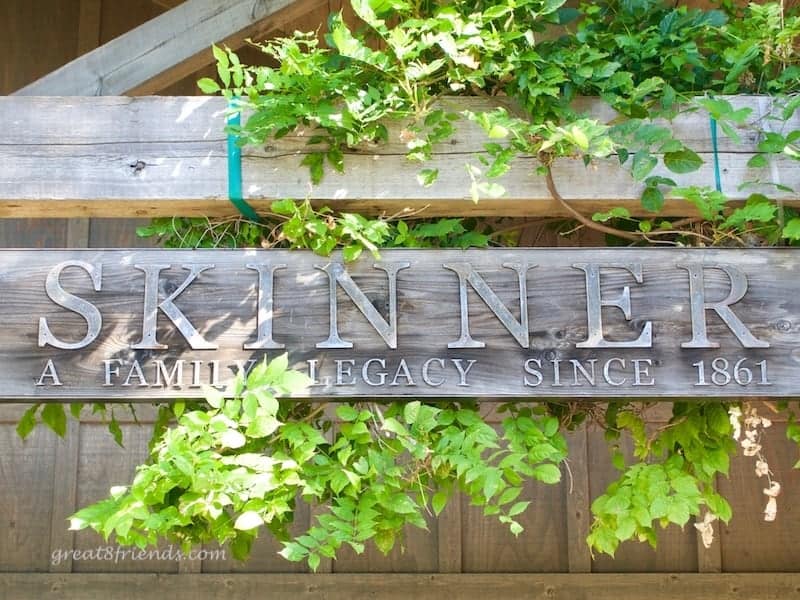 Zephyr Conferences did a fantastic job of organizing this whole day. Skinner Vineyards, a beautiful winery located in Somerset, CA, was the venue, and 9 wineries participated in the wine tasting.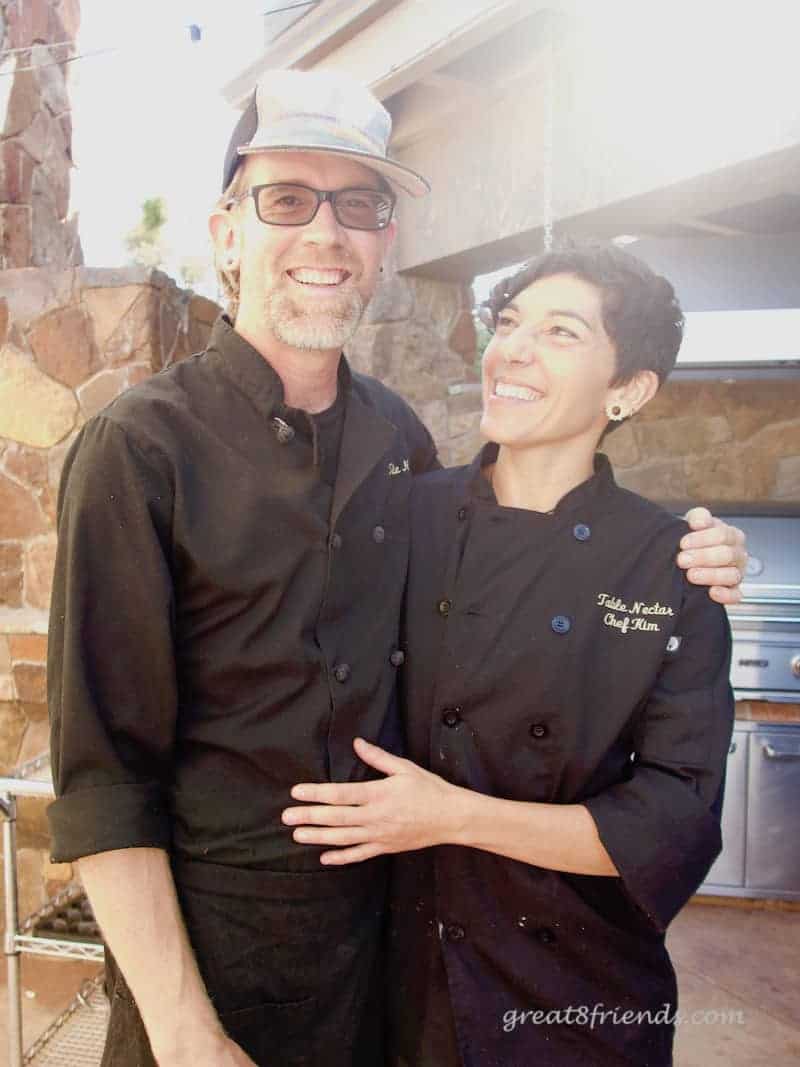 Brunch was prepared by Kimberley Medici, Executive Chef at Table Nectar, Local and Organic Catering. I have to tell you, Vince loves to dine out and we have been fortunate enough to have eaten in many top restaurants around the world. This meal is at the top for not only flavor, but presentation AND uniqueness.
WARNING! Continue reading at your own risk...this post may cause hunger!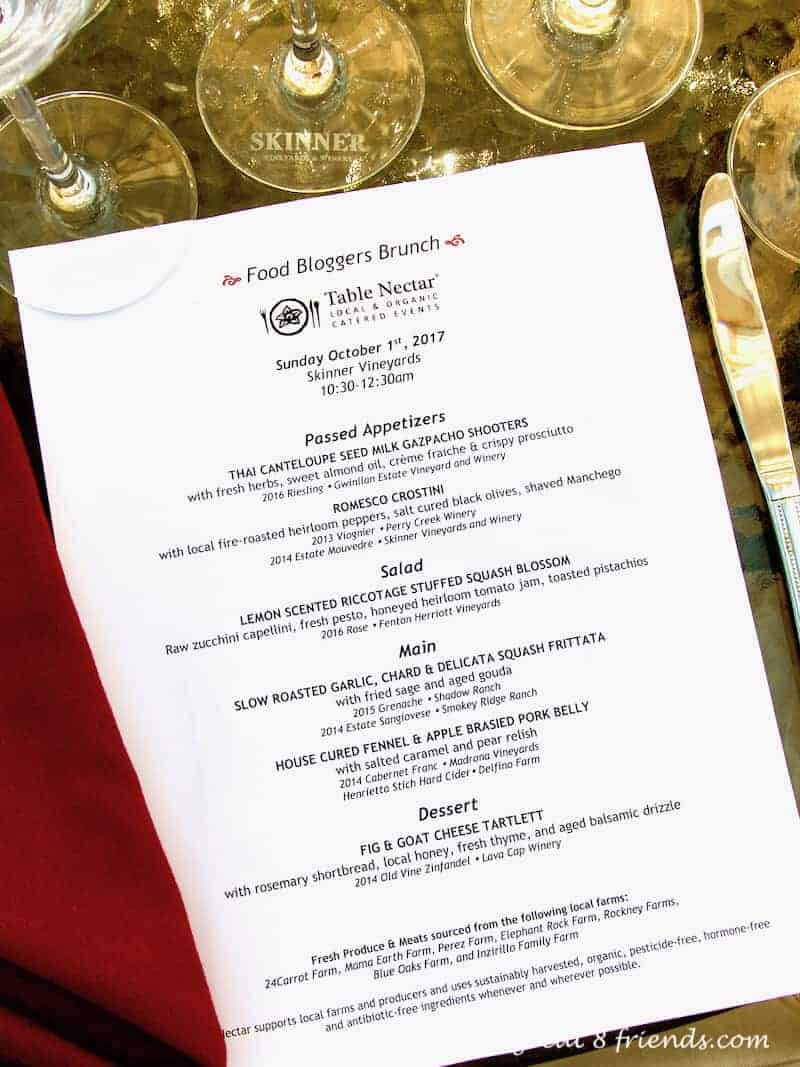 The food choices were creative without being strange. And EVERYTHING was a delight for my taste buds. Kim truly is a talent in the kitchen. Normally, she does her own wine pairing, but in this case, the wineries picked their wines according to her menu. I am not a wine aficionado, but I do know what I like. And it seemed to me that the pairings were thoughtful and well executed. Since this is a food blog, we will focus on the succulent food courses.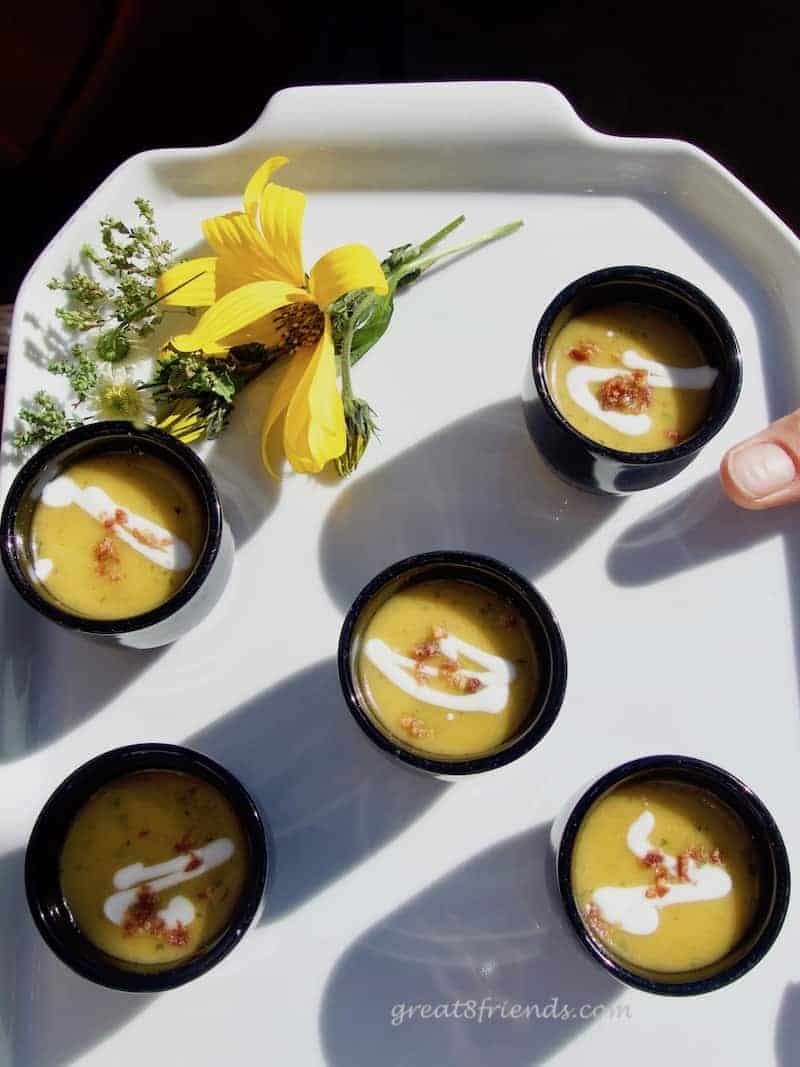 As we mingled with other conference attendees and enjoyed the stunning views, there were 2 appetizers passed. The first was a Thai Cantaloupe Seed Milk Gazpacho Shooter served with a 2016 Riesling from Gwinllan Estate Vineyard and Winery. Cantaloupe seeds are rich in vitamins and high in protein. Made into a gazpacho and served with a crispy prosciutto this was Kim's nod to the Italian appetizer of prosciutto and melon! (See, I told you she's creative.)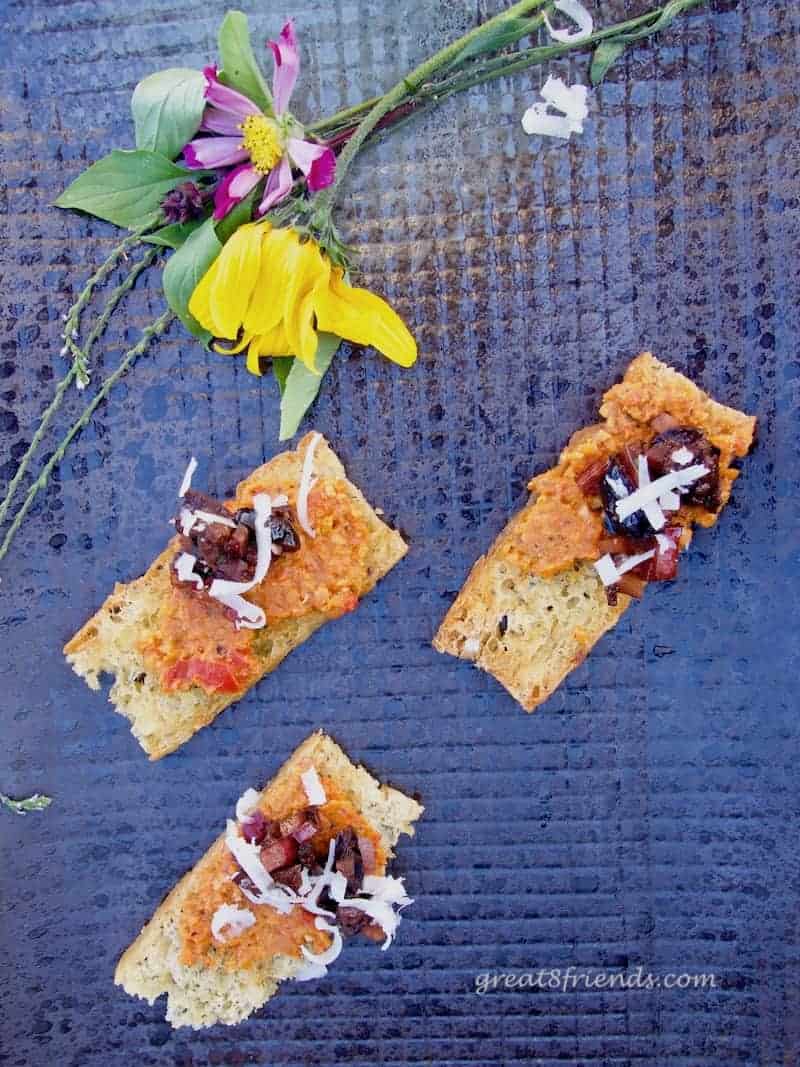 Next was a Romesco Crostini. Chef made the Romesco Sauce from some local heirloom peppers that she fired roasted. We had the opportunity to taste two wines, a Perry Creek Winery 2013 Viognier and a 2014 Estate Mouvedre from our hosts at Skinner Vineyards and Winery.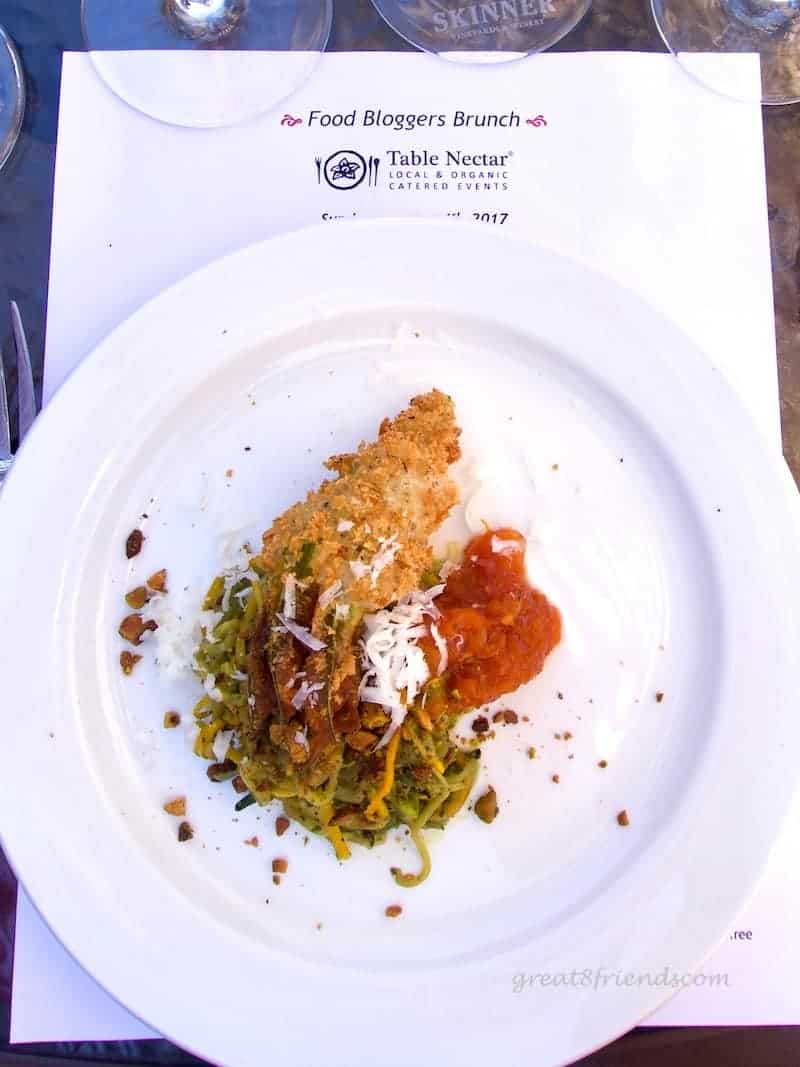 We sat down to the salad which was Lemon Scented Riccotage Stuffed Squash Blossom served with raw zucchini capellini, fresh pesto, and honeyed heirloom tomato jam, sprinkled with toasted pistachios. Accompanying this fresh, light and tasty salad was a 2016 Rosé from Fenton Herriott Vineyards. I love rosé in the summer and this one didn't disappoint. It wasn't too sweet, and not too dry.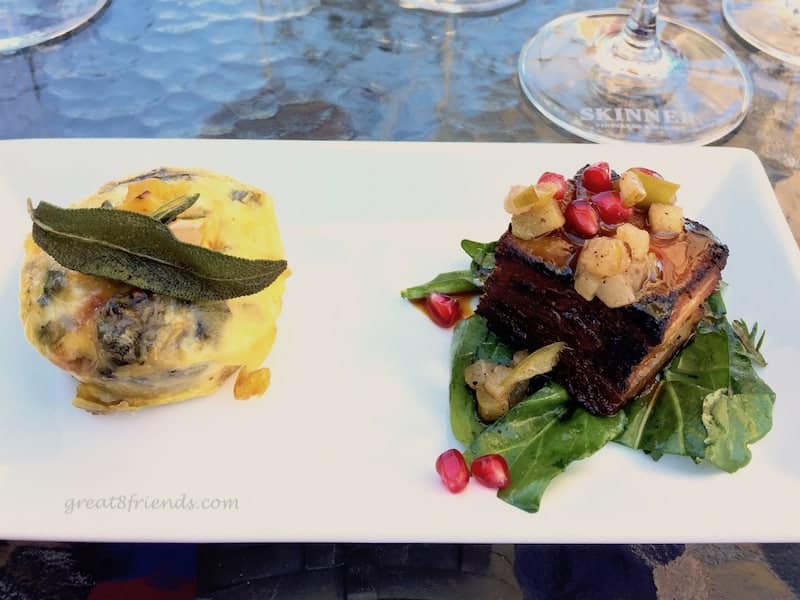 The main course was the chef's take on bacon and eggs...bacon and eggs made for royalty!! The plate contained a frittata which included chard, delicata squash, slow roasted garlic and aged Gouda. There was also a bit of crispy sage. With the squash and the herbs, this dish tasted like the holidays. And the 2016 Grenache from Shadow Ranch was the perfect pairing. The grenache tasted like Christmas, but wasn't sweet, just perfectly balanced spice.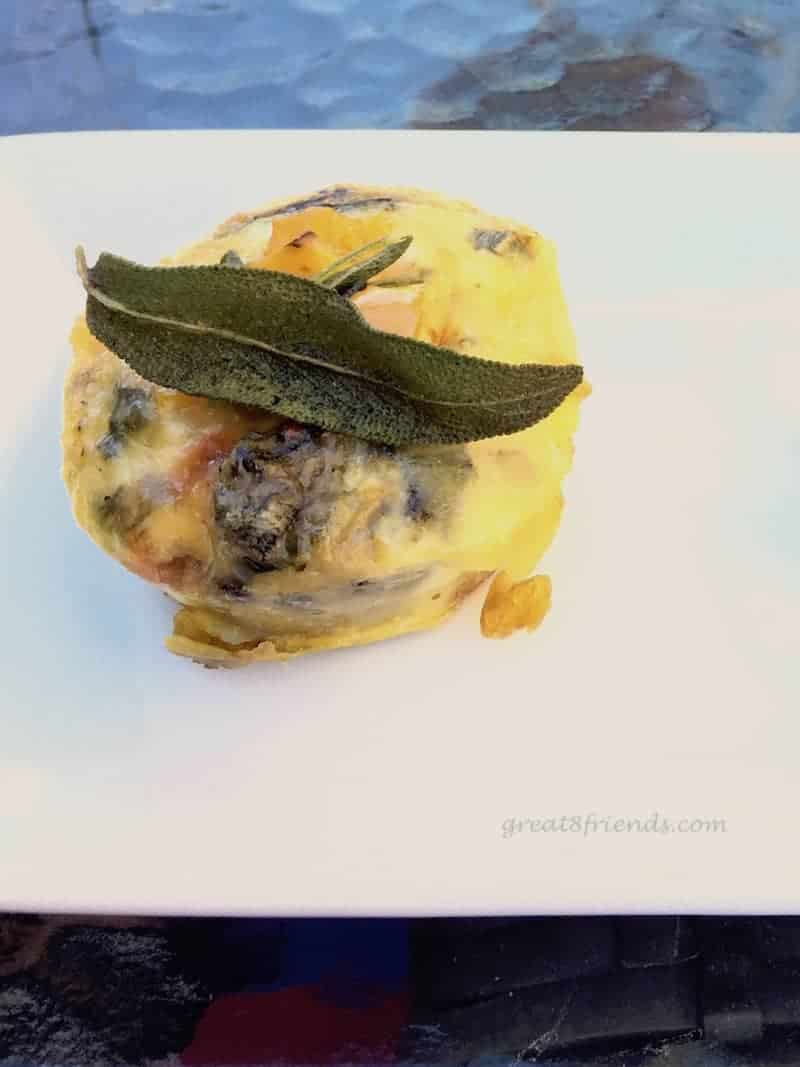 Along with the Frittata Kim served a House Cured Fennel and Apple Braised Pork Belly with Salted Caramel and Pear Relish...that's right, salted caramel! This pork belly was the best I've ever had. It wasn't too fatty or rich like you think of pork belly being. Chef said it was because the pigs are free to roam and they graze on acorns.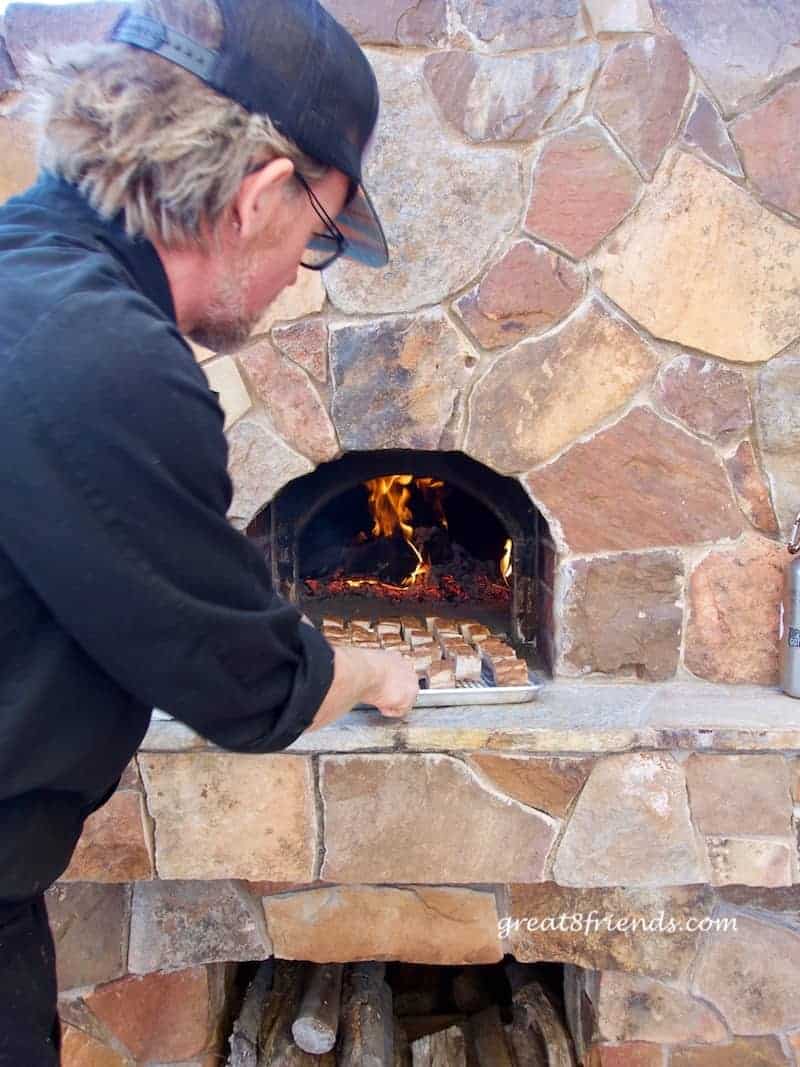 Kim's husband manned the brick oven and roasted the pork belly. It was truly perfection for my palate. This was served with a 2014 Madroña Vineyards Cabernet Franc and Delfino Farms' Henrietta Stich Hard Cider. You know that apples go well with pork and this was no exception, perfection with the pork!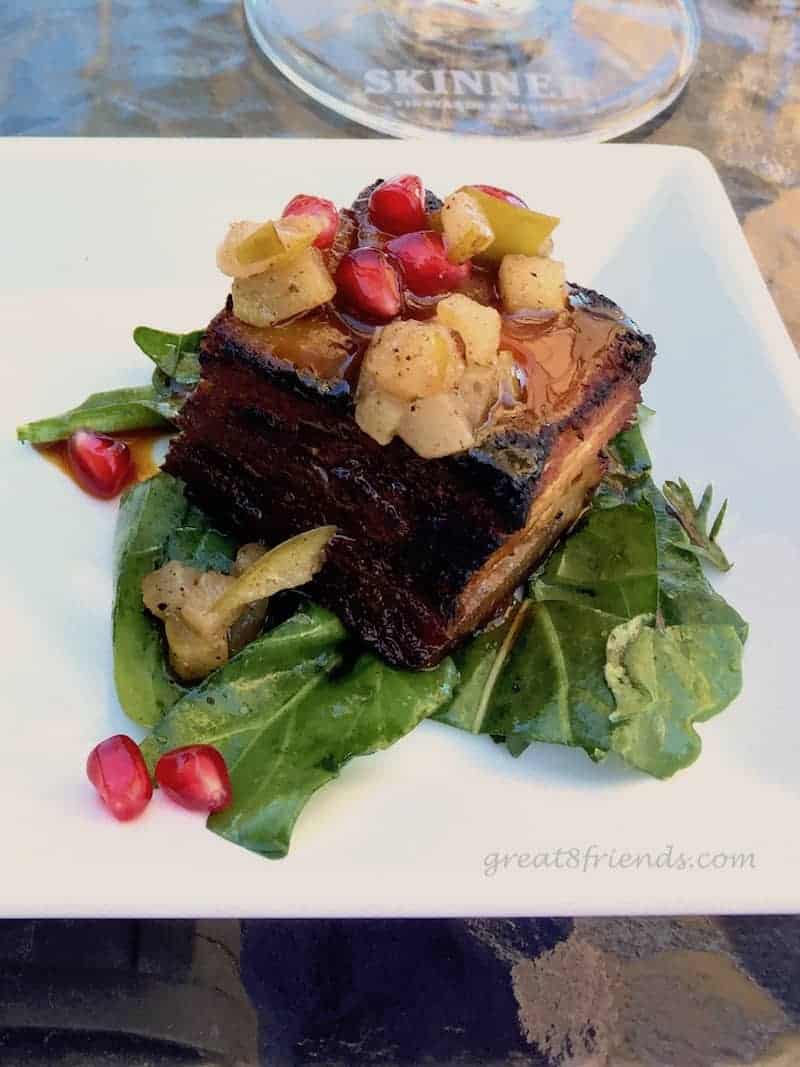 When one has eaten so well, it is hard to imagine that anything could follow that could be any better. How could dessert possibly compete with the amazing flavors we had already experienced? Well, dessert took the whole meal to another level.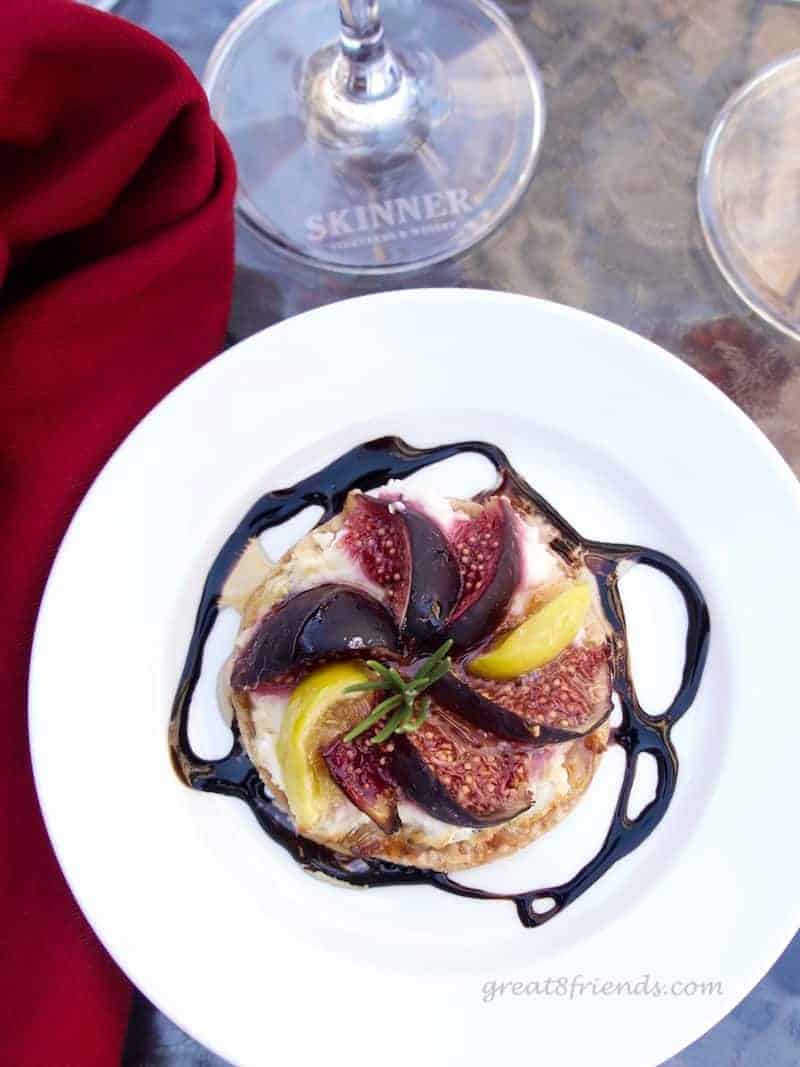 Chef Kim created a Fig and Goat Cheese Tartlett that was absolutely sublime. Her tart crust was a crumbly, light rosemary shortbread and she placed the fresh figs atop the thyme infused goat cheese. Then Kim finished it with fresh local honey and balsamic vinegar drizzled over the whole thing. OH MY! In Europe they eat cheese and fruit after a large meal and I can see why. This was the cheese and fruit course, only in a tartlett form. It wasn't too sweet, but not too savory either. I know I sound like a broken record, but it was perfect!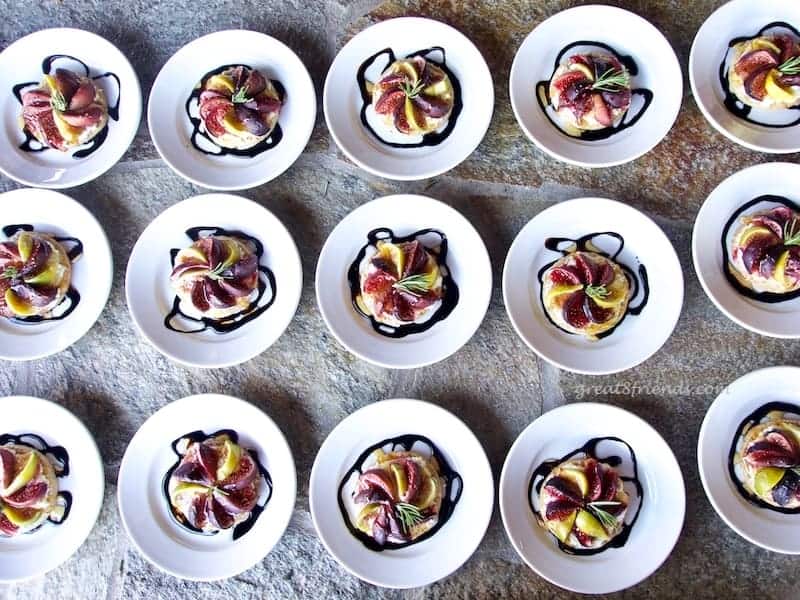 This perfect dessert was served with a 2014 Old Vine Zinfandel from Lava Cap Winery, not a traditional dessert wine, but delicious with the goat cheese and fig tartlett.
If you're looking for a wine tasting trip or find yourself in El Dorado County or Sacramento or even the South Lake Tahoe area, definitely visit some of these wineries. And if you're in the market for a caterer, you MUST contact Table Nectar.
In the meantime, I'll be here trying to recreate Chef Kim's Delicata Squash Frittata. Maybe I can get it done for a Christmas breakfast!
SaveSave