This recipe for Clams with Hot Italian Sausage creates a spicy, briny, delicious dish that works as a sit down first course or light entrée. You can also serve it over pasta!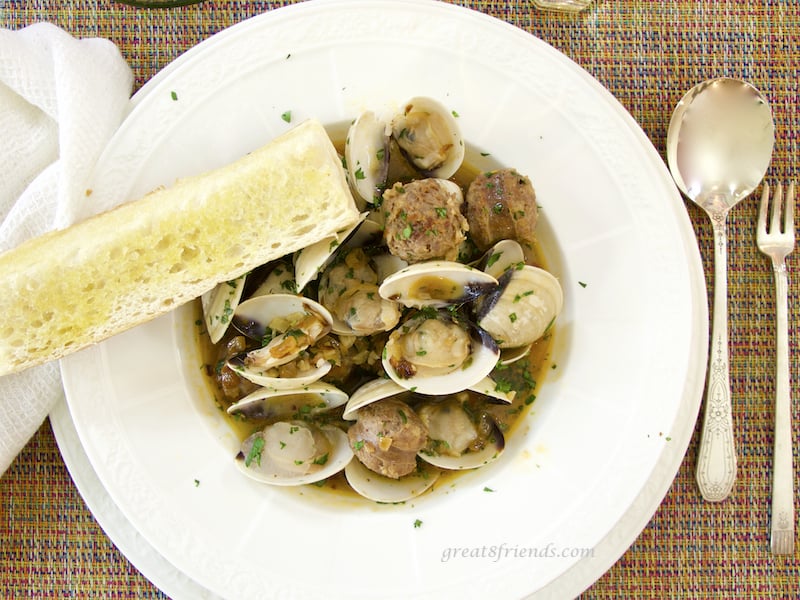 This is one of those recipes that appears to your guests as though you spent way more time and effort than it actually takes. Which, in my book, makes it a keeper to return to over and over again.
I first made a dish similar to this for our Gr8 Dinner featuring Lark Restaurant in Seattle, Washington. After making it that first time with chorizo, I adapted it to be more "Italian" for my sweet Vince.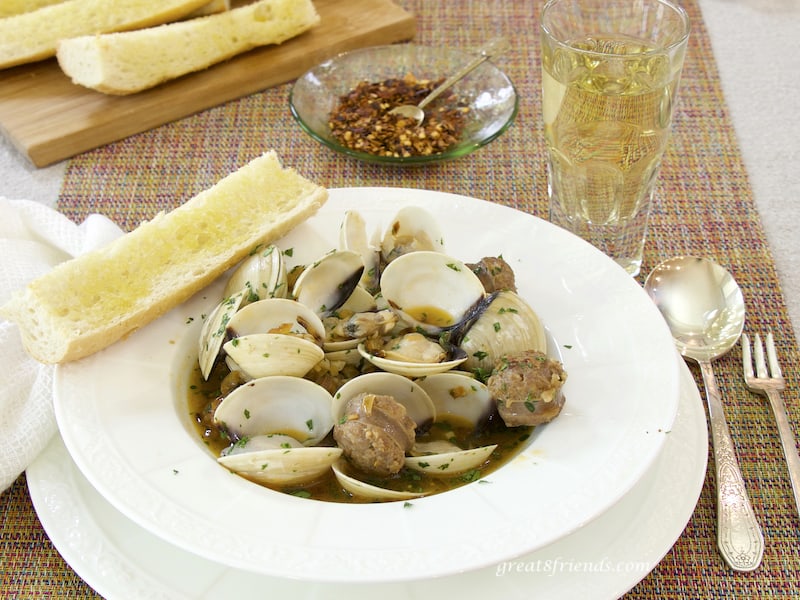 Steamed clams are delicious and fun to serve; adding Italian sausage, garlic and hot pepper to the clams definitely brings the experience up several notches.
Serve this with the some crusty French bread and a glass of pinot grigio or sauvignon blanc and you have a yummy first course; add some pasta for a Gr8 entrée!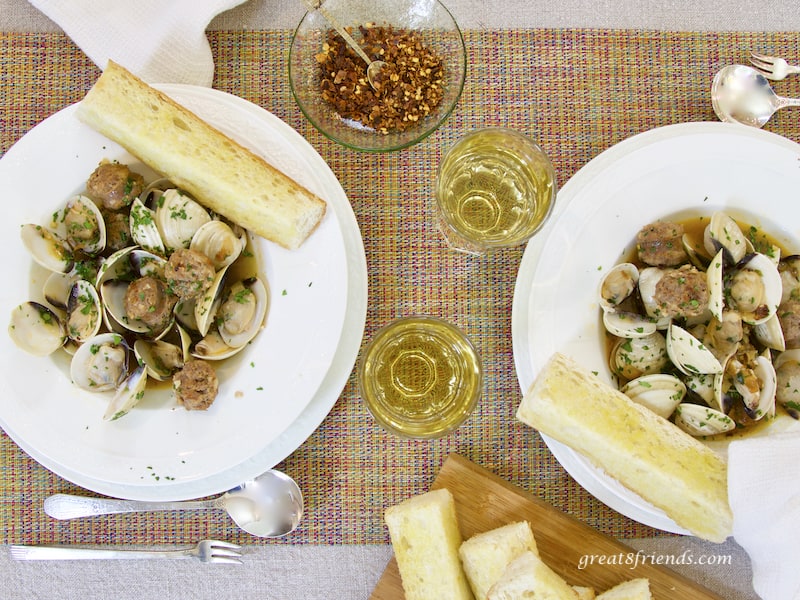 Cooking with Clams
If you've didn't grow up watching mom or dad prepare shellfish (like me!) and if you've never done it, cooking with clams or any other type of shellfish, can seem intimidating. Here are some Gr8 Tips!
Choosing the Clams
When buying the clams, make sure not to pick any that are cracked, chipped or broken. If the clam's "home" has been compromised, then it won't be healthy.
If someone is choosing and weighing the clams for you, they should be careful, but it's always a good idea to pay attention.
Cleaning the Clams
This is actually very simple, they kind of clean themselves! At least a half hour before you plan to cook them, put the clams in a large bowl and fill with fresh, cold water. Let them sit in the water for about 20 minutes.
While they "breathe" the sand and salt will be expelled so they will be less salty and you be crunching on sand when eating!
Do Ahead Tip
If you want to clean the clams early in the day, just drain them after soaking and put them in the fridge with a wet towel laid on top. Then proceed with the recipe.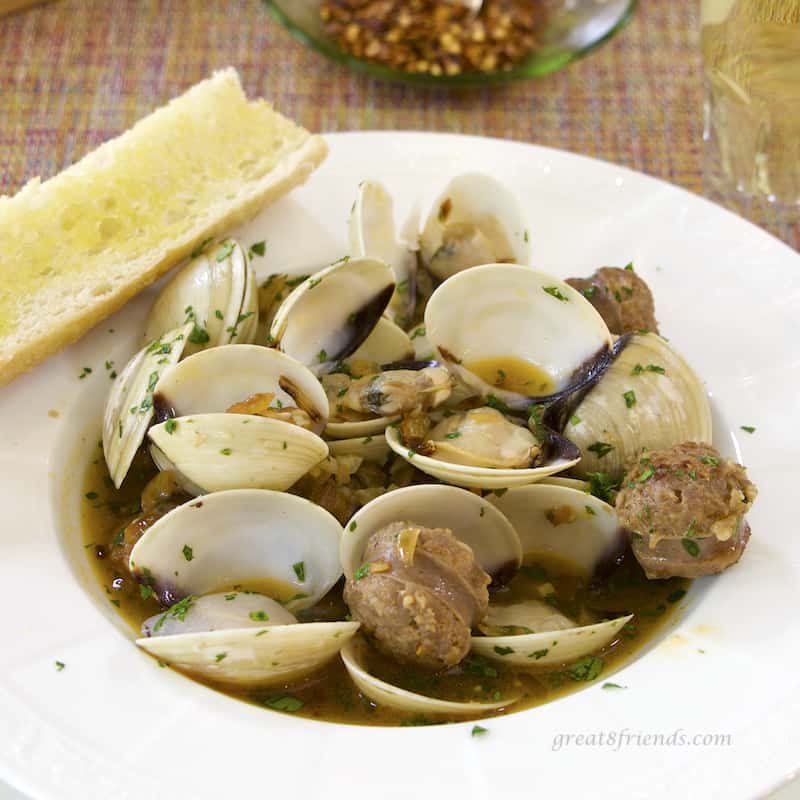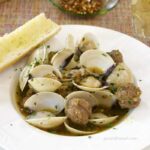 Print Recipe
Pin Recipe
Save this Recipe
Saved!
Please leave a rating!
Clams with Hot Italian Sausage
This dish makes a lovely appetizer or a delicious entrée. Serve these Manila Clams with Sausage with some grilled bread to sop up all the goodness.
This recipe has been edited from the original version published 8/26/2015.
Inspired by John Sundstom's recipe for Clams and Chorizo in Cooking Against the Grain.
Servings:
4
main course servings
Ingredients
2

Tablespoons

olive oil

1

pound

hot Italian sausage

,

sliced in ½" rounds

½

cup

chopped onion

6

garlic cloves

,

minced

¾

cup

dry white wine*

,

See Gr8 Tip

4

pounds

Manila clams

,

or any small clams, in the shell, that are available fresh or frozen

¼

teaspoon

red pepper flakes

,

or more, depending on your heat tolerance

3

Tablespoons

chopped Italian parsley

,

divided
Instructions
Start at least a half hour ahead of time to clean the clams by putting them in a large bowl and covering them with fresh, cold water. Let them sit for about 20 minutes. Then drain and proceed.

In a large sauté pan with a cover, heat the oil over medium high heat until shimmering. Add the sausage. *See Gr8 Note

Cook, stirring, until the sausage is cooked through, about 8-10 minutes.

Add the onion and cook until translucent, about 4 minutes.

Stir in the garlic and cook about 1 minute, until the fragrance begins to release.

Pour in the wine and bring to a boil scraping any browned bits from the bottom of the pan.

Then add the clams, hot pepper flakes, and 2 Tablespoons of the parsley and stir to combine.

Cover the pan tightly and cook for 6 to 8 minutes until clams are opened. Discard any clams that don't open.

Serve directly from the pan or transfer to a serving bowl, be sure to get all the juices! Garnish with the remaining Tablespoon of parsley.

Serve with a glass of white wine and crusty Italian bread. This could also be served over pasta. Just add one cup of the hot pasta water at the end of cooking. Stir and pour over the drained pasta.
Notes
Gr8 Note:
If you are using turkey Italian sausage, you may need to use an additional Tablespoon of olive oil, since there is less fat in the turkey sausage than in classic pork sausage.
This is also easy to double if you are serving a crowd, just make sure your pan is large enough.
Gr8 Tip:
If you plan on drinking white wine with the meal, use the same wine in the dish. This is a Gr8 way to get the optimal flavor from both the clams and the wine.
Gr8 Do-Ahead Tip:
You can clean the clams and chop everything up early in the day and store in the refrigerator. When you're ready for dinner, just pop it all in the pan and amaze your friends and family with a delicious meal!
To store the cleaned clams, put them in a bowl in the refrigerator covered with a damp towel.