This fresh Chilled Heirloom Tomato Soup with Greek Yogurt and Thai Basil is the perfect starter, lunch or light dinner for the hot days of summer.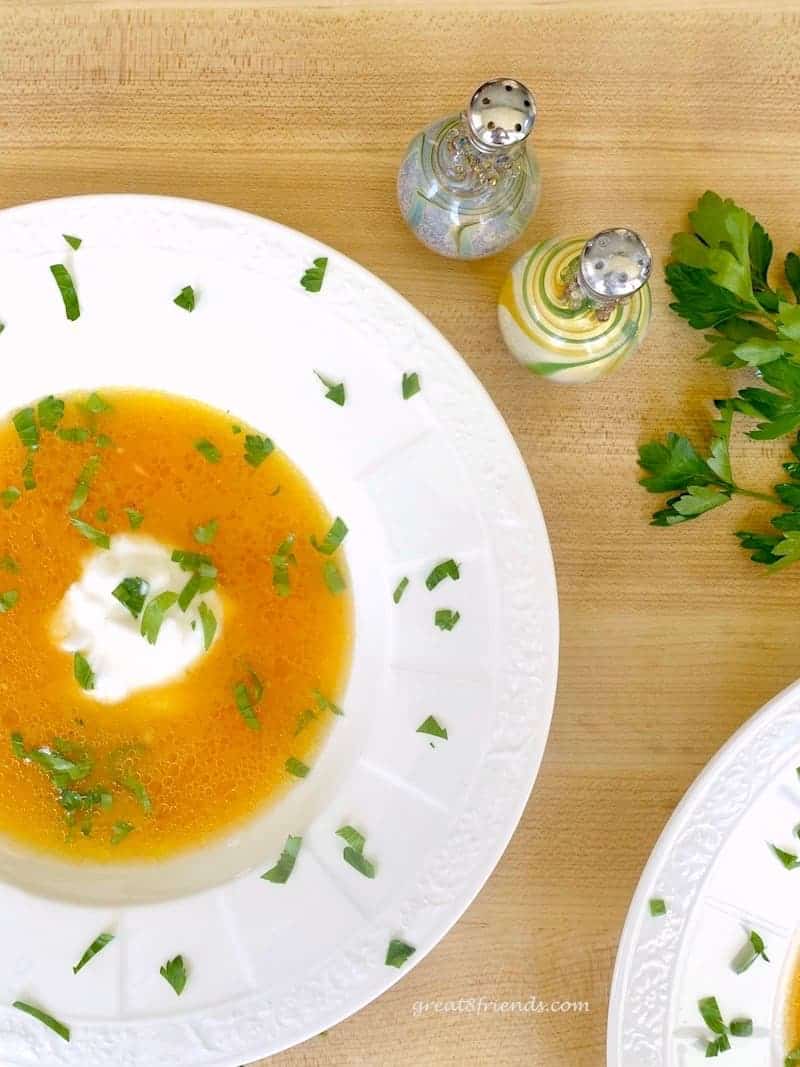 It was a hot August day in California, and I was so excited to receive my "duty" for the upcoming Great 8 dinner. Gazpacho: a cold soup usually with raw vegetables, but always with a tomato base.
This recipe, Heirloom Tomato soup with Greek Yogurt and Thai Basil was exactly what I was hoping for!
It is adapted from one of the many delicious starters on the menu at Lark Restaurant in Seattle, Washington.
One of the best things about it, NO cooking! No need to heat up the kitchen with the oven or stove during these 3 digit summer days!
Refreshing, easy and delicious....what could be better?
This post contains affiliate links, which means we may make a commission at no extra cost to you should you click on the link and make a purchase. As an Amazon Associate we earn from qualifying purchases.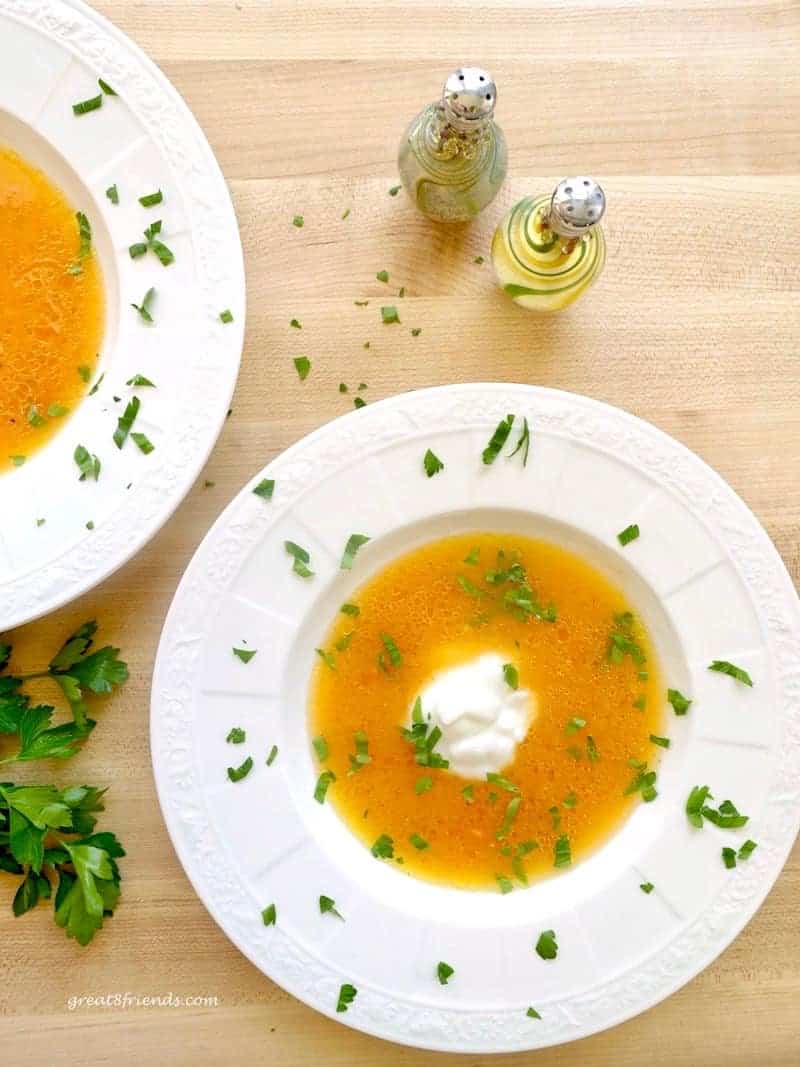 Cleverly, the invitation was delivered to our front porch with the tool I needed most (and did not have!)....a food mill! Thanks Anna and Vince!
I love handy kitchen gadgets! Can't imagine my life before this tool that I've come to love! It keeps the fresh tomato color and brings out the sweet aroma which adds an amazing flavor.
The heirloom's freshness balanced with extra virgin olive oil and the creamy Greek yogurt, makes for the perfect summer soup.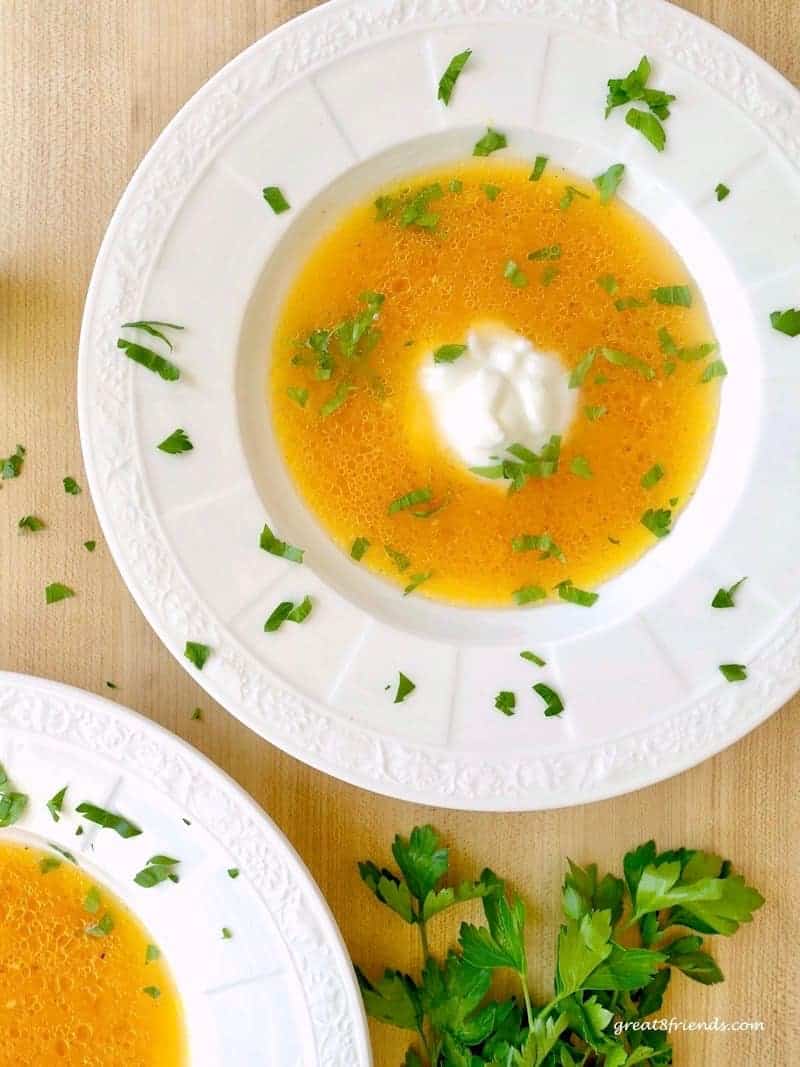 Just thinking about the light, smooth elegance of this Heirloom Tomato Soup with Greek Yogurt, makes me want to add this to one of my weeknight dinners soon! So cool and refreshing...and easy! Soup's on!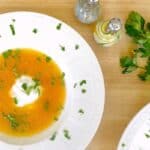 Print Recipe
Pin Recipe
Save this Recipe
Saved!
Please leave a rating!
Chilled Heirloom Tomato Soup with Greek Yogurt
Don't turn on the oven or stove! Enjoy this fresh Tomato Heirloom Soup with Greek Yogurt and Thai Basil. The perfect soup during the hot days of summer.

Recipe is adapted from John Sundstrom's cookbook, "Lark, Cooking Against the Grain."
Ingredients
2 ¾

pounds

ripe heirloom tomatoes (I used yellow here)

,

washed well

3

garlic cloves

,

peeled and minced

2

teaspoons

kosher salt

,

plus more if desired

¼

cup

champagne vinegar

Freshly ground black pepper

¼

cup

extra virgin olive oil

½

cup

Greek yogurt

1

Thai basil leaf

,

available at most Asian and specialty markets

2

Tablespoons

Italian parsley leaves
Instructions
Core and roughly chop the heirloom tomatoes.

In a large glass bowl* combine the tomatoes, garlic and salt. Mix together until well combined.

Let this mixture marinate for 30-60 minutes, chilled or covered on the counter.

Pass the tomato mixture through a food mill with a fine mesh plate, or push them through a fine mesh strainer. This will remove most of the skins and seeds.

In a small bowl, combine the champagne vinegar with the extra virgin olive oil. Add the dressing mixture to the tomatoes and season to taste with salt and freshly ground black pepper.

To adjust seasonings, if necessary, add more salt, freshly ground black pepper, extra virgin olive oil or champagne vinegar.

Chill thoroughly, in the freezer if possible, for 1-2 hours.

In a small bowl, whisk the Greek yogurt to a smooth consistency. Adjust seasoning to taste.

Finely chop the Thai basil and parsley leaves.

Evenly divide the Greek yogurt into chilled serving bowls and sprinkle the Thai basil leaf slivers around the yogurt.

Spoon the chilled tomato soup around the yogurt.

Garnish with the parsley leaves.
Notes
*The reason to use a glass, nonreactive (metal) bowl, especially with tomato dishes, is that the dish will end up tasting a bit "tinny".
Gr8 Serving Tips:
You can also serve this soup without the Thai basil and Greek yogurt. It is still delicious, the depth of flavor is different.
We served this as an appetizer in small cups and it easily served 8 in small cup portions. (The yogurt is in there, at the bottom.)