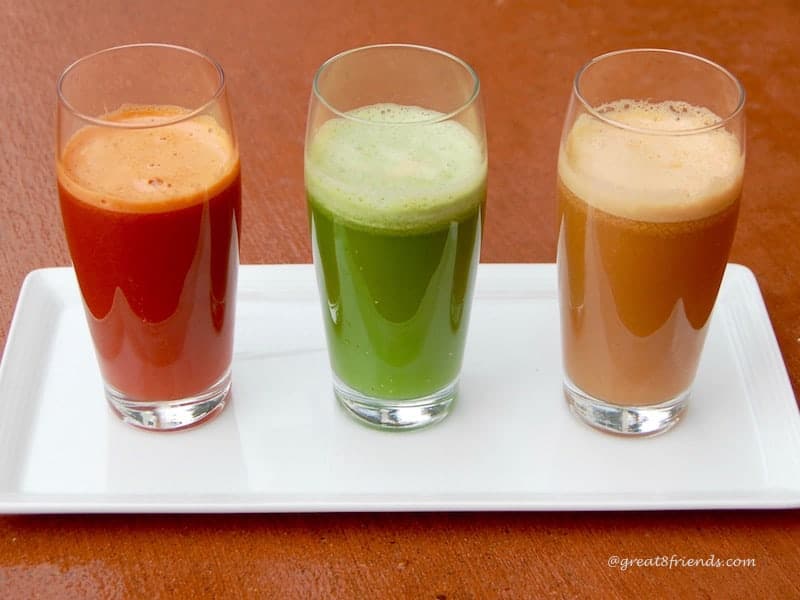 Spending two weeks in Italy and enjoying every sip and bite, we knew that when we returned home, we'd want to do a little "cleansing"! Although we walked everywhere and everyday, no matter what the weather was, the bread, pasta and gelato surely added up! We decided to do a simple "juice fast", every weekend. It's been a month now and we've enjoyed it and it's not really a hardship. So we will continue with the juice fast each weekend, depending on what is happening with our calendar. Can't let it cut into our socializing!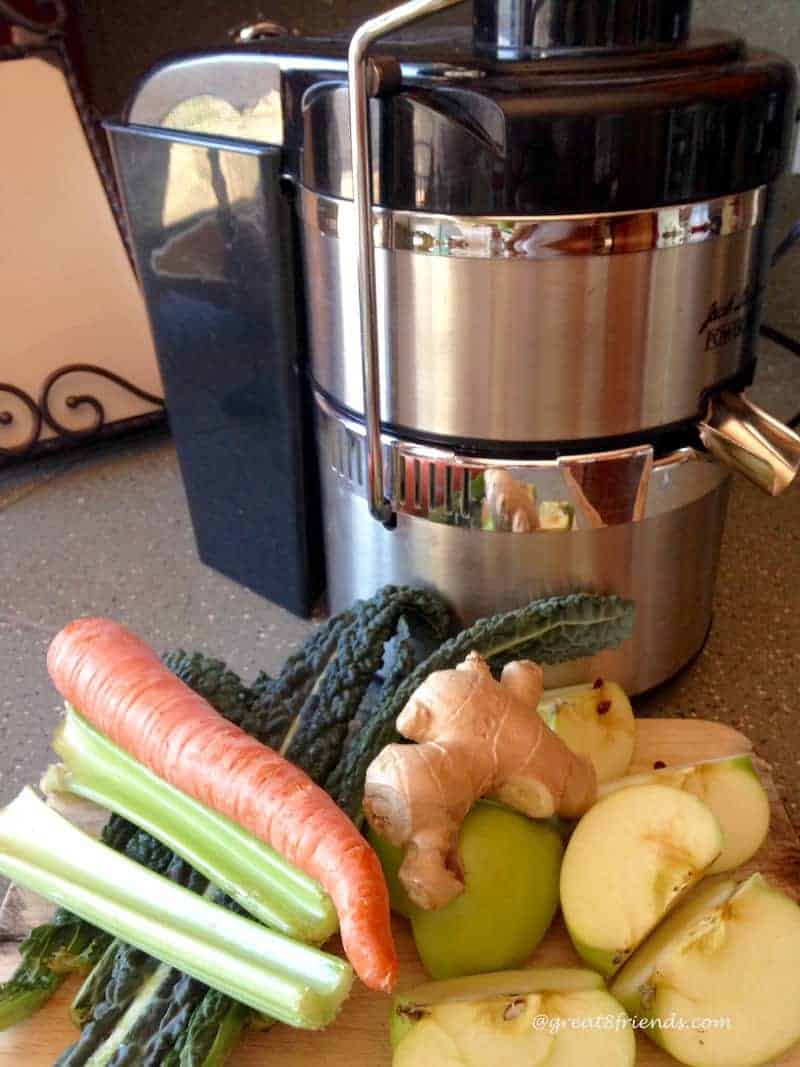 Healthy, fresh and such pretty colors! We grabbed every fruit out of the fruit bowl and every vegetable out of the refrigerator's crisper drawer.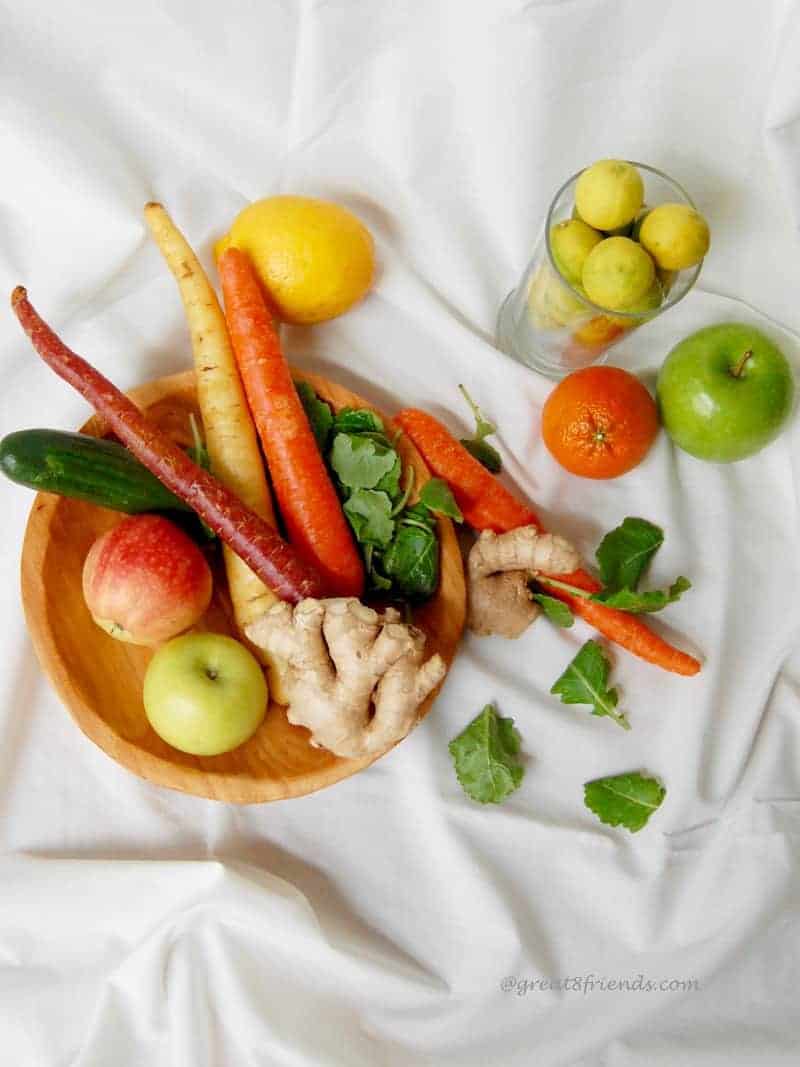 Time to get started! Ginger (peeled), kale, basil, cucumbers, carrots, mint, spinach, beets, lemons, green apples, celery, jicama (peeled), fennel, red, yellow, and orange bell peppers...on the counter, front and center.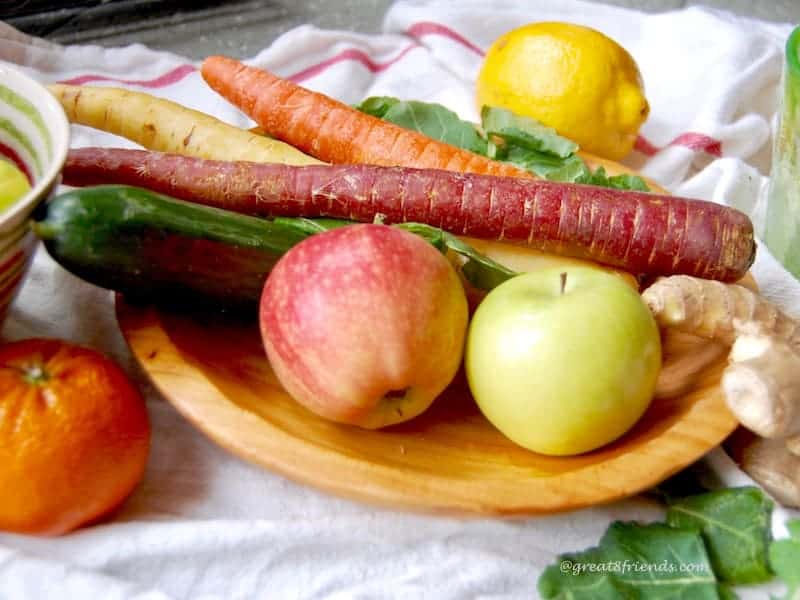 This is how we make it happen:
Friday night we have a substantial dinner, and nothing after that.
The next the morning, Saturday, we juice enough to make a full liter.
We each drink ½ liter in one sitting.
We make sure to drink water throughout.
4 hours later, repeat.
4 hours later, repeat one last time.
Saturday night, another substantial dinner and nothing after.
Sunday, we repeat the process all over again. By the time Sunday evening rolls around we are ready (and excited) to finally chew something at dinner!
Remember, water water water!
Jack LaLanne's Power Juicer is the one we use, and it's perfect! It extracts every possible drop of liquid from each piece, leaving behind, a pile of dry colorful fluff. The machine also comes with a booklet of recipes showing how to use what's leftover in muffins and breads. Nothing wasted — using every bit of Mother Nature's goodness!
Each time we juiced, we'd try a different fruit and vegetable combo, just making sure it made a full liter.
It is fun figuring out our favorite combinations and what fresh pick will pack the most flavor.
Juicing shopping list:
Granny Smith apples
Cucumbers
Carrots
Oranges (skin intact)
Lemons (peel intact)
Beets
Basil
Berries
Celery
Spinach (1 bunch releases a large amount of juice)
Kale
Jicama (peeled)
Red bell peppers
Ginger (no need to peel) — I add just a 1" piece to my favorite combination
Clean out your fruit and vegetable drawer in your refrigerator or fruit bowl on the counter and play around with your favorites to create your own combination! Start with no more than four at first. I have found out that apples and carrots are a natural sweetener.
My favorite:
2 green apples, quartered
1 cucumber, halved to fit in tube of juicer
½ bunch of kale
1" piece of ginger (no need to peel)
Another combination:
2 Granny Smith apples
2 carrots
1 cucumber
1 piece of ginger
Gr8 Tips:
So far we've noticed that Carrots give a lot of sweetness, as do the apples.
One bunch of spinach gives off quite a nice amount of juice.
The ginger gives it a zip and a spicy zing!
Keep drinking your water as you go.
Cheers!
Debbie