This Carnitas recipe is the tastiest and the easiest! Tasty because of the flavors of the oranges and herbs and easy because it cooks all day!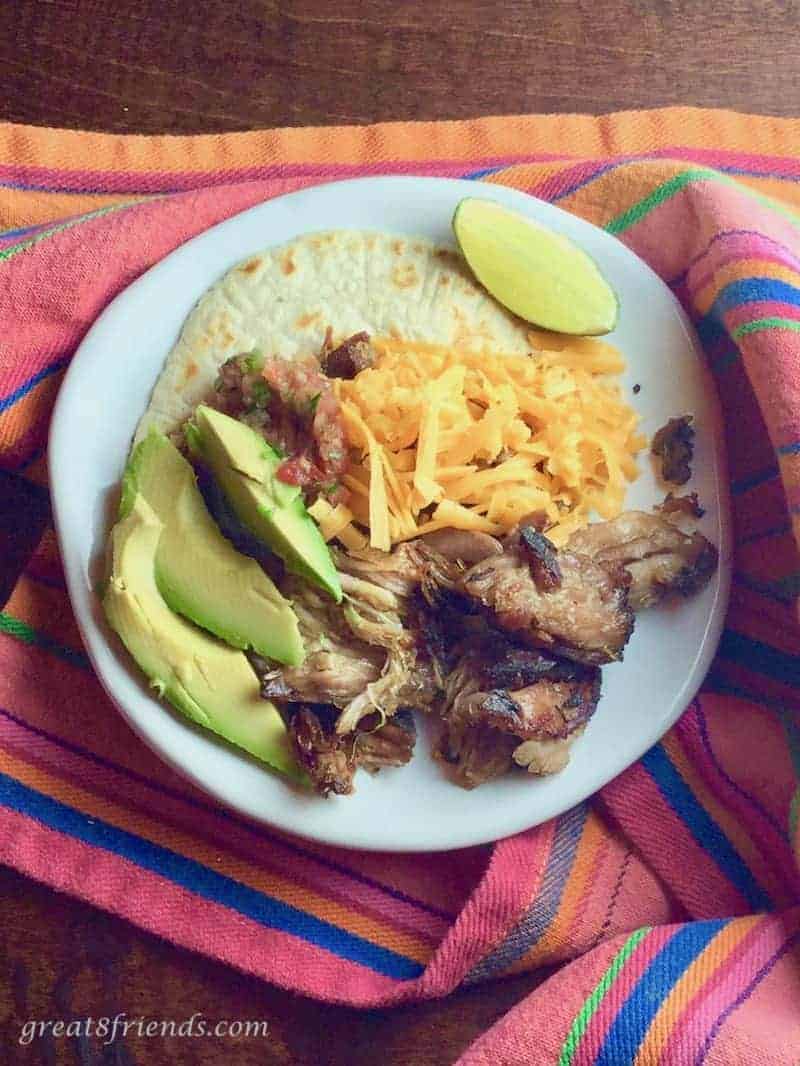 Carnitas! Moist and crispy...what's not to love! On Tuesdays at our house, we love to have some type of Comida Mexicana (Mexican meal). Although we don't always have tacos, we took the idea of "Taco Tuesday" and chose that weeknight to feast on our family's favorite! Being at work until about 3:00, I was hoping to find a recipe for carnitas that would resemble the delicious ones we love at our favorite Mexican restaurants, BUT can be cooked in the slow cooker while I'm at work. Muy bien! I found one! Melissa d'Arabian had the best one and we've loved it ever since!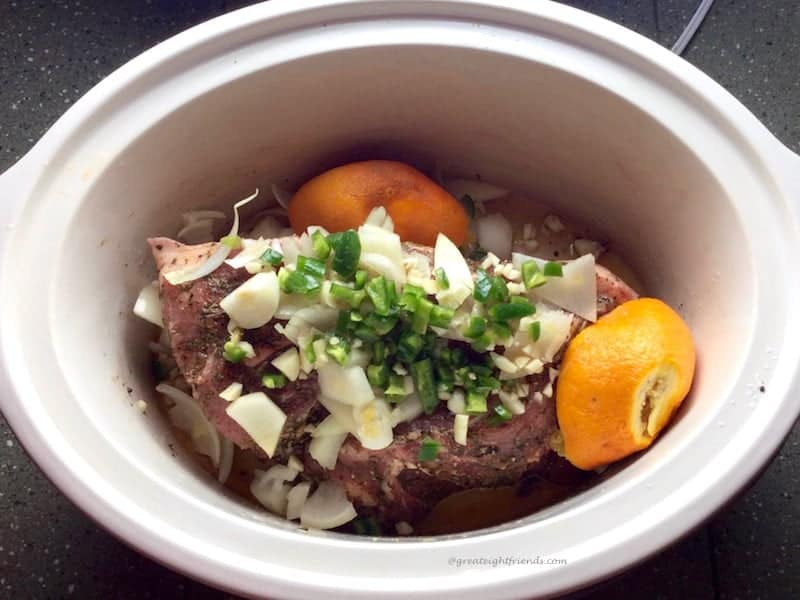 It's always a hit...Tuesdays or any day! The dish that gets the most requests is pork carnitas, "little meats." If you remember what your Señor or Señora taught you in Spanish class, adding "-ita" or "-ito" to any noun means "little..."; "carne" means meat; hence, "carnitas" means little meats. ¡Muy bien!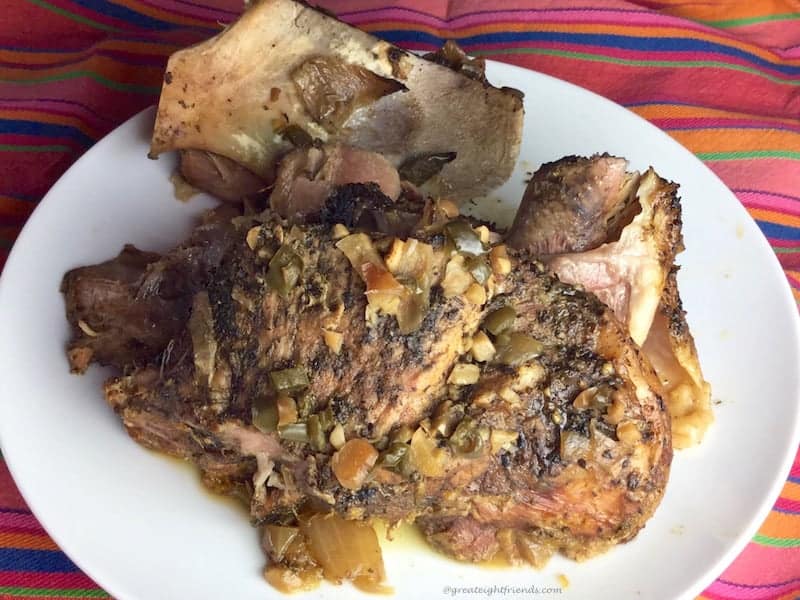 This recipe happens to be the tastiest and the easiest! Tasty because of the flavors of the oranges and herbs and easy because it's cooked all day in the slow cooker! The slow cooker makes everything easier, right!?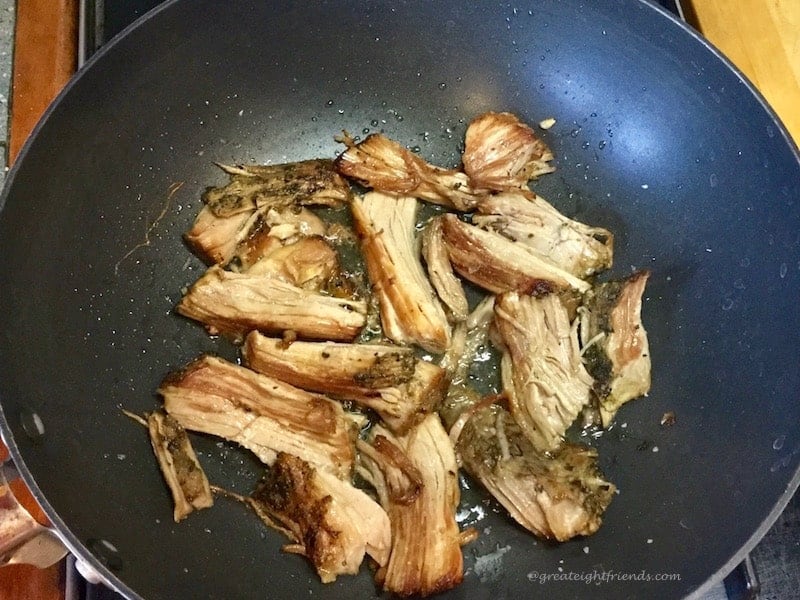 While the little meats are getting all ready for you in the slow cooker, you can be getting Kyle's Handmade Corn Tortillas all ready for the "fiesta"!
After cooking all day on the counter, you have this succulent meat.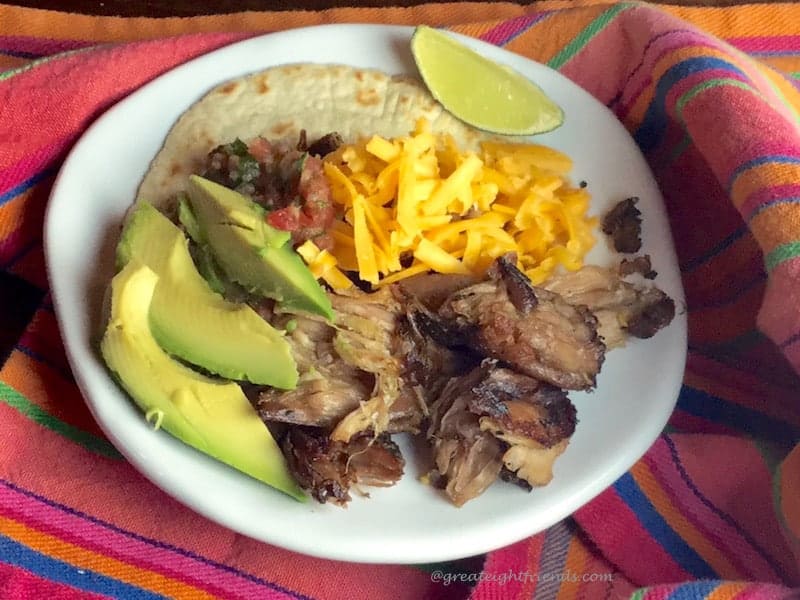 Just shred and crisp the meat quickly in a skillet, and you have delicious carnitas to tuck into a nice warm homemade tortilla! Once topped with Salsa Verde or Salsa Fresca, these carnitas will be a must at your family's own taco bar, too!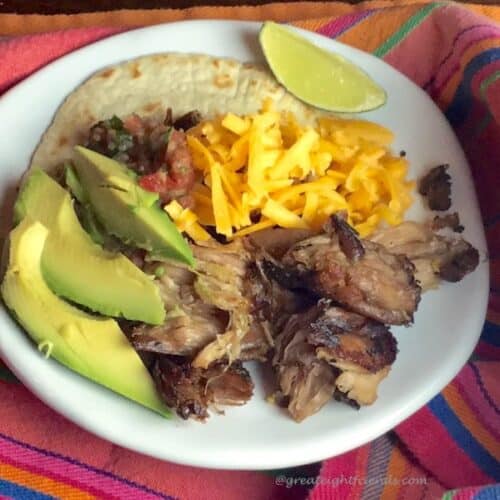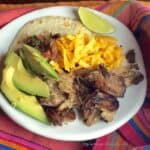 Print Recipe
Pin Recipe
Save this Recipe
Saved!
Please leave a rating!
Carnitas . . . Low and Slow
Ingredients
3-½

teaspoons

salt

1-½

teaspoons

freshly ground pepper

2

teaspoons

dried oregano

1

teaspoon

ground cumin

1

Tablespoon

olive oil

1

large

orange (or ¼ cup orange juice)

2

pounds

boneless pork shoulder

,

(or 2 ½ pounds bone-in)

1

jalapeño pepper

,

seeded, ribs removed and chopped

1

onion

,

coarsely chopped

4

cloves

garlic

,

sliced

3

Tablespoons

vegetable oil

salt

,

(optional)

corn (or flour) tortillas

,

to serve

Optional toppings: salsa, sliced avocado, guacamole, fresh lime juice, queso fresco cheese or other shredded cheese
Instructions
Mix the salt, freshly ground pepper, dried oregano and cumin together in a small bowl. Add the olive oil and mix together. Set aside.


Cut the orange in half and set aside.

Rinse the pork shoulder (sometimes labeled "pork butt") thoroughly under cool water. Pat dry completely.

With your hands, rub prepared spice herb mixture all over the pork…front back, sides and inside any folds.


Place in slow cooker along with the sliced jalapeño, chopped onions and sliced garlic.

Over the pork, squeeze the orange so the juice pours evenly over. Alternatively, add orange juice.

Add the orange halves to the slow cooker, (unless using the orange juice only)

Be sure the slow cooker is plugged in and turned on! (I say that for a reason -wink wink 🙂 )

If you have all day, cook on low for 8-10 hours. If not, on high for 4 hours works too!

After chosen cooking time, shred an area of the roast with a fork to check tenderness.

Carefully remove pork to a plate or large cutting board to cool.

Once completely cool to touch, shred the entire roast, discard any large areas of fat.
At this point, you have 2 options of how to prepare your "little meats!"
Preheat oven or grill to 350 degrees.

On a baking sheet lined with foil, spread carnitas evenly and salt well.

Cook until crisp, about 10 minutes.
Or
Melt 3 tablespoons of oil or lard into a skillet or frying pan.

Once hot but not smoking, add the carnitas, pressing down to crisp.

Turn to crisp evenly but not too much to dry out.

Remove with tongs or a slotted spoon and transfer onto a paper towel lined plate.
Assemble:
Warm corn (or flour, if preferred) tortillas in a dry skillet or sprinkled with water, wrapped in a damp non-terrycloth towel, microwave on high for 20 seconds, a few at a time.

Top with guacamole, salsa fresca or salsa verde, crumbled queso fresco or shredded cheese. Sometimes a squeeze of lime does the trick!
Notes
Gr8 Tip:
I must confess, I'm not a huge fan of leftovers..but leftover carnitas?!? Hello…..Nachos, duh!