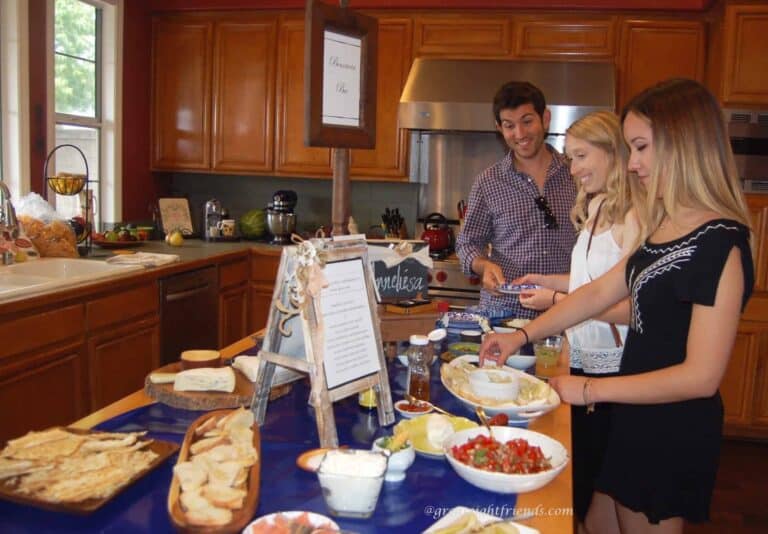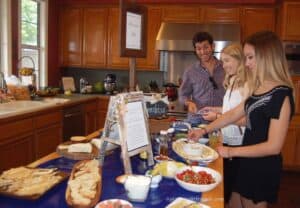 During a party that you're hosting, how often do you find yourself in the kitchen, cutting, dicing or sautéing? Was that another knock at the door? Yep! And now you find yourself asking your guests if they wouldn't mind answering it! While they are mingling amongst themselves, you're probably getting the appetizers out, and missing all the good conversation and juicy stories, right? Well, I've got a Gr8 way for all of your appetizers to be out and ready while you keep your status of being the "hostess with the most-ess"! How fun does a Bruschetta Bar sound? Appetizers that they create and at the same time, it's a conversation piece...a tasty one! The prepping takes the most time, but the best part is, it's all done ahead of time, allowing you to enjoy all of the people you've gathered together.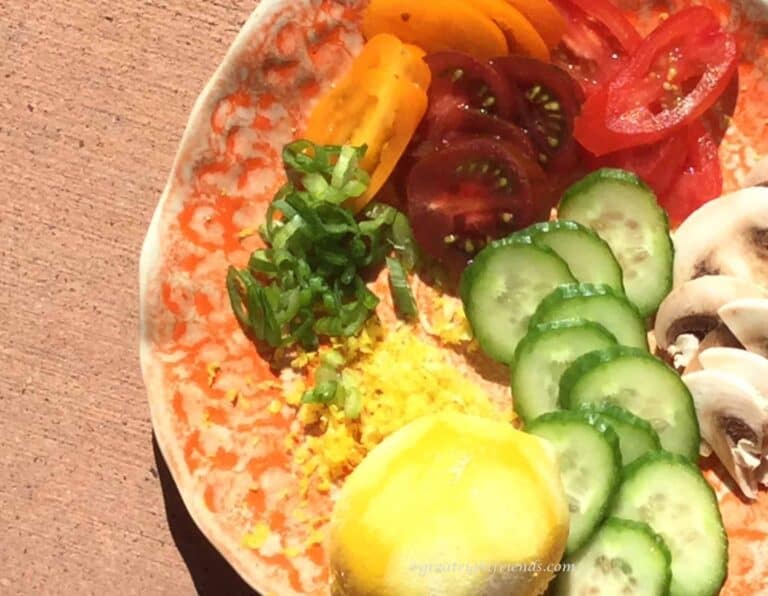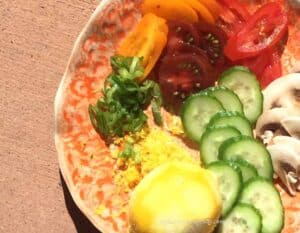 Celebrating our daughter's college graduation party of course we wanted to enjoy the day! Yay! This was our opportunity to test the Bruschetta Bar idea! Guess what?! It was such a hit, and so much fun that it will be front and center at our next celebration! We hope it will be at yours, too! The guests will have a Gr8 time and YOU will have a Gr8 time with them...and that's the whole idea, right?!
Ingredients:
(Don't' the afraid of this list! These are just suggestions!)
French baguettes, sliced to the thickness of ½ inch
Extra Virgin Olive Oil
Garlic cloves peeled and halved
Balsamic glaze (Trader Joe's)
Honey
Pesto
Ricotta cheese
Goat cheese
Fresh mozzarella
Burrata cheese
Eggs, hard boiled, sliced
Chives, chopped
Chopped onions
Persian cucumbers, thinly sliced
Mint, julienned (I snip with kitchen scissors)
Zest of 1 lemon
Leeks (sautéed in olive oil)
Radishes, thinly sliced
Cherry tomatoes, thinly sliced
Prosciutto or thinly sliced salami
Smoked salmon
Mushrooms, thinly sliced
Arugula leaves (stems removed)
Fresh dill
Basil, julienned
Garlic cloves, peeled and thinly sliced
Pear, sliced
1 jar Marinated artichokes
Strawberries, sliced
Blueberries
Walnuts
Apricot jam
Parmesan
Maldonado salt flakes
Freshly ground black pepper, or set a pepper mill among the goodies
Preparation
Preheat oven to 350ºF
Place bread slices onto a cookie sheet, drizzle with extra virgin olive oil and bake until toasty. (Watch these carefully, as they can burn quickly.)
Gather all of your little dishes and let the fun begin! Place the toasted bread in a larger platter and all of your tastes and flavors each in its own little dish.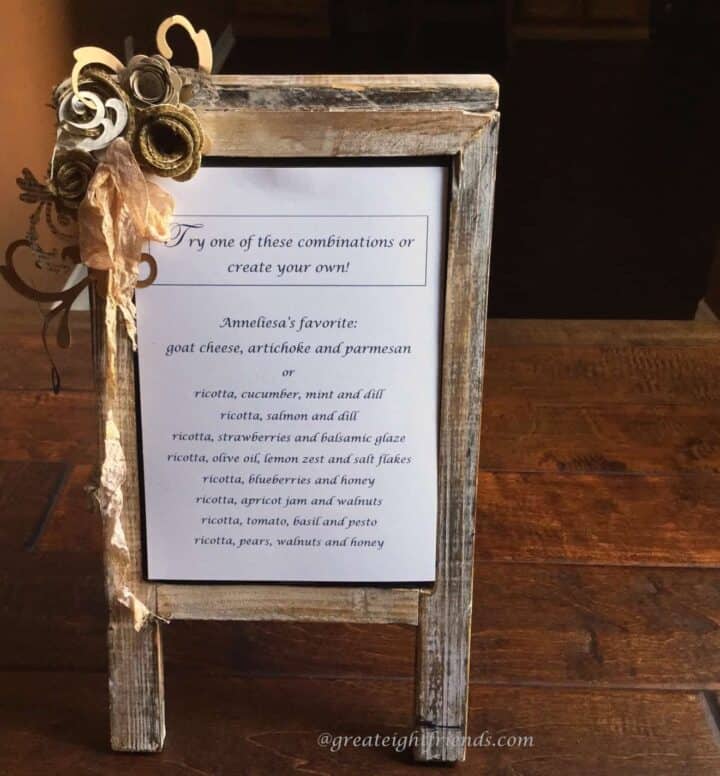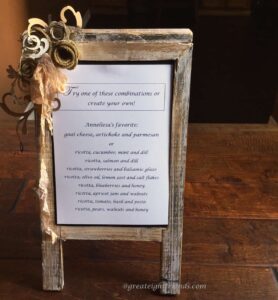 Here are a few combination ideas. I printed it out, placed it it in a frame for our guests to consider, but I loved seeing them create their own!
Goat cheese, artichoke and Parmesan
Ricotta, cucumber, mint
Ricotta, salmon, dill
Ricotta, strawberries and balsamic glaze
Ricotta, olive oil, lemon zest and salt flakes
Ricotta blueberries and honey
Ricotta, apricot jam and walnuts
Ricotta, tomato, basil, pesto
Ricotta, pears, walnuts, honey
Ricotta, eggs, chives,
Ricotta, lemon zest
Fresh mozzarella slice, pesto, salami or prosciutto, tomato, basil
Gr8 Tip:
I had a few of the combinations already assembled and plated, just to get them started and to get the idea.

Gr8 Do-Ahead Tip:
The bread can be toasted the day before and kept in a tightly sealed plastic bag or container.