A Super Fun Food Day is the best kind of day, right? And one of the biggest eating days of the year surrounds the big NFL Championship bowl game. It's actually the second biggest eating day of the year, can you guess the first? Turkey Day!
So put on your stretchy pants and your oversized team jersey and get ready to enjoy the day!
Chili
Our favorite football food is chili. We have three Gr8 recipes for you. Bake a batch of potatoes or make a big pot of rice, this will stretch the servings and make it heartier.
If you choose to make Scott's World Class Chili, head first to the meat counter and ask them to cube the roast for you while you finish your shopping, that will save time. This dish simmers for 2 hours, so if you finish a half hour before kick-off, you should be good to go for serving at half-time. Throw the washed potatoes in a 400ºF oven just as the game starts and they should be ready right on time. Or start the rice about 30 minutes before half-time.
Our Turkey Chili is a healthier version of the standard chili that we all grew up eating. Every time I've every served this my guests come back for more...they don't even notice it's turkey! To make this quicker, check your grocer's produce section for onions already diced and you can buy green pepper already cut in the freezer section. This chili simmers for at least an hour, so if you finish just before kick-off, you will have a Gr8 meal at half-time! Again, serve over baked potatoes or rice and your efforts will go further.
If you're really in a hurry, make Instant Pot Chili!!!
Appetizers
If you don't want to actually make a meal, then we have some fairly quick and truly delicious appetizer ideas.
Nachos are always a winner on game day. And these are "Nacho" Typical Nachos. Full of cheese and beans and amazing, spicy flavor, you may want to make two batches!!
One of the best is Buffalo Chicken Wings with Blue Cheese Dip. To make this quicker, check if your local meat counter already has the wings separated into pieces. These wings literally go together in minutes and cook in under 15 minutes. And you can serve a store bought dip if you won't have time to make the dip. And if you buy the celery and carrots already cut up, you have a beautiful presentation!
Another appetizer that is easy and hearty is quesadillas. Jurga recently posted her favorite Portabello Quesadillas with Caramelized Onions. The most time consuming part of these is caramelizing the onions. So, take that into account when planning. You can have them all assembled and heat them up when you are ready to serve.
Spinach Artichoke Dip is ALWAYS a crowd pleaser, whip this up and keep it in a small crock pot or simmering over a candle and you will have everyone asking for the recipe!
Probably one of the easiest and most loved appetizers to serve is fresh salsa. Buy a big bag of corn chips, set it all up next to the fresh veggie tray and all your guests will be satisfied. Debbie is our salsa expert and she has generously shared both her Salsa Fresca and Salsa Verde recipes. It may seem intimidating, but it goes together in your food processor or blender quickly...and just about EVERYBODY loves it! If you want to serve a salsa that's a little different, try Kyle's Pomegranate-Avocado Salsa.
And last, but not least...one of my favorite, last minute, delicious, filling snack ideas is to whip up a batch of popcorn. Did you know you can make your own DIY Microwave Popcorn? After you drizzle it with melted butter, here are a couple of tasty topping ideas:
Grated Parmesan Cheese, add finely chopped parsley if you have it
Sea Salt and Freshly Ground Black Pepper
Add a couple Tablespoons of your favorite hot sauce to the 2 Tablespoons melted butter, drizzle over and toss
Lawry's Seasoned Salt
Something Sweet
You could open a bag of cookies, but if you want to make it truly a Super Fun Food Day, here are a couple of sweet ideas.
Starting with this big batch of easy and yummy homemade Chocolate Chip Cookies!
Kyle recently shared her Toffee Crunch Dip with Apple Slices...mm-mm good, and you're dipping fruit...so it's semi-healthy?!?!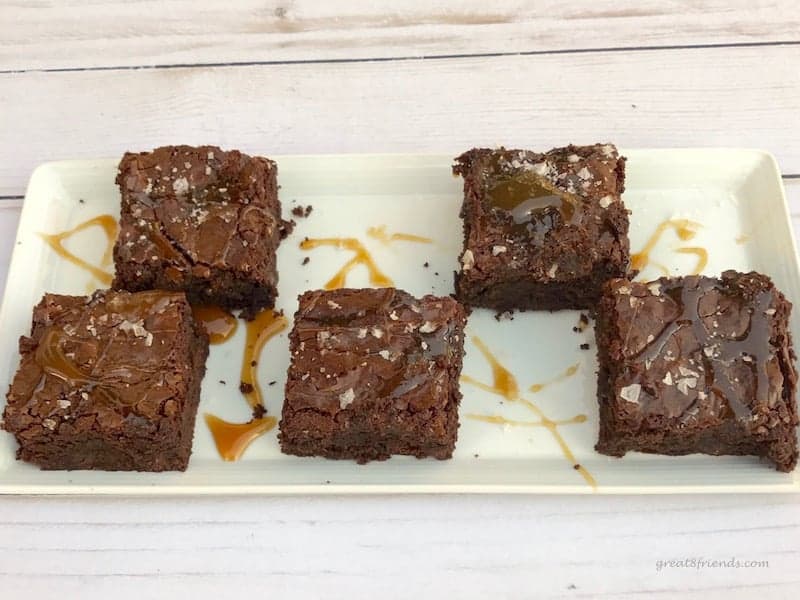 Everyone loves brownies! And it's a Gr8 dessert for a crowd. Try these Salted Caramel Brownies...mmmm!
Here is some cool trivia:
Question: Which famous jeweler makes the Super Bowl trophy?
Answer: Tiffany and Co. has been in charge of making the Super Bowl trophy since 1967. The original design was sketched on a cocktail napkin during a lunch between Tiffany's then vice president Oscar Riedener and the NFL's then commissioner Pete Rozelle in New York City. It takes four months and 72 hours for the trophy to be finished. Engraved on the trophy are the words, "Vince Lombardi Trophy," the roman numerals corresponding to that year's Super Bowl, and the logo of the NFL. Details such as the winning team's name and score are engraved after the presentation of the trophy.