Don't throw away those mushy tomatoes! This recipe for Roasted Tomatoes uses up old produce and makes the perfect salad addition!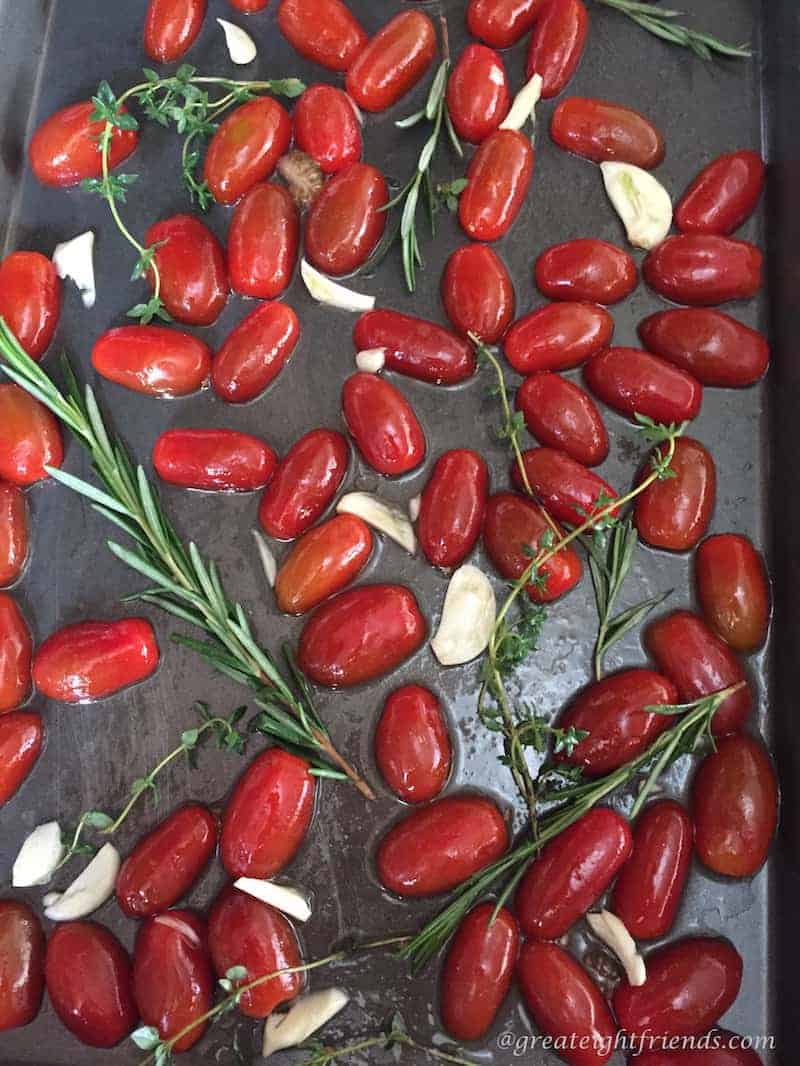 How often do you have fresh tomatoes sitting on your counter and one day they've suddenly gone 'round the bend and are no longer fit for a salad? Make Roasted Tomatoes!
My sweet daughter, Tori, who has had incredible instincts in the kitchen since probably the day she was born, has always thrown the tomatoes in the oven and roasted them. Then, Kyle brought Roasted Tomato and Arugula Salad to our most recent Gr8 Dinner and right then and there I decided I needed to get on this bandwagon. The sweetness of the tomatoes played perfectly with the peppery arugula, a match made in heaven!
Fresh tomatoes, especially if you are fortunate to grow them yourself or get them fresh off the vine at a farmer's market, are a delightful, juicy treat. Once they've gone mushy, though, our first reaction is to throw them out. Stop!! Next time, just roast them. You will get delicious nuggets of sweet, tomatoe-y goodness.
How to Roast Tomatoes
This is really so easy, and you don't waste old tomatoes!
Put olive oil in the bottom of a baking pan large enough to hold the tomatoes without overlapping.
Add the herbs and garlic to the oil.
Cut the tomatoes in half horizontally.
Then toss the tomatoes with the oil and the herbs to coat everything.
Spread the tomatoes out flat on the pan with the cut side down.
Roast for 1 ½ hours. They should soften and get a bit wrinkly. This long time at low heat concentrates the sugars and creates a delicious treat.
If your tomatoes are small, then the time may be less, so start checking at 1 hour 15 minutes. If you have larger tomatoes, it will likely take longer for them to soften and wrinkle.
Remove the pan from the oven and discard the herbs and garlic.
You can serve them warm in a salad or let them cool down and store in a sealed container in the fridge for up to a week.
Some Gr8 Tips
If possible, don't use an aluminum pan. The aluminum will react with the acid in the tomatoes and discolor them.
Make sure the pan is big enough to give the tomatoes some room between each. They need plenty of room to "breathe" otherwise they will steam instead of roast.
If you don't have fresh herbs you can use dried. Just be aware that dried herbs are much more concentrated than fresh so you need far less.
Roasted Tomatoes
Give new life to old tomatoes by roasting them.
Ingredients
1

pound

tomatoes

,

(You can use any size, you may need to adjust the roasting time if the tomatoes are small)

2 to 4

Tablespoons

olive oil,

start with 2 Tablespoons, increase if necessary.

2 to 3

large garlic cloves

,

peeled and thinly sliced

Several branches of fresh thyme*

A few sprigs of fresh rosemary*

Kosher salt and freshly cracked black pepper
Instructions
Preheat the oven to 325°F.

Pour the olive oil into a shallow baking dish or pan (preferably not a pan made of aluminum). Add the garlic, thyme, rosemary and salt and pepper.

Cut the tomatoes in half horizontally (you can remove the stems if you prefer - I did not.) Toss the tomatoes with the oil and seasonings and then lay them cut side down in the dish.

Roast for 1 ½ hours, until the tomatoes are completely softened and wilted and start to wrinkle. Depending on the size of the tomatoes, you may need to adjust the time.

Discard the herbs and garlic.

Cool and serve in salads, use in dips or spreads, or just snack on them!
Notes
*Gr8 Tip:
If you don't have access to these fresh herbs, you can use dried herbs. Just mix about ½ teaspoon of each of the dried, crushed herbs into the olive oil. Remember, the dried herbs have more concentrated flavor, so be careful to not use too much or you will overpower the tomatoes.
Gr8 Do-Ahead:
Roasted Tomatoes will keep in the refrigerator for up to a week.
no indexed